In India, regardless of one's faith, a home temple or "mandir" holds a special place in most households. It serves as a sanctuary, offering solace, comfort, and tranquility to family members and visiting guests alike. Whether you belong to a large joint family seeking to create a dedicated space for worship within your home or you reside in an apartment and are looking for small temple designs, here are seven inspiring home temple ideas to guide you on your spiritual journey.
The Art of a House Temple Design
Similar to one's faith, the design of a "pooja ghar" or prayer room is deeply personal and varies for each individual. For some, it's a serene space for solitary meditation, while for others, it's a place to gather for communal prayer. Therefore, the interior design of your home temple room can be a reflection of your unique choices and style.
If you resonate with a muted minimalist approach, finding clarity and calmness in simple interiors with clean lines, consider creating a fuss-free space where your idol or meditation spot takes center stage. On the other hand, for those who prefer more elaborate designs, a pooja room can be the grandest space in the home, echoing their deep devotion and celebration of faith.
These home temple design ideas are not only aesthetically pleasing but also embrace the diversity of personal preferences when it comes to matters of faith and interior decor.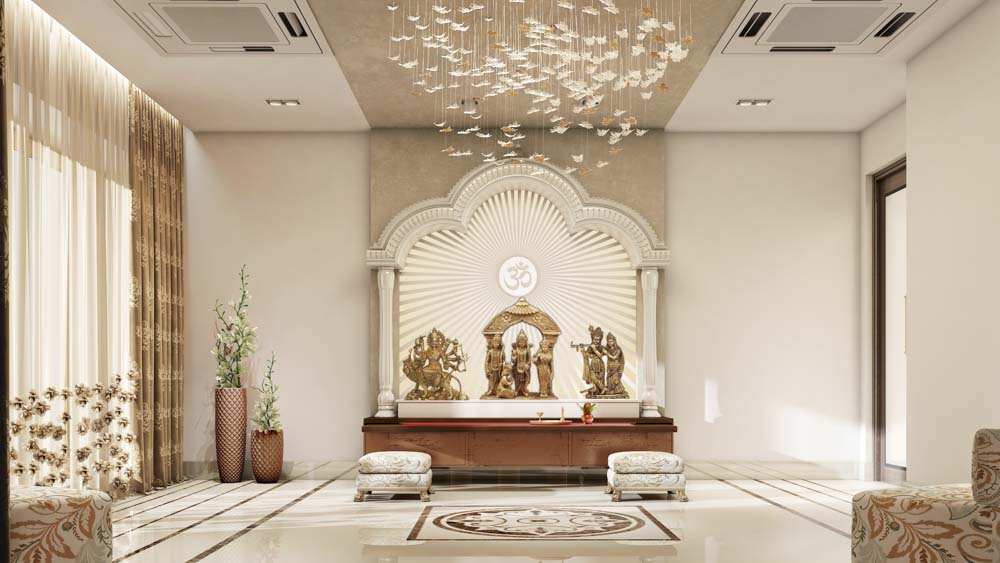 A Unique Corner for your Home Temple Design
In many urban Indian homes, the challenge of optimizing limited space in their floor plans is a common one. Balancing the need to accommodate each family member, provide ample living room space for entertaining guests, and finding room for a home temple design can be a complex task. However, with a touch of creativity, there's always a solution.
A clever trick is to create a pooja room or mandir interior design within a nook or corner that might otherwise be overlooked. This list of temple designs for homes showcases innovative ways to make a significant statement in your home, even in compact spaces.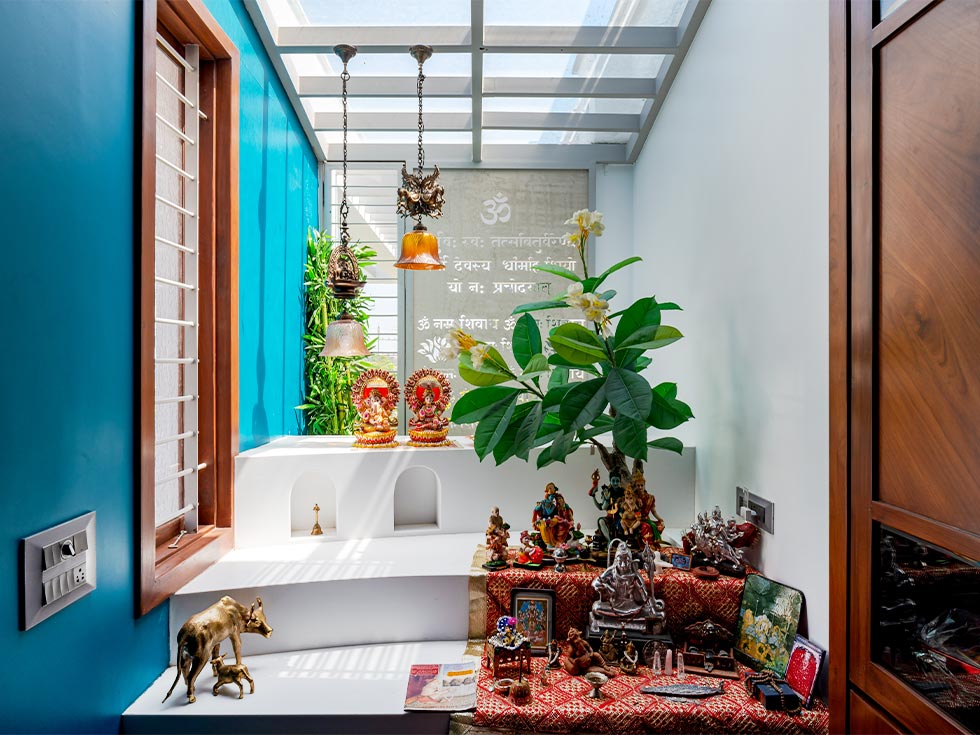 The Right Materials for your Puja Ghar Design
Your home temple design should aim to create a space that instills a sense of tranquility and calmness. Its interior design can incorporate elements that are soothing and relaxing, fostering a stronger connection to your faith. Choosing the right materials and decor finishes plays a crucial role in echoing this aesthetic in your pooja room design.
Given that idols can be ornate and intricately decorated, it's wise to adopt a lighter theme to maintain balance within the room. Simple white walls are often the best choice for creating a serene environment. Marble, a versatile stone, offers cooling properties, brightens the room, and can be used for the floors, walls, and tabletops or mantels.
These home mandir ideas and temple designs for homes are not only practical but also awe-inspiring, ensuring that your sacred space reflects the peace and serenity you seek.
Use a Room Divider to Create a Pooja Room
If your home temple is situated in the living room or another area frequently visited by guests, you can introduce an element of privacy and create a mandir design for the hall. A room divider serves as a versatile solution, allowing you to delineate a dedicated space within a room while also contributing to the overall design aesthetic.
To harmonize with the symbols and motifs representing your idols, consider adding etchings or stencil cuts on these screens, effectively establishing a thematic element within your home temple. Furthermore, room divider ideas featuring intricate cut-out patterns or slats can enable natural light and ventilation to flow into the temple, creating a refreshing and welcoming atmosphere
A Wooden Mandir Design for the Home
The sense of peace experienced when surrounded by nature is akin to the serenity found in a temple. Therefore, it's a brilliant idea to combine these two elements if you have the space to do so. In larger, standalone homes, consider a unique home mandir concept by situating your puja room or home temple in proximity to the outdoors.
Wood is a material that generally withstands the elements well. Incorporating wooden pooja mandir designs into your home pays homage to the outdoors, whether you have a garden, an ocean view, or any other form of natural beauty. This temple design for the hall radiates warmth and a welcoming atmosphere, allowing you to connect with both nature and spirituality.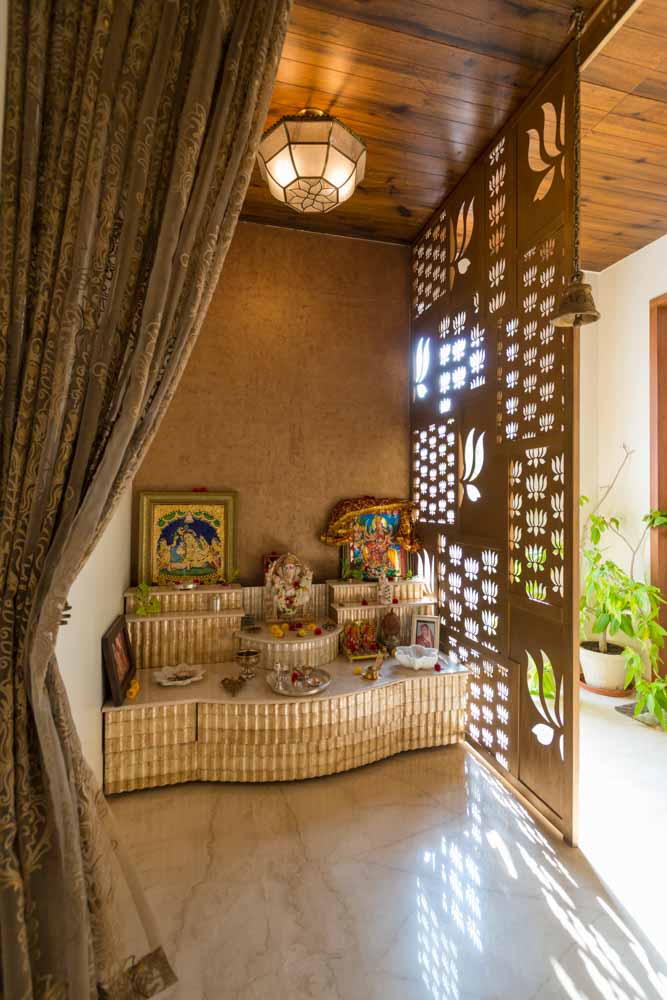 The Right Backdrop for your Devghar Designs
When it comes to decorating your home mandir, the possibilities are virtually endless and can vary based on the available wall space. During festive seasons, consider adding strings of fairy lights positioned lengthwise behind the images of gods and religious figures, creating a luminous and enchanting ambiance. Alternatively, you can enhance the grandeur and charm of your mandir by incorporating a screen upholstered in a pattern, color, or texture that complements your idol. The choice is entirely yours, allowing you to infuse your personal style and spirituality into your temple design.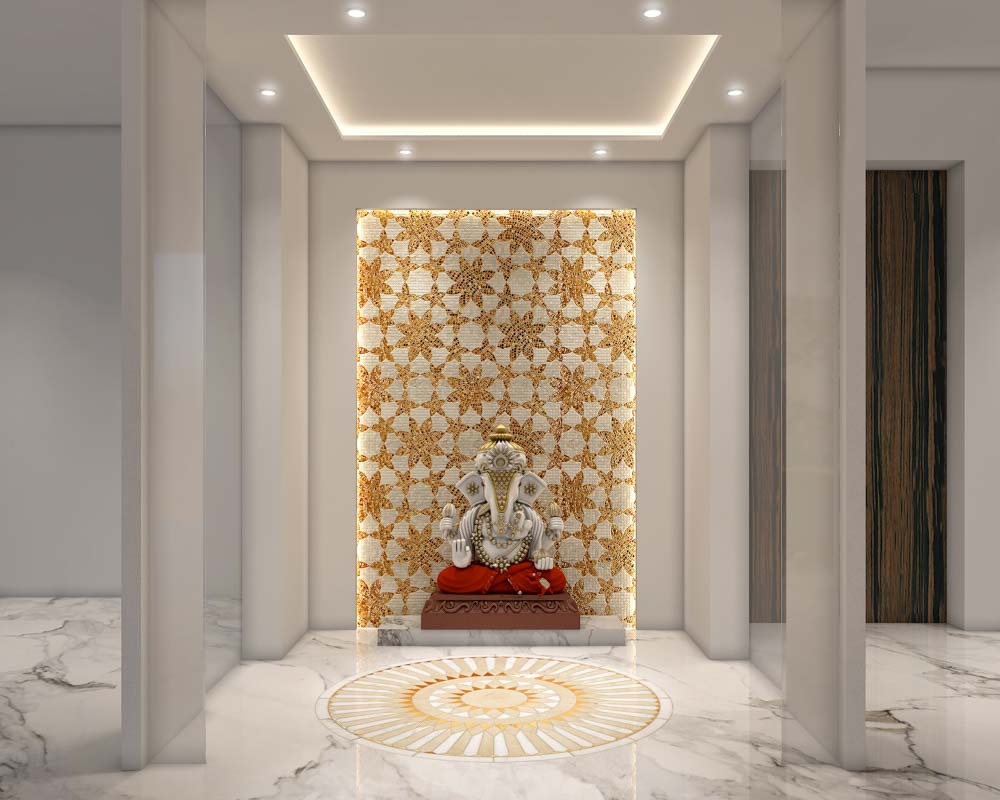 A Temporary God Room Design
In homes, there are occasions when the need for a temporary home temple or mandir arises, be it to celebrate a festivity or mark days of mourning. Often, underutilized spaces like corridors, lobbies, or staircase landings can serve as suitable locations for conducting poojas. Rather than constructing doors or purchasing room dividers and screens to create a separate mandir area, you can opt for a simple yet effective solution using curtains or cloth partitions. These temple designs for homes provide a practical and beautiful way to accommodate your spiritual needs.
Small Mandir Design Ideas
Wall Mounted Small Pooja Room Designs in Apartments
This temple design for flats exemplifies both beauty and practicality, making it an excellent choice for small apartments with limited space. These compact and stylish small mandir designs are readily available on numerous online stores, offering a wide array of designs and styles to choose from. They typically feature a shelf, a captivating door design, a storage drawer, and ambient lighting, all while taking up minimal space. This mandir design for the hall is undoubtedly a win-win solution, combining aesthetics with functionality.
Floating Shelf Modern Mandir Designs for Flats
A floating shelf mandir design in flat is a great option for households with limited floor space when it comes to mandir décor ideas at home. What's best? It includes drawers for storing matchboxes, incense sticks, and other items as storage alternatives.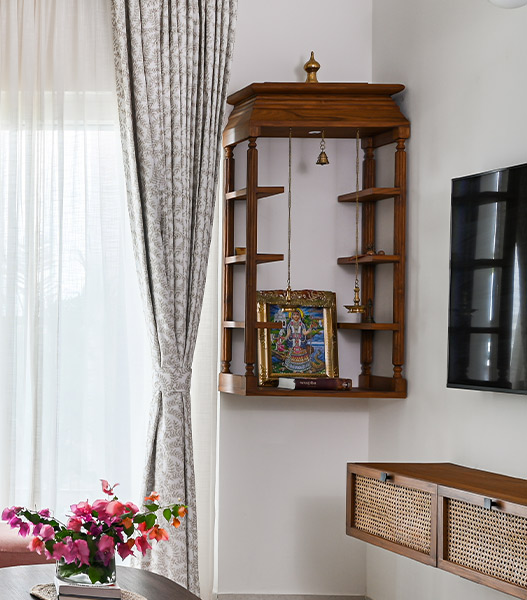 Elegant Passage Temple Design in Flat
One of the most ingenious ways to integrate a small temple design into a flat is by utilizing an empty or underutilized space in your home. A small passage, for instance, can be transformed into a cozy pooja room. These home mandir decoration ideas and temple designs for homes present practical yet clever approaches to infuse charm into those often overlooked spaces.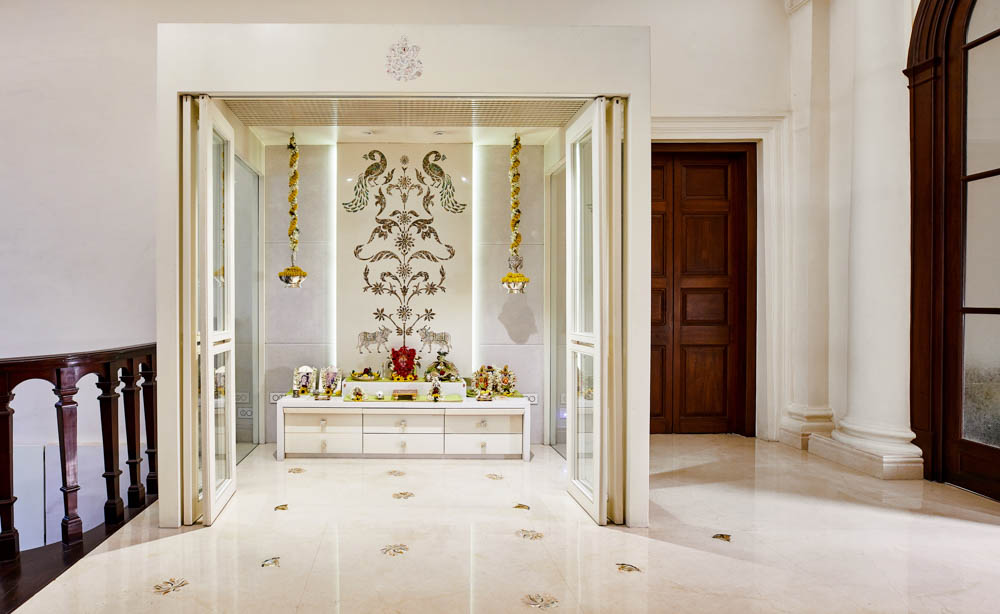 Display Cabinet Modern Mandir Designs for Flats
​​Consider utilizing a display cabinet or a pantry unit to create a space for your small mandir. You can dedicate a section of any storage-cum-display cabinet in your kitchen or dining room to incorporate a pooja mandir, complete with all the necessary items. These small mandir design ideas and temple designs for homes offer a creative way to elevate the interiors of your home while efficiently using existing furniture pieces.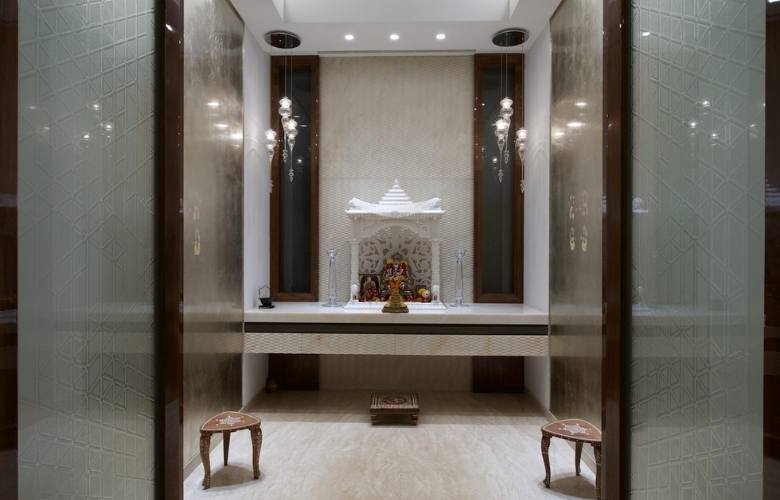 Cabinet Small Space Small Pooja Room Designs in Apartments
This contemporary cabinet-style mandir design for halls seamlessly integrates into the layout of a typical Indian apartment, blending in with the simple and practical furniture commonly found in such spaces. The cabinet can be cleverly partitioned so that the open portion serves as your modern mandir design for small flats, while the closed sections offer valuable storage for other essential items like diyas, lights, cotton, and more. These temple designs for homes are truly breathtaking, showcasing how functionality can harmoniously coexist with aesthetics.
Wall Mounted Small Pooja Room Designs in Apartments with Cupboard
An easily accessible ready-made, wall-mounted decorative cabinet serves as an excellent choice for a modern mandir design in small flats. This pooja cabinet can be effortlessly paired with a freestanding cupboard, combining to create your dreamy modern mandir design for small living spaces. This mandir design for the hall is not only practical but also a stylish solution for those seeking to maximize space while maintaining a sense of elegance.
Space Saving Small Pooja Room Designs in Apartments
If you're dealing with limited space and don't have enough room for a dedicated pooja room, consider exploring those forgotten nooks and niches within your home. A corner pooja room is an excellent choice as it can be tucked into an otherwise unused space, adding a touch of glamour while setting it apart from the rest of the house. This mandir design for the hall is visually arresting and allows you to create a sacred space even in compact settings.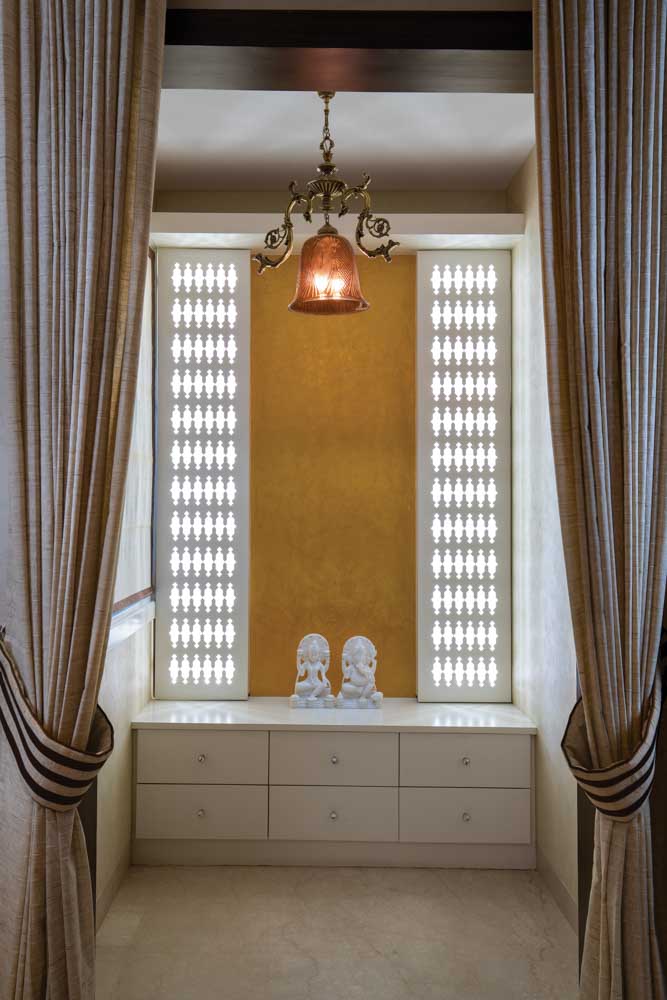 Stand-alone Mandir Designs for Small Flats
Free-standing niches, such as modern mandir designs for flats, hold immense appeal because they create the illusion of a dedicated room even when there isn't one. This intelligent design can be elevated further in visual charm by incorporating jali doors and side drawers. This collection of temple designs for homes is not only visually appealing but also highly functional, demonstrating how thoughtful design can make the most of available space.
Temple Style wooden mandir designs for flats
A wooden temple-style puja ghar design in flats is a wonderful addition to any small Indian space, making small pooja room designs in apartments feel complete. These mandir design ideas for small flats are an awesome way to infuse both charm and serenity into your home.
Portable Pooja Room Designs for Flats
Modern mandir designs for halls can include portable puja units crafted from wood, showcasing the skill and talent of Indian craftsmen. This list of temple designs for homes is versatile and complements residences with both modern and traditional design aesthetics.
Existing Cupboard Mandir Puja Room Ideas in Small Flats
Instead of investing in pooja cabinets or building new shelves, you can make use of one of your existing cupboards. This space saving small pooja room designs in apartments would be portable as it can be shifted easily to choose the ideal spot. Apart from that, it can easily meld into the home décor.
Kitchen Modern Mandir Designs for Flats
Not all homes offer the luxury of spaciousness to accommodate complete small pooja room designs within apartments. Therefore, an alternative solution is to utilize the kitchen area for this purpose. You can designate a specific space in the kitchen for a pooja unit and design it in the most brilliant way possible. This serves as an excellent solution for space constraints and allows you to maintain a sacred space within your home. This collection of temple designs for homes will assist you in creating an exquisite and spiritually fulfilling environment.
Alongside Window Mandir Designs for Small Flats
Not everyone has a separate room for a puja unit, hence this tiny pooja room design in apartments ideas might help you. Pick any window of your house and set up a temple there. Only keep the essentials here and do not clutter the space. It is very crucial to use your space intelligently.
Living Room Cupboard Space Saving Small Pooja Room Designs In
In many homes, the living room is one of the largest rooms available. Therefore, it's possible to allocate a portion of its space for setting up small pooja room designs within apartments. This can be achieved by creating a distinct area within the living room. You can install a cabinet in this designated space and arrange all the necessary items to create a functional and aesthetically pleasing pooja room.
No Dedicated Pooja Room? Here are Expert Our Solutions
1. Pick any silent corner at home:
Transforming a nook, a hallway, or any underutilized corner into finely designed pooja room designs within apartments, complete with ample lighting and storage, is a thoughtful way to optimize your living space. When designed with care and attention to detail, such spaces can indeed become the best utilization of space in your home.
2. Create a wall niche:
Any wall niches available can be converted into pooja room designs for flats as well.
3. An empty wall can be converted into a pooja room:
Making use of the wall is one of the innovative and modern ideas for setting up pooja rooms. You can use floating shelves to arrange the pooja idols, pictures, etc.
4. Pooja room in your open hall:
One of the most promising concepts is to create a small mandir using the living space. It can provide a comfortable breathing area and blends in with the apartment's decor to create the most exquisite pooja unit design.
5. Wall-mounted pooja space for your kitchen:
For those who desire just an altar, a small wall-mounted pooja unit in your kitchen design is a simple and favourable option.
FAQs
Q. Which mandir is good for home?
A mandir made from marble is the best choice for your home, However, a wooden mandir is also a favourable option to choose. The mandir should be placed in the northeast direction of the house as per Vastu experts.
Q. How can I decorate my mandir at home?
Decorate your mandir by placing fresh flowers near the idols or pictures of deities every day. Mandir decoration ideas include pooja items such as diyas, brass lamps, bells, and incense sticks. Create a beautiful accent wall behind the mandir to create a pious environment. These mandir decoration ideas are striking!
Q. Can we hang mandir on wall?
Ideally, a separate prayer room should be created for the mandir in your house. However, if there is a lack of space in your house then you can go for a wall-mounted mandir. The mandir should be placed in the northeast direction of the house.
Q. Which Colour is best for wooden mandir?
A bright yellow colour wall is the best suited to mount a wooden mandir in your house. You can also go with a combination of yellow and blue colours for your wooden mandir.
Also Read:  Texture paint designs for hall