Your living room is where visitors enter your home and are welcomed. It is crucial that it is tastefully made and that it appeals to your tastes and preferences. This room of your home is where you entertain friends and visitors in addition to relaxing there in the morning or at the conclusion of a long day.
Ideas for living room wall painting can liven up a space and create the ideal atmosphere for your adobe. This post will go over 20 different wall painting concepts and explain how each one can affect your home in a different way.
10 Living Room Wall Painting Ideas You Will Adore
These living room wall painting ideas will give your home a fresh and elegant makeover:
1. Peach Living Room Wall Painting Idea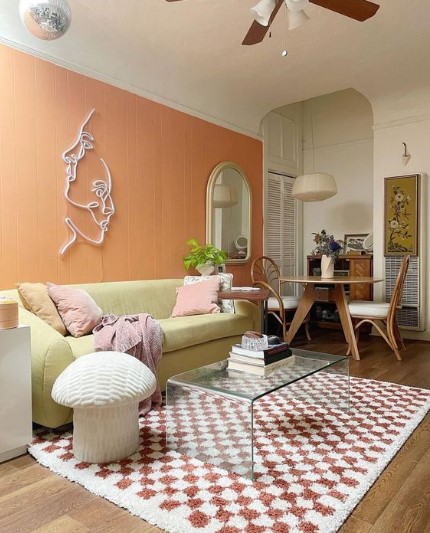 Peach is a mellow, peaceful shade of orange that is a fantastic choice for your living room wall painting since it offers a flash of color without being overpowering. The color peach stands for vitality, encouragement, playfulness, and liveliness. And use a peach wall color if you want to bring this enthusiasm into your living area.
If you think painting the entire space peach would not be the best option, you can always combine it with cream, as seen in the image above, to make a space that is both bright and inviting.
2. A Swanky Teal – Paint Color for Living Room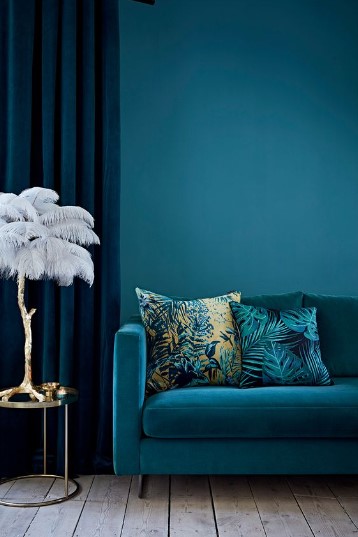 Teal is a fantastic alternative for your living room wall painting ideas since it promotes clarity of thought and open communication. Teal has been a staple of homes for generations and continues to be a favorite among contemporary interior designers and seasoned home decorators. And for good reason—it gives the room a certain charm that most colors, despite their best efforts, are unable to impart.
If you and your family adore the color teal, think outside the box and design your living room area using shades of the color, as shown in the image above. Teal can be used for the accent wall, chair upholstery, and drapes. Wooden floors and metallic accents can break up the monotony.
3. Stylish Olive Green – Living Room Wall Painting Idea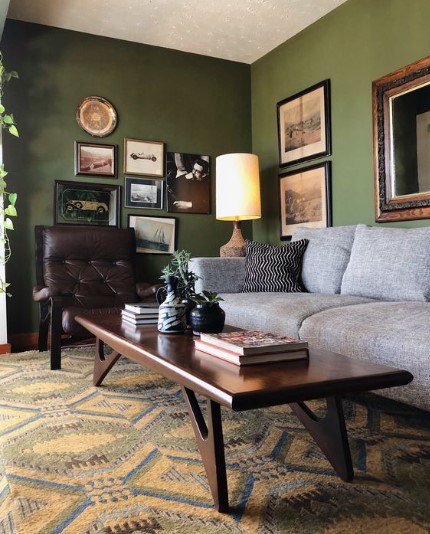 Using the color as a living room wall painting concept can infuse your space with the peaceful qualities that were formerly symbolized by the olive branch. The living room of the house is where you entertain guests, so it's crucial that the atmosphere be tranquil and welcoming. The wall color of olive will achieve this.
Take a cue from the aforementioned photograph and paint your living space olive without thinking that it might be excessive. Because you can always tone it down with the aid of a cream-colored ceiling, a grey sofa, a sandy rug, and, of course, a cream-colored rug that combined create a place that is both straightforward and welcoming.
4. Glamorous Magenta – Paint Color for Living Room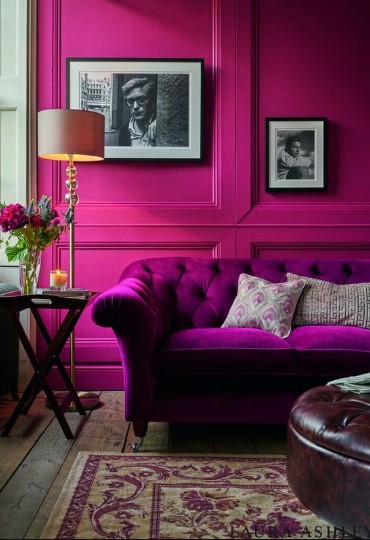 Magenta, a vibrant combination of red and violet, symbolizes joy, contentment, and comfort. And rest confident that you will create a gorgeous area when you blow it up on the walls! The living room's paneled wall in the image above shows us a fantastic method to combine a grey toned theme with a magenta paint hue.
Always keep the flooring modest in earthy tones when choosing that splash of color for the walls.
5. Regal Gold And Beige – Paint Colors For Living Room
A hint of gold can never be more royal. What better way to transform your living room into a royal event than to paint some of its walls a golden color? A classic color scheme to emphasize your living room's aesthetic appeal is beige and gold. Given that the color scheme has so many warm undertones, you can use clean white furnishings, rugs, and curtains to break up the monotony.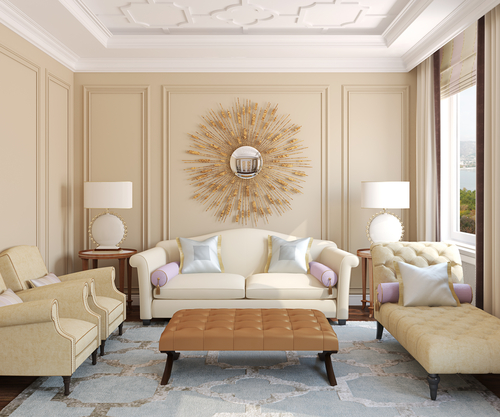 6. Soothing Mauve  – Paint Color for Living Room
Consider mauve for your living room wall painting if you want to add a feminine touch to the room. The hue is a nice accent to house décor without being overly spectacular or loud because of how gentle the tone is. A wonderful illustration of how to use it in the area where you host visitors is shown in the image above. You can create a room that epitomizes luxury by combining it with whites and gold and adding a rug in a like tone over wooden floors.
Additionally upbeat and inspiring, mauve is a color that will transmit those feelings throughout your home.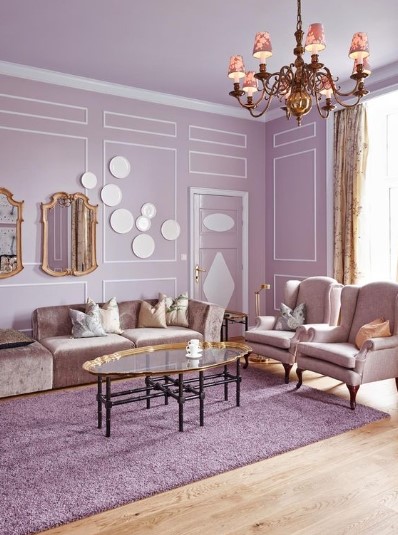 7. Rich Persian Blue – Wall Paint Colors For Living Room
Persian blue is a different shade of blue that is very well-liked as a visually appealing wall color for a living space. Rich and creamy by nature, this colour. As a result, it gives your living area a cozy and sophisticated appeal. It goes well with white couches, simple rugs, and modern lights. To highlight the depth of the Persian blue wall hue, keep the décor simple.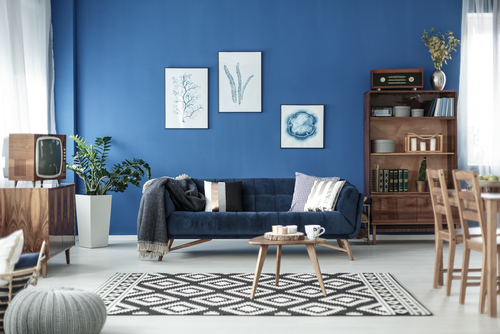 8. Elegant Pink – Living Room Wall Painting Ideas
Pink is the best option for you if you want to choose a pleasant, effervescent color for your living room. Darker hues like deep grey and violet can make a lovely contrast with its delicate hue. Your living room looks incredibly gorgeous and like it belongs in a storybook when it is pink.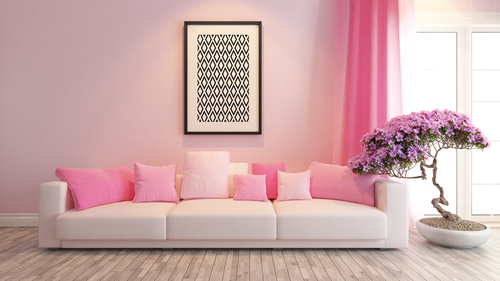 9. Charcoal Black – Wall Paint Colors For Living Room
Use of charcoal black to adorn the walls is one of the most creative living room wall painting ideas. Black is typically thought of as a gloomy and terrible color. It is a serious misunderstanding, though. Your living room walls get a raw, artistic look with a matte black color. As the ideal alternative for contrast, you can utilize white and give your living area a Zen feel.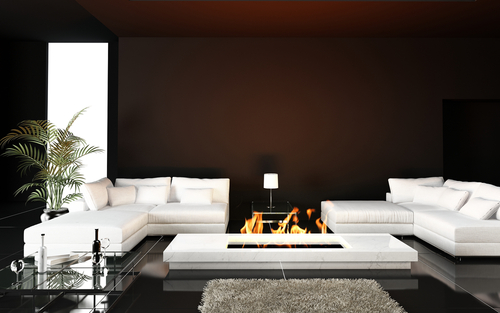 10. White & Mint Green – Living Room Wall Painting Ideas
White and mint green are a fun color combination for the walls of your living room. A relaxing color is green. It may do wonders for the room's brightness when paired with white. Both large spaces and small living rooms can benefit from this color combination. Select a creamy mint green paint color for the full wall and match it with white walls that have a light texture.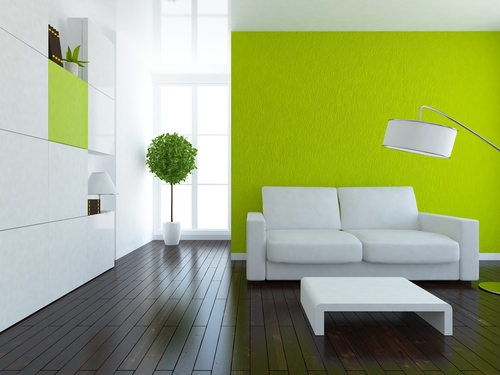 Check these wall decoration ideas that will make your living room stand out:
Mirrors make a chic addition to a living room while adding aesthetics and glam to the space. Opt for the ones with designer frames to lend your living area a unique appeal.
Wooden shelves make a classic option to style up the walls. You can display your stunning decorative pieces on these shelves to add charm to your wall.
Wall lamps not just add illumination to your home but also a glamorous twist to the interior. You will find several lamp options in the market to match your interiors.
You can get your hands on some retro decor pieces like a bicycle to hang on the accent wall of your living room. This makes a fun accent piece that gives a vintage feel to your space and brings in some light.
Metal insect decor pieces have found their way into modern homes. They look attractive, make a focal point in your house and bring in the feel of nature. You can use insect decors like wasps, moths, grasshoppers, ants and dragonflies. Choose the ones made of copper, clear mirrors and brass.
Feng Shui Tips for Living Room
– Keep your living room clean and free of clutter. When you hoard too many things in the living room, you restrict the free flow of energy in the space.
– Try and incorporate all five elements (wood, metal, earth, water, and fire) in your living room. This can done with furniture, decor, paint and more.
– When placing mirrors in the living room be careful of what they reflect, as mirrors have a tendency to amplify whatever they reflect.
– Keep the windows open and clean. Having clean windows in your house can lead to good luck and even prosperity as per feng shui.
– Add indoor plants as part of your decor in the living room. They represent the wood element and tend to bring good chi in your space.
Summing Up Living Room Wall Painting Ideas in 2023
There are many options available if you want to liven up your house and need some living room wall painting ideas. The only thing you need to consider is whether your unique taste and style complements the design of the rest of the house. You can be sure to have a room that is warm, inviting, and aesthetically beautiful after you select the proper paint colors for the living room.
Which color among the 20 alternatives presented to you in this article would you prefer to see in your living room? Please describe it in detail in the comments box below.
We advise you to check out the expert home decor services offered here for the best results if you need a professional to redesign your living room or to assist you in selecting the appropriate wall paint and décor.
FAQs
Q. Which type of living room wall paint idea is good?
For the best living room wall paint ideas you can try an elegant wall paint colour in glossy or matte finish or you can try a floral wall paint design to give you living room a lively vibes.
Q. Which wall paint color is good for living room?
Wall paint colors for living room such as emerald green, red, grey, persian blue, black, purple, and white are some of the attractive living room wall paint ideas.
Q. Which color looks best for living room wall paint idea?
Depending on your taste and preferences you can pick between the pastels and vibrant wall paint colors. If you like vibrant yet elegant wall paint colors for living room then you can try colors like plush purple, turquoise, mint green, glossy white, yellow or gorgeous floral pattern.
Q. How to choose a living room color?
You need to consider the size, shape and lighting of your living room while choosing the paint color for it. While light colours brighten up a space, dark colours give it a dramatic look. If you wish for a bright, cheerful vibe, go for vibrant hues.
Q. What two colour combination is good for the living room?
Teal and white, pink and purple, yellow and grey, green and teal, brown and white, and yellow and blue are some perfect two color combinations for the living room.
Also Read: Janmashtami decoration ideas to make your home feel festive