Pink, often associated with youth, playfulness, and good health, has become a popular choice for bedroom walls in both kids' and adults' spaces. The trend of using pink in two colour combinations for bedroom walls is on the rise, and it is expected to endure due to its versatility. Whether incorporated into modern, vintage, minimalist, Victorian, Scandinavian, eclectic, or other decor themes, pink adds a touch of charm and style that resonates with a wide range of tastes and preferences. With its enduring appeal and ability to complement various design styles, the trend of Pink two colour combination for bedroom walls is sure to remain popular in the world of home decor.
The perception of pink as a color exclusively for women has evolved, as color psychology reveals its representation of love, kindness, happiness, friendship, and inner peace through different shades. This shift has made pink a popular choice in the unisex world, with an increasing number of people opting for pink two colour combinations for bedroom walls.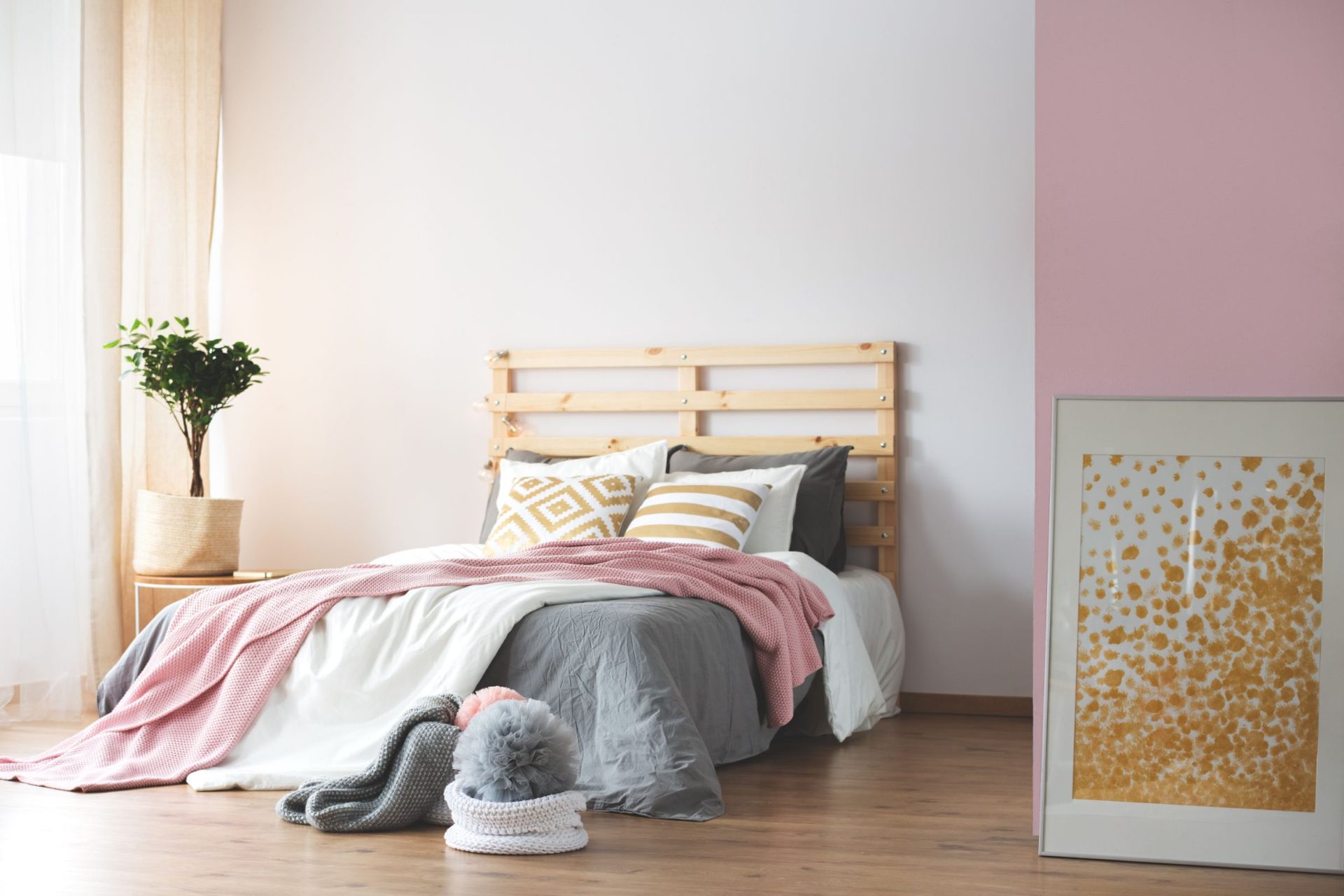 If you are in love with pink and want it to be a part of your bedroom, here are some colours that go well with different shades of the colour of romance. Read on to know more:
1. Blue and Pink two colour combination for bedroom walls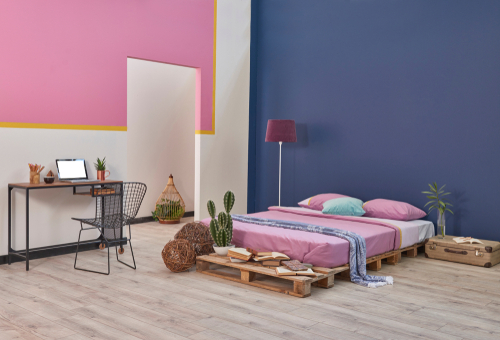 It is preferable to blend the colors like in the above image if pink and blue are both your favorite colors and you want to use them in your bedroom. Together, these colors will give you a bedroom that encourages creativity. Pink will promote self-love, and Yale blue will promote quiet and serenity. However, take care not to use too much of either hue as they are both strong colors in their own right and will change the way your room looks as a whole.
2. White and Pink two colour combination for bedroom walls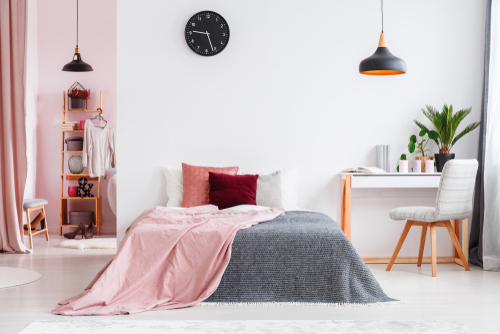 When it comes to selecting a color that complements pink for your bedroom walls, white is an ideal choice that never disappoints. The image above showcases a bedroom with a minimalist decor theme, where the pale pink walls beautifully blend with the dressing area, while the rest of the room is adorned in white. White symbolizes innocence, freshness, and simplicity, making it perfect for achieving a contemporary and clean look in your room. Alternatively, you can opt for a raspberry pink shade on just one wall, as shown in the image below, while keeping the remaining walls in soothing white, creating a balanced and stylish pink two colour combination for bedroom walls.
Having white walls is also great as you can spruce up the place with paintings of your choice without being worried about the wall colours.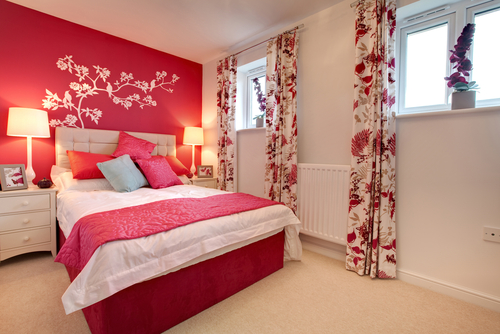 3. Red and Pink two colour combination for bedroom wall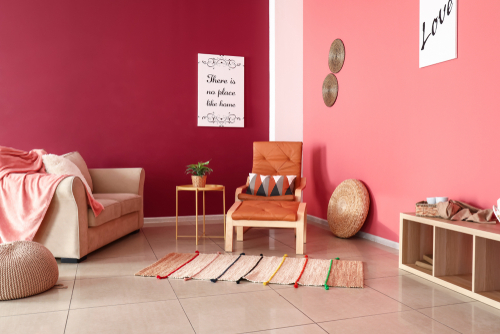 Red, the shade of intense emotions, love, and passion, also represents strength, power, and courage. By painting your bedroom walls in a captivating red hue and pairing it with soft pinks like coral pink or peach pink, you can witness a transformative mood in your bedroom. To create a harmonious pink two colour combination for bedroom walls ensure that the rest of the room features neutral tones, such as beige tiles and cream-colored furnishings. This thoughtful balance of colors will infuse your bedroom with a unique and enchanting ambiance that reflects both warmth and boldness.
4. Textured Maroon & Pink two colour combination for bedroom wall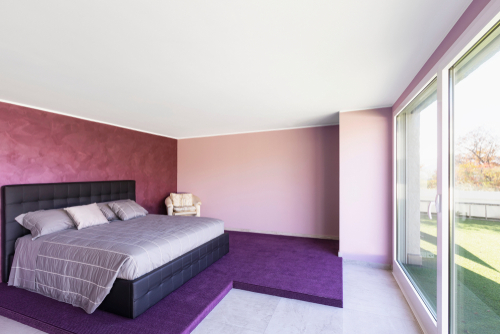 The color maroon, which is frequently connected to the fall, has a certain allure. You can make something that is both beautiful and magnificent by adding some texture to the maroon paint. Maroon is said to convey thoughtfulness and responsibility, and you may create a stunning and hospitable bedroom by combining it with a soft pink.
Make sure the rest of the room's furnishings and decor are in a color that complements your choice of pink and grey for the bedroom walls, such as metallic grey, as shown in the image above.
5. Green and Pink two colour combination for bedroom wall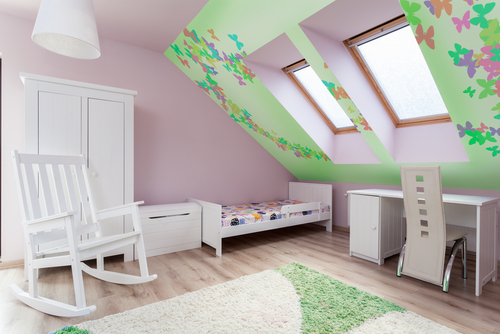 If you desire growth and prosperity in your life, incorporating a shade of green into your bedroom can work wonders. Green, symbolizing nature and peace, brings a sense of tranquility and security to your living space. When combined with a soft pink shade, it creates a delightful and harmonious pink two colour combination for bedroom walls that is particularly well-suited for kids' rooms.
In the image above, the room features white furniture, enhancing the overall theme of the space with its simplicity and chic elegance. This combination of green and soft pink, complemented by white furnishings, creates a calming and visually appealing ambiance that is sure to create a soothing and inviting atmosphere in your bedroom.
6. Muddy Yellow and Pink two colour combination for bedroom wall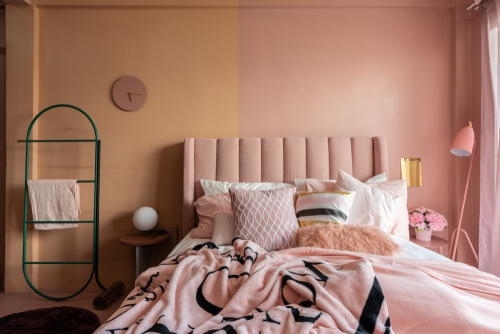 The color yellow is associated with joy and spontaneity. Yellow is the color of joy, optimism, and sunshine. When used in the bedroom, it encourages creativity and keeps the mood upbeat. Instead of choosing a bright yellow, choose a muted tone like in the image above and combine it with a lovely soft pink to give your room a sophisticated and stylish appearance. You may create a location that people will speak about by adding subtle accents like a modest clock and a small moon lamp.
7. Orange and Pink two colour combination for bedroom wall
If you've recently experienced a loss and are going through a grieving process, consider incorporating the uplifting shade of orange into your bedroom. Paired with the comforting self-love color of pink, as shown in the image above, this pink two colour combination for bedroom walls creates a reassuring and cozy atmosphere.
To enhance the space, consider adding wall art that resonates with your personal taste and bright-colored furniture, such as side tables and lamps, to add a touch of vibrancy.
You can experiment with the wall colors by opting for a half-and-half approach, where the darker tone covers the lower half of the wall, and the soft pink extends towards the ceiling. This creative approach adds depth and visual interest to your bedroom while providing a balanced and comforting environment for healing and rejuvenation.
8. Grey and Pink two colour combination for bedroom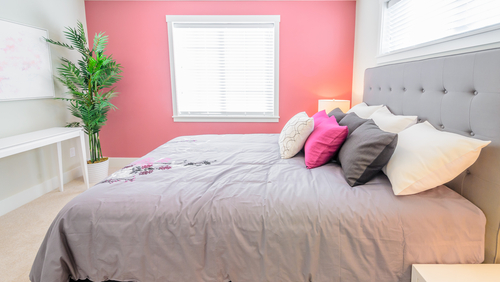 Designing a tasteful and elegant bedroom doesn't have to be complicated. For a chic and effortless look, consider incorporating color tones like grey and pink, as seen in the image above. The grey tone adds a sense of strength and stability, while pairing it with a soft shade of pink, such as blush or flamingo pink, creates a simple yet stunning bedroom ambiance.
To add a touch of freshness, introduce a hint of green with a live plant, and let the natural light from the windows define the mood of this pink two colour combination for bedroom walls. The combination of grey and pink, accentuated by a touch of greenery and natural light, will create a serene and inviting atmosphere in your bedroom, making it a perfect space to relax and unwind after a long day. With this effortlessly chic color palette, you can achieve a stylish and harmonious bedroom design that exudes both sophistication and comfort.
9. Black and Pink two colour combination for bedroom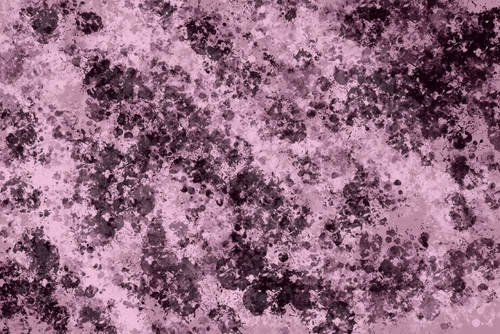 Black is the colour of prestige, authority, mystery and strength. When paired with shades of pink, it brings all of that to your room, along with a bit of romance, compassion, and kindness. If having a black wall in your bedroom is too overwhelming, choose to design an accent wall in a blotchy texture like the image above. This will not only bring the pink two colour combination for bedroom walls, but also add a lovely design to your room.
10. Violet and Pink two colour combination for bedroom walls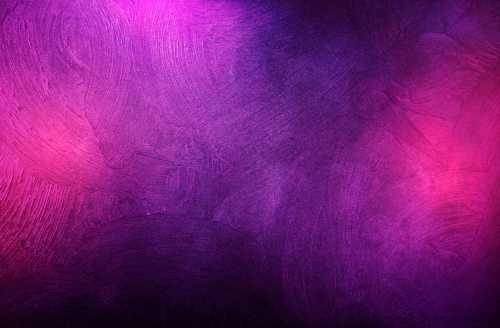 While the color violet represents spirituality and intuitiveness, it may be considered a dark and intense shade for a bedroom by some. However, if it's the desired choice, pairing it with a hot pink tone, as shown in the image above, can create a magical effect. To achieve this in a more artistic manner, consider opting for a textured wall finish, such as a classic swirl or an orange peel texture, to add depth and visual interest to the pink two colour combination for bedroom walls.
Combining the deep and mystical violet with the vibrant energy of hot pink brings a unique and enchanting ambiance to your bedroom. The textured wall finish adds an artistic touch, enhancing the overall appeal of the room and infusing it with creativity and inspiration. This daring and artistic pink two-color combination for bedroom walls is sure to create a captivating and personalized space that reflects your individuality and style. Let this imaginative pairing of violet and hot pink be the catalyst for unleashing your artistic inspiration in your sanctuary of dreams.
11. White and Magenta Pink two colour combination for bedroom walls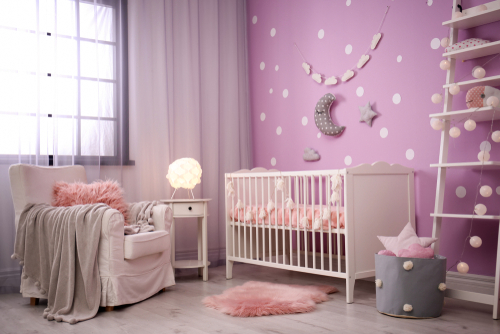 Magenta is a terrific color to mix with a complementary shade for a baby's nursery because it is the color that is universally associated with emotional harmony and balance. This hue of pink makes a baby's nursery cozy and inviting, which is exactly what it should be. Additionally, it's great because you can defy the conventional wisdom that a room like this in your home should be painted pink or blue. Make the room more adorable by adding a magenta wall with white polka dots, and match it with white furnishings like a cozy couch and a white crib for the child.
12. Baby Blue and Pink two colour combination for bedroom walls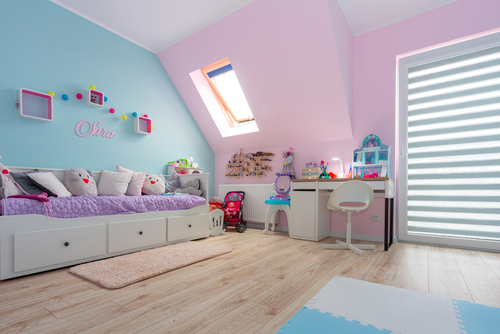 A baby blue or light blue colour is soothing and reassuring. It is peaceful and calming, perfect for a toddler's room. Pair the shade of blush or a lemonade pink, and viola, you have your toddler's favourite room in the house! A neutral-toned floor works best for such a room, as you can see from the image above. So, opt for wooden flooring or tiles in beige to go with the aesthetics of the room and the furniture can be in a shade of white or off-white.
13. Cream and Pink two colour combination for bedroom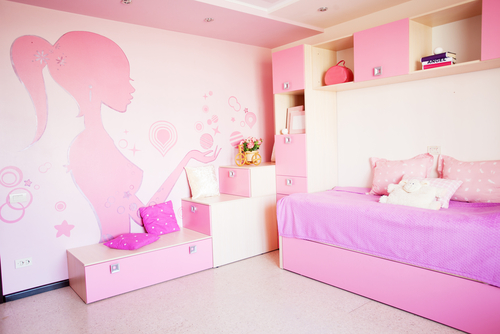 Look no farther and create a room like the one seen above if your teenage daughter adores the color pink. Later on, you can thank us for the idea! When hot pink is combined with cream, a soothing, neutral color, teenage girls will adore the result.
14. Ivory and Pink two colour combination for bedroom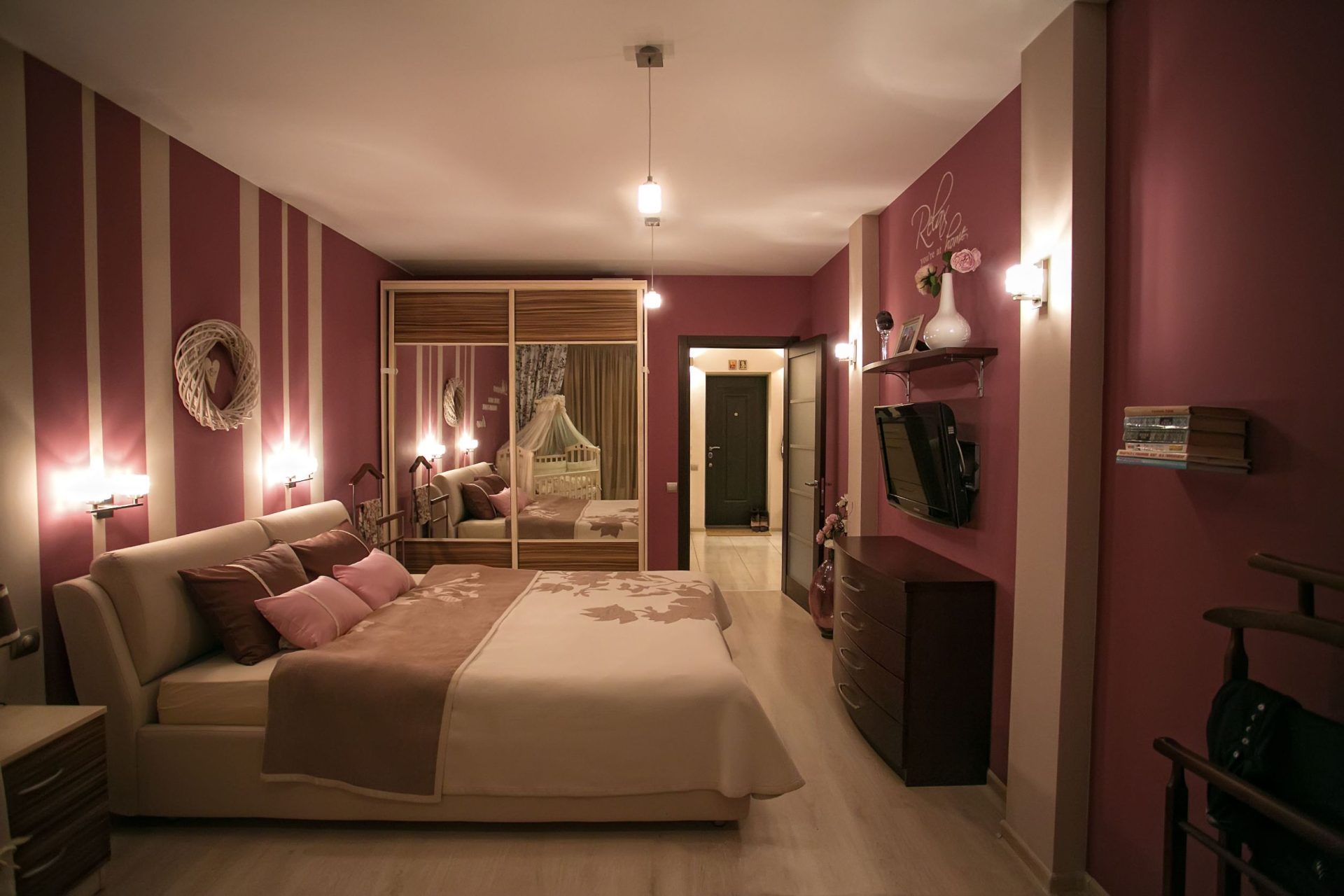 Give your bedroom environment the vibrancy and elegance of pink and the coziness of the white color. For a smooth, upscale color palette, paint the walls mauve pink and add ivory patterned lines. The perfect mood is created for a cozy and comfortable night's sleep by the furniture pieces, bedsheets and throws, and decorative accents in a beige-brown color scheme. To create a balanced effect in the bedroom, use hanging lights that are softly lit and flooring that is a similar shade of ivory.
Hope the above designs lend some inspiration in creating your very own pink two colour combination for bedroom walls. Tell us in the comments below which one is your favourite.
Innovatively use pink two colour combinations for bedroom walls
When we say pink two colour combinations for bedroom walls, it doesn't mean that you simply paint the walls pink. Here are a few fashionable ways to incorporate this trend in your bedroom by innovatively using one wall combination.
Play with textures – think grainy, smooth, matt, orange peel, grunge, stimulated, and so much more.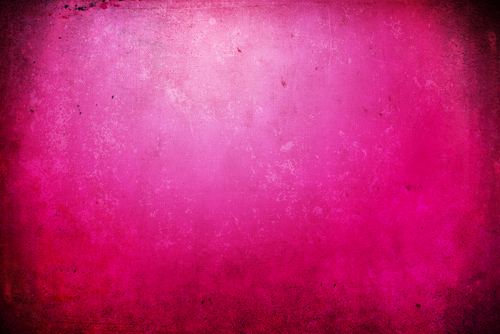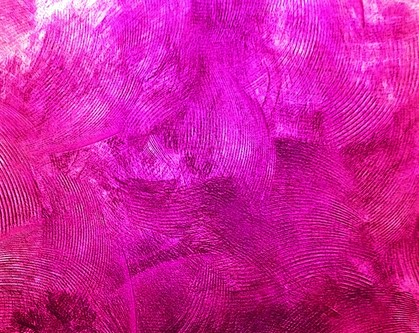 Opt for Venetian plaster  – adding Venetian plaster to the wall adds drama to the room without making it too loud.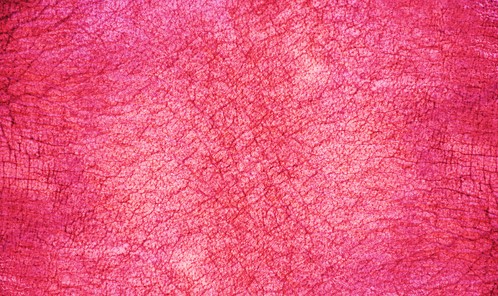 Use a brick wall  – this adds a sense of aesthetics to your space. A single wall with a brick design works great as an accent wall.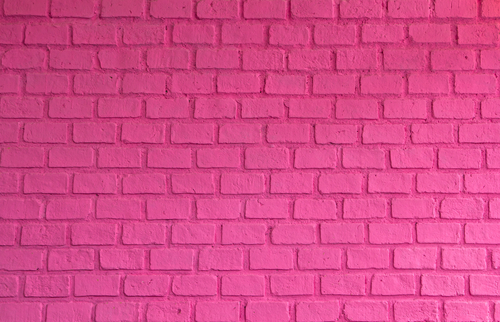 Marble texture – this works great too on the walls, especially when paired with soothing colours that sync with the room's overall theme.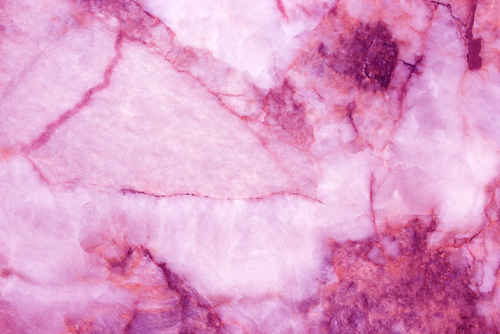 Ceiling contrasts –  Paint the ceiling with a colour that works as contrast, and the rest of the room can be pink of your choice.
Patterns – These have a way of bringing life to walls and you can choose anything from a geometric pattern to a slap brush technique to have a breathtaking effect.
Go bold in pink – Add bright raspberry pink or a shocking shade of magenta to the borders of the wall, while the rest can be a soft or neutral tone to have a bold effect.
Other Popular Colour Combinations for Bedroom Walls
Take a look below at some other popular colour combinations for bedroom walls that invite luxurious and relaxing vibes:
Indigo Blue and White
Indigo blue is a warmer colour than blue and matches perfectly well with white. This is a soothing colour palette that infuses calming and cheerful beachy feels.
Brown and Cream
Neutrals have always been a perfect colour theme for bedrooms. Mix and match brown with cream to augment the aesthetic level of your bedroom and give it an elegant and urbane look.
Lavender and Off-White
Lavender is another soothing and cheerful hue that creates calming and comforting aura promoting sleep. Match it with white to achieve a perfect colour palette.
Shades of Grey
The many tones of grey are a stylish neutral color that go nicely together. Create the perfect contrast between light and dark greys to give your bedroom a sophisticated, monochromatic appearance.
Muted Green and Light Brown
Your bedroom will have the freshness and vibrancy of nature thanks to the striking, earthy combination of muted green and light brown. These hues also create the impression of space in your bedroom.