Get ready to welcome home divinity, prosperity and good fortune with these Janmashtami decoration ideas.
It is the ideal time to decorate your home with the holiday spirit as the prosperous celebration of Janmashtami approaches. The Hindu festival of Janmashtami, also known as Krishna Janmashtami or Gokulashtami, is one of the most fortunate ones. The day honors the birth of Lord Shree Krishna, who is thought to be Lord Vishnu's eighth incarnation. It occurs on the Ashtami of Krishna Paksha, which is the eighth day of the month of Shraavana or Bhadrapad. The date for Janmashtami in 2023 is September 7. As a result, the Nishita Puja muhurat falls between 11:57 pm on September 6 and 12:42 am on September 7.
Janmashtami is cheerfully observed all around the nation in a variety of ways, including performances depicting the lives of the Gods and others, reenactments of the Raas Leela, dahi handi competitions, and home-decorated jhulas for Krishna Janmashtami.
At various times during his life, Lord Krishna resided at Vrindavan, Mathura, and Dwarka; as a result, these locations often host large festivals. With these Janmashtami décor ideas, you may spread the same joy throughout your home.
Janmashtami Decoration Ideas
Give Nand Gopa a grand welcome at your home with these Janmashtami decor ideas:
Pick the Right Statue for Janmashtami Celebrations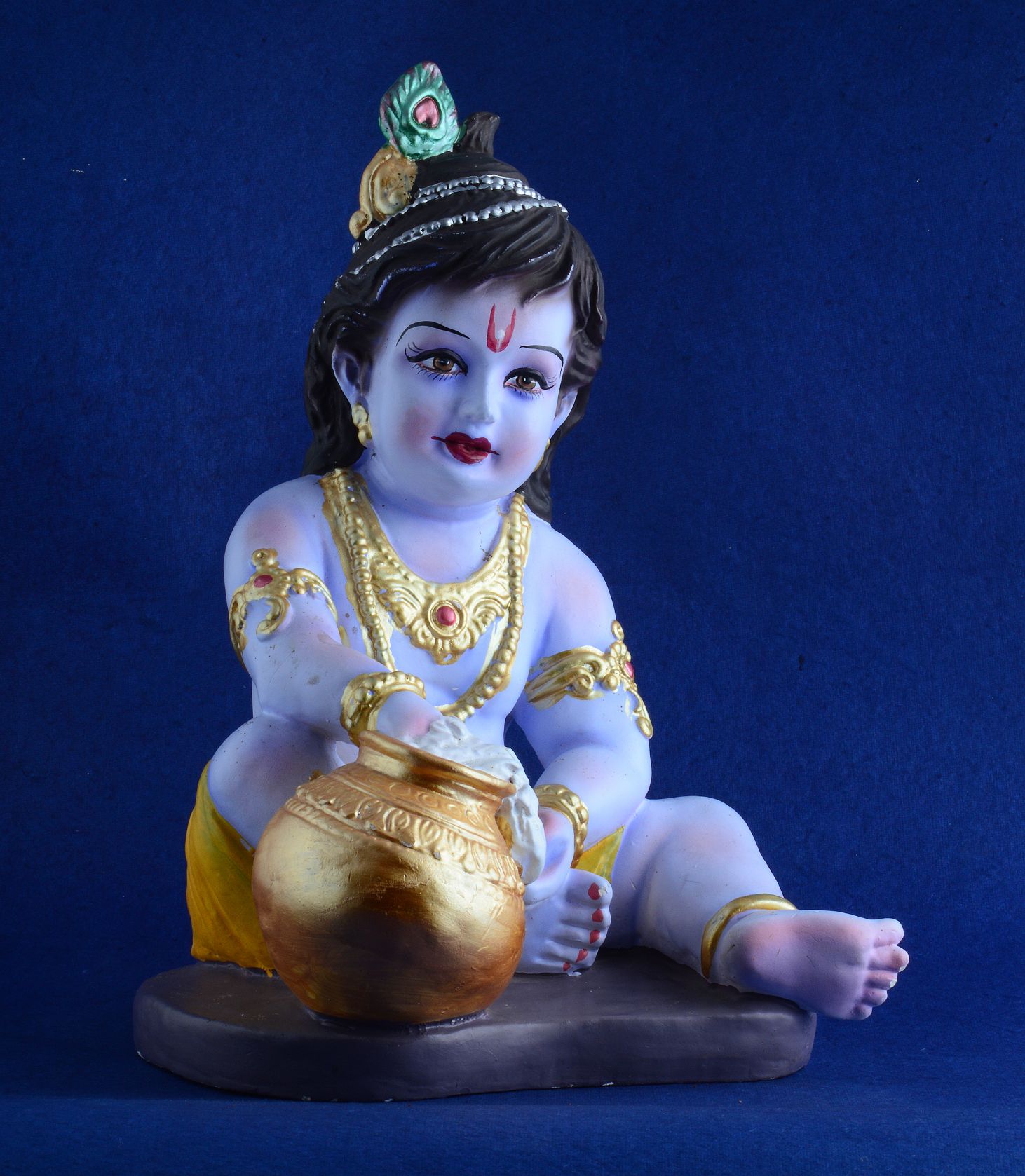 Since Lord Krishna is the focal point of the event, obtaining an image of the deity—typically in the shape of a statue—is crucial. Purchase the ideal statue of Lord Krishna from a variety of bronze idols, marble statues, and even environmentally friendly materials like clay. Additionally, there is one showing off other facets of his life, such as Bal Gopal and Krishna playing the flute. Do the idol's shringaar (accessorizing) as well. Put on vibrant apparel, a flute, a crown, and necklaces to honor the Lord.
Create a perfect Janmashtami decoration theme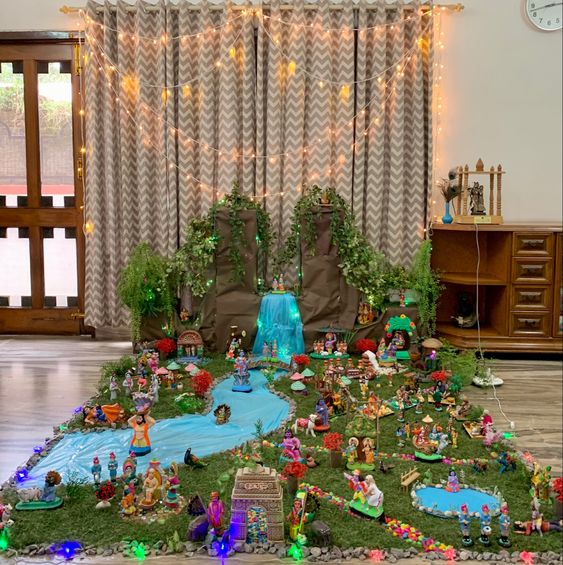 Buy Now: Brij Sugandha Lehariya Raas Set Wooden MDF Krishna with Radha & Gopi Raasleela for Janmashtami
There is no doubting the colorful nature of Lord Krishna's life. Use these lovely tales to create the ideal theme for Janmashtami decoration at home, from him being the makhan chor to Yashodha Maiyya and conducting the Raas Leela with Gopis to having a friendship with Radha, among other things. Traditional artwork, such as Madhubani paintings, can be used to enhance the Lord Krishna statue and other figures in a happy environment for the ideal Janamashtami theme.
Make a stage for the idol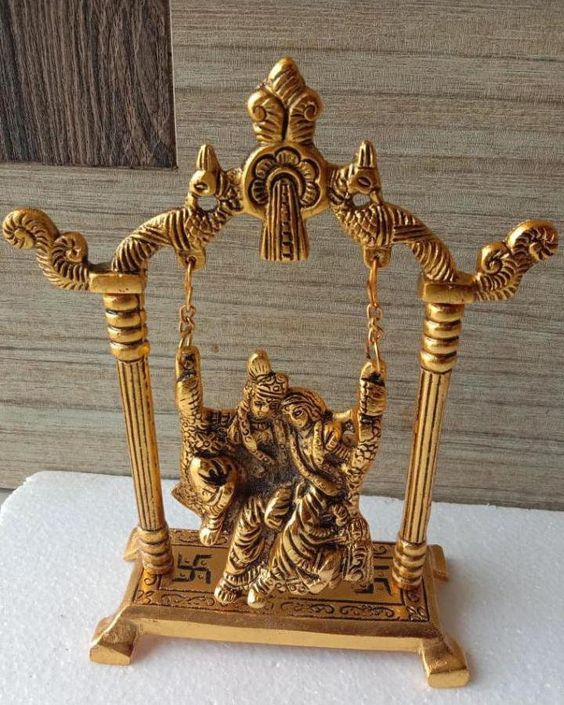 Krishna's statue should constantly be elevated. On Janmashtami, keep the idol in the center of your temple. To create the base for the idol, you can use crates, stools, or cardboard boxes. Put a lovely silk cloth with a pattern or embroidery over their bases, then decorate them with flower garlands.
Design Jhula or Palna for Bal Krishna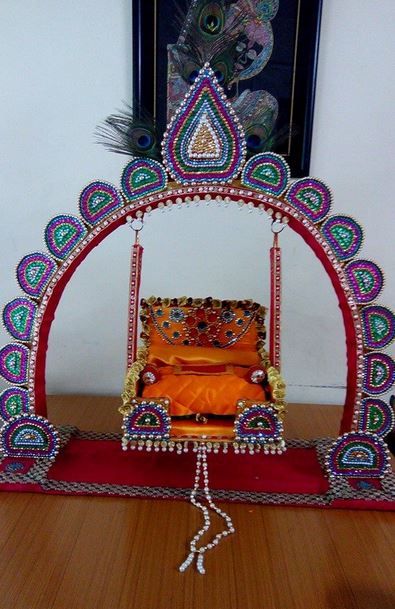 The Bal Krishna idol is suspended from a jhula. To comfort him, it is covered in opulent silk, satin, or velvet attire. Add two tiny bolster pillows to the sides of the jhula to make it look nicer. Jhulas come in a variety of styles and materials, from beautifully carved wooden ones to sequined metal ones.
Decorate with peacock feathers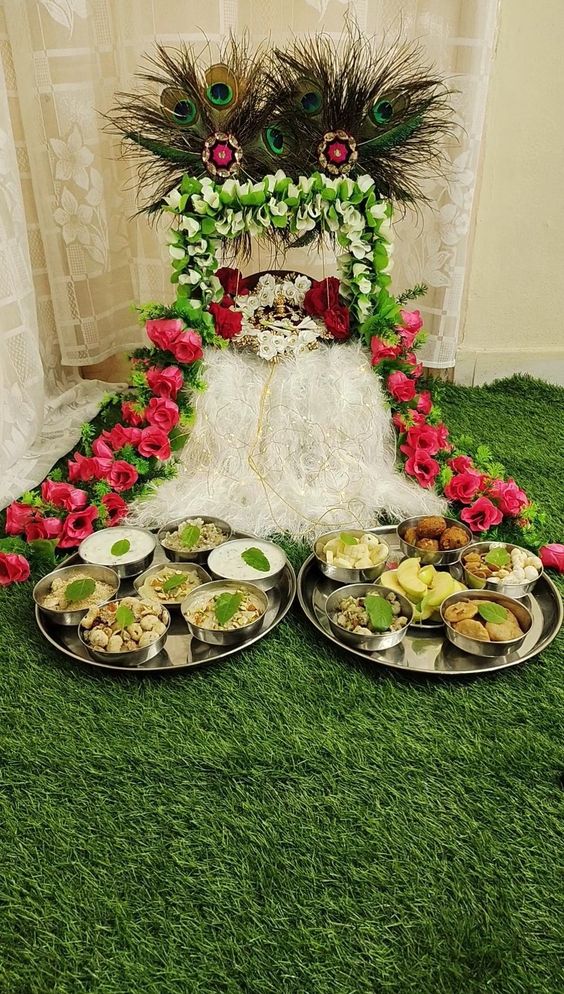 Lord Krishna is frequently associated with the peacock feather. A tiny feather will always be fastened to Krishna's mukat, or crown. However, there are various methods to incorporate them, such painting them on the walls or using them as finishing touches for the jhula. You can also gather a lot of them and place them in vases on either side of the setting.
Ready the parat or plate to wash the idol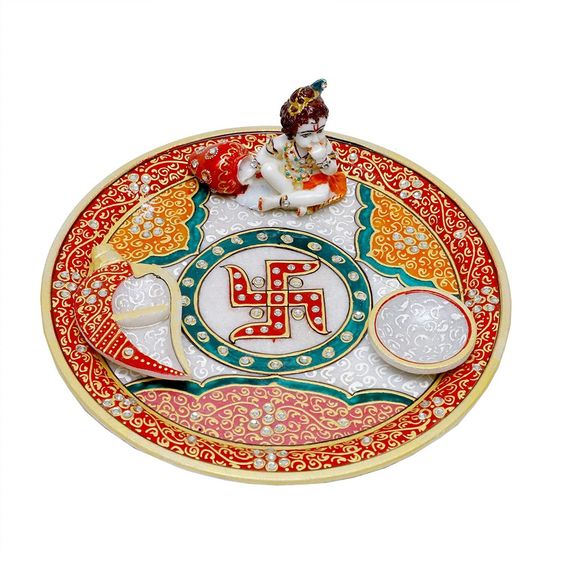 Lord Krishna's idol is ceremonially cleaned in a sizable ornate parat or dish before being adorned with the shringaar. A few plates may also be required to arrange the offerings for the god. Get your hands on some gorgeous plates; for a classic look, go with brass or silver-plated parats. Additionally, you can get carved wooden parats or colorful decorative ones.
You can upgrade the ones you already have for a cost-effective solution. For a lavish Janmashtami celebration at home, paint them by hand or with spray paint and then embellish them with flowers, beads, and other objects.
Design a matki for home Janmashtami Decor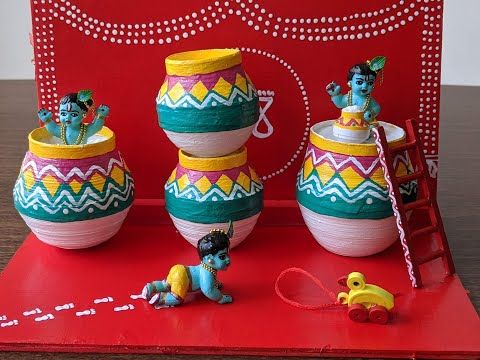 Since everyone is aware of Krishna's devotion to Makhan, the celebration of Krishna Janmashtami wouldn't be complete without a scattering of matkis and handis. They can be stacked together to resemble pillars and placed close to the idol. You can make them into colorful pieces or a straightforward rustic design by painting them white. For vibrant sights and to bring back dahi handi scenes, hang them up.
Amp up the setting with flowers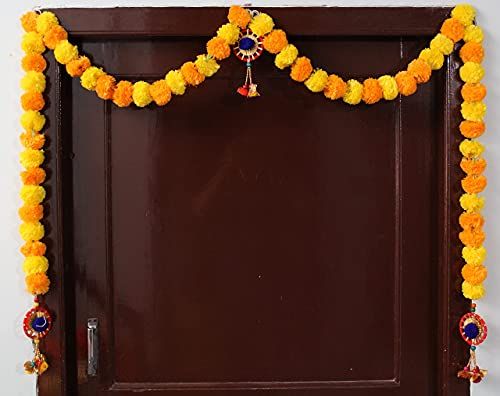 The core of festive décor is flowers. You can hang them at your door, on your balcony, or from railings to serve as torans or flower garlands. As an alternative, you can make a gorgeous flower wall or create floral centerpieces using vases, thalis, or matkis. For a conventional appearance, roses, marigolds, mango leaves, and chrysanthemums work beautifully.
Summing Up: Janmashtami Decoration Ideas
Bringing the color and brightness of the celebration of God Krishna's birth home is the main goal of Janmashtami. Use these Janmashtami décor ideas for your home as inspiration to create that atmosphere. Additionally, don't forget that the festival's centerpieces—the Bhog and soothing Krishna bhajans and songs—are essential to the celebration and raise spirits. Prepare for the festivities now for Krishna will be here soon.
Also Read: Eco friendly home decor ideas for diwali