Marble is indeed a popular choice for designing pooja rooms due to its luxurious and elegant appearance. Its natural beauty and timeless appeal can add a touch of opulence to the space. Not only does marble enhance the aesthetic of the pooja room, but it also holds several practical benefits that make it a preferred material for this purpose.
One of the significant advantages of using marble in pooja room designs is its ease of cleaning and maintenance. Marble surfaces are relatively smooth and non-porous, making them resistant to stains and dirt. Regular dusting and occasional cleaning with a gentle marble cleaner can help maintain its pristine look over the long term.
While it's true that marble can be more expensive compared to other materials, the investment is often justified by the remarkable transformation it brings to the pooja room. The luxurious appearance of marble can instantly elevate the ambiance of the space, creating a serene and tranquil atmosphere conducive to worship and meditation.
In addition to its aesthetic and practical benefits, marble is known to have received strong endorsements from Vastu experts. Vastu Shastra, an ancient Indian architectural philosophy, emphasizes the harmony between nature, human dwellings, and spirituality. Marble's natural properties align well with these principles, making it a favorable choice for creating a Vastu-compliant pooja room.
If you're in the process of setting up your first pooja room and are considering marble as the primary material, it's important to plan the design thoughtfully. The choice of marble color, texture, and pattern should resonate with the overall theme of the room and contribute to the spiritual environment you intend to create. Additionally, the layout and arrangement of the pooja essentials should be well-planned to ensure a comfortable and organized space for worship.
Ultimately, marble pooja room designs can indeed make a powerful statement in terms of aesthetics and spirituality. If you're seeking further assistance or inspiration for your marble pooja room designs, there are various interior design resources, magazines, and professionals who specialize in creating sacred spaces that align with your vision and beliefs.
1) A Complete Marble Mandir For Home
A magnificent pooja unit crafted entirely from durable white marble stands as a remarkable testament to the material's strength and elegance. This choice of white marble not only ensures enduring quality but also adds a touch of resplendence to your sacred space.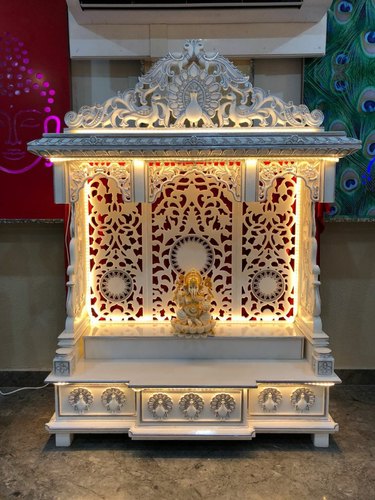 2) Marble and Granite Mandir Design
To create a truly splendid pooja room design, consider the fusion of marble and granite elements. An innovative way to achieve this is by incorporating a stone niche within the wall structure, thereby crafting a pooja area entirely composed of stone materials. For a touch of contemporary style, opt for a modern mandir design crafted from elegant granite. This design concept entails the integration of a wall niche and the installation of a granite panel, which is enhanced with subtle backlighting. This cohesive integration of marble and granite within your pooja room design is certain to deliver a captivating and sophisticated ambiance.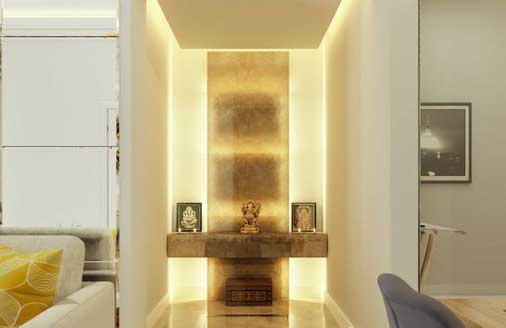 3) Marble Tops/Panel Design
For those facing budget limitations that hinder a comprehensive marble redesign, integrating a marble top or panel within your mandir design serves as a pragmatic and cost effective solution. By adopting this approach, you can infuse the exquisite essence of marble into your pooja room without necessitating a complete overhaul of the space. This enables you to achieve a harmonious blend of aesthetics and financial practicality within your marble pooja room designs.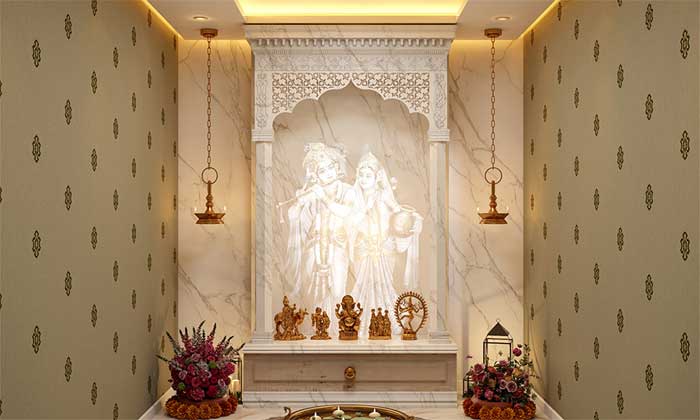 4) Marble Floor Mandir Design
To achieve a heightened sense of elegance in your marble pooja room designs, it's advisable to select a mandir that harmonizes seamlessly with the marble flooring. Opt for a pooja unit that complements the Italian marble design surface on which it rests. This careful coordination not only enhances the visual appeal of the sacred space but also creates a sophisticated and unified atmosphere that resonates throughout the room.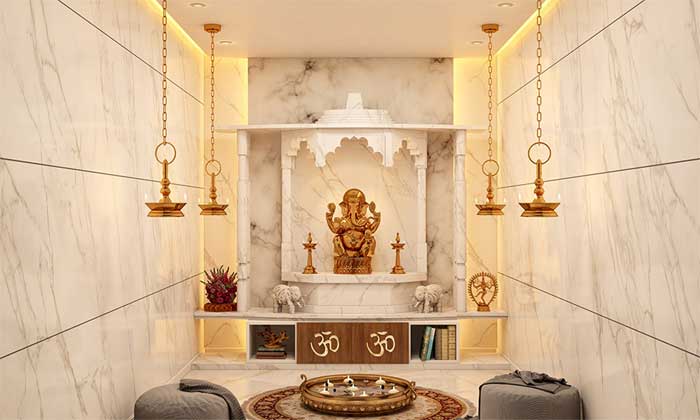 5) Marble Jaali Panel designs
Enhancing your marble pooja room designs with intricate details, the backdrop features a motif adorned with elaborate designs, including the sacred word "OM" etched delicately into the surface. For those with elaborate pooja room ideas, the star-shaped garland serves as a captivating background element. Encompassed by a refined marble frame and counter, this arrangement not only exudes an air of elegance but also resonates harmoniously with the overall aesthetic of the space.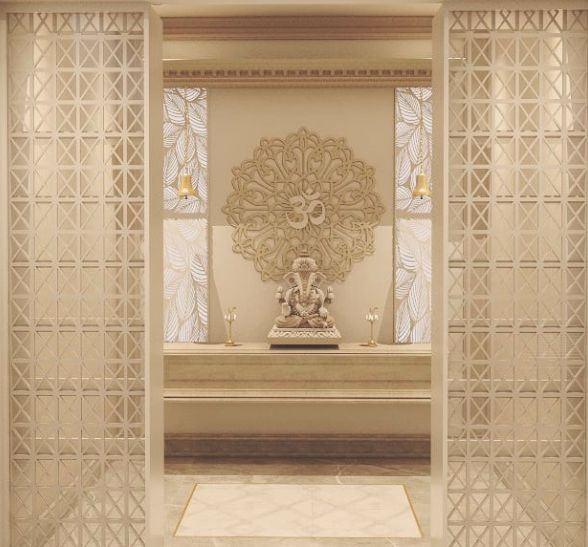 6) Marble Floating Shelves
If you've already adorned your home with elegant marble flooring and are considering the creation of a marble pooja room, embracing the concept of uniformity can yield a truly remarkable design outcome. Often under-appreciated, uniformity possesses the power to bestow a fantastic impact upon any given space. By extending the continuity of marble to your pooja room design, you can establish a sense of cohesion that not only enhances the aesthetics but also elevates the spiritual ambiance of the environment.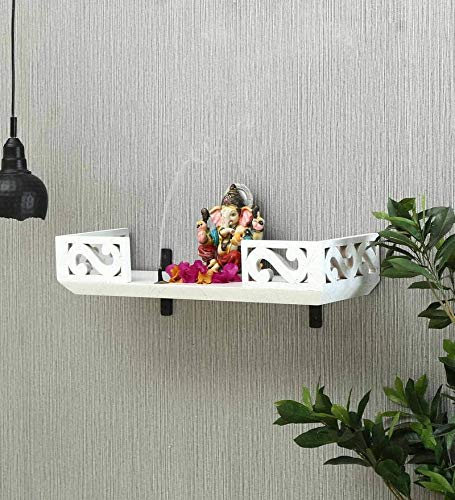 7) Om Marble Design For Mandir
The 'Om' inlay, delicately illuminated by backlighting, emanates a tranquil and calming atmosphere. In the realm of design, simplicity has perennially held its charm, and it's an aspect worth contemplating when shaping your marble pooja room. The serene presence of the 'Om' symbol, coupled with the understated elegance of the design, not only adds to the aesthetics but also infuses a profound sense of spirituality into your sacred space.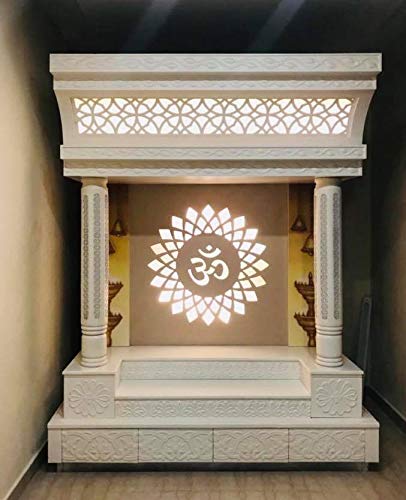 8) A Wall-Mounted Marble Temple
Even in limited spaces, the possibility of having a dedicated mandir is very much attainable. If you find yourself dealing with constraints in terms of space, rest assured that there's no cause for concern. We present a charming solution tailored to your needs within our range of marble pooja room designs. This option caters to those with compact spaces, ensuring that you can create a beautiful and spiritual haven without compromise.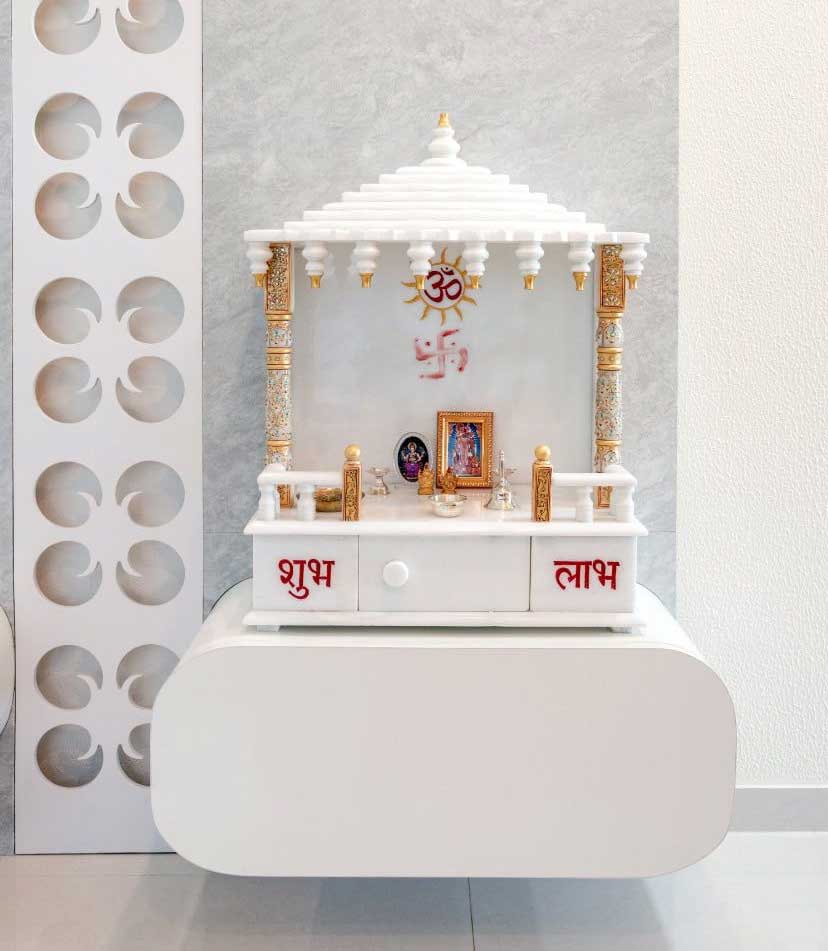 9) Traditional Marble Mandir Design
When aiming for a timeless and classic appeal, contemplate the integration of intricate wooden carvings and designs to infuse a heightened sense of distinction. To strike a delicate balance between the ornate nature of the design and its overall impact, consider opting for a neutral-colored marble, such as pristine white or soothing beige, within your marble pooja room designs. This fusion of elements not only adds an air of sophistication but also ensures that the design remains elegantly composed without overpowering the space.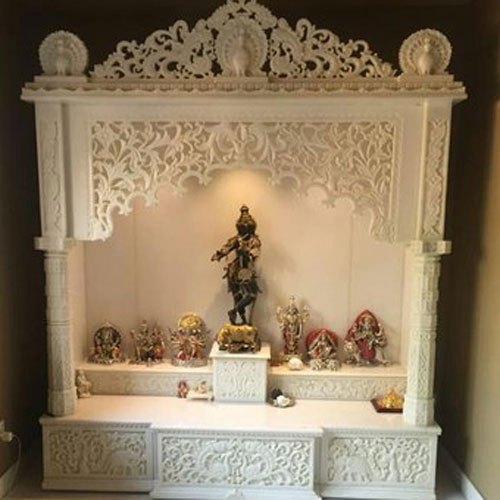 10) Marble Temple Designs with Textured Walls
Take another glimpse into the realm of stunning marble pooja room designs, this time focusing on the captivating role of texture. In this particular example, texture plays a pivotal role in elevating the aesthetics of the space. The pooja room showcases an intriguing Oriental ambiance, achieved through the incorporation of arched panels and skillfully applied wainscoting at varying heights. By skillfully integrating texture into the design, this approach adds an extra layer of visual interest, rendering the overall space a masterpiece that seamlessly combines the elegance of marble with the allure of thoughtful design.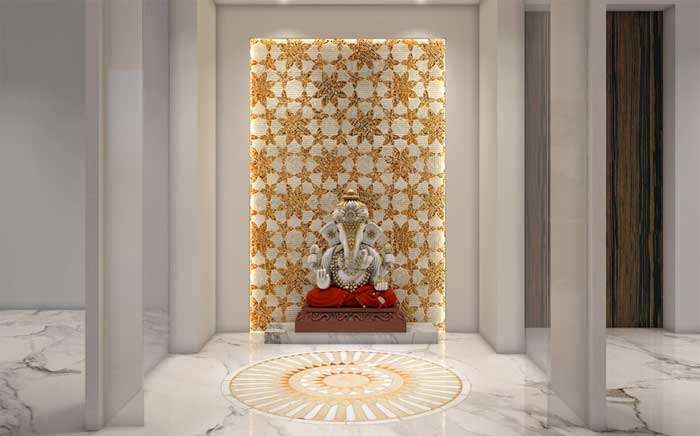 Things To Consider While Building A Marble Mandir For Home
If you're ready to build your marble pooja room, remember these factors when you start to make your pooja room vastu friendly:
Use a niche in the wall as it will make it more subtle.
Fix up a niche in the wall and install white LED lighting for both illumination and aesthetics. This way, you'll be able to see clearly at night without straining your eyes or using excessive electric bulbs.
Have shelves custom-built according to size. You can have them made from wood or marble; however, the latter is preferable if you already have flooring tiles in place since they'll match!
The top shelf will hold expensive, fragile items like real flowers, a fine statue of your god or goddess, and the like.
The bottom shelf will hold books about pooja, religious texts you want to read regularly during your devotional sessions, and other similar items.
When buying marble for carving designs on top of a mandir unit such as this, always buy good quality marble. This type is made from white granite with an inlay of pure white carvings.
Here is a complete brief on Marble vs Granite vs Tiles for your reference.
Marble can be used for virtually any part of your pooja room design; however, it's best to have it professionally installed by experts rather than attempt to do so on your own if you're not sure how!
If you love the design shown here but want it to be more subtle or less gaudy, consider altering the design and size. You are also able to personalize the color to match your preferences!
We offer several types of marble pooja room designs, including ones that are traditional and match Indian culture and decor. Which one appeals to you more? Please leave a remark below!
Conclusion
Before selecting a mandir design, think about your personality and preferences. You have to choose a pooja room design that can enhance your home décor. All the marble pooja room designs which we've discussed above are available in different styles so it's up to you which one will fit best with the existing interior décor of your house.
Do select suitable marble pooja room designs for building a beautiful and elegant space where you can conduct special spiritual activities. You can also include a marble mandir in your office to keep yourself relaxed and stress-free.
Marble pooja room designs are easy to maintain, so you don't need to worry about the cleanliness of these spaces.
FAQ
Q. Which marble is good for pooja room?
White marble
White marble is a popular choice for pooja room tile and walls because of its perceived purity.
Q. Where should I keep marble mandir at home?
If you are designing a pooja room for your house, choose the northeast or east corner. You can also create a small mandir and place it in the Vastu recommended direction. Avoid a mandir or prayer room in: Basement
Q. Which temple is better marble or wooden?
Home temple is ideal in wood while marble constructed temples are also considered appropriate. Wooden temples should always have dome at the top.
Q. Which floor is best for pooja room?
According to the Vastu for pooja room in flats, these spaces should be built on the house's ground floor.