Explore the Best Farmhouse Design Ideas of 2022
Traditionally, farmhouses were set up amid large tracts of agricultural lands and were a permanent abode with a rustic vibe. However farmhouse designs of the 21st century are more about aesthetic beauty and relaxation. Urban dwellers often consider their modern farmhouse design to be their second home, spending vacations, staycations or even weekends here. While building farmhouses, owners make sure to select land which is away from the hustle and bustle of city life. The idea is to have a place where they can relax and spend some quality time with their family and loved ones.
We take a look at some modern farmhouse design ideas and give you your aspiration goals for 2022!
Best Farmhouse Design Ideas
Gone are the days when farmhouses meant places outside the city with a rustic vibe and miles of empty agricultural lands to surround it. Today Farmhouse designs are chic with even a touch of glamor to them. Have a look at these top farmhouse design ideas.
If you have land located at the outskirts of the city, it would be a great opportunity for you to build a farmhouse here so that you can come to visit during weekends, away from city life. Here are some exceptional farmhouse design ideas you can implement to kickstart your dream project:
Simple Farmhouse Design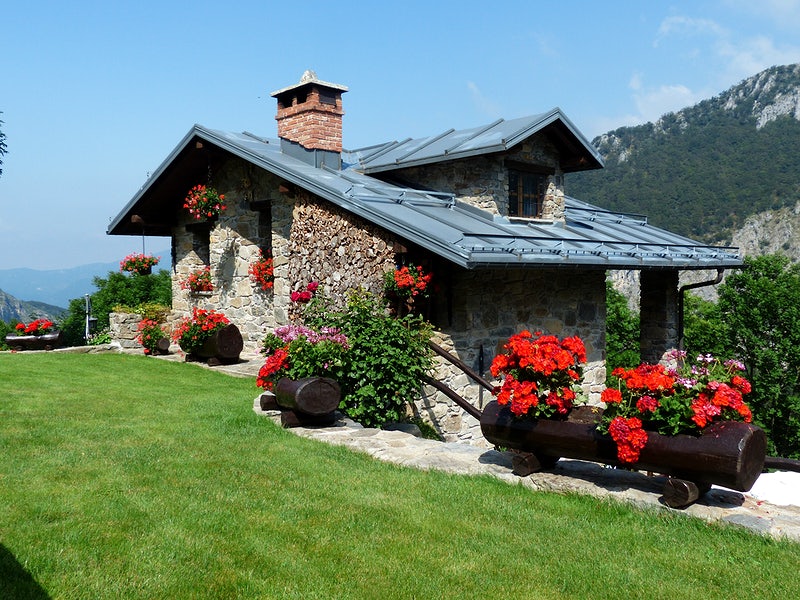 This is the most basic kind of small farmhouse design. Ideally, simple farmhouses are 2BHKs, with a couple of stairs leading to the porch. The house looks elevated upfront and gives a warm and cozy feel right from the entrance. Depending on the number of rooms you prefer to have, a simple farmhouse design can be either one or two-storeyed. These kinds of farmhouse designs are characterized by wooden ledges, glass windows and sloppy, slanted roofs, giving you a quiet, countryside vibe.
All Read – Top 5 Posh Societies to Live in Gurgaon
Modern Farmhouse Design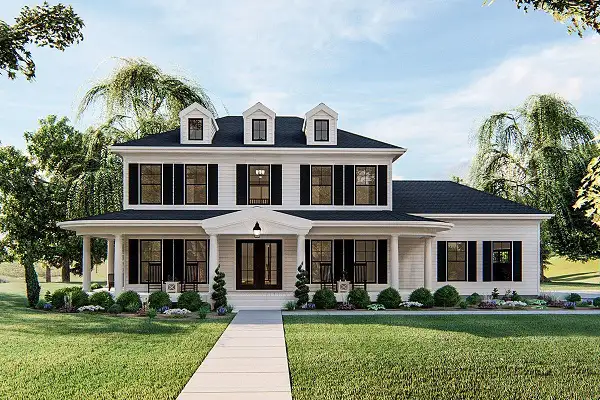 As the name suggests, this type of farmhouse design speaks for itself when it comes to modern architecture and style. A modern farmhouse design usually has 3BHK at least, perfect for a larger family to reside and relax during vacations or a short weekend trip. As farmhouses are mostly constructed in the suburbs, spending time with family here for a couple of days may be a great way to reinvigorate family love.
Modern farmhouses feature two-storeys with a front porch and round pillars at the entrance. An additional room at the side could work as a spectacular garage space. Extra rooms in the upper storey can be turned into a game room, TV room or pool table room as per choice, overlooking the gorgeous view of the lawn or garden upfront.
Small Farmhouse Design In India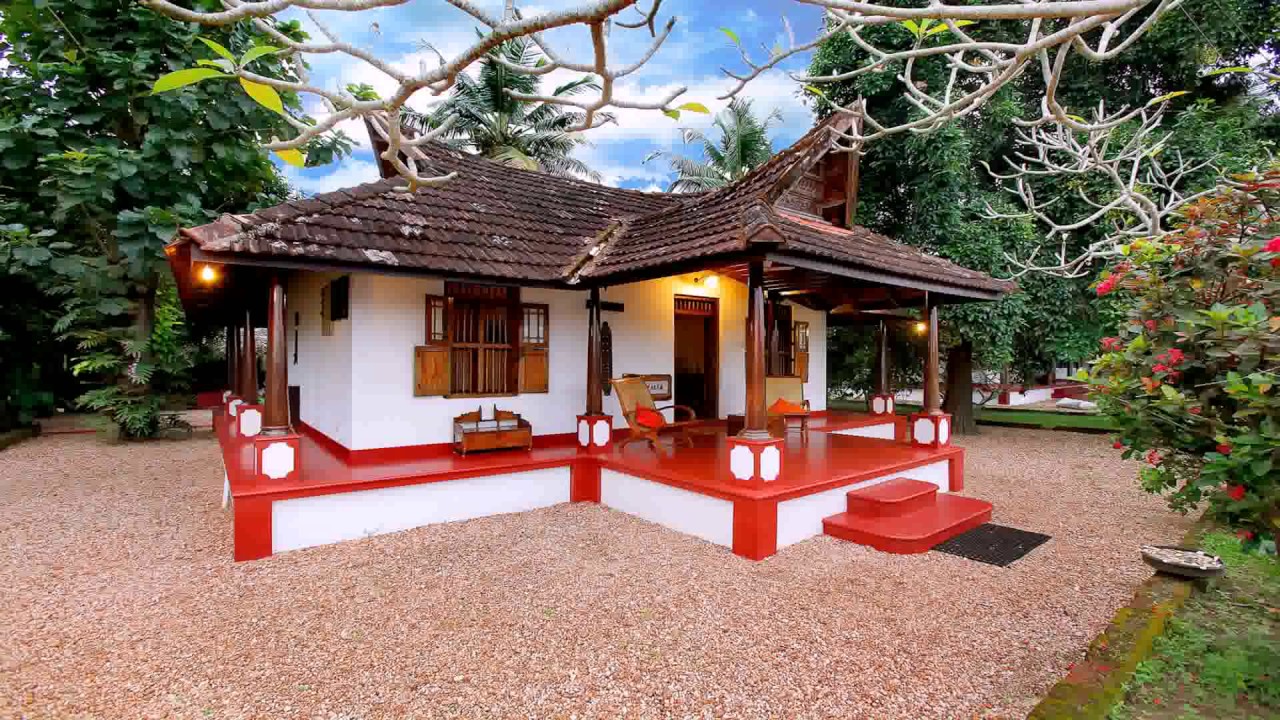 Ideal for a small, nucleus family, this 1BHK small farmhouse design will make your weekend getaway comfortable and cozy. The design is traditional with the front porch acting as a sitting area for you and your family to chill and relax with evening gossip and tea. This type of farmhouse design has a large hall on the ground floor for a drawing room and kitchen, getting maximum utilization. Stairways lead to the 1st floor for bedrooms or for some other room considered as a multipurpose space.
Luxury Farmhouse Design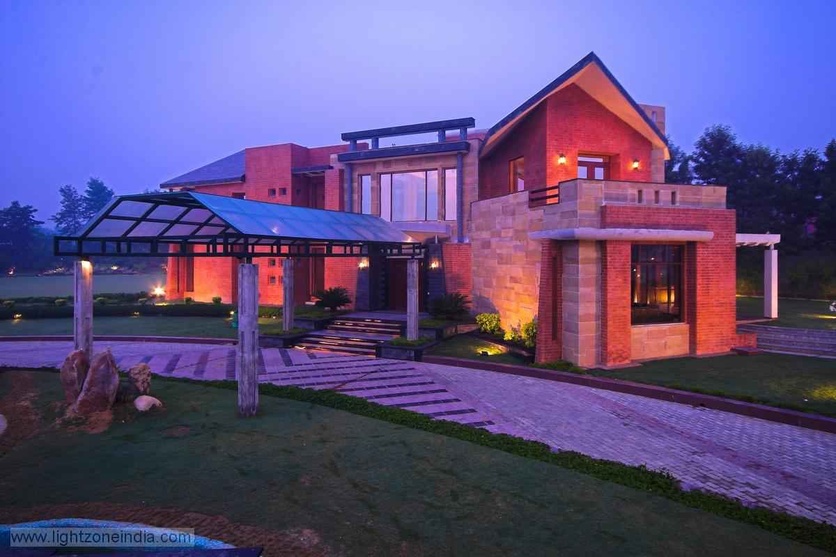 This type of farmhouse design speaks for itself when it comes to grandiose and elegance. It is a perfect choice for a large family and can easily accommodate guests. A luxury farmhouse design will have classy elements in every corner for decor. The pool overlooking a lush green garden can complete the look and vibe of the place. It can be a great place not only to spend time with friends and family but also to have a weekend getaway or party.
Rustic Farmhouse Design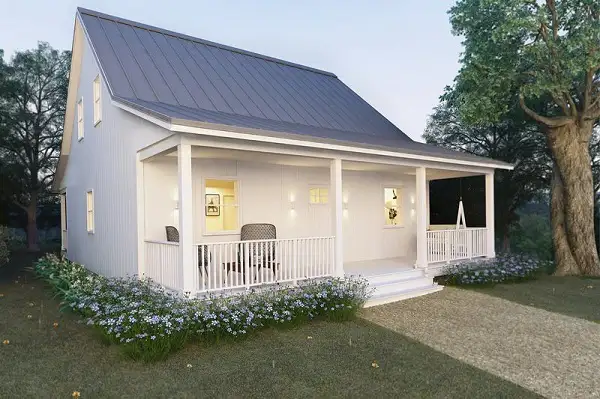 A farmhouse design like this has a rustic vibe, giving you some of the old-world charm. Living in this farmhouse design will transport you to the bygone era. The characteristic features of this type of farmhouse are naturally stained wooden tiles and curved rooftop design. The unpolished stones at the entrance and the rough-finished walls add to the dramatic charm of this farmhouse.
While decorating, you can add wooden furniture with fabric work to give it a rustic vibe instead of being too modern. Although this might sound old, it does not compromise functionality and proves to be great for old souls who prefer wood and stones as decor items.
Village Farmhouse Design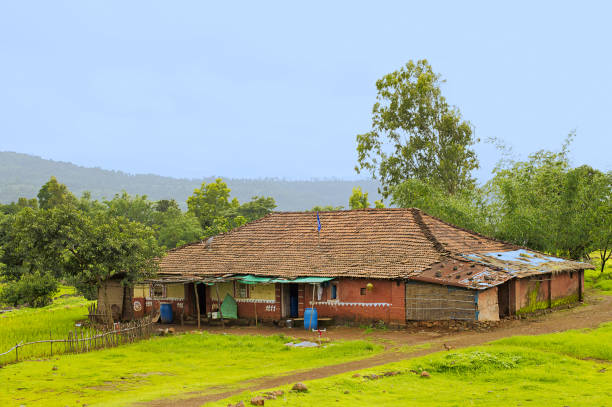 These types of farmhouses are mostly built in rural areas like the countryside. The design of farmhouses made in Indian villages is simple yet conventional. The roof of these farmhouses are typically worn-out and slopped, giving them a suburban vibe. The porch is large and kept at ground level for easy access to enter the drawing or living room, kitchen or playroom. As compared to other farmhouses, village farmhouse design is cheaper due to its low-cost exterior style.
Beach Farmhouse Design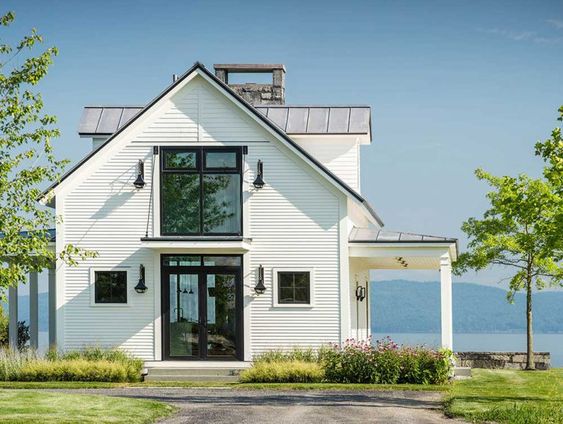 As the name suggests, this type of farmhouse is more like a vacation home located beside a beach. Its minimalistic vibe adds to the charm of this beach house with a functional design. Ideally, a beach farmhouse should have two entrances – one facing ahead towards the beach and one that leads to the road upfront. When we say minimalistic decor, we mean all-white exterior paint with either black or single-coloured windows to give it a classy yet fun charm. The ground floor has the kitchen and living hall, while bedrooms on the upper storey give a mesmerizing view of the beach and the sea.
Also Read – 8 best normal house front elevation designs in Indian style
Scandinavian Style Farmhouse Design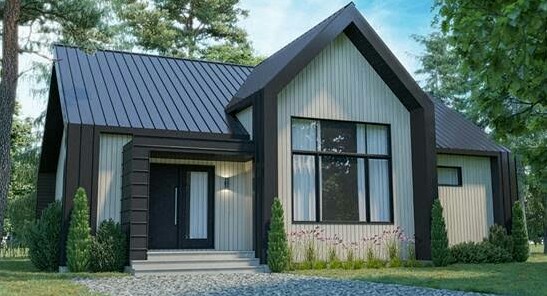 This type of farmhouse is constructed keeping in mind the architectural marvel of the 21st century. This farmhouse design speaks of fashion, art and splendid luxury. A simple, well-thought plan goes behind its making while encapsulating the chicness of urban lifestyle and modernity. The farmhouse is quite boxy, featuring the same on one side of the roof and a slanting roof on the other side, featuring a perfect contrast. Keeping in mind the minimalist design approach, the walls inside are less to give more space to move around.
Japanese Farmhouse Design
If you carefully look at Japanese-style houses, you will see they feature a lot of wooden work both interior and exterior. A traditional Japanese-style farmhouse design is all about wooden elements, angles, roofs and stone walls. The porch at the entrance has intricate stone-work detailing, large enough to work both as an entrance and a car park area. Slanting roofs not only exude a warm rustic vibe to the farmhouse but also protects against harsh winters. This design of farmhouses can be ideal for hill stations where the temperature dips below zero in winters. Owing to the harsh climate, wooden and stone interiors will provide warmth inside.
Is Farmhouse A Good Investment?
There is no doubt about the fact that farmhouses do have an intrinsic intact value added to them, especially if it is located away from the city. By investing in a farmhouse, you not only upscale your real estate value but also get peace of mind in case you plan to spend weekends here. Children these days are hooked on mobile phones, but by bringing them to a farmhouse, they will be closer to nature and will be able to appreciate the many beauties of suburbs and nature around them.
A Traditional Indian Farmhouse Design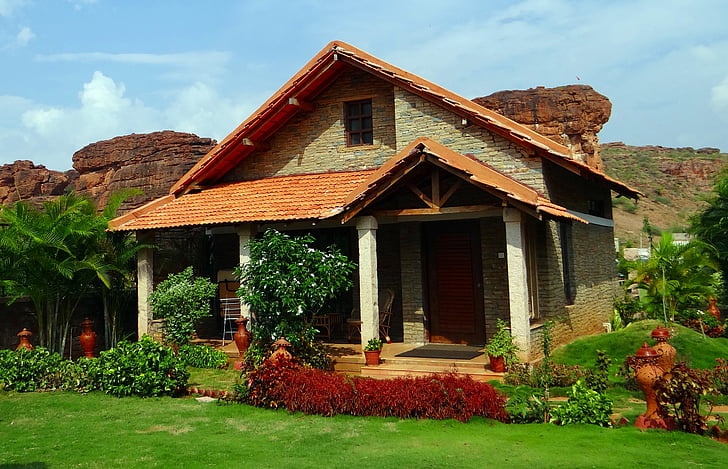 On one hand, we have urbanization that is bringing in a population explosion and a demand for apartment complexes and cramped living conditions. In such a case, we cannot change the world around us, but can definitely change our world. A farmhouse is like a dream house with a lawn, garden and fresh air. A large porch, creative interiors, rustic lighting and a touch of modernity give us the peace that the modern world fails to grant us.
A typical Indian farmhouse would feature all of this, along with having a green landscape that impersonates a quiet retreat. Away from the chaotic urban life, it will be peaceful and silent that we all require at some point. A harmonious combination of refined and rustic, a traditional yet modern Indian farmhouse design may look something like this.
There are several other types of farmhouse design like Tuscan-style farmhouse, Spanish-style farmhouse, Italian farmhouse, trendy design for farmhouse and contemporary farmhouse design. Depending on the type of design and flair your taste desires, you can incorporate these styles while building your dream house. The type of farmhouse you choose to build can also heavily depend on where you stay and where you are willing to build your farmhouse.
Also Read – How to Change Address in Bank Account after Shifting House