8 best normal house front elevation designs in Indian style
The desire to own a beautiful home is something we all share because it is a silent reflection of our sense of style. Welcoming and rewarding spaces improve self-confidence. They are part of the most productive and motivated population.
Many believe that a large budget, beautiful materials, or a large area make a home attractive. But let's blow this myth for you. You can also build a perfect and beautiful house at an affordable price. Building house front elevation designs are essential to make your home look great.
House front elevation designs enhance the aesthetic appearance and business value of the home. The design of the facade of an Indian house requires careful preparation. When developing regular house front elevation layouts, you need to consider location and climate.
The house front elevation designs are well planned to provide adequate sunlight. It also controls the temperature of the building while consuming less energy. These are some of the best types of elevation.
8 Best Normal House Front Elevation Designs
You must plan and build all four sides of the house to increase the value of the building. Therefore, the design of the Indian front needs careful planning.
Also, the first and most important thing to ask yourself is what style you prefer. Are you a cultural vulture who loves local designs or a fan of modern architecture who wants your home to have a contemporary feel? No matter what your style is, these Indian house front elevation designs will inspire you. They will also help you select the correct elements for your front elevation designs.
Also Read – Easy Home Renovation Options in India
1.Simple style normal house front elevation designs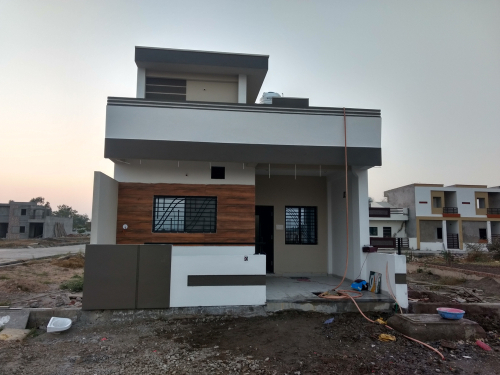 Owning a home is a dream for many regardless of size. With modern technologies and stylish designs, plan a small house. The beautiful Indian design of the front façade is a perfect example of elegant architectural elements and finishes.
2. Single-floor normal house front elevation designs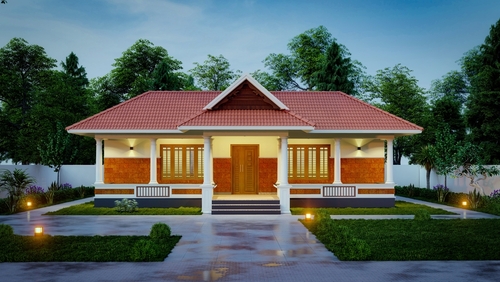 Front elevation designs of an ordinary single-story house are generally ideal for nuclear families. This Indian style front house design offers a great view from the entry level. The front door, entryway, windows, and other subtle details add to its beauty. You can also customize window layouts and styling to add a personal touch.
3. Two-floor normal house front elevation designs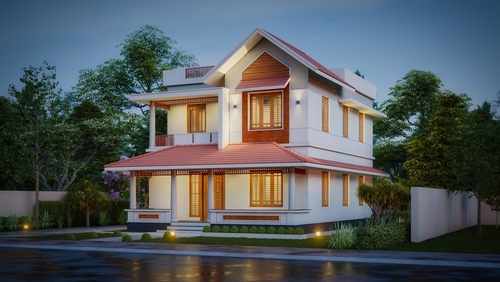 The two-story structure is identical to the previous one, except for the additional floor. You can add unique and beautiful displays to the front elevation of the two-story home. Adding a modest parking area in front of the house is a great idea. The balcony with modern designs of the walls looks attractive.
4. Three-floor normal house front elevation designs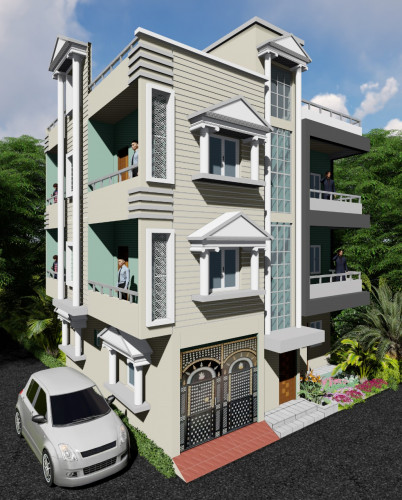 Large families prefer three-story structures. This three storey Indian front facade design is simple yet impressive. People who don't want to live in an apartment but would like to add certain aspects like this height. You can add as many balconies as you like on the first and second floors to get enough sunlight and fresh air.
5. Bungalow style normal house front elevation designs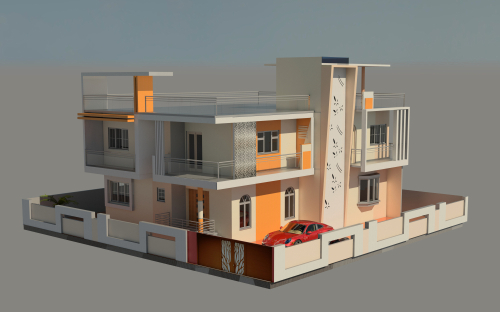 Single-family housing has become very popular. You can design the height of bungalow-style homes in a variety of ways, including one story or a partial second story. It includes various balconies or terraces, landscaped space and the latest tile, providing an invigorating effect. You can also incorporate a sloped roof to give the bungalow height a rustic look.
6. Ultra-Modern normal house front elevation designs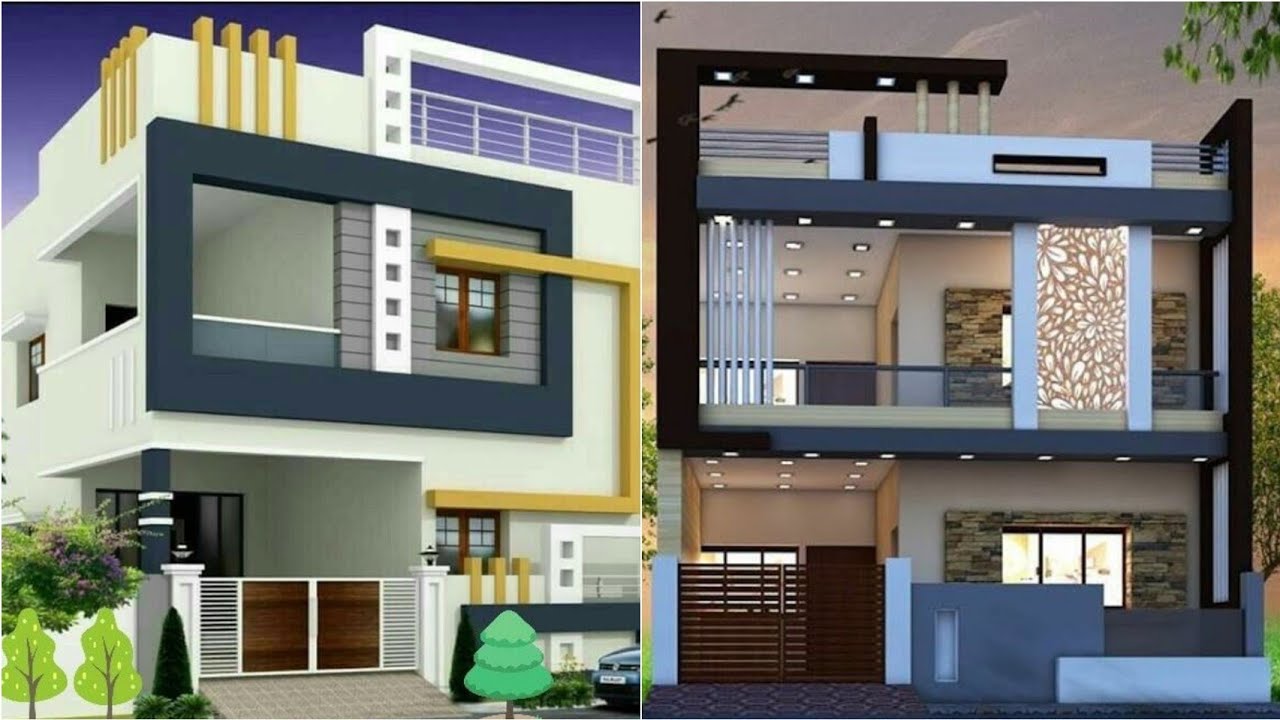 Many people like the height of the glass to give their home a modern and expensive look. Not only is this design very modern, but the use of attractive lighting also enhances it. This Indian style home front design combines the style factor with natural features. You can add another attractive element to enhance the beauty of the front elevation.
7. Villa style normal house front elevation designs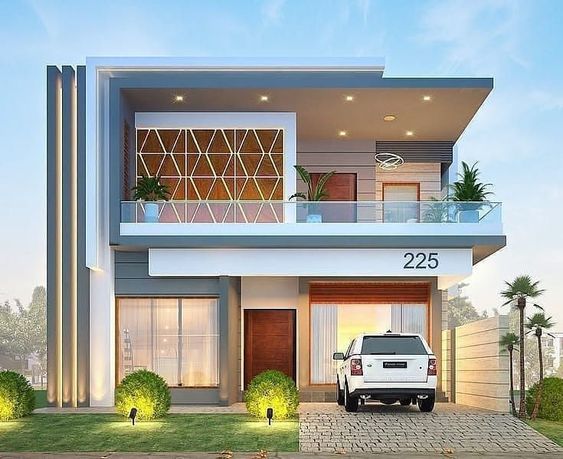 Owning a villa is a dream for many people, but it requires a huge financial commitment. A good elevation plan gives you a good idea before making the final decision. It can include a long balcony to sit on and enjoy a great view of the parking lot, patio, and garden area.
Also Read – Top 5 Posh Societies to Live in Gurgaon
8. Contemporary style normal house front elevation designs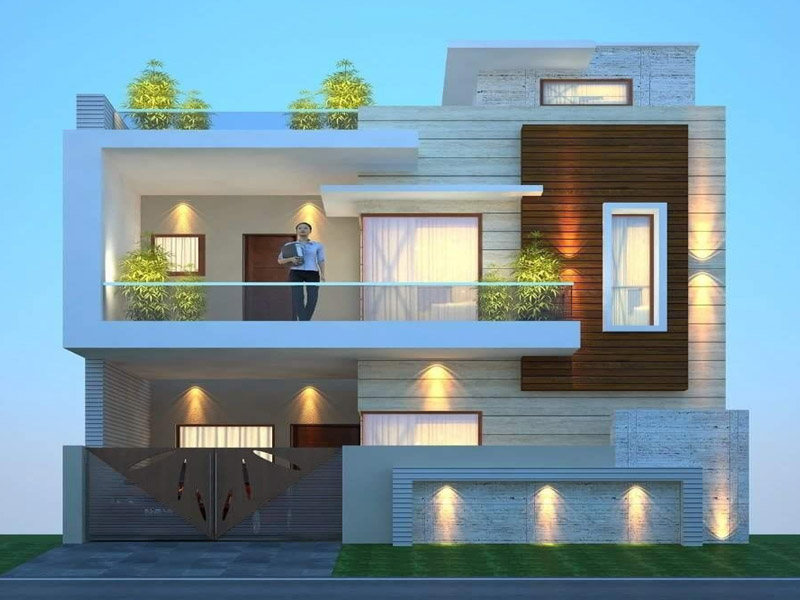 If you are looking for a way to blend modern and contemporary styles, this is one of the latest and greatest lift designs. Keep it simple and elegant, while the large balcony is the icing on the cake. The installation of glass railings adds a nice touch. You can also customize the materials used according to your preferences.
How do you make normal house front elevation designs stand out?
The beauty of unique designs is not in the price but in the careful selection. Let the front design of your home stand out in Indian style with simple additions. We have listed some design secrets that will allow you to transform the height of your home into an architectural beauty. You can take inspiration from these ideas and customize the design to your liking.
Add a pop of color to house front elevation design
Colors have a powerful effect and can automatically make us feel different emotions. The use of vibrant colors in the design of the front of your home can provide a great visual effect. Compared with neutral color, it can be more conspicuous. You can also combine neutral colors with bright colors to create a modern look.
A balanced and contrasting color palette can be a great option if you don't want to experiment with front elevation home designs.
You can also create attractive designs for a common front on a limited budget. A paint color palette can be the most cost-effective solution in such a situation.
Incorporate ornate fenestrations to house front elevation design
The styles of doors and windows influence the design of the facade of the house in the Indian style. Use the correct fashion and proper repetition of these windows to make the design attractive.
A simple window design will suffice if you have a limited budget for an elaborate window design. You can use casement windows, bay windows, French windows, or a judicious mix of window types.
Include additive elements in house front elevation design
No matter how you define your home, minimalist, on a budget, or otherwise, you can still make it look beautiful.
In addition, the inclusion of Corinthian columns in the minimalist design of the facade of your home can be an X factor. But having a proper arrangement and balance of the selected elements is essential to save money.
Factors that Influence normal house front elevation designs
Many things can affect the appearance of your height. We have mentioned several important and common aspects to consider.
Plot Size: Plot size and any setback regulatory considerations can influence front elevation designs. Larger plots allow for more experiments. But with small pieces, the experience can be tricky, and you can fake that with a little more effort.
Floor Layout: The floor plan is one of the most important aspects that affect the appearance of your front layout. If your front-facing floor plan includes common areas like the family room and parlors, you can choose any size window frame. But you need to take into account privacy and structural considerations.
Avoid placing the toilet in front as it can affect the geometry of your main house.
Geographic location: The geographic location of the building can influence the design of the front elevation. You may not be able to choose a flat roof if you live in a cold area with a lot of rain due to the obvious need for proper drainage. If you plan to build a home in an area prone to severe flooding or earthquakes, different requirements for window size and material selection may apply.
Concluding normal house front elevation designs
Everyone has the right to imagine a beautiful house with a unique design. A cozy home allows you to create equally beautiful memories. It doesn't matter if you live in a city or town; You deserve nothing more than a better home. Combine decorative windows and color schemes to create casual front elevation home designs. A great height does not always require great expenses.
Also, the key is to know your style. So do your homework and know what you want before you meet with the architect.
Also Read – What is the difference between renovation and maintenance?
Image Source – Magicbricks