Originally, a parapet referred to a defensive structure made of earth or stone, constructed to shield soldiers on the roof of forts or castles. Today, it encompasses any low wall situated along a building's roofline, the edge of a balcony, the side of a bridge, or similar architectural features.
In historical times, parapet walls served privacy purposes. These miniature defensive walls were intended as barriers to ward off intruders from entering castles. Although contemporary architectural endeavors draw inspiration from the past, the parapet wall designs of today have evolved significantly. If you're seeking inspiration for modern parapet wall designs, you're in the right place. Continue reading to explore innovative border parapet wall designs that embrace a new approach.
Top Front Parapet Design
According to the modern design trends, you can select from two categories of parapet wall designs.
When it comes to border parapet wall designs for houses, there are two popular options to consider:
Solid Parapet Walls: These are the most common and traditional types of Indian house parapet wall designs. Typically constructed using bricks, these walls suit traditional architectural styles and are often found in low-lying structures. For those seeking a touch of classic elegance, opting for a solid parapet wall design with decorative moldings and borders on the top can be a great choice. It's recommended to use this type of front parapet design primarily for roofs.
Grill Parapet Walls: Unlike solid parapet walls, grill parapet walls offer more versatility and can be used for balconies as well. Stainless steel parapet designs, in particular, are gaining significant popularity in contemporary architecture. These designs are favored for their durability, easy maintenance, and the ability to be customized according to the desired design aesthetic.
Whether you lean towards the traditional charm of solid parapet walls or the modern appeal of grill parapet designs, you have the flexibility to enhance the visual appeal of your house while adhering to functional considerations. By exploring various border parapet wall designs, you can create a harmonious blend of style and practicality.
Before you start browsing through various photos of border parapet wall designs on the internet, take a moment to consider the latest trends shaping the architectural landscape:
Material Fusion: Contemporary designers are embracing the creative possibilities that come with combining different materials to craft captivating parapet designs. This fusion can add a unique and eye-catching element to your building's exterior.
Open and Clean Balconies: Modern balconies often feature parapet walls that are designed to provide an open and clean aesthetic. This approach promotes a sense of spaciousness and allows for unobstructed views from the balcony.
Toughened Glass Elegance: To infuse a touch of luxury into their designs, many individuals are turning to toughened glass for their parapet walls. This choice not only imparts a sleek and modern appearance but also ensures safety and durability.
Complete Glass Walls: For a contemporary and seamless look, some homeowners opt for complete glass parapet walls that extend from the floor to the ceiling. These walls can either be fixed directly to the floor or attached using stainless steel screws, offering both stability and aesthetic appeal.
By keeping these trends in mind, you can explore a plethora of border parapet wall designs that reflect your personal style while staying up-to-date with the evolving architectural preferences.
The standard height of a parapet wall typically ranges around 42 inches, providing sufficient fall protection. However, there's a trend where some individuals prefer constructing shorter walls and enhancing their height using additional accessories and railing solutions. Whether you opt for intriguing colors or a fusion of materials, always prioritize safety and durability when selecting a modern parapet design.
The vertical extension offered by the parapet serves as an extra layer of protection, holding significance for both the occupants of the structure and the structure itself.
These parapet designs complement the main gate pillar designs beautifully, so it's advisable to explore these designs and incorporate them seamlessly.
A parapet, often referred to as a protective dwarf wall, serves as a safeguarding barrier encircling the perimeters of roofs, staircases, walkways, and balconies. Its primary purpose is to avert the risk of individuals falling from elevated surfaces. In historical contexts, parapets held immense significance, particularly in forts and structures, acting as a defense mechanism against external assaults. In this discussion, we will delve into several prevalent Border Parapet Wall Designs, each carrying its distinct characteristics and relevance.
Border Parapet Wall Design
The The border parapet wall design is a popular style that is used to protect the edges of roofs, balconies, and walkways. It features a thin, low wall that extends out from the structure and surrounds the perimeter. is a popular style that is used to protect the edges of roofs, balconies, and walkways. It features a thin, low wall that extends out from the structure and surrounds the perimeter.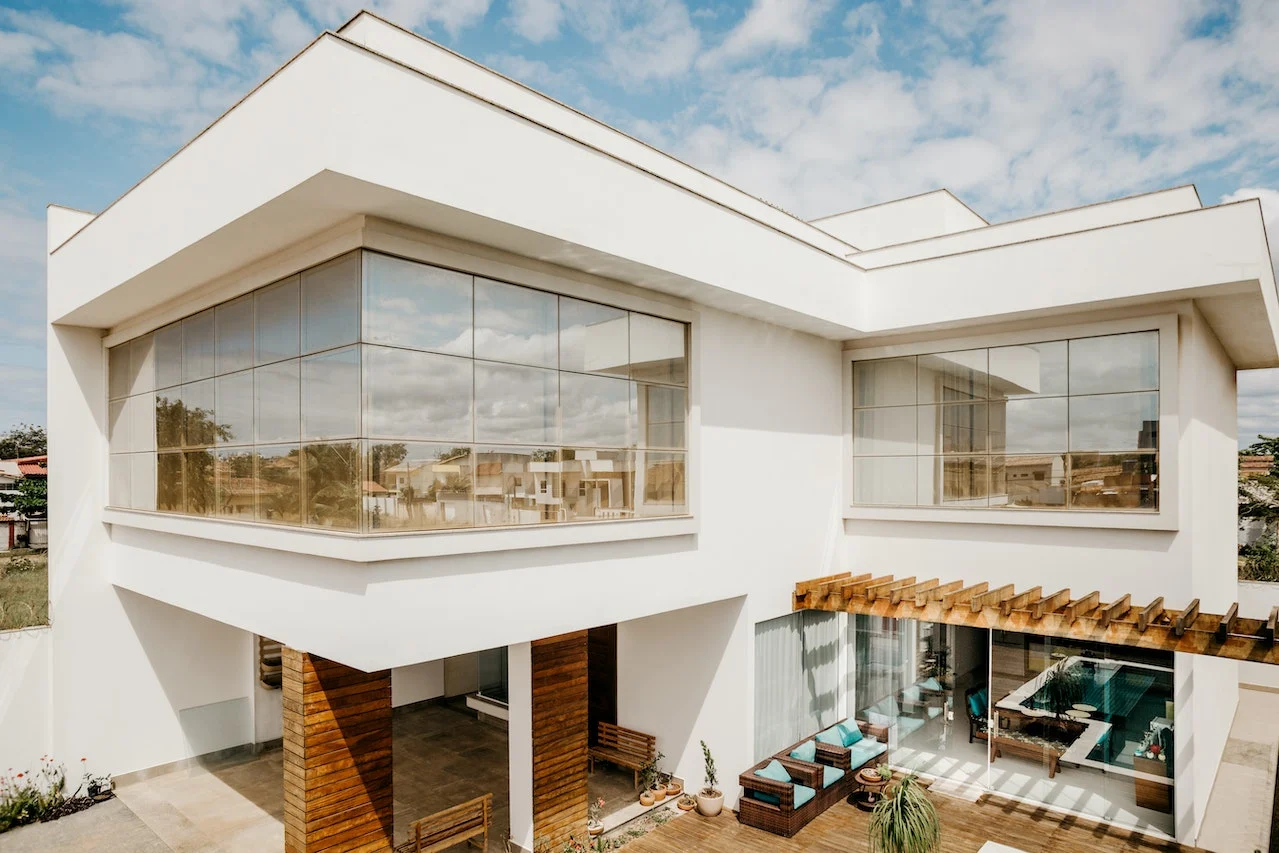 For tiny gardens, a low wall with a parapet is a great option because it can be constructed quickly and affordably. Additionally, because it is lightweight and takes up little space, it is perfect for confined spaces. The wall's thinness, however, makes it vulnerable to damage and ineffective at stopping people from falling.
Glass Parapet Wall Design
Border Parapet Wall Designs epitomize modern elegance. With their thin, transparent structure, they encapsulate rooftops, balconies, and walkways. This design seamlessly merges indoor and outdoor spaces, providing unobstructed views and an influx of natural light. Ideal for contemporary homes, the glass barrier fosters a sense of openness while maintaining a sophisticated aesthetic.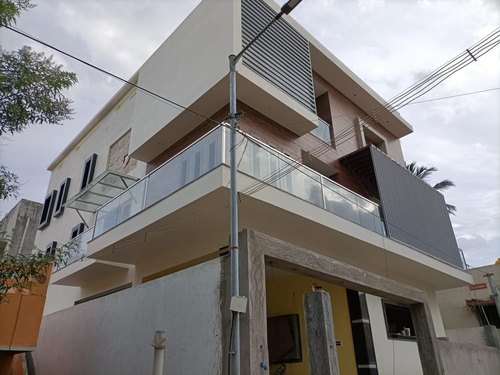 This style of parapet offers customers a clear view of their surroundings and is highly appealing. However, it is expensive to install and requires ongoing care to be in top condition.
Parapet Design With Bricks
Border Parapet Wall Designs infuse contemporary houses with character. These designs feature modern brick construction, offering both attractiveness and robustness. The fusion of modern aesthetics with sturdy brick craftsmanship creates an appealing and durable architectural style.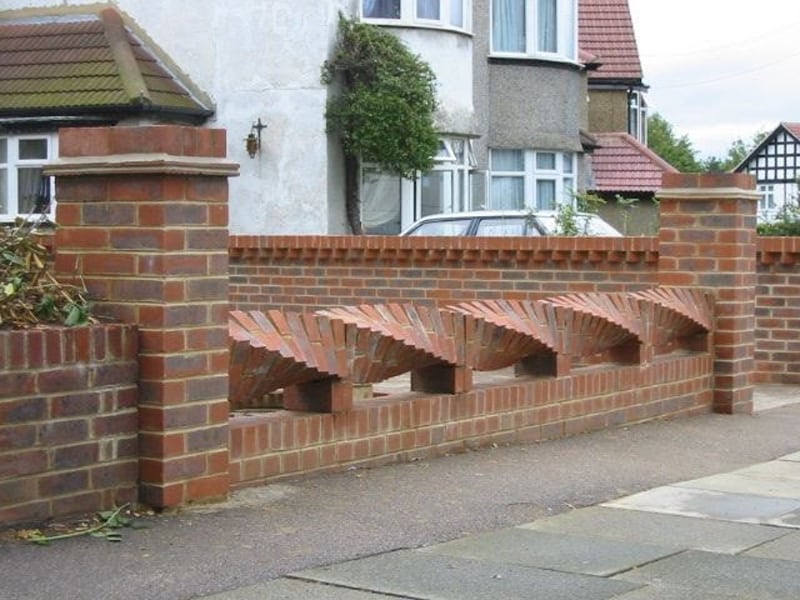 In this particular parapet design, the main wall is separated from the decorative brick border by a strip of metal or stone.
To give it a distinctive aspect, try these brick parapet designs with main gate pillar tile patterns from India.
Parapet Wall Plaster Design
The Border Parapet Wall Designs crafted from concrete plaster have gained significant popularity. Their simplicity and affordability stem from the uncomplicated design and construction. Comprising concrete, these walls offer both cost-effectiveness and a clean aesthetic.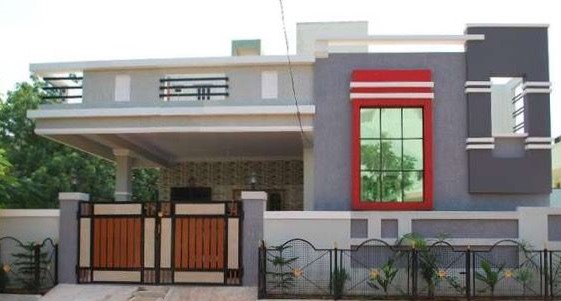 Plaster remains a prevalent choice for crafting parapets. This specific design balances simplicity, attractiveness, and affordability. However, it lacks the robustness of certain other parapet types and is susceptible to weather-related deterioration.
The Border Parapet Wall Designs impart a distinctive appearance to your home's front facade through innovative house front wall cement design, enhancing its style and charm.
Terrace Parapet Wall Design
In contemporary architecture, slope-shouldered roof parapets are prevalent. These parapet walls are crafted from a combination of bricks and steel railings, showcasing intricate and exquisite designs. The amalgamation of these elements forms captivating Border Parapet Wall Designs that grace the majority of modern homes.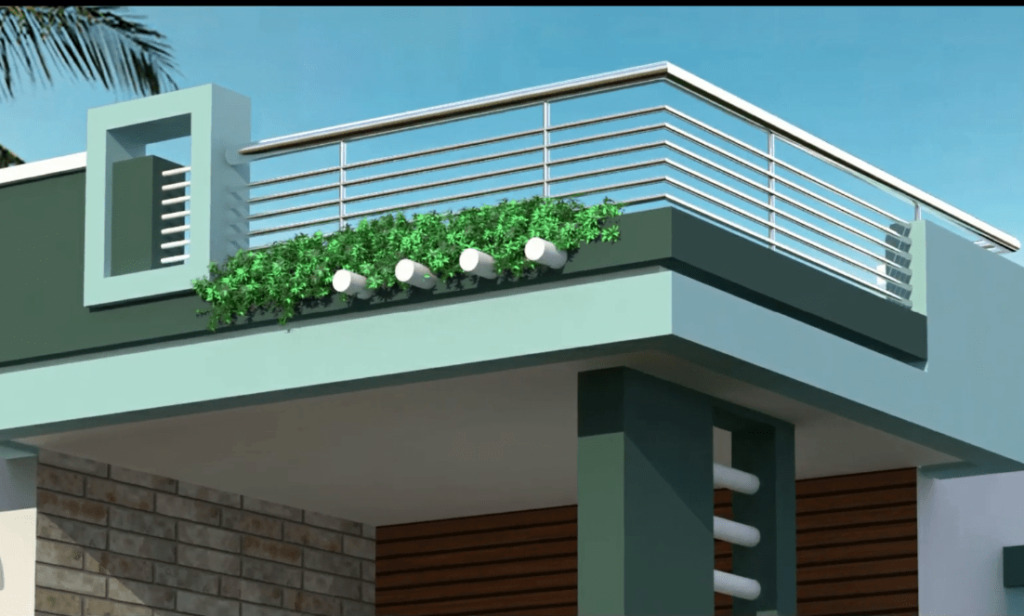 The most gorgeous color scheme would look amazing on the parapets. Amazing little home roof wall designs are found in the best house front elevation ideas for small properties.
Parapet Wall Design in Village
These kinds of parapets are commonly observed in rural areas, often characterized by a blend of grill and plaster parapet patterns. This combination significantly contributes to the roof's aesthetic appeal and enhances the overall beauty of homes. These Border Parapet Wall Designs are frequently encountered in village settings, showcasing a unique amalgamation of design elements.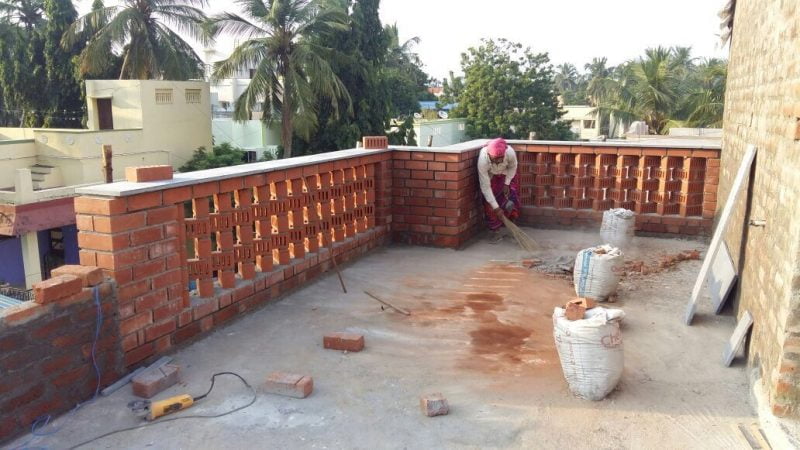 Looking for the greatest east-facing house plans that also adhere to Vastu? These plans are here.
Single Storey Parapet Wall Designs
Among the array of parapet wall designs, this particular one stands out as the most captivating exterior for tiny houses. Boasting an irresistibly alluring color scheme, it has the power to captivate the attention of all passersby. This design exudes a sense of grandeur while maintaining a unique architectural style, making it a prime example of Border Parapet Wall Designs that elevate the aesthetic of any tiny home.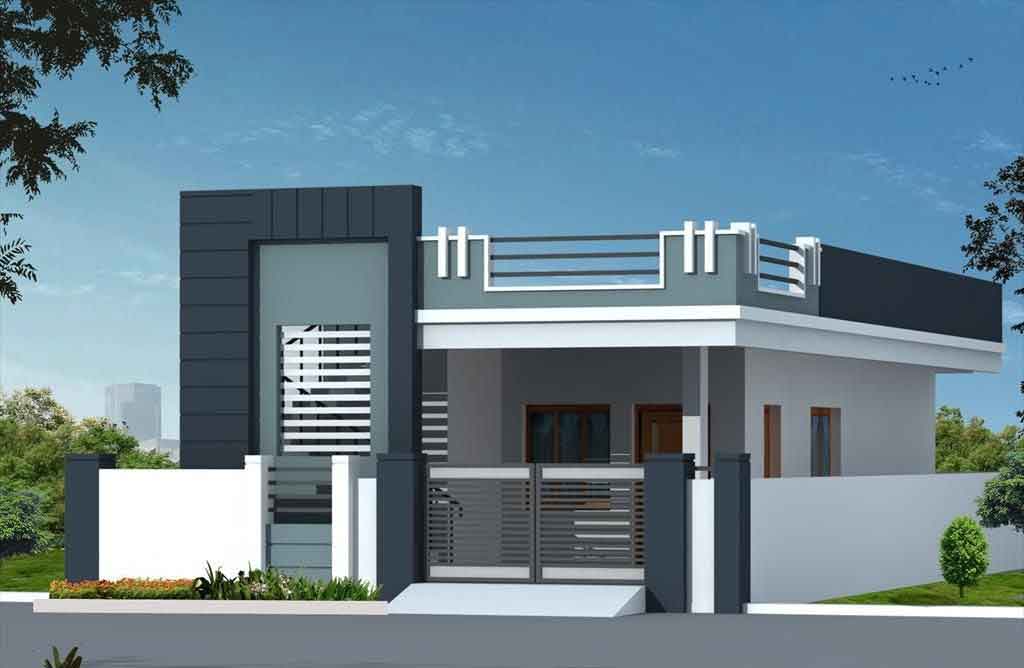 The value of the modest building elevation increases with its attractiveness. The mumty style and parapet wall design enhance the profile of this small building. If you're seeking for a single-story simple house design for your tiny home, there isn't a better solution.
Front Elevation Parapet Wall Plaster Design
Emanating a quintessentially Indian vibe, this house style resonates strongly within the Indian architectural context. Its resemblance to traditional Indian homes is unmistakable. The tiny house's bold orange color scheme infuses it with memorability and intrigue, encapsulating the essence of Indian aesthetics. This design is a prime example of how Border Parapet Wall Designs can embody cultural elements and create a lasting impression.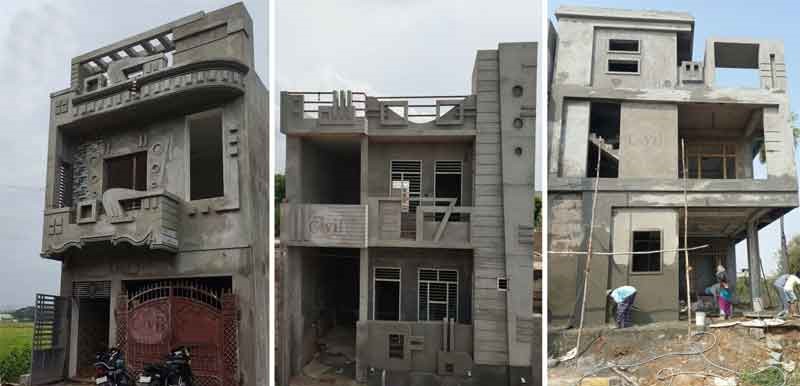 This little house elevation's appealing main gate, mumty design, and compound wall design all add to its appeal. If you're searching for a little house elevation in the Indian style, this is the best option for your dream home.
If you're building a two-bedroom home, take a peek at these modern indian style house plans.
Ground Floor Parapet Wall Design
These parapet walls find their most frequent application in contemporary single-floor homes. The prime setting for these designs is within modern, one-story residences. Among them, this ground floor elevation stands out as an exemplary representation of refined boundary wall and parapet wall designs. Its distinctiveness lies in the striking and atypical color scheme, contributing to an outstanding architectural presence. This showcases the effectiveness of Border Parapet Wall Designs in enhancing the visual appeal of modern ground-level dwellings.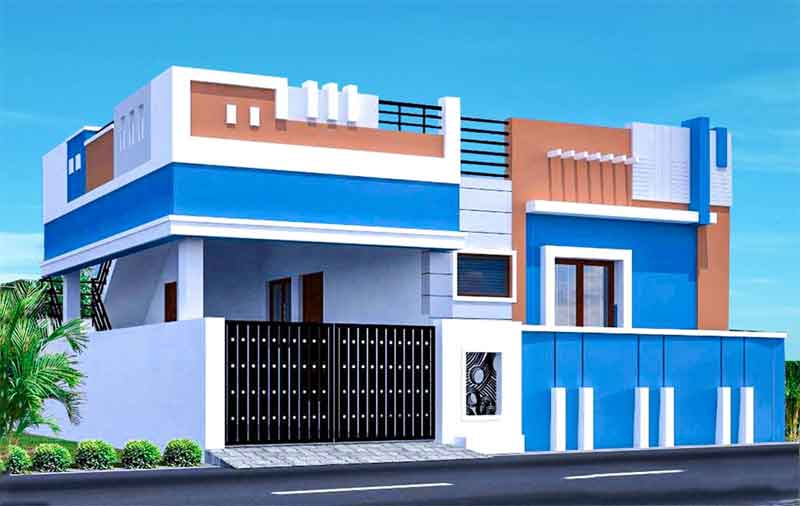 If you're seeking for a modern home design for your small property, there is no better option than this for your ideal home.
For the ideal 3bhk home, have a look at these low-cost modern 3 bedroom house designs.
Simple Parapet Wall Design With Grill
Among the most sought-after and visually pleasing affordable parapet designs, the grill design stands out prominently. Synonymous with the term "parapet grill design," this style combines aesthetics with functionality. Crafted from wrought iron, this type of parapet serves the dual purpose of adding beauty and preventing accidents by creating a protective barrier. This exemplifies the effectiveness of Border Parapet Wall Designs in achieving both safety and elegance.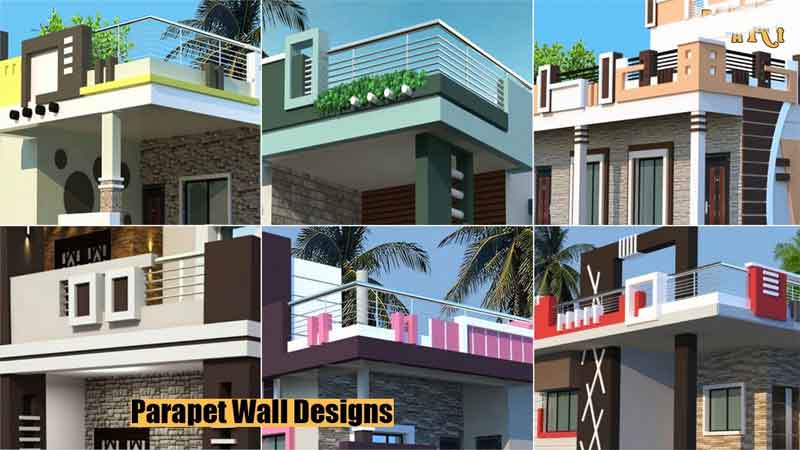 Because it is made of wrought iron, this parapet is exceptionally durable and sturdy. It also improves the façade's aesthetic appeal. This parapet is either residential or commercial.
If they are not careful, people could easily fall through the openings in the grill. If you decide to use one in your building, make sure to always keep people away from areas where there is a grill design.
Conclusion
In the realm of architectural design, parapet wall designs hold a vital role in the structure of any building. The landscape of parapet patterns is diverse, encompassing various styles, each carrying its own set of advantages and limitations. It's crucial to exercise caution and diligence when selecting among these designs, as an inappropriate choice could potentially pose safety risks. The consideration of Border Parapet Wall Designs is pivotal in ensuring both aesthetics and safety align harmoniously in any construction project.
Also Read: Architectural trends modern parapet wall designs for todays homes