Colors have a profound effect on size. Some kitchen color combinations look amazing in large kitchens and messy in small kitchens.
While the design of the kitchen and its accessories are crucial from an ergonomic point of view, it is the color that makes the kitchen look attractive. However, the ideal kitchen color scheme will not be the same for kitchens of different sizes. So, we have listed the small, medium, and large kitchens separately.
Why are colors important for your kitchen design?
When you walk into a room, the first thing you notice is color! Colors do much more than making a space look beautiful. The right color can make the combined room look great, change the style of home design, and personalize your interiors according to your personality. Now that the kitchen is where you spend a significant amount of your time, choosing the perfect modular kitchen color scheme can create a happy, relaxing, and useful atmosphere, making your time in the kitchen productive.
What are the kitchen color trends for 2021?
Now when you have selected a kitchen color scheme, the first criteria to consider is the current trends in 2021. So, here we are with the trends that are incomplete without the 2021 trend list.
Small Kitchens
Size (Approx. in feet) – 8×10
Most urban Indian home kitchens are compact! But that doesn't mean your kitchen has to look small. Colors can make a room appear more spacious than it actually is. Light colors are your go-to choice when you have a small kitchen. In combination with cabinets with a glossy mirror finish, even the smallest kitchens can look spacious!
1. Monochromes
Monochrome is a popular choice when it comes to small kitchen designs. This subtle color combination creates a contemporary look and can open up a space. This is also a great way to incorporate black into your kitchen, a color that should generally be avoided if the space is small. The monochrome black and white combination is sleek and modern and will keep your kitchen from looking cluttered. You can also go for monochromatic colors in neutral color palettes like gray and beige.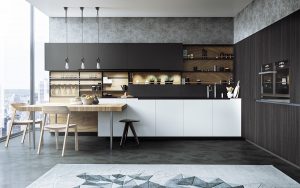 2. White + Any color
When choosing a kitchen color scheme, you may want to have something that is timeless and won't go out of trend for years. White is also the perfect color to make the space look big. While an all-white kitchen will look great, it is difficult to maintain. There's an easy way out – just add any shade of your choice to white and voila! Whether it's a soothing aqua blue or deep dark orange, almost any color looks perfect with white!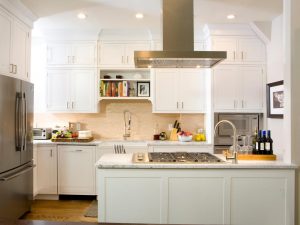 3. Pastels
Pastel colors are among the top kitchen color trends for 2021 and you are right to see how beautiful they look! It's also a great option for small kitchens as it can open up a space and make it look uncluttered. Wondering what a good pastel kitchen color scheme is? Anything from white to neutrals to light woody tones goes well with pastel colors.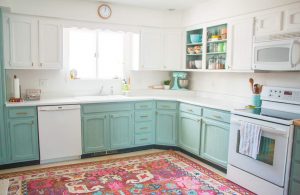 Medium Kitchens
Size (Approx. in feet) – 8×12
Not Too Big, Not Too Small, But Just Right – Mid-size kitchens are the perfect size for most Indian families. So, here is a list that will look great in a mid-size kitchen.
 1. Grey Combinations
Cool, elegant and modern, grey is one of the colors that millennials love for their homes and kitchens! This metallic shade is best if you have a medium-sized kitchen. Now if you think all the grey looks dull, you can choose deeper and lighter shades of grey for the upper and lower cabinets. You can also mix it with other neutral tones.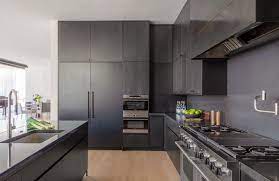 2. Yellow Combinations
Bright, sunny, and vibrant yellow is a cheerful color that we can't get enough of! Even Vastu says that yellow is the perfect color for your kitchen, especially since the kitchen is considered the abode of Lord Agni. Now, while bright yellow can make your kitchen look small if there's less space, it's a bright color for medium and large kitchens. So if you are looking for a combination of yellow kitchen colors, go for yellow and white, the perfect combination of liveliness and elegance. You can also go for a completely yellow theme, But remember to use different shades of yellow for a stunning look!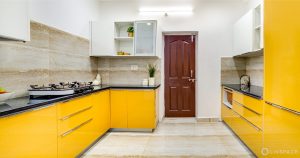 3. Royal Blue Combinations
What is better than blue? Royal blue! It is mature, deep, and rich. This color can illuminate any space. And if you have a medium to large kitchen, royal blue is the perfect shade that will add a bold touch to your kitchen. And what is the best standard kitchen color scheme for blue? White of course! Royal blue and white kitchens are stylish, sassy, and absolutely stunning!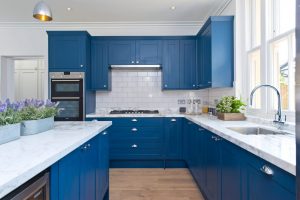 Large Kitchens
Size (Approx. in feet) – 10×12
What should you consider when choosing a kitchen color scheme for a large kitchen? When you have a lot of space, a color palette can set the mood for a room. So whether you want a cozy country-style kitchen or a modern industrial-style kitchen, colors can help you get the look just right!
1. Black + Black
There is something inherently elegant about black kitchens. It looks classy and expensive. While black may not be a suitable color for small kitchens as it can make the space appear cramped, you can definitely go for it if you have a spacious kitchen. If you want to add some sparkle to your black kitchen, look for a unique pattern like the herringbone pattern for your kitchen cabinets.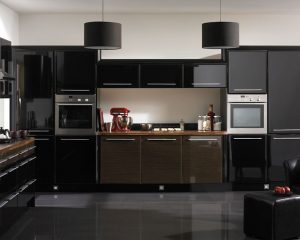 2. Dark Blue + White
Do you want a bold black color but are not too fond of the interior of your kitchen? Choose dark blue or navy blue. This stylish color can make your large kitchen stand out and be the center of attraction in your home! The best kitchen color combination with dark blue is white. This elegant combination is the perfect choice if you want a balance between dark and light tones in your kitchen. You can also add some drama with a dash of black or vibrant color like yellow!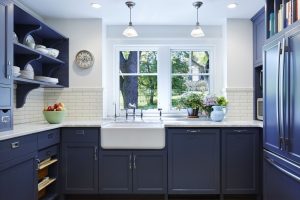 3. Darker wood + Beige
Whether it is the design of the kitchen or the interior of your home, Indians love to use wood as a base material! And there is something warm and cozy about wooden kitchens. If you have a large and spacious kitchen, you can choose dark wood instead of light wood, which is very common. With wood kitchens, keep it subtle by choosing neutral color combinations. Beige and white are perfect colors that go well with dark wood. This cool modular kitchen color combination is a winner!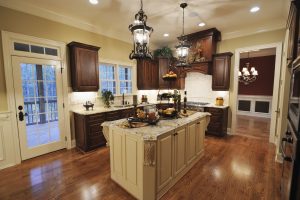 Timeless colors
Trends come and go, but some remain timeless. And while she decides on the color scheme for her kitchen, you might want to have something that looks modern even after 5 years on the line. Well, here you have this assortment that will look timeless and elegant, no matter if you have a small, medium, or large kitchen.
Light wooden tones
If you are looking for a timeless option that will suit kitchens of all sizes, then light wood is the way to go! Although you can always go for traditional options like light wood cabinets, you can also change them up with countless shades of light wood.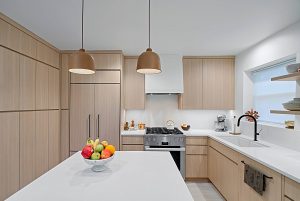 Whether you have a large or small kitchen, this kitchen color combination is sure to give you some ideas!