A washbasin in your dining room is not just a functional addition but also a practical necessity. After every meal, having a conveniently located washbasin allows you to cleanse your hands efficiently. The proximity of the washbasin to the dining area can significantly enhance the overall dining experience by reducing the need to traverse long distances.
Imagine a dining room without the convenience of washbasins; the simple act of cleansing your hands under running water after a hearty meal would remain a distant aspiration. Whether you're settling into a new abode or embarking on a home renovation, delving into the realm of dining room wash basin area design holds great significance.
The feasibility of incorporating a washbasin into your dining room hinges on various factors, prominently the dimensions of the dining space and the nature of the dining area itself. As you embark on envisioning your ideal dining room, the washbasin's integration becomes a pivotal consideration.
Elegantly weaving functionality and aesthetics, different types of dining room wash basin area designs come to fruition. These designs are tailored to suit diverse preferences and spatial configurations. The amalgamation of these factors culminates in a dining room that not only fosters a seamless dining experience but also showcases the harmony between form and function.
Venture further into the exploration of wash basin designs in hall spaces, and uncover the array of possibilities that await in perfecting your dining room's arrangement and ambiance.
1. A Bold Colour Choice for your Washbasin
If your dining area boasts a vibrant and eye-catching color palette, you're in for a treat with a bold, solid-colored wash basin. This contemporary design features a striking red washbasin in the dining area, effectively accentuating the surrounding elements much like a well-chosen dining table. The key is to select a bold hue that harmonizes with your dining area's wall tones, creating a cohesive visual impact. To amplify this effect, consider placing the bold wash basin on a sleek white or black countertop.
Embrace the modern essence of this dining room washbasin design by incorporating functional cabinets beneath the countertop. These cabinets serve as convenient storage for essentials like toiletries and hand towels, readily accessible after you've indulged in a meal and cleansed your hands. Furthermore, these cabinets offer ample space to house handwashes or other items that naturally belong in this area.
Enhance the allure of your dining room wash basin area design by introducing complementary elements. A strategically positioned mirror above the basin adds depth and elegance, while a small potted plant or a chic hand wash dispenser on the countertop injects a touch of nature and convenience. This interplay of practicality and aesthetics culminates in a dining space that harmoniously combines modernity with functionality.
As you explore wash basin designs in hall areas, remember that your design choices have the power to redefine your dining room's ambiance, making it a space where style and utility coexist harmoniously.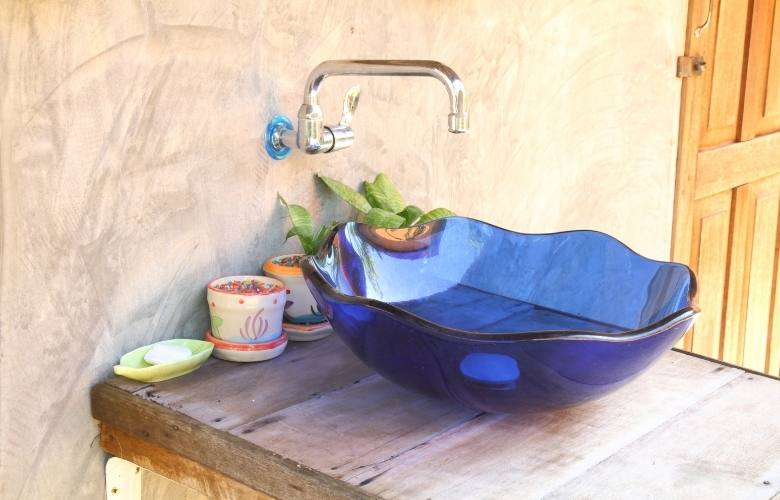 2. A Rustic Traditional Look for your Washbasin
If your dining space exudes a traditional charm, here's an idea that perfectly complements its aesthetic – explore copper wash basins for your dining room. A splendid copper designer wash basin is tailor-made for your dining room's design. To enhance its allure, consider framing the mirror above it with a copper frame. This cohesive approach adds a touch of elegance to your dining room wash basin area, creating a harmonious visual theme.
Imagine placing this exquisite piece on a marble or granite countertop, preferably in a pristine white shade. Beneath the countertop, a wooden chest of drawers can provide functional storage. This array of drawers becomes an organized haven for storing items like soaps, handwashes, moisturizers, toiletries, paper towels, and hand towels – all within easy reach of the wash basin in your dining area. Further elevate the charm of your dining room wash basin area design by incorporating decorative elements such as a small indoor plant or stylish hand wash dispensers.
Adding a rustic touch to your modern living room design can be achieved through a wooden washbasin. For this variation, a black countertop can introduce a captivating contrast that enhances the overall ambiance. Cabinets positioned under the modern washbasin design for the dining room provide seamless storage for essentials like soaps and hand wash, while maintaining the light wood aesthetic. Complement this setup with a mirror framed in metal or wood to achieve a cohesive look that exudes warmth and sophistication.
Whether you opt for the lustrous appeal of copper or the earthy charm of wood, your dining room wash basin area design can capture the essence of tradition while embracing practicality and elegance.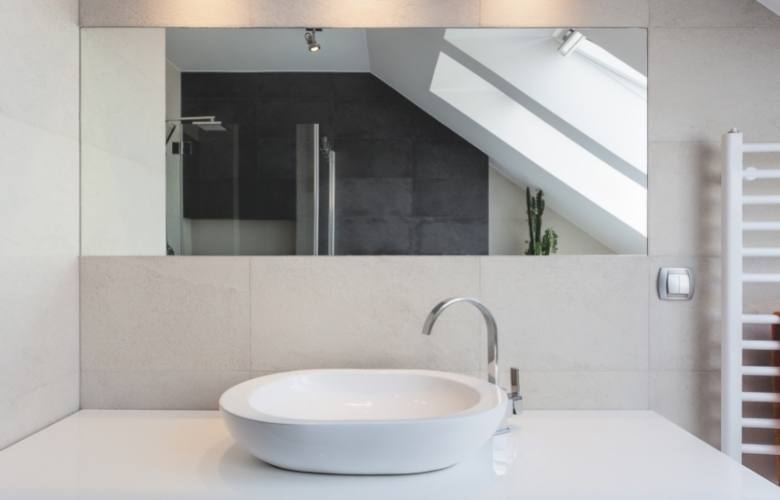 3. A Dash of Class for your Washbasin
If you have a preference for transparency and a penchant for sleek, glassy aesthetics, then this dining room wash basin design featuring glass elements is tailor-made for you. Whether your dining room exudes a simplistic charm or a modern vibe, the versatility of glass construction seamlessly adapts to any setting.
For this design, envision the glass wash basin gracefully resting upon a countertop of your choice. A frosty white countertop, if in harmony with your dining room's aesthetic, can enhance the elegance and purity of the space. The translucent nature of glass brings an inherent airiness, making the dining area feel open and inviting.
Incorporating the essentials, ensure ample space for toiletries and hand towels, enhancing functionality without compromising the design's sophistication. To maintain a tidy space, consider integrating a wicker basket, an eco-friendly solution for discreetly disposing of waste or used paper towels.
The beauty of this design lies in its simplicity and adaptability. Whether your dining room is a canvas of minimalism or embraces modernity, the glass wash basin design effortlessly complements it. It becomes a delicate yet impactful addition that elevates the overall ambiance, adding a touch of finesse to your dining area.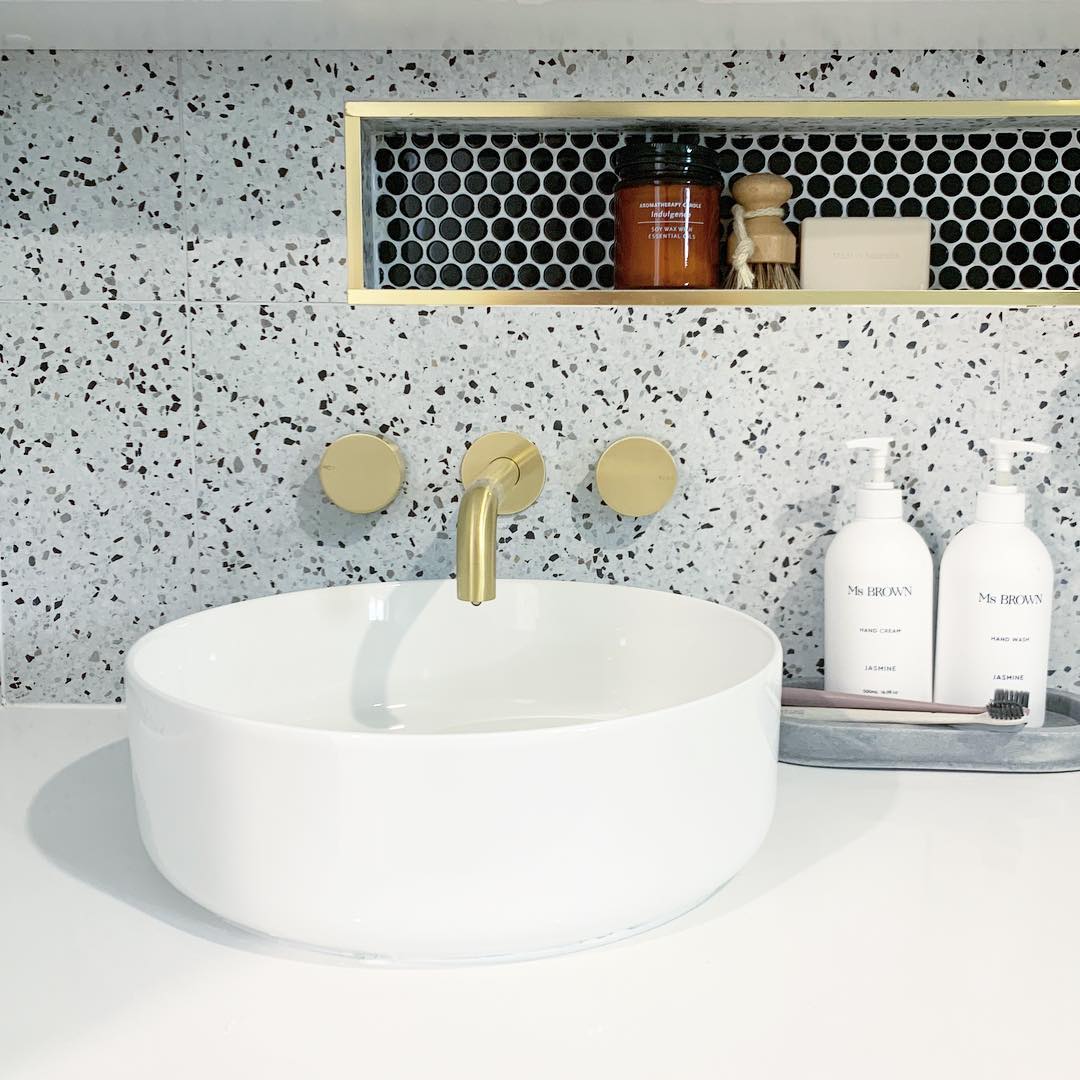 4. Rough-and-Tough Design for your Washbasin
It sounds like you're suggesting the benefits of using stainless steel wash basins, especially in a dining room setting. Stainless steel wash basins do indeed have several advantages, such as their durability, resistance to stains and corrosion, and low maintenance requirements. These features make them a practical choice for areas where hygiene and aesthetics are important, such as dining rooms.
Pairing the stainless steel wash basin with a metal stand and wicker baskets for storage is a creative way to enhance the functionality of the space while maintaining a cohesive design theme. Including a steel-framed mirror complements the modern design and adds a touch of elegance to the overall look.
If you're looking for more ideas or inspiration for wash basin designs in hall areas, you can search for "Wash Basin Designs in Hall" online or explore interior design magazines and websites for visual examples and tips. Remember that while the material choice and design are important, considering the overall functionality, aesthetics, and practicality of the space is crucial in creating a well-designed and harmonious environment.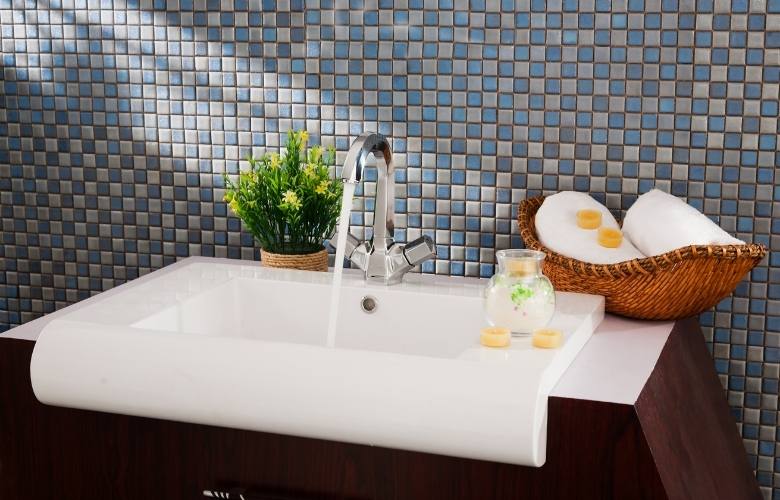 5. Stylish Marquina Marble Washbasin with a high-gloss finish
Derived from the grand central mausoleum design at the esteemed Metropolitan Museum of Art in New York, this impressive washbasin and vanity cabinet harmoniously merge the attributes of a contemporary urban-style washbasin with enduring, refined lines. The inherent grace of the black lacquered timber craftsmanship is enhanced by an intricately carved sculpture that complements the
glass doors
in a meticulous manner. The tabletop and rectangular sink proudly exhibit the luxurious essence of Marquina marble. Adding to this sense of opulence is a backdrop of striped wood and a framed hexagonal mirror, collectively contributing a striking essence to this one-of-a-kind piece. This creation seamlessly finds its place as an appealing addition to any living or dining room.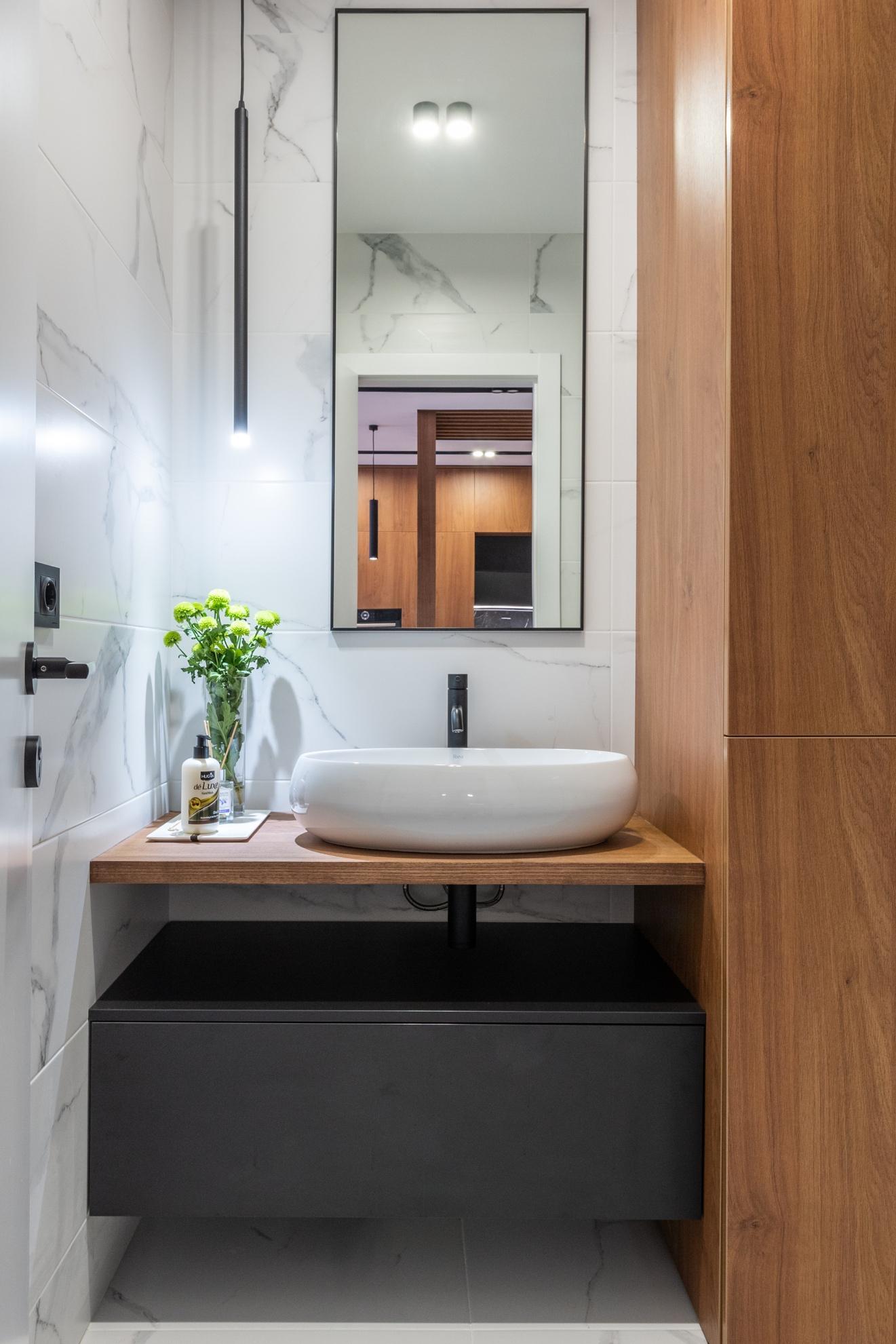 6. Black Ceramic Round Bowl Wash Basin Design
Introducing a Black Ceramic Round Bowl Wash Basin Design, an impressive addition to contemporary dining rooms. This meticulously crafted wash basin design showcases a sleek and sophisticated style, presenting a round shape that exudes elegance and refinement. Constructed from premium black ceramic, this wash basin introduces a touch of luxury to your dining area. Its flawlessly smooth surface and impeccable texture not only serve functional purposes but also establish it as a modern focal point. The black hue infuses a touch of drama into the design, seamlessly blending with diverse dining decor themes. This exceptional Black Ceramic Round Bowl Wash Basin Design stands as an ideal choice to enhance the visual allure of your dining space. To explore more designs, delve into the world of "Wash Basin Designs in Hall."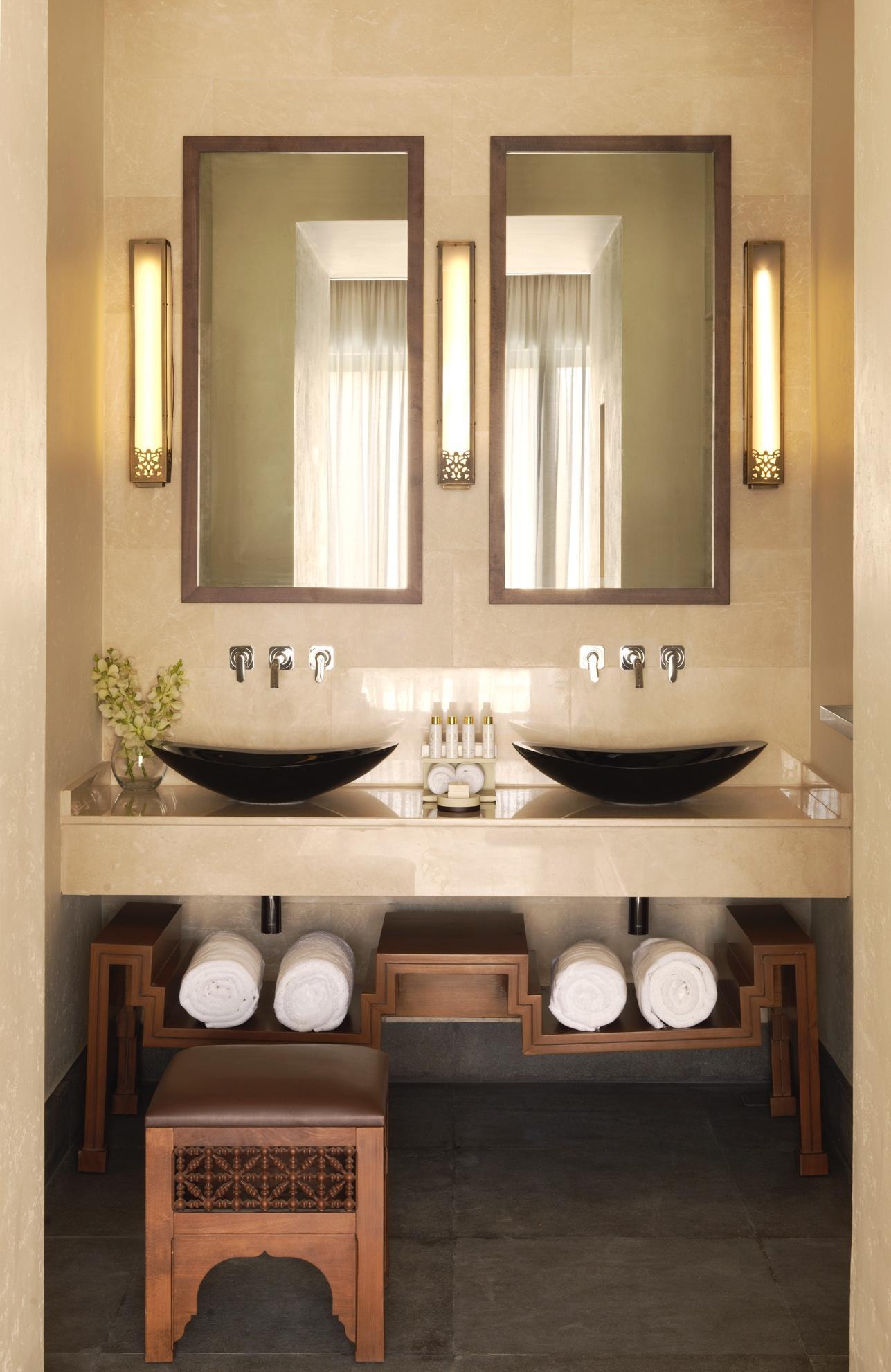 7. Bronze wash basin with a rustic stone and metal finish
Presenting an extraordinary option in wash basin design, the Bronze wash basin radiates unmatched beauty through its captivating blend of stone and metal finishes. This designer basin showcases a remarkable composition, featuring a stone jar gracefully positioned atop a sturdy iron base, evoking a delightful rustic allure. A touch of elegance is introduced with foliage-adorned pipes, infusing the entire arrangement with a lively and irresistible ambiance. Deliberately designed for practicality, the base's front is ingeniously crafted for easy access during plumbing repairs, ensuring both convenience and efficiency. Immerse yourself in the exceptional charm of the Bronze wash basin, a testament to impeccable craftsmanship and a captivating addition to any dining space.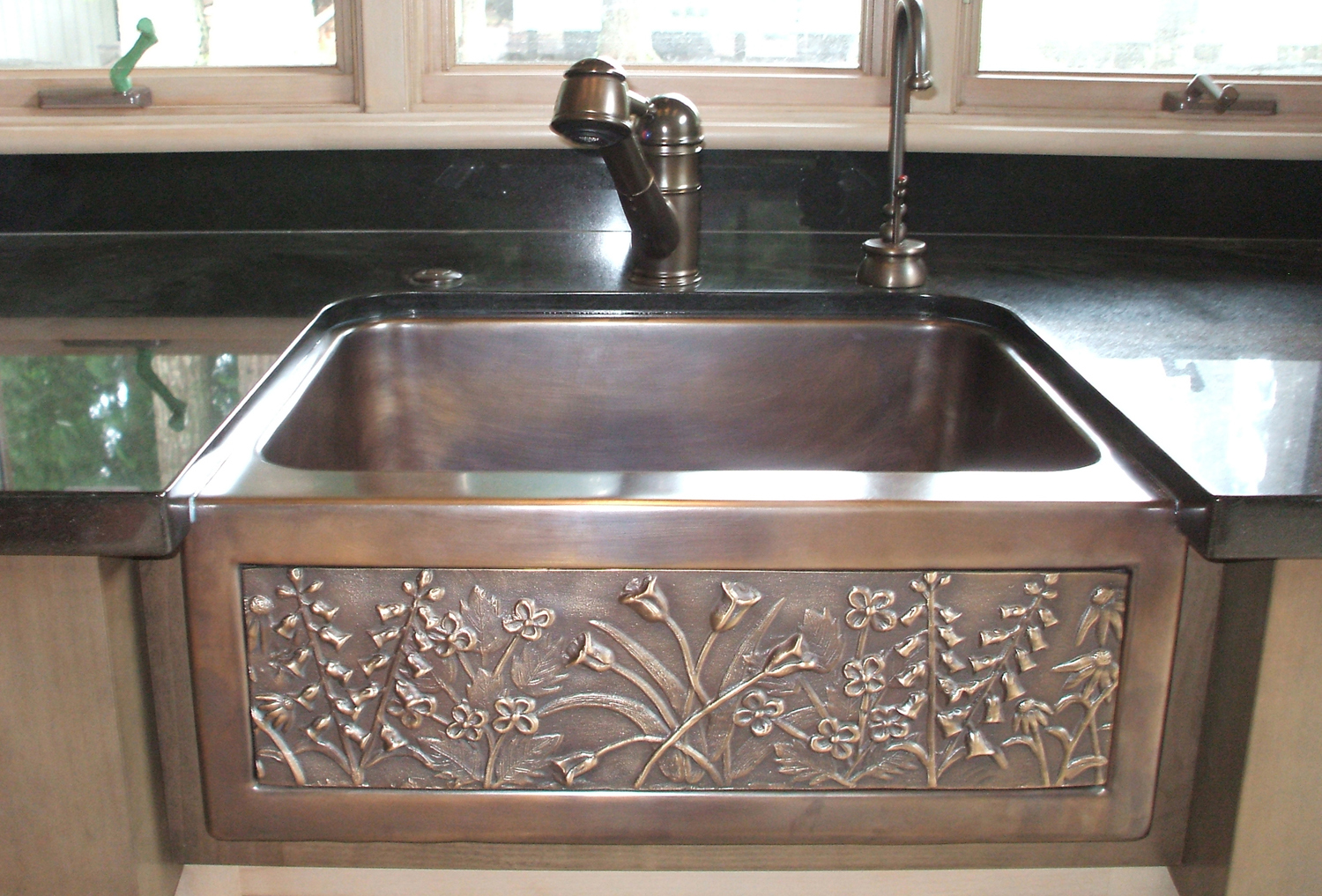 8. Natural Stone Vintage Wash Basin Design
For your dining room, consider the allure of the Natural Stone Vintage Wash Basin Design. This design, evoking vintage charm, features a delightful wash basin crafted from natural stone, infusing your dining space with a hint of rustic charisma. The wash basin design showcases enduring aesthetics, characterized by graceful curves and streamlined contours that radiate an aura of sophistication and refinement. Crafted with meticulous attention to detail and boasting its natural splendor, this wash basin promises to stand as a distinctive centerpiece in your dining room, leaving a lasting impression on your visitors and guests alike. To explore further options, delve into the realm of "Wash Basin Designs in Hall."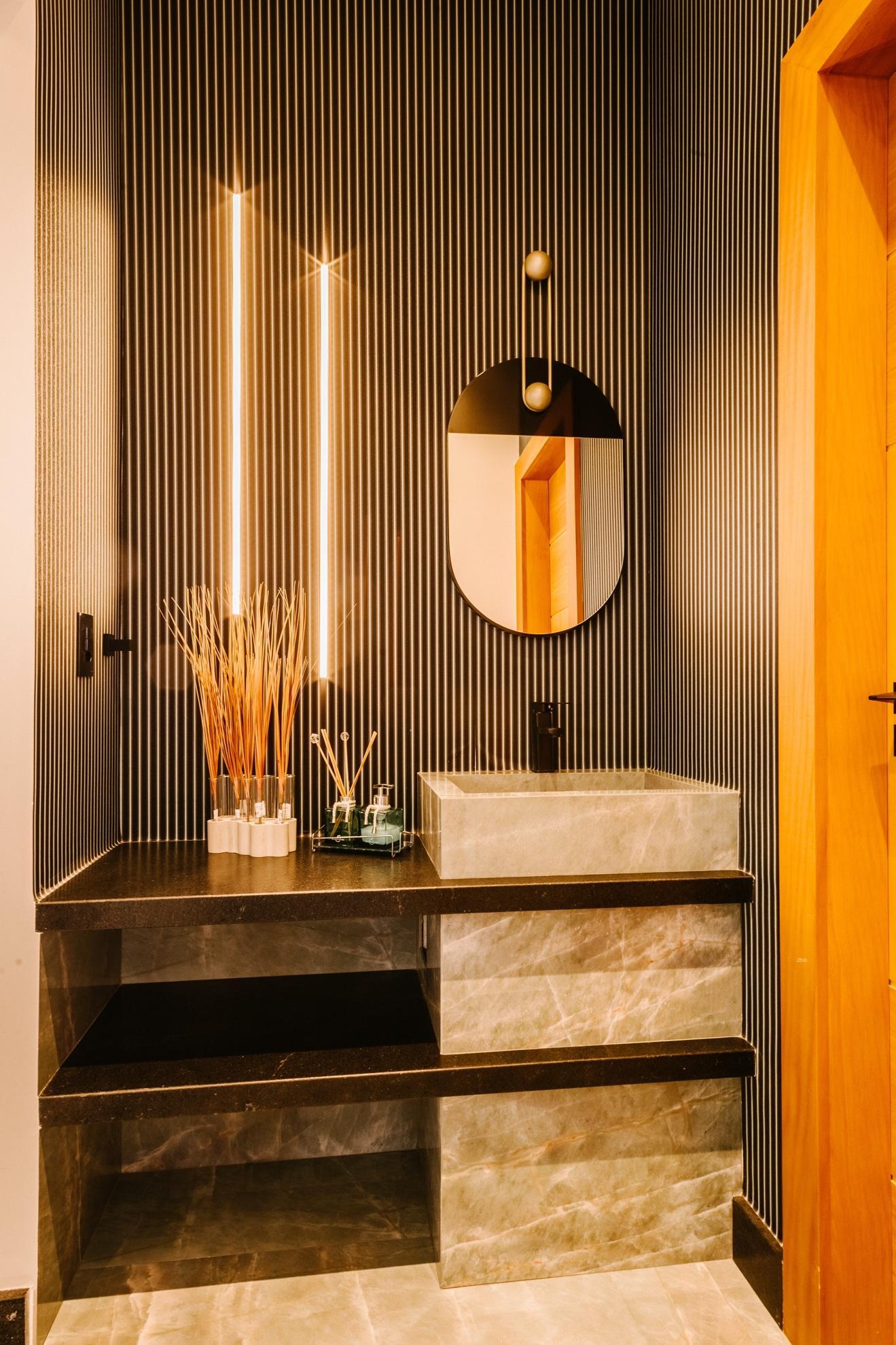 9. Indulge Your Terracotta Cravings With This Aubrey Basin
For those who admire the rising trend of copper or terracotta accents in interior decor, the Aubrey Basin presents an ideal addition, infusing a touch of grandeur into your dining room's design. This exceptional wash basin design serves as a pinnacle of refinement, effortlessly enhancing the overall visual appeal of your dining space. Adorned with an intricate basket weave decoration that graces the surface of the bowl, the Aubrey Basin allows you to make a subtle yet powerful statement.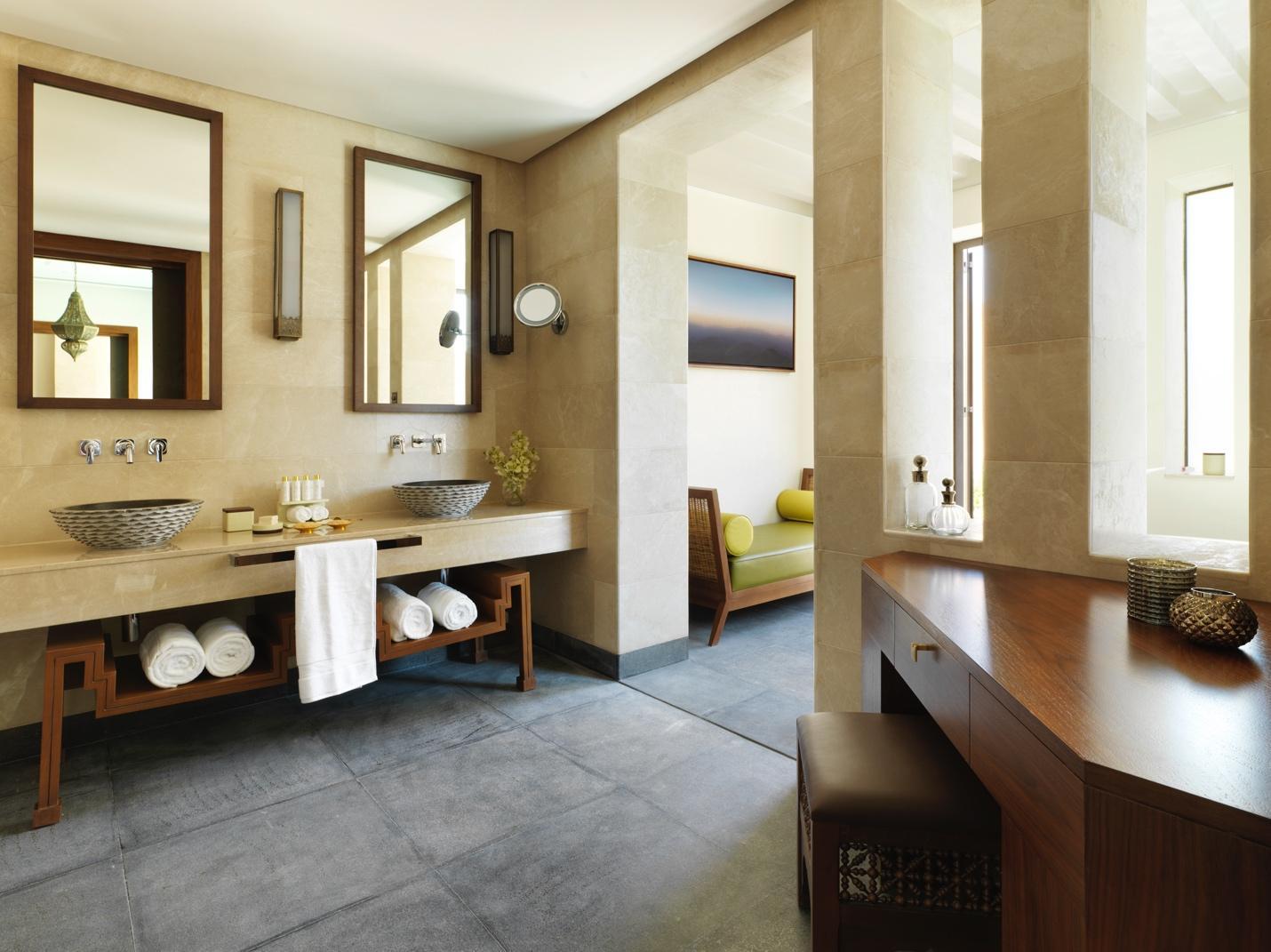 10. In-Built Table Top Wash Basin Design
The In-Built Table Top Wash Basin Design perfectly fuses functionality with aesthetics, leaving a lasting imprint on your guests. This exceptional wash basin introduces a contemporary touch with its sleek and modern design, cleverly integrated into an expansive tabletop surface. Meticulously crafted with an emphasis on precision, this wash basin design concept not only serves as a practical fixture but also stands as a statement of modernity. The in-built arrangement delivers a seamless and unified appearance, instilling a sense of coherence within your dining area. Constructed from premium materials such as marble and concrete, this wash basin exudes a robust and enduring structure, ensuring both prolonged usability and effortless upkeep. To further explore options, explore the domain of "Wash Basin Designs in Hall."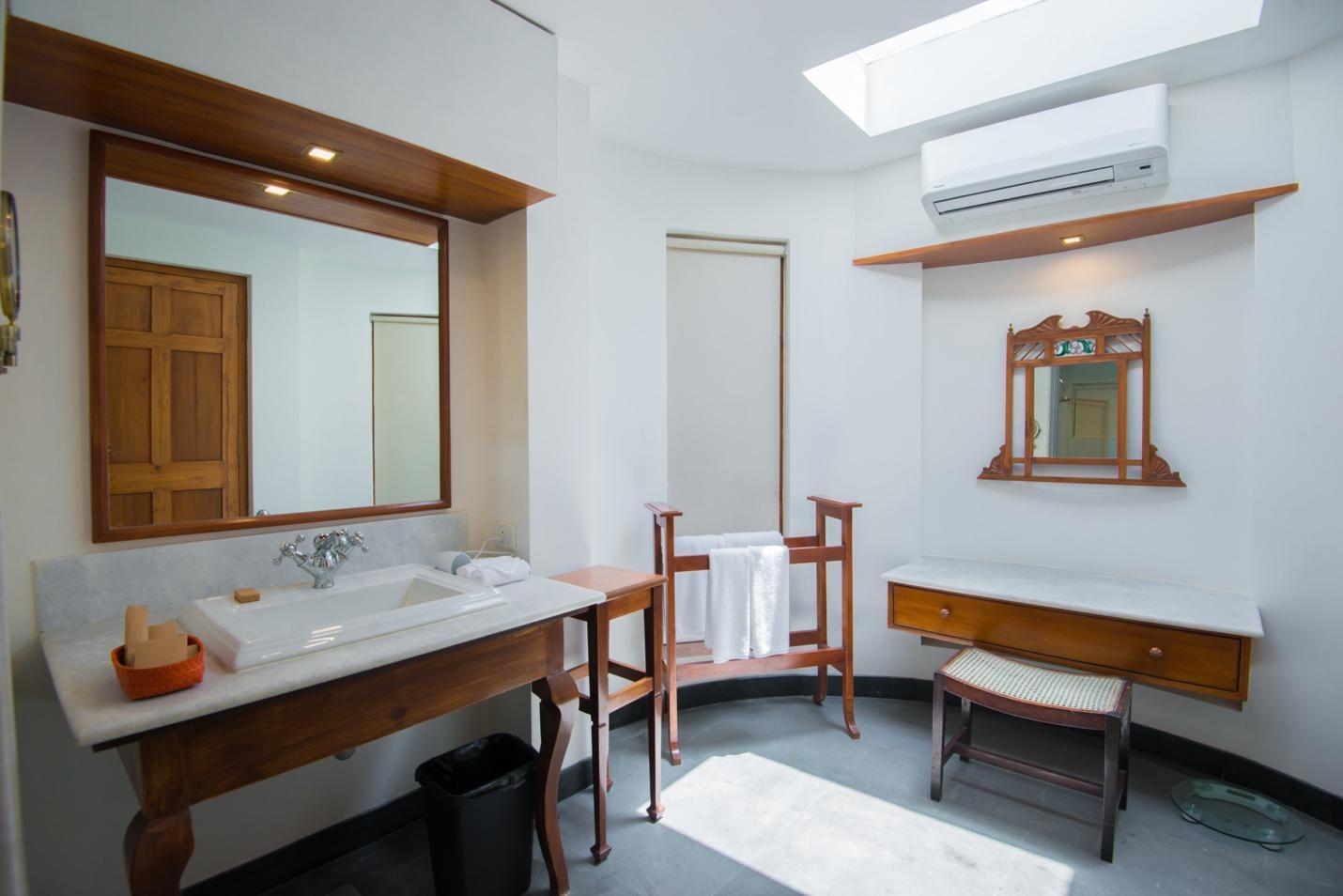 With our vision and planning, you can design a budget-friendly and fully utilitarian washbasin that is not only aesthetically pleasing but also successful for your dining space.
Technique and precision are essential to us. We ensure tha the design of the wash basin is tailored to be practical and comprehensive for maximum utility.
Our basins come with ample customization opportunities, and you can make every nook and cranny serve a purpose.
We have a huge range of options to fulfil your dreams. From a simple wash basin to a designer and luxurious one, we can do it all for you.
We offer the best possible craftsmanship and quality on the market. We craft the best pieces despite having the most competitive low-cost smart wash basins in the market. Rest assured, there shall be no compromise on the premise of fulfilling your dining room dreams.
FAQs for having a washbasin in your dining room
Q. Which variety of washbasin is the most convenient?
Ceramic washbasin designs have become the most convenient choice due to their ease of use and hassle-free maintenance. When it comes to ensuring a neat and hygienic space, ceramic wash basins are highly recommended. Regardless of the bathroom's style or size, ceramic is the best material for wash basins, providing both practicality and tidiness.
Q. How can I figure out what size basin I need?
Before making a choice, it is important to accurately measure the complete length and width of the basin. Using a tape measure, carefully demarcate the dimensions of the basin, including its length, width, and depth. Also, for basins of distinct types, it is essential to measure the height accurately. Taking these exact measurements will help guarantee that the selected sink fits correctly on your countertop, utilizing the available space effectively.
Q. Where do you put a wash basin in the dining room?
You can consider integrating a wash basin into a cabinet or console table located adjacent to the dining area. This setup can provide comfort for guests to freshen up without having to exit the dining space. Just ensure that the placement of the wash basin is practical and does not disrupt the flow or ambiance of the dining room.
Q. How do you install a dining basin?
To install a basin in your dining room, first, pick a convenient location near the dining area that permits for easy access. Ensure that plumbing connections are available or can be extended to reach the desired spot. Mount the basin securely to the wall or supporting structure using the provided hardware. Connect the faucet and drain assemblage as per the manufacturer's instructions, assuring tight and leak-free connections. Finally, test the functionality of the basin and make any required adjustments for appropriate water flow and sanitation.
Also Read: Bathroom designs for small big homes