Thinking about giving your space a makeover? Consider beginning with the ceiling. Interior roof designs can greatly enhance the overall aesthetics of any space, and one intriguing option to explore is a "pop design for roof."
The term "pop" is derived from "plaster of Paris," a versatile material extensively used in crafting false ceilings for homes and a variety of other environments, including hotels, retail stores, auditoriums, and more. Pop designs are especially handy for concealing centralized air conditioning systems or for adding a touch of style to otherwise plain ceilings. Moreover, they are renowned for being a cost-effective choice.
The installation of a pop design for roof is a straightforward process. Initially, a metal mesh is securely affixed to both the ceiling and walls. Subsequently, plaster of Paris is applied to create the desired design. The beauty of this approach lies in its adaptability. You have the flexibility to select from a wide array of designs and have the creative freedom to experiment with different materials, allowing you to achieve a ceiling design that seamlessly harmonizes with the overall aesthetic of your home.
16 POP Designs for Roof Trending in 2023
If you're on the hunt for
interior roof designs
, you're in luck! Here are 16 trending pop designs for roof that will undoubtedly ignite your creative spark for revamping your ceilings. Keep reading to discover these captivating pop design for the roof ideas and get inspired for your next home upgrade.
1. POP Design for Roof in Double Layers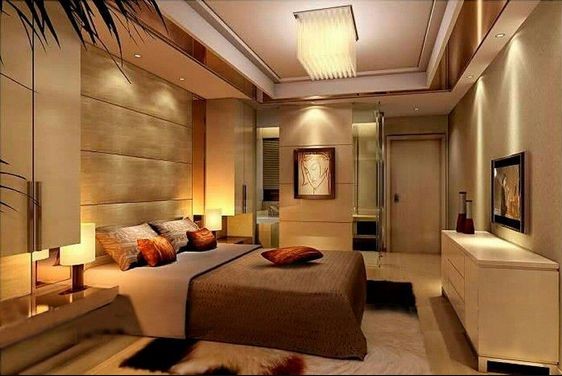 Ideal for spacious rooms, the double-layer pop design for the roof presents an excellent opportunity to elevate your interior space. With the inclusion of two layers, you gain a generous canvas to experiment with various patterns, materials, and an array of colors. As showcased in the image above, this bedroom's pop design for the roof incorporates captivating copper-toned metallic details that harmonize seamlessly with the room's overall color scheme, characterized by warm beige and rich brown tones. The striking, glossy copper work adorning the ceiling creates a stunning contrast against the understated shades of beige and cream, resulting in a visually captivating aesthetic that is sure to earn you a multitude of compliments. If you're seeking to make a bold and stylish statement, this double-layer pop design for roof is an excellent choice for your interior space.
2. Chandelier POP Design For Roof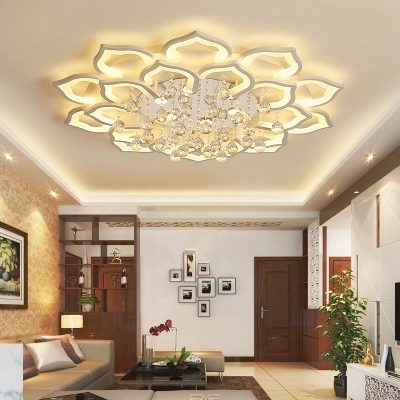 To elevate the aesthetic of your home, we present the ultimate POP design for roof – the Chandelier-inspired POP roof design. This roof style is tailor-made to infuse that captivating "wow" factor into your living space. This particular design is strategically centered to accommodate exquisite chandeliers, allowing you the flexibility to choose between a sizable chandelier for a lavish and grand ambiance or a more compact design for a refined and contemporary appearance. Enhancing the allure of this POP design for roof is effortlessly achieved by incorporating complementary POP wall borders, achieving a harmonious and stylish interior theme.
3. Arched POP Design for Roof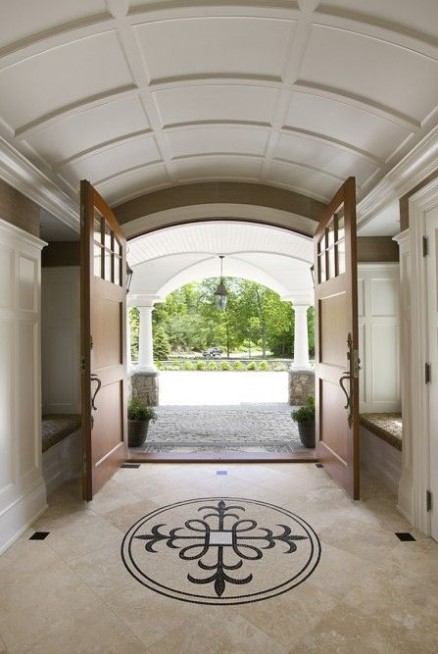 Whoever said that the interior roof design of your house must conform to the standard square or rectangular shapes? Elevate the appearance of your room by introducing a gracefully curved or arched ceiling, as exemplified in the image above. This distinctive style of POP design for roof defies the conventional linear symmetry of the space and infuses a dynamic vibrancy through its captivating circular design.
This curved POP design for roof is especially ideal if your design aesthetic blends elements of both modern and traditional styles. It exudes an air of elegance and sophistication while maintaining a stylish and versatile appeal.
4. Latest POP Design for Roof with Stained Glass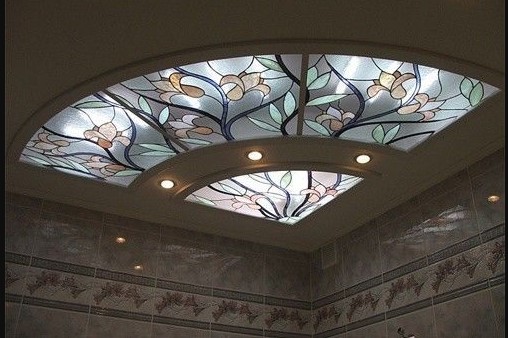 Unleash your creative flair when it comes to your interior roof design by incorporating a diverse range of materials. Among the most current trends in POP design for roof is the captivating use of stained glass. This material allows for a customizable design that comes to life when illuminated, creating a truly breathtaking effect.
As demonstrated in the image provided, you have the option to introduce this exquisite ceiling design into spaces such as your bathroom or powder room, areas that guests are likely to frequent. Whether you opt for an appealing floral motif or an abstract arrangement infused with vibrant hues, your choice will naturally draw attention upward, adding a striking and artistic dimension to your space.
5. Bedroom Interior Roof Design – Latest POP Design for Roof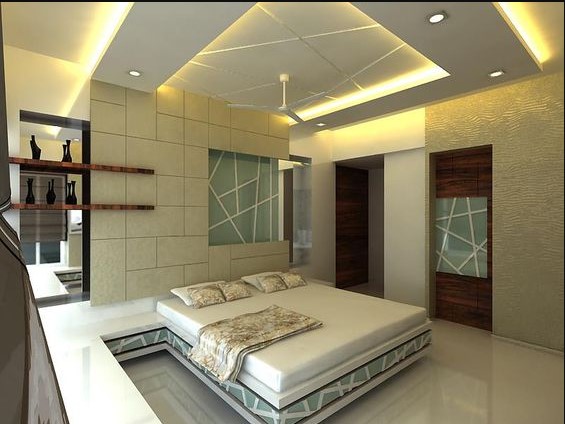 Beyond the living room, the bedroom offers another excellent canvas to explore your creativity with POP design for roof. This interior element has the potential to elevate the overall aesthetics of your space significantly.
Experiment with various elements such as lighting schemes, intricate designs, and more, as exemplified in the image provided. Craft a designated area within the ceiling to accommodate a ceiling fan or an elegant chandelier, encircled by an alluring POP design for roof similar to the one showcased above. Additionally, you can opt for a design that harmonizes with the room's overall theme, like the geometric patterns adorning the door and partition featured in the image. This allows you to create a cohesive and visually captivating bedroom space.
6. Interior Roof Design with Wood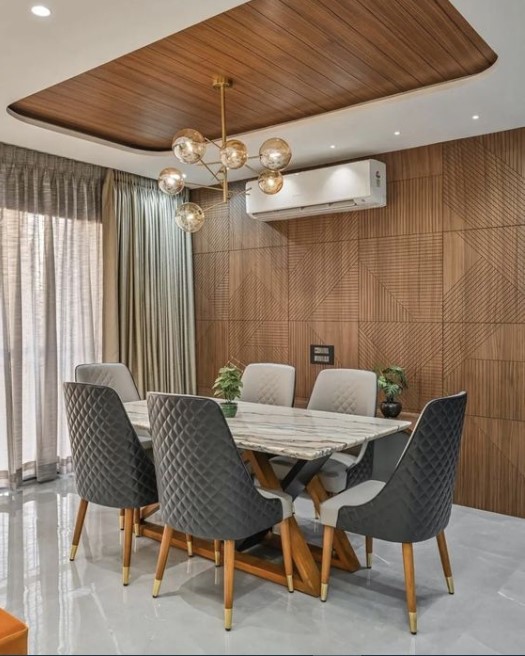 If you're open to investing a bit more, consider indulging in an interior roof design that combines both plaster of Paris and wood. These two materials possess distinct textures and colors, and when artfully integrated into a cohesive design, they can truly transform a room.
Wood, in particular, provides a striking contrast to the smooth, plain POP, creating a look that's simultaneously elegant and understated. Drawing inspiration from the image above, you can opt for finely grained wood with dark rings, juxtaposed with a pristine POP backdrop. By incorporating minimalist lighting fixtures and a modern chandelier, you can effortlessly craft an inviting space that exudes both simplicity and sophistication.
7. Best POP Design for Roof with Mirror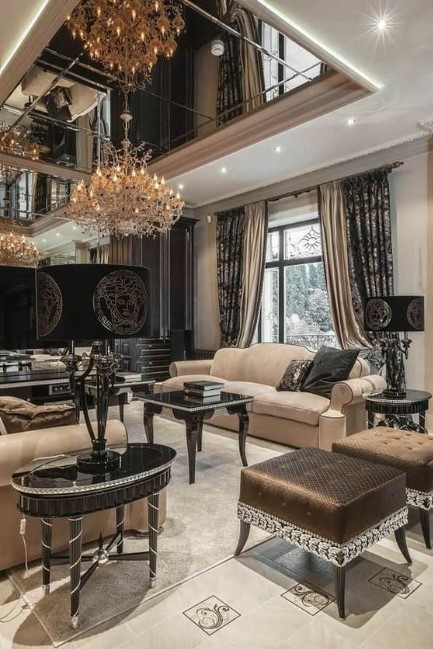 When dealing with limited ceiling height in a space, consider opting for a POP design for roof that incorporates mirrors. Installing a mirror on the ceiling creates a visual illusion of greater height by reflecting the surroundings, resulting in the room appearing more spacious and taller than its actual dimensions. Moreover, it imparts a touch of luxury to the space, exuding opulence and elegance.
As demonstrated in the image above, a straightforward yet effective POP design for roof, featuring a high-quality mirror and subtle, soft yellow lighting, can work wonders. An extravagant chandelier takes center stage on the mirrored surface, further enhancing the overall opulent ambiance. Embrace this design choice, and your guests will undoubtedly be enamored with the luxurious and visually captivating effect it adds to your space.
8. Coffered Interior Roof Design – Latest POP Design for Roof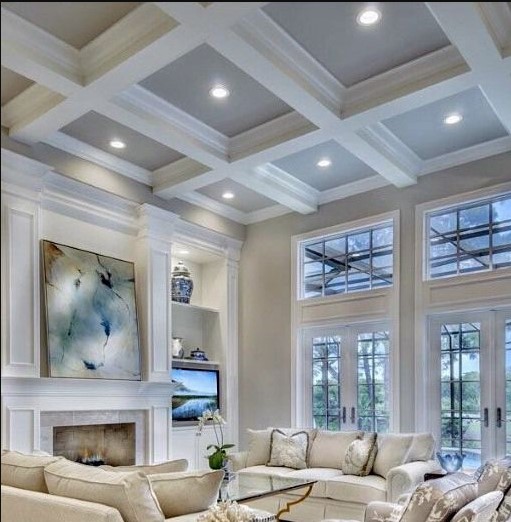 Once perceived as a feature reserved for aristocratic and opulent homes, coffered ceilings exude a timeless elegance, a nod to a bygone era in architectural design. These ceilings are characterized by a series of squared or rectangular grid patterns, typically with recessed or sunken panels.
Thanks to a resurgence of interest in historical design elements, this classic POP design for roof has made a stylish comeback and is frequently employed to enhance contemporary interiors. Drawing inspiration from the image above, which showcases a square coffered interior roof design, it's evident that this approach adds a stunning and sophisticated dimension to modern spaces.
9. LED Light, Latest POP Design for Roof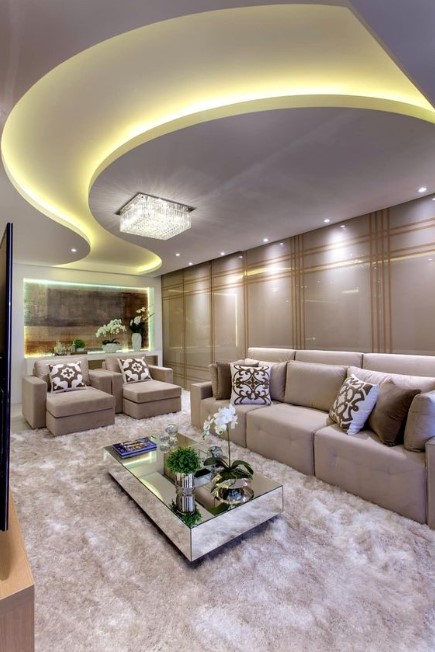 The role of lighting in setting the ambiance of a room and defining its interior character cannot be overstated. Effective lighting has the ability to make a space appear brighter and more expansive, while softer, low lighting can evoke a cozy or romantic atmosphere.
If you're considering a POP design for roof featuring LED lighting, it's advisable to select a distinctive and aesthetically pleasing design, as exemplified in the image above. Instead of settling for mundane rectangular POP designs for roof, explore abstract or curved patterns, and pair them with vibrant LED lights. This combination not only enhances the ceiling's design but also floods your room with ample brightness, creating a captivating and inviting atmosphere.
10. Mandir Interior Roof Design – Best POP Design for Roof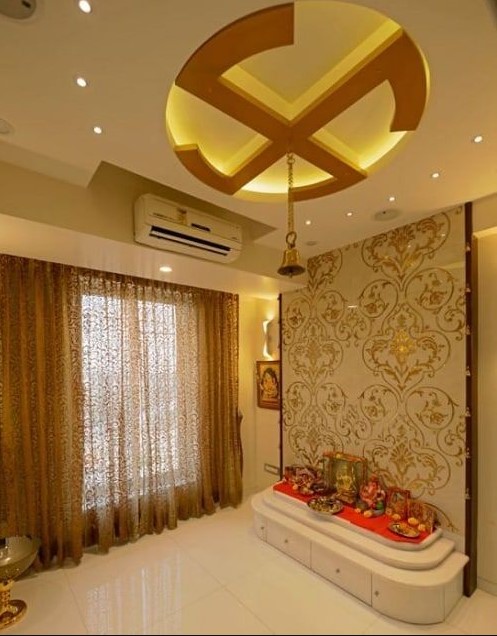 If you believed that POP design for roof was limited to just the living room or the bedroom, it's time to reconsider. Your creativity can extend to creating a striking interior roof design for your mandir or pooja room.
Feel inspired by the image above and adorn the ceiling of your mandir with a Swastik design crafted from POP. This not only aligns perfectly with the room's spiritual theme but also elevates its aesthetic appeal. To enhance the ambiance, you can fashion the Swastika piece from wood and incorporate gentle, soft lighting on the ceiling, transforming your pooja room into a warm and inviting sacred space within your home.
11. Skylight POP Design for Roof in Bathroom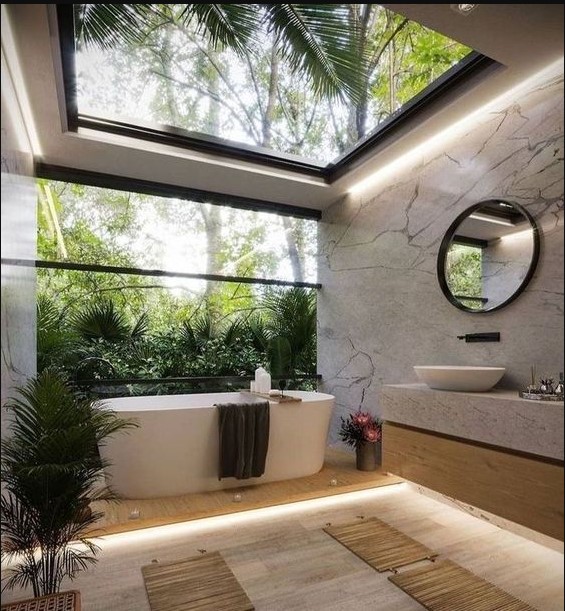 Perfectly suited for bathrooms and perhaps even kitchens in colder climates, the skylight POP design for  roof is a brilliant concept that instantly infuses a sense of luxury into your space. This stunning design seamlessly connects the interior with the outdoors, flooding the room with an abundance of natural light. Skylight interior roof designs are not only visually appealing but also offer a touch of sophistication to any setting.
The image above serves as an excellent source of inspiration for a bathroom skylight POP design for roof. In this example, the main room's framework is crafted from POP with a central void, where a glass panel is installed, allowing you to bask in the beauty of nature while indulging in a relaxing bath.
12. Floral POP Design for Roof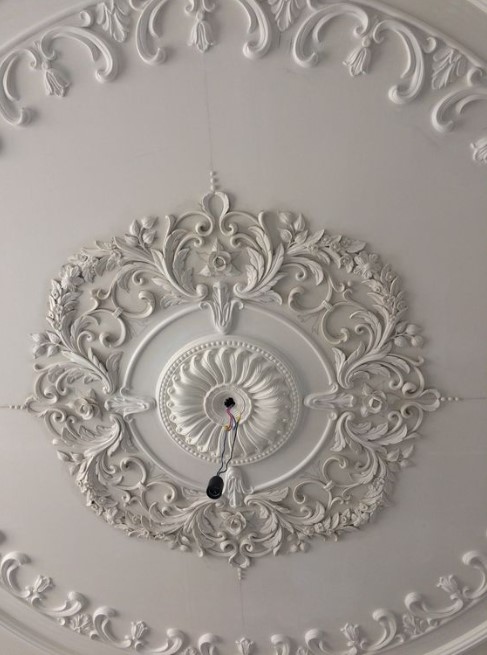 Embrace a touch of Victorian elegance by incorporating a traditional floral POP design for roof, reminiscent of the captivating image above. Victorian interior roof designs are characterized by intricate compositions crafted from plaster of Paris, featuring elaborate floral motifs. These designs are nothing short of exquisite but also demand substantial labor, rendering them a luxurious and, at times, costly choice.
Victorian designs were known for their opulence, boasting vibrant colors and meticulous detailing, elements that continue to make this style endure. While some may argue that floral POP designs for roof might appear antiquated, ample evidence suggests their timeless appeal, particularly in grand homes and expansive spaces where they can fully showcase their ornate and enduring charm.
13. Kitchen Interior Roof Design – Latest POP Design for Roof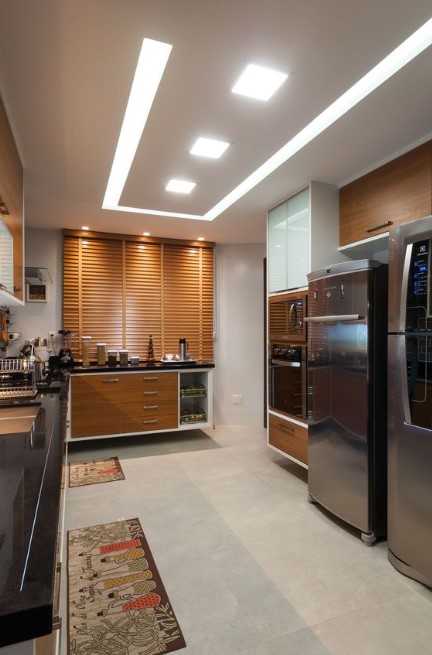 The kitchen ranks among the most vital rooms in any home, and neglecting the ceiling in this space is entirely unnecessary. A straightforward interior roof design is a practical choice to consider.
If you prefer to keep things understated, consider a modest POP design for roof in the kitchen area, much like the one depicted in the image above. Here, a simple POP sheet is integrated into a metal framework, complemented by large LED lights that offer ample illumination to the entire area.
When conceptualizing a POP design for roof in your kitchen, it's crucial to ensure that the design accommodates essential elements such as kitchen vents and fire detectors, marrying functionality with aesthetics.
14. Colourful POP Design for Roof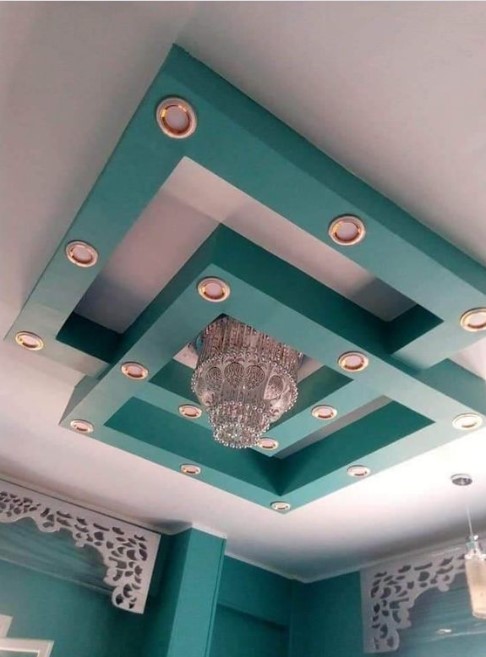 Your POP design for roof doesn't have to conform to uninspiring cream and white tones. Indeed, you have the freedom to select the color of your preference for the interior roof design of your home. The color you opt for in the POP design can either harmonize with the hues of the walls, as demonstrated in the image with Adobe-inspired tones. Alternatively, you can choose a contrasting shade that accentuates the intricacies of your roof design, creating a striking visual impact.
15. Round POP Design for Roof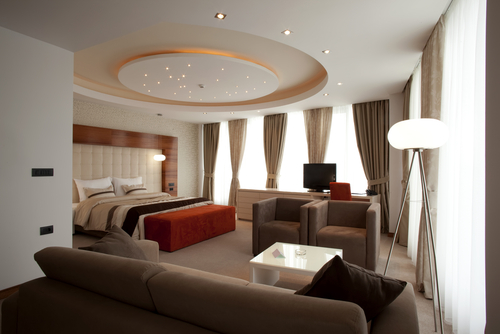 A spherical POP design for a roof or ceiling offers an unmatched fashion statement when compared to other POP designs. Its design might improve the visual appeal of your plain-looking room. If you've always wanted something unique, a spherical POP design with LED lighting and a color scheme is all you need.
Take the image up there as an example; you'll be impressed after just one glance. The POP design for the roof has become the focal point of the space due to its circular form and surrounding lighting. The design also elevates the living room already-elegant appearance.
You don't want it to look too showy, so choose your colors and design carefully. Lighting might be an excellent addition to this concept.
16. Curved POP False Ceiling Design for Bedroom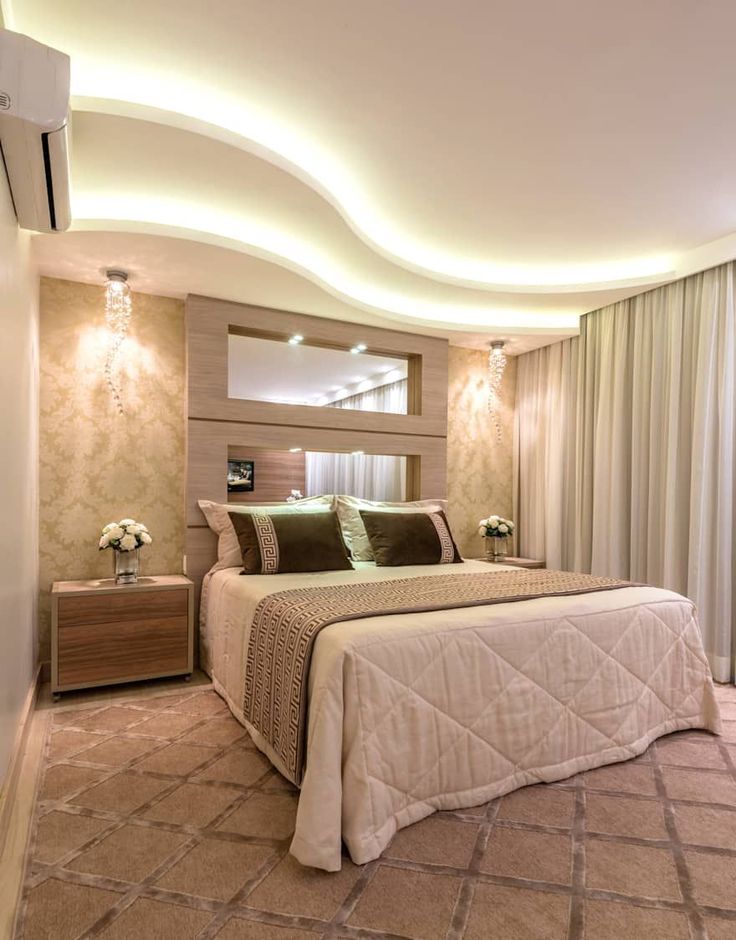 While rectangular false POP ceiling designs elevate the ambiance of a hall, square shapes are ideal for bedroom spaces. However, curves have emerged in the interior design realm to bestow bedrooms with a sense of opulence. You need not go to extravagant lengths with your bedroom decor; the installation of a curved false ceiling POP design can work wonders within your interior.
Enhance the allure of the curves by incorporating LED lighting into the ceiling, adding a touch of glamour and sophistication. Furthermore, consider installing pendant lamps on either side of the roof to enhance the room's brightness and overall illumination. This understated and distinctive POP design doesn't demand excessive vibrancy or a profusion of colors. Introduce neutral tones, and you'll witness your boudoir transform into a space that exudes the grandeur of a mansion.
Vastu Tips for Interior Roof Design
– As per Vastu a flat pop design for roof is considered good compared to uneven designs.
– If you opt for a skylight window in your interior roof designs, make sure it is on the north or east side.
– Any chips or cracks in your pop design for roof should be immediately mended, as broken things are considered auspicious.
– For kitchen interior roof design, make space for the chimney in the south or west part. Avoid the east direction at all costs.
– Dark colours should be avoided in pop design for roof;  instead, choose white or off-white hues.
Summing Up POP Design for Roof
POP designs for roof can be stunning and elegant and, at the same time, prove to be an inexpensive decor installation in your home. The above article featured a list of some great interior roof designs. Which of them did you like the most? Or which style would blend in with your home decor? Let us know in the comments below.
FAQs
Q. How long does pop design for roof last ?
Pop design for roof is long lasting and can last for over 15 years if not external damage is caused
Q. Which material is used for pop design for roof ?
Calcium sulphate also known as dehydrated gypsum or plaster of paris is the material used for pop design for roof.
Q.Is pop design for roof water resistant ?
No, plaster of paris is not resistant to water and can easily dissolve in it.
Q.Which is better: gypsum board or pop for interior roof designs ?
A gypsum plasterboard is more strong, whereas plaster of paris is easily moldable. So if you wish for a more intricate interior roof design, opt for pop.
Q. Which is more expensive for interior roof design: pop or gypsum ?
Gypsum is more expensive as compared to pop for interior roof design.
Q. Which POP design for roof is the best?
There are tons of modern POP designs for roof such as LED light POP roof design, Skylight POP design, Colourful POP design for roof, Double layer, and Arched POP design for roof.
Q. Is POP good for roof design?
POP design for roof is a good material as it is highly durable and can withstand any wear or tear.