Explore this comprehensive guide to selecting the ideal modular kitchen design for your residence, complete with a catalog of design images and current modular kitchen pricing trends in India.
Kitchen designs have undergone significant transformations, and modular kitchens have become a highly desired option for homeowners. This contemporary concept seamlessly integrates with the overall home decor and offers hassle-free installation with pre-made modular units. If you're considering a functional kitchen, explore this comprehensive guide on modular kitchen pricing and installation.
Modular kitchen price in India based on kitchen layout
| | | |
| --- | --- | --- |
| Kitchen Layout | Modular kitchen price range (per sq ft) | Overall Modular kitchen price list |
| L-shaped modular kitchen | Rs 3,000 – Rs 4,200 | Rs 1.1 lakh to Rs 3 lakhs |
| Straight shape kitchen layout | Rs 600 – Rs 2,250 | Rs 60,000 to Rs 90,000 |
| Parallel shape layout | Rs 1,200 – Rs 1,750 | Rs 1 lakh to Rs 1.5 lakhs |
| U-shaped kitchen layout | Rs 225 | Rs 50,000 to Rs 1.5 lakhs |
Modular kitchen price in India based on materials
| | |
| --- | --- |
| Modular kitchen materials | Modular kitchen cost per sq ft |
| Wood | Rs 300 – Rs 1,800 per sq ft |
| PVC | Rs 200 – Rs 2,200 per sq ft |
| Stainless steel | Rs 200 – Rs 5,000 per sq ft |
The provided estimates offer a general idea of modular kitchen prices in India. However, the total cost of a modular kitchen can significantly vary based on factors such as specific requirements, size, layout, brand choices, and the quality of materials used in cabinets and components. Furthermore, when assessing modular kitchen costs, it's essential to account for additional considerations such as electrical and plumbing expenses.
Modular kitchen price in India based on material finish
| | |
| --- | --- |
| Modular kitchen finish | Modular kitchen overall cost |
| Particle board matte laminate | Rs 1,89,254 |
| Particle board gloss laminate | Rs 1,95,847 |
| MDF matte membrane | Rs 1,98,135 |
| MDF Gloss membrane | Rs 1,99,875 |
The modular kitchen cost mentioned is for an L-shaped kitchen of 12X15 sqft size with additional accessories.
Modular kitchen price calculator
A modular kitchen cost calculator serves as a useful tool for estimating the expenses associated with installing a modular kitchen in your residence. It allows you to explore potential price fluctuations based on factors like floor plans, materials, and design choices. The calculation of modular kitchen costs takes into account various elements, including the floor plan (e.g., 1BHK, 2BHK, or 3BHK), kitchen layout, cabinet materials, accessories, color options, and finishes, among others.
What is the lowest modular kitchen price?
Opting for a budget-friendly modular kitchen design for a compact kitchen involves choosing a simple layout with minimal accessories. You can expect the cost of a small modular kitchen to start at a minimum of Rs 50,000.
Modular kitchen accessories
Some popular modular kitchen accessories include:
Drawer partition
Cutlery cup and saucer thali tray
Plate basket
Bottle pull-out design
Pantry pullout design
Pull out baskets
Microwave and Otg provision
Detergent holder and bin holder
What is the best size of a modular kitchen?
The ideal size for a modular kitchen may depend on the size of your house. However, the standard dimensions of a modular kitchen design is 8 ft (width) X 10 ft (length).
How much does kitchen interior cost in India?
For those seeking cost-effective kitchen interiors, the price typically falls within the range of Rs 1.5 lakh to Rs 2 lakh. In such kitchens, you can expect minimal use of laminates, with a combination of shuttered cabinets, open shelves, and box cabinets in the wall units.
Mid-range kitchen interiors
Mid-range kitchen interiors that come with added features can range from Rs 2.5 lakh to Rs 3.15 lakh. These designs often incorporate stylish elements like cabinets with acrylic or high gloss finishes, frosted glass shutters for overhead cabinets, and various additional accessories.
High-end kitchen interiors
For those desiring modern kitchen interiors with luxurious features and the latest modular mechanisms, the cost can be on the higher side, reaching up to Rs 4 lakh.
PVC modular kitchen
PVC modular kitchens come at a reasonable cost per square foot, making them an attractive choice for budget-conscious homeowners. Moreover, PVC is gaining popularity among modern homeowners in comparison to materials like wood. The installation of PVC modular kitchens is simpler when compared to traditional wooden kitchens. Additionally, PVC's resistance to corrosion, termites, and water further enhances its appeal to consumers.
Small modular kitchen price
A compact modular kitchen design encompasses the installation of storage cabinets, key storage units, countertops, finishing materials, appliances, sinks and faucets, tile designs, and more. When contemplating your modular kitchen, take into account these factors, as well as the materials you intend to use, as they will collectively influence the final cost of your compact modular kitchen.
Modular kitchen: Why is it costly?
An interesting aspect of modular kitchens is their flexibility in terms of cost, making them suitable for various homeowner budgets. For instance, the kitchen's size plays a crucial role; larger kitchens typically require more modules, potentially raising the overall cost. Additionally, if you opt for high-quality materials like stainless steel cabinets for heavy-duty or industrial kitchens, you should be prepared for a higher expenditure, but it's an investment that can last a lifetime. Many homeowners also prefer modern finishes, so it's essential to factor this into your budget considerations.
What is a modular kitchen and why is it popular?
Modular kitchens, characterized by their segmented and customizable design, represent a contemporary trend that is gradually replacing traditional Indian kitchens. These kitchens come with pre-designed furniture units and are particularly well-suited for modern living spaces, offering ample opportunities for personalization.
The modular kitchen design comprises drawers, countertops, cabinets, micro-compartments, and shelves that can be configured to maximize space utilization and maintain an organized kitchen environment. They are a practical interior design solution, particularly for homes with limited space, making it easier to assemble and transport the components. Furthermore, modular kitchens offer flexibility in terms of themes, pricing, color palettes, finishes, as well as diverse designs and patterns.
Check out these modular kitchen images with different layout and finishing: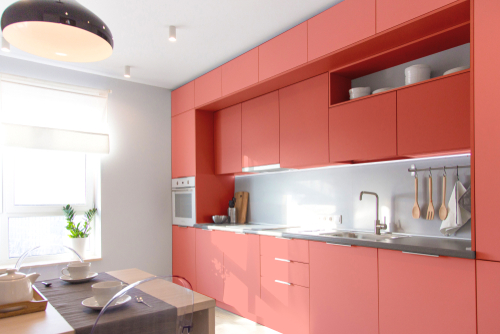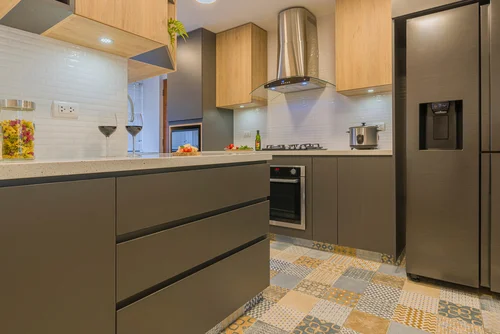 Modular kitchen: Things to consider during installation
Installing a modular kitchen can be a fantastic fusion of aesthetic appeal and efficient space utilization. Nevertheless, for homeowners, this installation process may pose a significant challenge, as it entails extensive decision-making and meticulous planning.
Modular kitchen material and finishes
Choosing high-quality materials is a crucial investment that ensures the longevity and aesthetic appeal of your kitchen. Therefore, it's important to opt for reputable brands that offer top-notch modular kitchen designs at competitive prices, often accompanied by generous warranty periods.
Material selection is another critical aspect. For the kitchen area, opting for BWR or BWP (boiling water resistant/boiling water proof) grade plywood is highly recommended, surpassing materials like MDF, HDF, or particleboard. In terms of finishes, laminate and acrylic are popular choices. The modular kitchen price may vary based on the cost of BWP plywood, typically ranging between Rs 80 to Rs 90 per square foot, depending on size and other factors.
Selecting low-maintenance materials is particularly important for kitchen spaces. Combining wood and glass for cabinets and choosing stainless sinks for easy cleaning can be advantageous.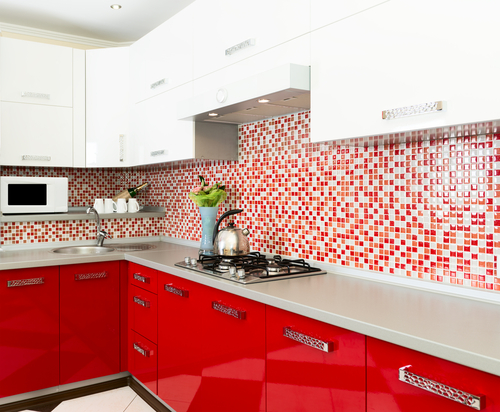 Modular kitchen design countertop
Ensuring that the countertop height is comfortable is essential. In India, the standard height typically falls between 820 mm to 860 mm. However, it's advisable to make this decision after considering the average height of all family members.
Among the various countertop materials available, natural options like marble, granite, and quartz countertops are highly popular. The installation of pre-made kitchen cabinets with granite countertops for a modular kitchen typically comes at a price of around Rs 1,500 per square foot. Granite for modular kitchen countertops can be found in the price range of Rs 120 to Rs 250 per square foot, while quartz and marble options for modular kitchen counters may cost around Rs 400 per square foot.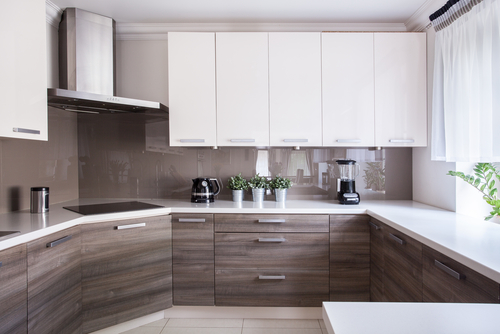 Modular kitchen layout: The golden work triangle
The choice of kitchen layout for your home should be based on the size of your kitchen. When installing a modular kitchen, it's crucial to take the kitchen work triangle concept into account. Ideally, the three main elements of the kitchen – the kitchen sink, the storage unit, and the cooking range – should be strategically positioned for optimal efficiency. In a well-designed kitchen, these three elements are placed to create an efficient triangle. Placing the stove and storage unit opposite each other, with the sink at the center or in a corner, forms an ideal triangle layout.
Modular kitchen ventilation and lighting
Effective kitchen ventilation is essential to remove cooking fumes and maintain a fresh and healthy environment. Smoke should not accumulate in the kitchen. Therefore, it's important to install a chimney or an exhaust fan. When planning the layout of your house, ensure that the kitchen window opens into a balcony or a well-ventilated area. Additionally, natural light in the kitchen during the day is essential. Consider using overhead lights or under-cabinet lighting, which are popular choices nowadays, to illuminate the workspace. To enhance safety in the kitchen, opt for skid-proof tiles and countertops with curved edges.
Modular kitchen for small space
You can install modular kitchens in small kitchen spaces by opting for smart designs.
Make the most of the space available and go for small wall cabinets that can be placed either over the window space or towards the ceiling.
Open corner shelves and wall-mounted plate racks work best for small kitchens, especially for keeping items that need to be within easy reach.
You can go for glass doors that give an illusion of more space while adding a luxurious touch to the kitchen space.
Colours play a crucial role when designing small spaces. Subtle hues like white make the room look spacious and brighter.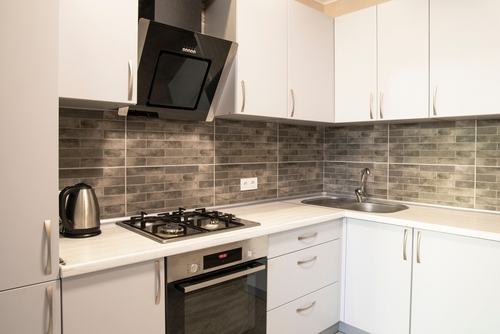 Latest modular kitchen designs images catalogue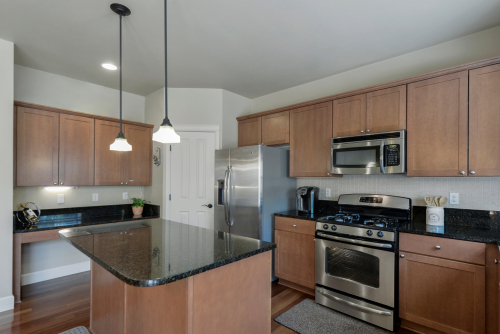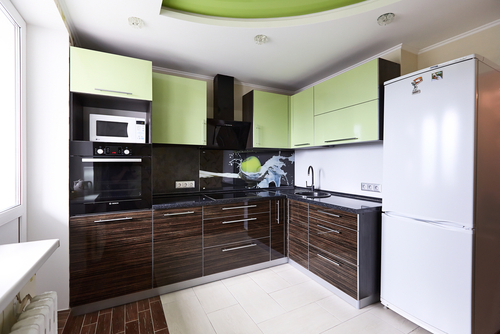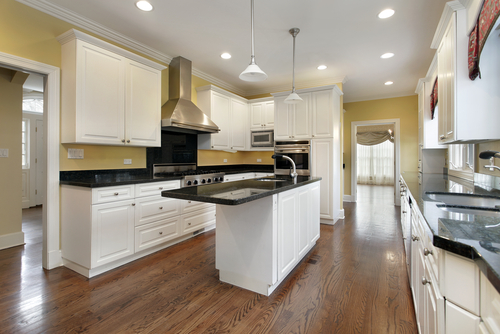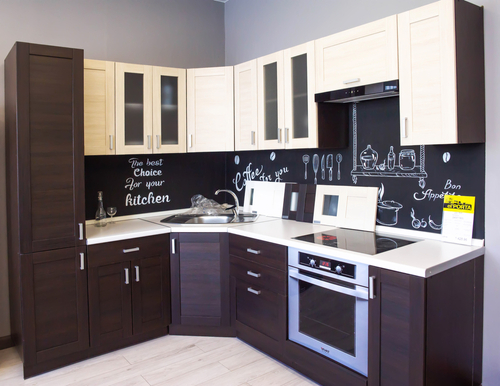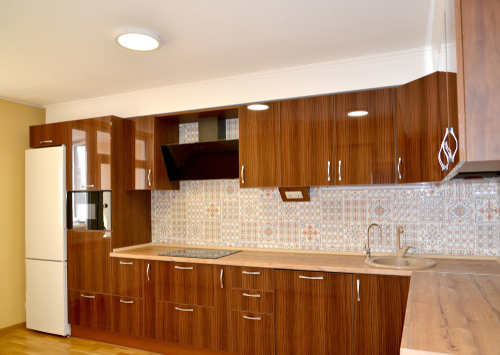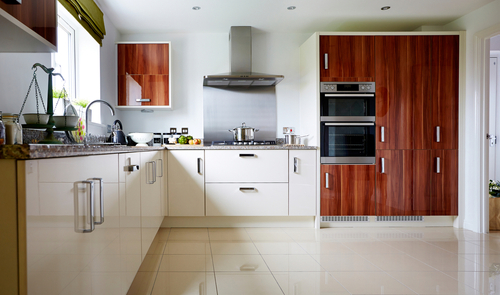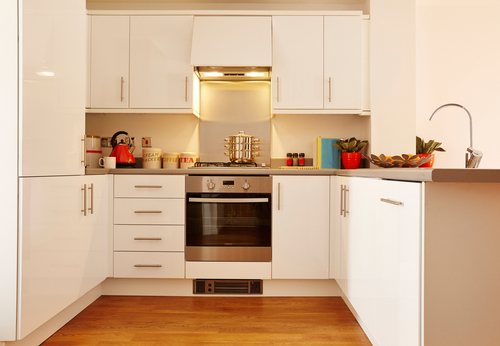 Modular kitchen types
Modular kitchens represent a significant investment and require careful consideration before involving experts. While independent houses offer more flexibility in choosing your preferred kitchen type, apartments and flats have limited options in terms of home kitchen design layouts.
Whether you're renovating an existing kitchen or building a new one, it's crucial to familiarize yourself with the various modular kitchen layouts. Here are some popular types of modular kitchen designs, each with its unique advantages.
L-shaped kitchen design
Well-suited for smaller homes, this kitchen design is a popular choice where the countertops are arranged at right angles, creating an 'L' shape. It works particularly well for homes with a square kitchen layout, effectively utilizing corners in small kitchens and offering ample storage options. The length of the countertops can be customized to fit the floor plan.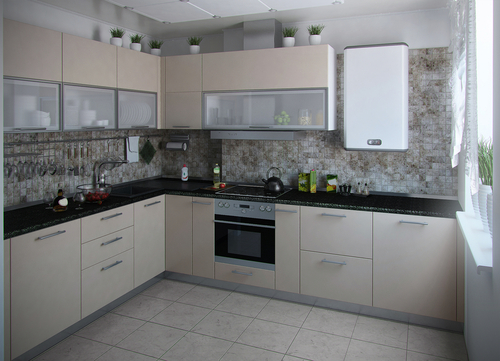 U-shaped kitchen design
Often found in larger homes, this kitchen layout is one of the most efficient to work in. In this design, the countertops are positioned along three walls of the kitchen, forming a shape resembling the letter 'U'. This layout is versatile and suitable for both small and spacious kitchens. It offers more opportunities for additional storage cabinets compared to other layouts. With ample storage space through well-designed kitchen cabinets, numerous upper, lower, and tall units, as well as plenty of counter space, this kitchen setup is ideal for cooking when multiple people are using the kitchen simultaneously.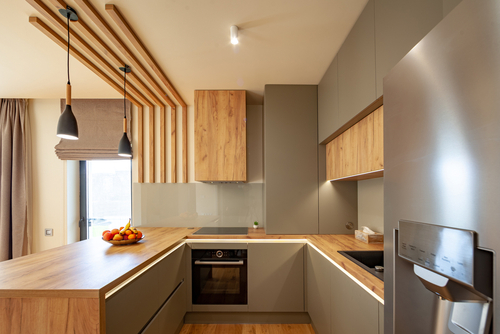 Kitchen island
You can enhance the aesthetics and functionality of a single-wall kitchen, L-shaped kitchen, or U-shaped kitchen design by adding an island counter. This freestanding island can be customized to incorporate a sink or serve as a dining area, illuminated with elegant pendant lights.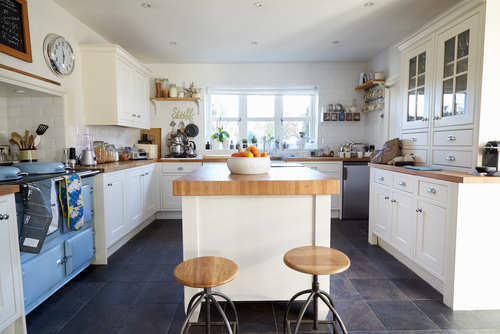 Straight kitchen layout
A suitable choice for studio apartments and bachelor pads, this kitchen design is often referred to as a single-wall layout. It efficiently utilizes space by placing the cooktop, cabinetry, and accessories along a single wall in the room. This design is cost-effective compared to other kitchen layouts and can make the room appear more spacious, especially when using white-hued kitchen cabinets.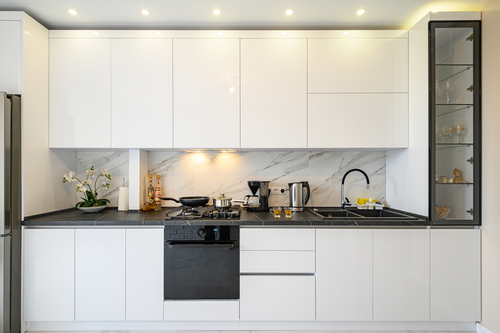 Pros and cons of modular kitchens
| | |
| --- | --- |
| Pros of modular kitchen setup | Cons of modular kitchen setup |
| Adds a distinct style to your home. | Repairs and replacement are expensive. |
| Easy to clean and maintain. | Installation is expensive if you are customising it for your specific needs. |
| Offers clutter-free and highly organised spaces. | Requires frequent cleaning, especially in Indian homes where the steel fittings are prone to rust. |
| Easy to assemble and can be easily transported from one location to another. | |
Top modular kitchen brands
The modular kitchen market is brimming with various brands that provide high-quality materials at competitive prices, often accompanied by extended warranty periods. Below are some brands to consider if you're in search of top-notch modular kitchens and reliable after-sales services:
Sleek: Sleek is a subsidiary of Asian Paints and provides a variety of modular kitchen options, which include innovative designs and quality finishes. Sleek offers all modular kitchen accessories, including cabinets, wall units, pull-outs, open cabinets, breakfast counters, chimneys, etc.
Hettich: Hettich is a German brand and also the world's leading manufacturer of furniture fittings. While this is one of the expensive brands available in the market today, the on-site warranty and after-sale service make it a worthwhile choice for people who do not have budget constraints.
Godrej Interio: A furniture brand of one of India's oldest companies, Godrej Group, Godrej Interio is a popular service provider in this category. Godrej Interio has better reach than any other company, which makes it a leader in the country. All major accessories are available with Godrej Interio and a number of options can be explored online, for better decision-making.
Häcker: Häcker is a German luxury modular kitchen brand with a global presence and offers over 160 varieties in material surfaces, colours and styles.
Häfele: Häfele, a German brand, provides a range of premium quality kitchen and furniture fittings.
Kohler: Kohler is another popular brand that has presence in India. It offers a range of modular kitchen cabinet solutions and various other accessories.
How to reduce the cost of modular kitchen?
Go for open shelving: Instead of wall cabinets, you can install open shelves that are convenient and space efficient.  Standard wall cabinets may be expensive, and this option can help reduce your overall expenses.
Door styles: Modular kitchen designs with some door styles may have a higher price. For example, you may have to spend more on raised panels and inset door styles. Make sure you compare the different door styles before finalising the modular kitchen design.
Select affordable wood: The modular kitchen prices will depend on the type of wood used. You look for affordable wood materials in a local cabinet shop to minimise your overall cost.
Thermofoil or laminates: Opting for laminates for a modular kitchen can be an affordable option. Similarly, thermofoil, which is a plastic finish applied to a medium-density fiberboard or other engineered wood surfaces, can be less expensive.
Less customisation: Additional accessories may increase the modular kitchen price. So, you can opt for fewer customisations. For example, you can select a design without pullouts, extra sliding shelves, or glass door fronts.
10×10 kitchen layout
The 10×10 modular kitchen layout is a standard reference used by retailers to estimate and compare the cost of kitchen cabinets and the overall price of kitchen interiors. In this layout, the kitchen occupies a total area of 100 square feet, which is the average size of many contemporary kitchen designs. If you are seeking an affordable modular kitchen, the price of a 10×10 kitchen layout provides a reasonable estimate.
Can you customise modular kitchen design?
Modular kitchen designs offer customization options to align with your interior design preferences and requirements. You can choose the kitchen's shape, layout, size, materials, finishes, and accessories to create a functional and personalized space.
FAQs
Q. How much does modular kitchen cost?
Depending upon the area, requirements, brand and quality of materials, the cost of a modular kitchen may start from Rs 50,000 and can go up to Rs 10 lakhs.
Q. What are modular kitchens?
Modular kitchen is a modern concept, which includes drawers, cabinets and shelves, organised in an efficient way.
Q. What comes in a 10×10 kitchen?
A regular 10×10 kitchen design may have enough space for around 10 to 12 kitchen cabinets of different sizes. The sizes of the wall cabinets may vary from 36 inches by 30 inches and may measure up to 18 inches in width for the base cabinets.
Q. What is PVC modular kitchen cost per square feet?
You can install PVC kitchen cabinets for your kitchen at a cost range of Rs.200-Rs.350 per square feet. However, the total price of installing a PVC modular kitchen furniture may cost you around Rs 20,000 on an average.
Q. Which material is best for modular kitchen?
Plywood is the material mostly preferred when it comes to modular kitchen designs in India, owing to their durability and resistance to fungal attacks. You will find innovative and high-quality cabinet kitchen design materials. Some brands also mild steel for modular kitchen designs.
Q. Is slab required for modular kitchen?
Most modern homes come with in-built cement platform with a marble or granite slab finishing and a fixed sink.
Q. How much does it cost to renovate a kitchen in Gurgaon?
Kitchen renovation costs in Gurgaon may range from Rs 70,000 to Rs 2 lakh.
Q. Why is modular kitchen costly?
The cost of designing modular kitchens can quite high especially if you have chosen expensive materials, intricate designs and modern finishes.
Q. What are the disadvantages of modular kitchen?
Some of the drawbacks of choosing a modular kitchen includes high expenses for designing and maintenance. Besides, it may be difficult to find replacements for the damaged components of the cabinets.
Q. What is the life of a modular kitchen?
With proper maintenance, a modular kitchen may last for up to 20 years. If you have chosen high-quality materials and finishes, the kitchen design may last for a longer time.