The Gurgaon Department will carry out a baseline study of all Aravali forest areas to measure the extent of illegal construction in protected areas. Drones will be used to map the areas.
On Tuesday, Deputy Commissioner Yash Garg presided over a meeting attended by Chief Conservator of Forests Vasvi Tyagi, Urban Planner (Implementation) RS Path, and other senior officials. Garg stated that removing unauthorized construction in forest areas was a "top priority," referring to the Supreme Court's order to demolish 10,000 houses in the Aravalis Khori village.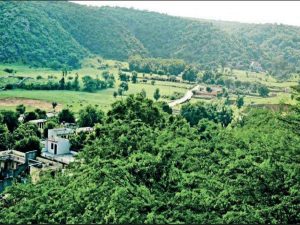 "I have requested a baseline survey of all forest areas in the district to prepare a list of the structures there. Garg said the survey will be carried out with the help of drones and will begin within a week. It will be the first survey in the district, "Garg said.
The Forest Department will review the records and identify illegal structures after the survey has identified the types of structures built in and around forest areas. The survey, according to Garg, will include mapping all forest areas within the boundaries of the Gurgaon, Manesar, and Panchayat institutions.
Notice will be sent to owners of illegal structures. A few days later, law enforcement teams will flatten the buildings.
It has often been observed that villagers near Aravalis, to whom the government has allocated land for cultivation, sell it to private developers, who, in turn, build farmhouses and other similar buildings. Khori, for example, was one of those villages that appeared illegally on forest land.
Tyagi, Chief of Forest Conservation, said that the forest department has prepared a geo-reference map for the area and that it will be shared with survey teams. According to her, Gurgaon has a total of 6,800 hectares in 33 family properties covered by the Punjab Land Conservation Act (PLPA). "The baseline survey, using drone cameras, will help us identify each structure built on 6,800 hectares of PLPA land," she added.
Officials in Faridabad, which has forested areas as well, have stated that all illegal structures, including farmhouses, will be demolished on the protected land. Until now, the district has discovered approximately 130 illegal structures on 500 acres of land reported by the PLPA.
Credit- Et realty
Also read- Decorating items for your homes that you can get from Banjara Market