The right curtain color combinations can help define the look and aesthetics of a room.
The first things that come to mind when you think about design and decor for your home are the wall colors, furniture, accessories, bed, flooring, etc. The curtains don't even cross your mind. The majority of the time, curtains go unnoticed, but if you choose the proper color, they can really liven up your living area!
Curtains in bedrooms not only provide seclusion but also make a design statement. The appropriate color schemes may make your bedroom or any other area look larger, which is especially crucial for small bedrooms. The simplest approach to give your living room or dining area a makeover if you want to redecorate but lack the time or money to do so is to add a striking curtain arrangement. You have therefore come to the right site if you are looking for ideas for curtain color combinations for your home. Look through the image gallery below to choose the ideal curtain color schemes for your house.
Right Curtain Color Combination Ideas
You can utilize the 10 greatest curtain color combination ideas from the blog below in different rooms of your house. There is something for everyone in these suggestions, which appeal to a wide range of designs, patterns, and trends.
Additionally, we provide our list of the top five curtain fabrics. We hope that these tips and fabric details will enable you to select the ideal curtain color scheme for your space.
Choose contrasting blinds and curtains
Your room may appear plain if the textiles are plain. So, if you enjoy adding a little drama and texture to your area, consider pairing blinds with curtains. This clever combination idea gives you privacy while also giving your room a lovely texture. This concept makes your room fascinating and draws attention to the curtains.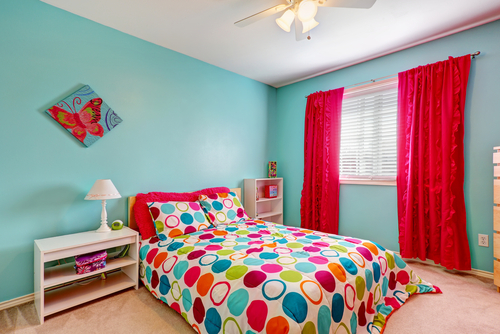 Striped Curtains elongate your bedroom
Stripes (especially in verticals) should be taken into account while coming up with curtain color combinations. The vertical stripes not only give your home a playful touch, but they also give the illusion of length, making your room appear bigger than it is.
Like in the picture below, this pattern works nicely with a variety of curtain colors. To give the room a straightforward yet unique appearance, the curtain in this instance combines the colors pink, white, blue, yellow, and beige.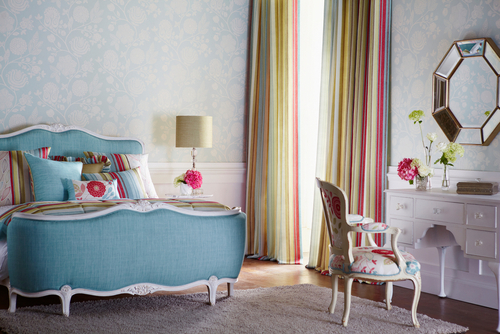 White on white – a unique idea
White on white curtains in a space can be both distinctive and elegant. In a small bedroom, layering drapes in various colors of white has a transformative effect on the interior. It gives your room space and makes it appear spacious, and the various materials you choose add texture, giving it a trendy appearance.
Another benefit of white is that it tends to make a room look neat and organized.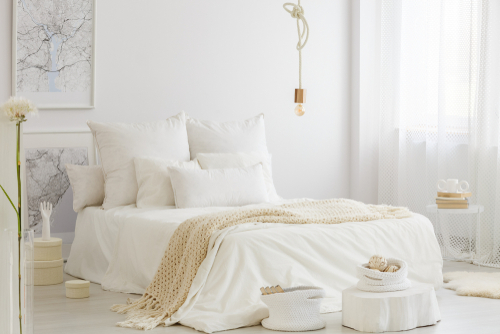 Make your bedroom sunny with yellow curtains
Not everyone is fortunate enough to live in an apartment that is directly exposed to the sun. Therefore, you can install yellow marigold curtains if you are one of the unfortunate people whose apartment doesn't get enough sunlight and you need some sunshine in your life.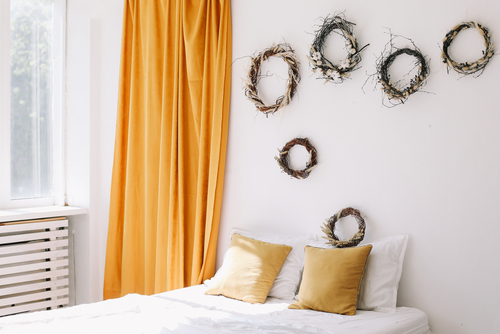 Dark sheer striped curtains to balance out privacy and natural light
While sheer curtains are a safe alternative if you want to go deeper but are concerned that it might not work for you, light colors are fantastic for opening up a tiny area. Sheer curtains are thin and transparent. You will have enough of light in your bedroom and the solitude you require.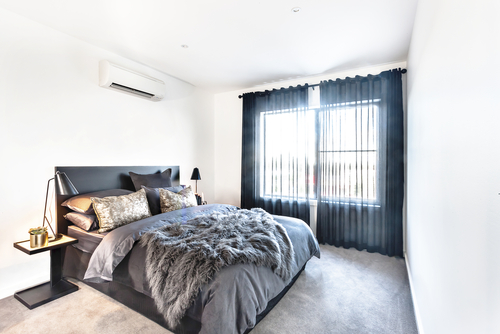 Make a statement with marble curtains
Not only does marble look beautiful as flooring, but it also looks great on windows! The drapes still have the marble designs, which adds a unique twist to normally simple curtains. Marble curtains are an excellent substitute if you do not want a completely white curtain.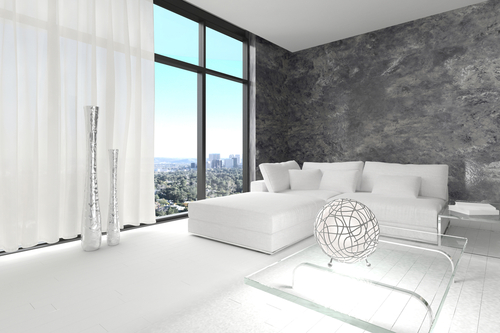 Make a bold statement with patterned curtains
It's uncommon to find printed curtains with vivid colors. They provide the proper amount of color to counteract the dullness of bedrooms with little to no color when they are coupled with them. Only choose patterned curtains if your bedroom features several neutral colors.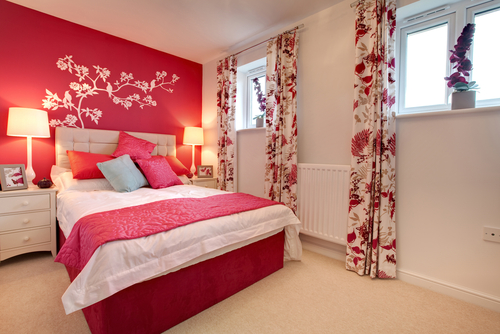 Gold Combination Curtains – add splendour to your bedroom
The idea of royalty and elegance is evoked by the color gold. Gold curtains will impede natural light but will make your bedroom look gorgeous, especially if you have a king-size bed. If your location doesn't receive a lot of sunlight, consider other possibilities.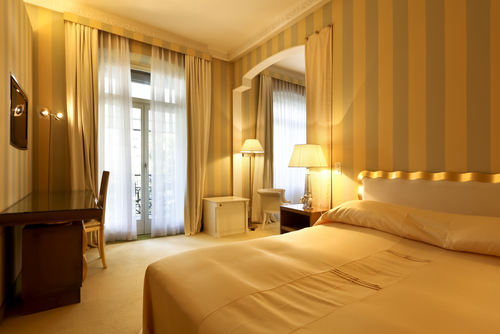 Royal blue curtains to make your bedroom more vibrant
If your bedroom is painted in only one neutral color, add a royal blue curtain to break up the monotony. There may be designs on the blue drapes. Curled curtains are a good choice if you want to add a little dimension.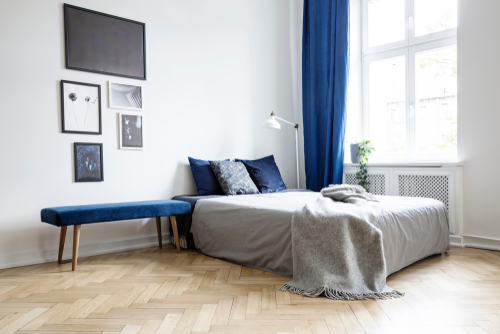 Pink and white curtain color combination for kids bedroom
Most home designers use a pink and white curtain for a baby's bedroom. It lets in enough light during the day, and the pink gives a delicate touch. The curtain will undoubtedly be the focal point of the bedroom.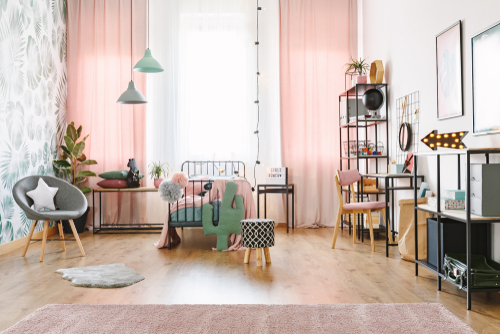 Summing Up Right Curtain Color Combination
The aesthetic of your room can be made or broken by your curtains. When chosen carefully, curtain color combinations can give your space the appearance that you want it to have—elegant, cozy, beautiful, etc. While certain color combinations for curtains might be striking and outspoken, other alternatives might have an earthy tone or a subdued neutral vibe.
We gave you 10 original curtain color combination options in the blog post up top, covering a range of hues and patterns. Which of these concepts did you prefer? Alternatively, which of these curtain color combinations would you like for your house? Comment below with your thoughts and let us know.
FAQ
How do I match my curtains?
When Matching Curtains, What Do You Match To?
Choose a shade similar to your walls. …
Select a print or solid color in a neutral palette that will be versatile enough to work with a variety of wall colors. …
The last and most bold approach is to use a bright pattern or color to contrast your walls.
What color curtains make room look bigger?
Although it may not come as a surprise, the curtain color almost every designer agrees on to make a room look bigger is a neutral shade such as white, cream, or beige – all shades that make it simple to choose curtains colors for any room, big or small.
Are darker or lighter curtains better?
Light coloured curtains are good for rooms that get a lot of direct sunlight as they're less prone to fading from the sun. Dark and bright colours tend to fade faster. Good summer options as a white/lighter colour is more likely to bounce the sun's rays away keeping rooms cooler.
Also Read: Divine inspirations mandir design photos that ignite devotion