Your home always reflects your individuality and preferences. Your taste is reflected in the way you arrange each piece of furniture and decorate your home. Home Interior Colour combinations and our emotions have a beautiful relationship. The atmosphere in your room can be completely changed by them. Since each area of the house serves a particular purpose, it is a good idea to use various tones of paint in different rooms of the house.
Best Home Interior Colour Combinations & Design Ideas
Here in the home decor guide, we have shared the best colour combinations ideas for your home interior. Let's start with the Dark purple colour-
1. Shades of Dark Purple
Dark colors have a powerful allure. You host your guests or spend the most of your free time in the living room. Your living space should be decorated and painted in a way that supports this kind of mood. Dark purple is a color that is both elegant and cozy.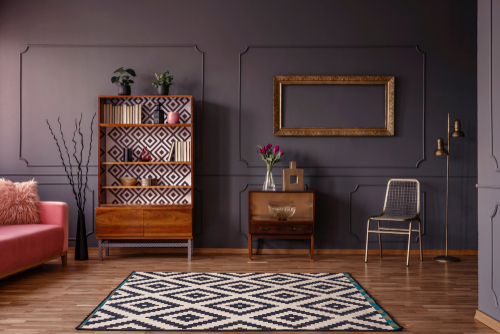 Living room with a vintage vibe
2. Home Interior Colour Combination – Dark Shades of Blue
There are many different colors of blue. All of the deeper blue hues, like navy, indigo, ink, etc., have a regal appeal. These tints would work well if you want to give your rooms a truly regal feel. the bedroom or perhaps the living room.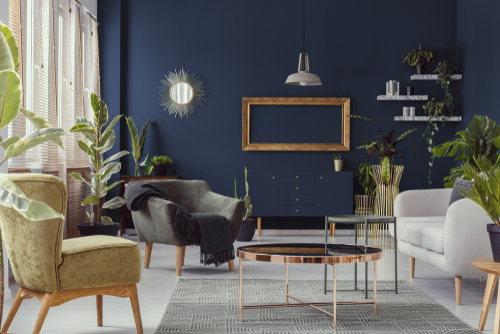 Dark blue living room with comfy chairs
3. Red, Grey and White Home Interior Colour Combination
Many people's favorite color for their homes is this one. Red represents passion and vitality. Additionally, it is a color with a wide range of tints. Since living rooms are where you host home parties and host visitors, dark colors of red are a great choice for them. The color will be quite beneficial for starting new talks.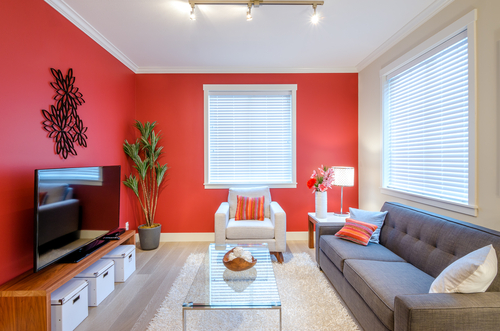 Modern living rooms to hang out
4. Pastel Tinges
gentle pastel home paint colors like lavender, mint green, lilac, or powder blue will set your mood if you prefer to breathe in gentle and calming environments. Additionally, using these colors to decorate your baby's nursery is a terrific idea. It will make your baby's eyes feel incredibly relaxed.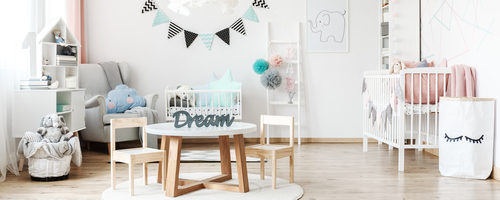 Soothing colours for your newborn
5. Light Blue
Numerous variations are available in the light blue color family. The master bedroom is the finest place for these colors. We look to unwind and sleep in our bedrooms. Therefore, it is important to construct the room's atmosphere with this in mind. Just arrange it with the appropriate lighting and furniture.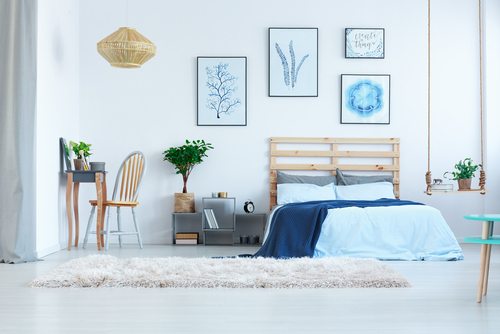 Light blue walls with minimal furniture
6. Light Purple Shades – Home Interior Colour Combination
This house color comes in a variety of tones. It is both cozy, calming, opulent, and intense. The walls in your bedroom would look great painted in the paler purple hues. Your eyes and mind will be calmed by this color's calming impact, which will aid in relaxation.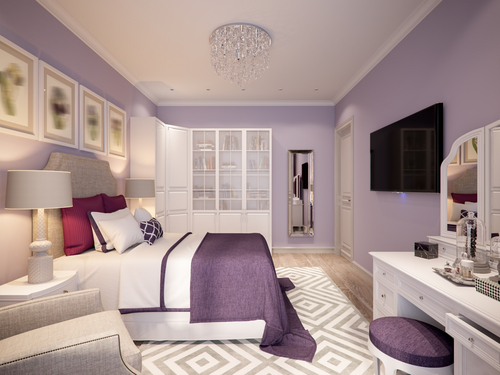 A soothing private chamber to relax
7. Greenish Yellow Home Interior
The color yellow represents joy. There are countless colors of yellow, and each one has a unique aesthetic appeal. This color is greenish-yellow and has a cheery appeal without being overly jarring to the eyes. This might be the hue of your bedroom or study. It will assist in banishing all of the boredom.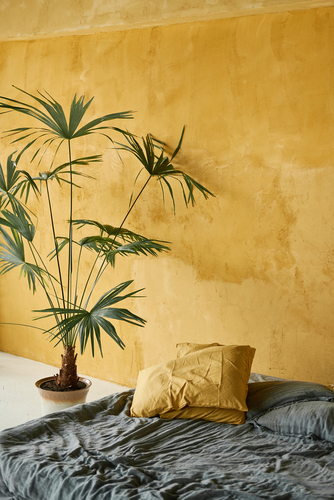 Yellow walls with a touch of greenery
8. Bright Yellow and Brown
Among all the colors for homes, this one is the happiest. This color has the power to quickly make you happy. Togetherness is symbolized by the color. The dining rooms in your home, where everyone gathers daily to eat together and converse passionately, would look best painted a vibrant yellow.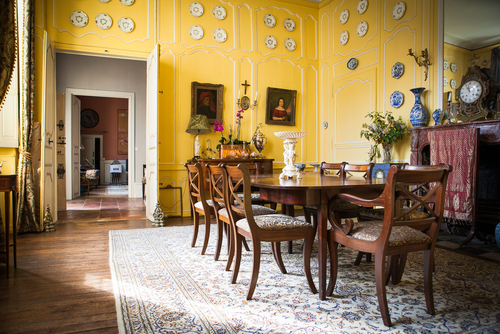 Antique dining hall with yellow walls
9. Mustard Shades
Warm mustard colors might be painted in your dining area or kitchen. If your walls are correctly ornamented with unique wall decor and dazzling lights, this home paint color can provide aesthetic appeal.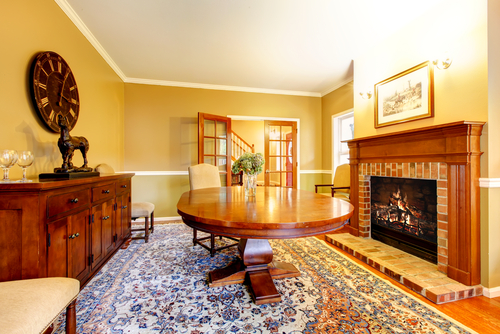 wooden furniture with beautiful mustard colour walls
10. Orange and Dark Brown Home Interior Colour Combination
Another color that has a warming effect is orange. You should paint your interiors this color. Orange comes in both darker and lighter tones once more. Use darker orange hues wherever possible because they are less conspicuous than the lighter hues. It is difficult to look at the lighter hues for an extended period of time.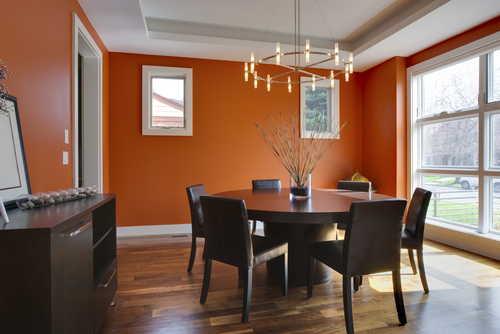 Luxurious orange dining place
11. Pastel Blue and Cream
Pastel blue tones are among the 2022 new home color trends. You can paint your bathrooms or bedrooms with these colors. It produces a chilling, calming impact. To make it feel cozier, add some wooden furniture.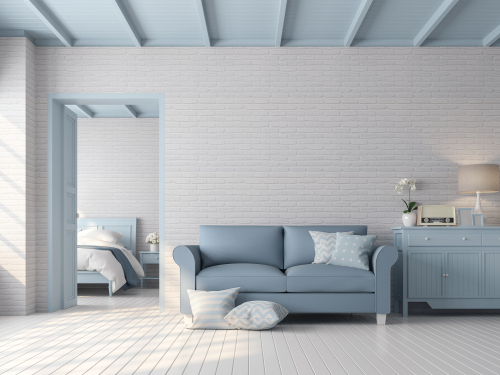 Pastel blue walls with a brick image
12. Grey and White Home Interior
Grey is a color that is highly calming and relaxing in all tones. Your home's entrance serves as the first point of contact for visitors. Therefore, this neutral color will work nicely for this objective. You might add some contrasting furniture or your preferred greenery to this space's design.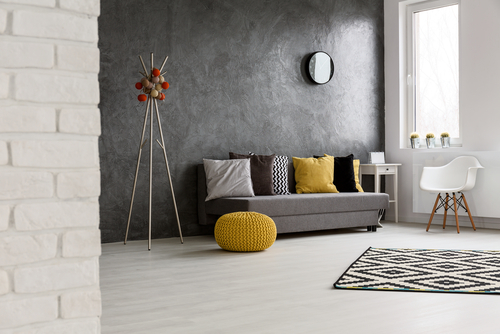 Grey living room with sofa and mat
13. Magenta and Dark Purple
Use home colors like magenta to give the design and decor of your living room some bright punch. The landscape around us will take on a dramatic impression thanks to this color. This wall paint will transform the space into a desirable place to spend some quality time if you combine it with some coordinating furniture and decorative items.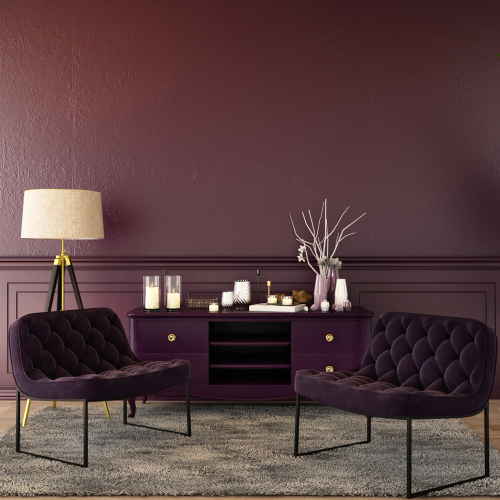 Classic all-magenta decoration 
14. Crimson and Beige
This is yet another vivid and enticing red paint color for homes. Imagine how nice it would be to curl up with your favorite books and read them in a secluded area of your home near the window, with walls around you that were painted crimson.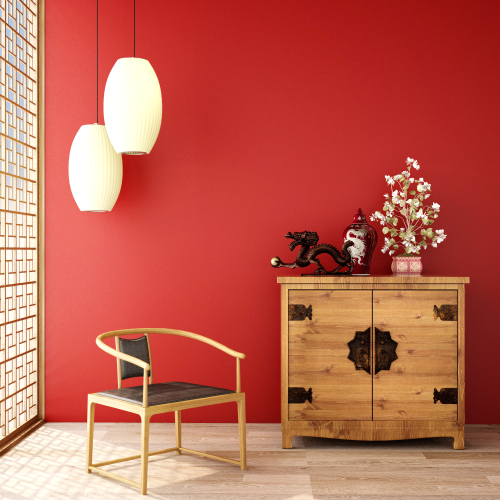 Chinese furniture with a crimson wall in the background
15. Avocado Green and Brown Home Interior Colour Combination
The safest place in the world is where you live. The cozy and pleasant atmosphere that every Home Buyer craves in their houses is evoked by the dark velvety home colors, like this avocado green color. Almost every color in the rainbow can be found in abundance in this hue. As a result, you may use anything to adorn the space without worrying about whether it will match the wall color.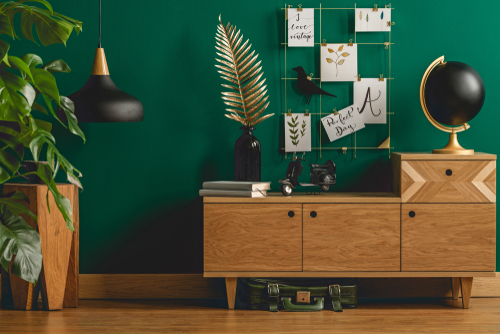 Avocado green wall with Scandinavian wooden furniture
16. Pastel Pink and Green Home Interior Colour Combination
In the world of interior design, soft pink and green have long made a beautiful color combination. This living room's soothing white base color, along with pink and various green tones, produces a relaxing, dreamy atmosphere. A pastel pink chair and pink blankets look great next to the teal green sofa. The partition wall covered in a wallpaper pattern of green leaves, which exudes a fresh and energizing vibe, is the main lure of this living area. The setting's use of live plants heightens the atmosphere of joy. The minimalist and elegant design of this living space is further enhanced by the stylish furniture pieces and decorative accents.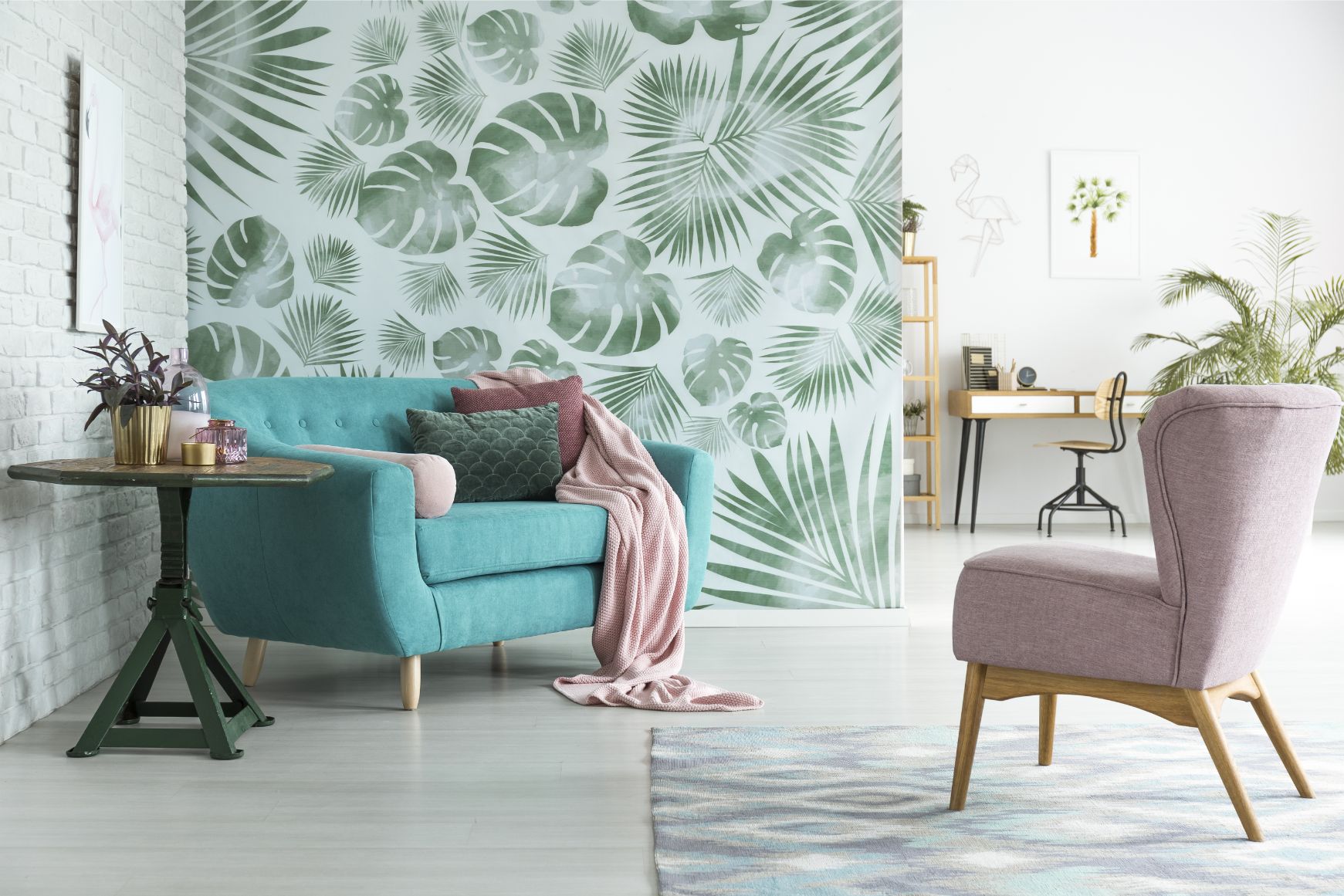 The cheer of greens and elegance of pastel pink bring a classic feel to this living space
Vastu Colours for Home Decor
Check below some Vastu-approved colours that ensure a positive energy flow in your bedroom or living room:
White
White is the colour of peace, purity and cleanliness that invites good vibes. It reflects more light and brings in an open and spacious feel.
Green
Green is the colour of nature that is soothing to the eye and brings in a nature vibe. It indicates freshness, hope and creativity, and thus, makes an ideal colour for the living room and bedroom.
Pale Pink
Pale pink symbolises joy, innocence and tenderness. It is a relaxing version of bright red that looks perfect in living rooms and bedrooms when paired with white schemes.
Light Blue
The light blue colour portrays watery seas and wide and open skies. Pale icy, aquamarine or any other light blue shade signifies healing, growth and a new beginning.
Yellow
Yellow is the colour that represents hope, joy and youthful nature, and indicates wisdom, patience and power. You can match it with pink, green or blue to create an ideal colour theme.
Light Purple
Light purple is the colour of romance and virility, like lavender and pale pink. It indicates wisdom and spirituality and, thus, makes a perfect colour for the living room and bedroom.
Sea Green
Sea green is another colour of nature and represents freshness, luck and innocence. Incorporate it into your living room or bedroom to bring in positive and relaxing vibes.
Summing Up – Home Interior Colour Combination Ideas
Now that a wide range of interior color schemes for homes have been discussed, you know exactly how to paint the home of your dreams. While painting your house, commercial property, office space, retail establishments, etc., you must keep your preferences, needs, and aesthetic sense in mind. We hope you'll find our carefully curated collection of interior color schemes for homes useful and that it will provide you with a sufficient number of possibilities. All it takes is a little experimentation with different colors for different locations, and the end result will astound you.
Also Read: Griha Pravesh: From Dreams to Reality – Your First Home Buying Journey