The Forest Department, together with the Faridabad Municipal Corporation, demolished two illegal farms in Aravalis in the village of Ankhair on Wednesday. About five illegal farms have been established in Ankhir since March and 25 acres of forest have been invaded. According to sections 4 and 5 of the Punjab Land protection Act (PLPA),1990 no non-forest activity is allowed in the areas. 
The department had demolished two buildings earlier this week in the same area. The decision came after the Supreme Court ordered MCF on July 23 not to spare any illegal structures in Aravalis, including farms, commercial establishments, and religious structures, during the ongoing demolition campaign in the village of Khori.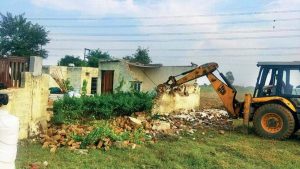 We have carried out demolitions in Ankhir today. Some illegal buildings have appeared in the Aravali area in recent months. The demolition campaign is jointly implemented by the Forest Department and MCF. "We will tear down more illegal structures in Ankhir in the coming days," said Raj Kumar, a forestry officer with the Faridabad Division.
This is the same area where some forest guard was allegedly thrashed by some men in July last year. The guard was inspecting the forest area in Ankhir for trespassing when he noticed that a wall had been illegally built there. He was taking pictures of the building when a group of men with sticks approached him and beat him, according to the Forest Department. The FIR was filed on November 11, 2019, following a complaint from management about a similar incident.
Last year, a Faridabad district magistrate twice ordered the demolition of illegal buildings in Ankhir. At least 15 illegally occupied sites were found and buildings were constructed on them. The areas where most infringements have been detected are Ankhir, Badkal and Mangar. According to sources, three years ago, the MCF commissioner prepared a list of 144 encroachments in the Aravali areas and the Forest Department also sent the list of encroachments on more than 500 acres by about 92 people. These lists were sent to the district administration for action; However, no major action has yet been taken.
Credit- Et Realty 
Also read- NUVOCO Vistas IPO receives 29 Subscription on second day