A bathroom is not just a space for personal hygiene. It is also a space that allows the inhabitants of the house to dedicate themselves. Over the years, bathrooms have undergone many design changes. While space may be limiting, needs are not. Therefore, 2021 will be about a return to organic, natural, functional, and fresh designs that also use space-saving techniques. Here are some trends homeowners can easily try.
1. The bathroom is the new living room
A bathroom is a place where you spend a significant amount of time. The majority of people spend their first and last minutes of waking hours in the bathroom. Therefore, it must be superior in both functionality and aesthetic appearance.
Glass fixtures can also be used to separate the wet and dry parts of the bathroom. Furthermore, the use of glass will brighten the space. However, make sure the accessories are waterproof as well.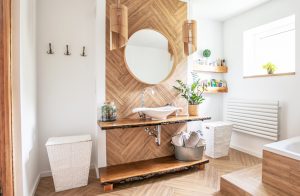 2. Being eco-friendly is in
The bathroom is a hot spot for water waste, paper overuse, and a place where shower and cleaning products seem to be multiplying incessantly. Green or eco-friendly interior design focuses on saving water and improving indoor air quality through the materials used, as well as reducing the impact on the environment. For an eco-friendly bathroom, you need to focus on devices that do not use harmful chemicals during their manufacture. There are many companies that use harmful coatings while making devices and buying such products makes it part of the environmental degradation. Choose paints that are VOC (volatile organic compound) free or paints that have a low VOC content on the walls, to reduce chemical poisoning that can occur in the long term.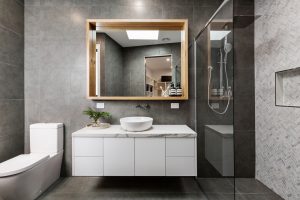 3. Minimalistic designs
For many homeowners, the bathroom of their dreams is inspired by luxury magazines, with huge bathtubs and expensive marble floors and cabinets. However, with the restriction of space a reality, architects and interior designers have shown that even the smallest bathrooms can be just as great if designed correctly. Many of the major hardware brands work with designers and architects to create versatile cabinets and accessories for homes.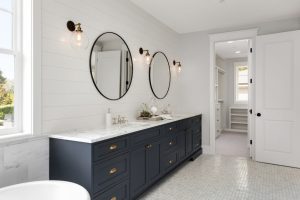 4. Safety first in Bathroom
One of the common mistakes homeowners make is using the wrong lock on the bathroom door. Thanks to its slippery and hard surfaces, the bathroom can be an accident-prone area. By following simple tips, you can ensure the safety of your loved ones. By keeping the floor dry and tidy, the chance of slipping is reduced. When designing your home, it makes sense to consider durability and the future, to ensure a high property value. These little tricks can help you design the perfect, functional, efficient, and stylish bathroom design for 2021.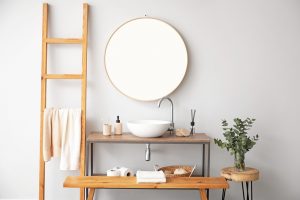 Also read- Thumb Rules to Consider while buying a House on Home Loan