1. Transitional Bathroom Designs
Transitional bathroom designs bridge the gap between classic and contemporary design, with enough details to appeal to experts in both fields. These designs satisfy both the persons who love classic and contemporary.
Color Palette: Whether you choose cool or warm colors, the colors in a transitional bathroom tend to be soft and subtle. For a richer look, consider shades of blue, brown, gray, or wood.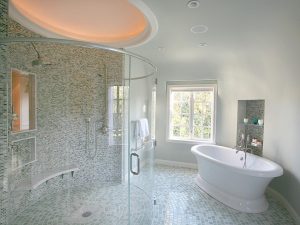 2. Modern
Bathrooms in the modern era are sleek and streamlined, with strong horizontal lines. Clean and flawless details keep the focus on architecture.
Colour palette: The focus of the modern-style bathroom design is on architecture, which means that the color palette leans toward pure, clean white, subtle neutrals, and black. Pops of color appear in the form of accessories like bath towels and plants.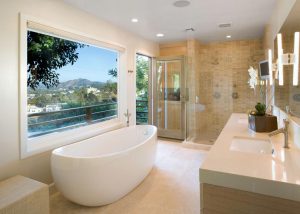 3. Contemporary
For a contemporary style with clean lines and minimum ornamentation, contemporary bathrooms completely embrace the latest technology, materials, and trends. Contemporary bathrooms can (and do) break the rules, but they generally stay clear of heavy ornaments and traditional forms.
Colour palette: In contemporary bathrooms, a black-and-white palette is common, although any high-contrast color combination can work.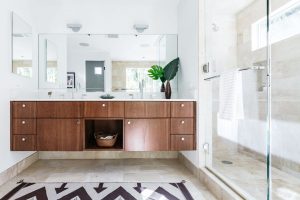 4. Traditional
Traditional bathrooms are timeless, comfortable, and exclusive, with shiny surfaces and noble materials. Unlike simple modern bathrooms or trend-conscious contemporary bathrooms, traditional bathrooms designs prefer a healthy amount of decorative details and classic elegance.
Colour palette: Traditional bathroom colors tend to be soft and relaxing. Subtle neutrals and muted shades of blue and green work well, or consider deeper shades of blue, brown, gray, and woods for a richer look.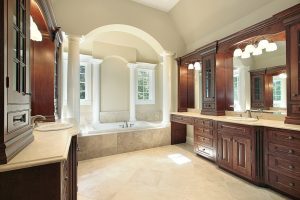 5. Farmhouse Bathroom Design
Farmhouse-style bathrooms designs balance the rustic appeal of regional and rustic heritage with modern, minimalist vibes. And while farmhouse bathrooms today often include modern elements, this is not the place to experiment with trends – think simple, honest, and homespun.
Colour palette: Country house bathrooms prefer simple, natural color palettes. White with a crisp black accent is a popular choice; search for nature-inspired neutrals and other classic colors for deeper hues.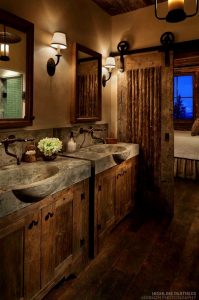 6. Rustic
Rustic bathrooms design embrace the natural beauty of the outdoors, combining strong materials with warm, inviting textiles to create an inviting space. Interpreting the current look can be more (or less) contemporary depending on your personal design sensibilities.
Colour palette: Rustic-style bathrooms reflect the colors of natural materials such as stone and warm woods with paint colors and accents in similar tones, for a rich and relaxing look.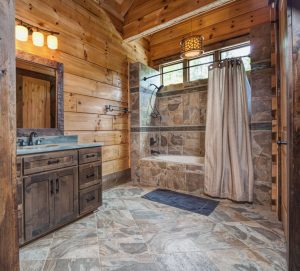 7. Industrial
Inspired by factories and warehouses, industrial-style bathrooms are simple utilitarian spaces where raw materials, fixtures, and rough finishes take center stage. Industrial bathrooms prefer practical and resistant surfaces and find beauty in the way things work rather than the decoration of the surface.
Colour palette: The raw materials used to form the basis of the color palette in an industrial-style bathroom, with the occasional appearance of saturated colors.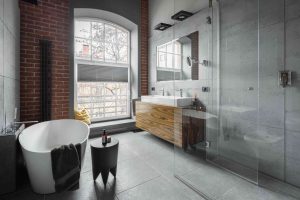 8. Beach
Beach-style bathrooms are light and airy, with an emphasis on natural materials, coastal-inspired colors, and a relaxed, informal atmosphere. Beach pools can be traditional, contemporary, or in-between; the important thing is to keep the atmosphere relaxed and cool.
Colour palette: Beach bathrooms use colors inspired by sand, sky, and sea to create a sense of place. Crisp white paired with coastal blue is a popular palette, although it's certainly not the only option. For a more vibrant look, look for lush greens and bold corals inspired by the tropics.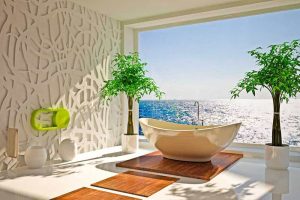 9. The Mediterranean
Mediterranean bathrooms emphasize natural materials like wood, brick, and stone for an elegant, earthy look inspired by the sun and the sea. While Mediterranean-style bathrooms can incorporate contemporary touches, the focus is on classics that have stood the test of time.
Colour palette: The intense colors are inspired by the warm earth and the shimmering sea aspect of a Mediterranean bathroom, especially against a calm background of white and natural wood.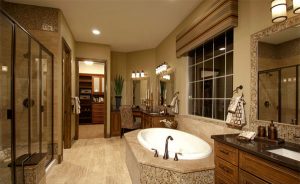 10. Craftsman
Handcrafted bathrooms highlight the simple beauty of natural wood and high-quality workmanship in a warm and relaxing environment. Artisan-style bathrooms are natural yet polished and simple without being too basic.
Colour palette: Rich earth tones, vivid greens, and warm neutrals are used in craftsman-style bathrooms to complement the natural wood.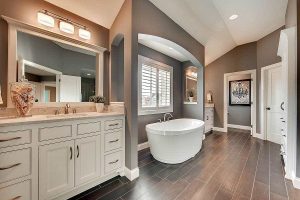 Credit- houzz in
Also, read- Griha Pravesh tips for your new house according to Vastu Shastra