Home front design, also known as the facade, plays a pivotal role in shaping the overall impression of your home. It serves as a reflection of your design aesthetics and significantly contributes to the curb appeal of your property. Creating an inviting and visually appealing facade is essential, as it leaves a lasting impact on guests, family, and friends.
The elements comprising the house's front design include the front walls, fence, driveway, roof, garden, main entrance, and select windows—essentially, everything visible from the street outside your home. Each aspect of the facade contributes to the overall character and charm of the house, making it a vital area to showcase your personal style and taste.
Whether you seek simplicity or extravagance in house front design, we've gathered a collection of inspiring ideas to spark your creativity.
Wood, Stone and Concrete Home Front Design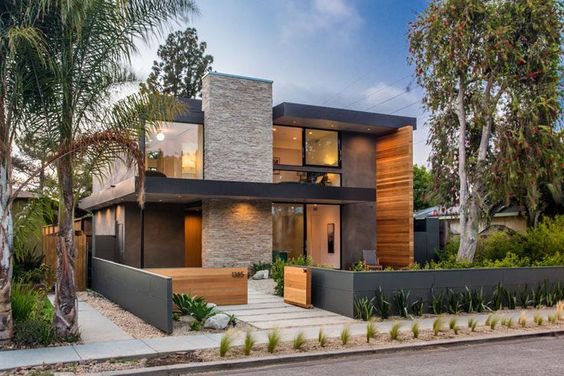 The beauty of modern home front design lies in its versatility and boundless possibilities. In a modern setting, you have the freedom to experiment with various elements and textures, creating a facade that captivates onlookers.
If you're drawn to the charm of mixed textures, consider a simple yet captivating home front design, as showcased in the image above. The not-so-tall concrete boundary wall complements the wooden gate, while both materials are harmoniously used on the front elevation. Adding to the allure is a stunning stone tile accent that adds a touch of sophistication. The large open windows, adorned with black metallic frames, add a contemporary edge to the overall design.
Cottage Style Home Front Design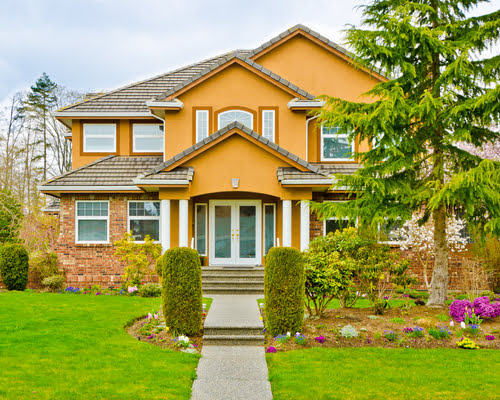 A cottage-style home front design embodies simplicity and timeless elegance, reminiscent of idyllic country dreams. Similar to the image above, the exterior walls can be crafted with natural stone, and the roof can feature a charming multi-layered design. A stone pathway gracefully leads to the main glass door framed in white, which complements all the visible windows.
The exterior ambiance is further enhanced by a beautifully maintained lawn, adding a touch of greenery that welcomes visitors with warmth. A delightful flower patch adds a burst of positivity with its array of vibrant blooms, completing the inviting and picturesque home front design.
Modern Independent Home Front Design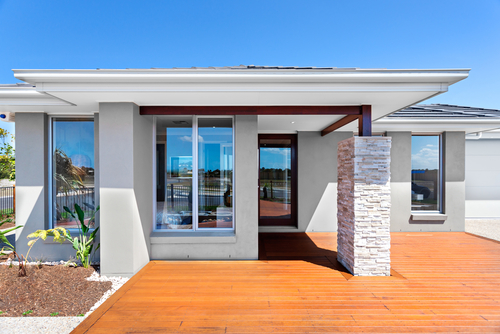 A modern home featuring a simple yet elegant home front design exudes a sense of sophistication. As depicted in the image above, the combination of panelled wood flooring, graceful grey walls, and eye-catching stone and brick pillars creates a harmonious and contemporary facade.
Large windows framed in white add to the overall chic aesthetic, elevating the modern appeal of the home front design. The careful fusion of these elements results in a visually stunning and tasteful facade that exudes both class and elegance.
Victorian Home Front Design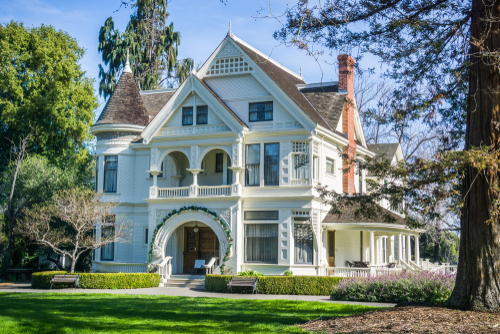 While some may view Victorian homes as old-fashioned, others hold immense respect for the craftsmanship and consider them timeless. A Victorian home front design draws inspiration from the era of Queen Victoria, boasting distinct features such as a high-pitched roof, bay windows, gable trims, tall cylindrical turrets, and panel sash windows, among others.
The house depicted in the image above exemplifies all these characteristic elements of a Victorian residence. From the arch above the steps leading to the large wooden front door to the presence of a cylindrical turret and a wrap-around porch, the design exudes the charm of a classic Victorian home. The red brick chimney stands out in contrast to the otherwise white house, remaining true to the authentic Victorian style.
Metal and Stone Facade – Home Front Design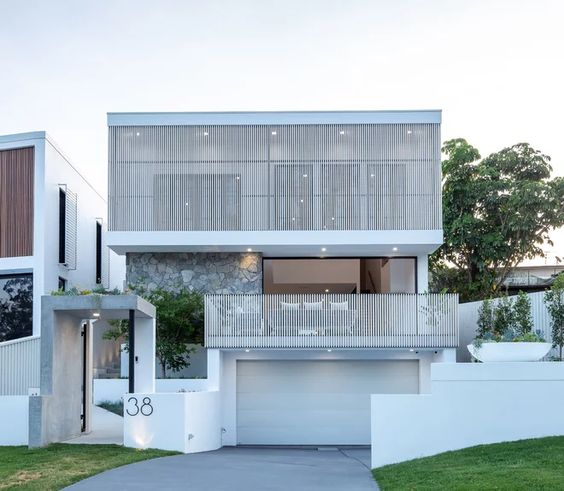 Elevate your home front design with a captivating facade in a pristine white hue. Incorporating metal bars on the first-floor porch area and second-floor balcony not only serves a functional purpose of protection but also infuses the design with a geometric essence, resulting in a breathtaking masterpiece that is sure to garner admiration.
Taking inspiration from the image below, consider constructing a garage below and integrating a gate that leads to an entrance functioning as a ramp, guiding you to the main door of the house on the first floor. The luxurious stone wall adds a touch of theatricality, further enhancing the overall geometric charm of the home front design.
A Traditional Goan Home Front Design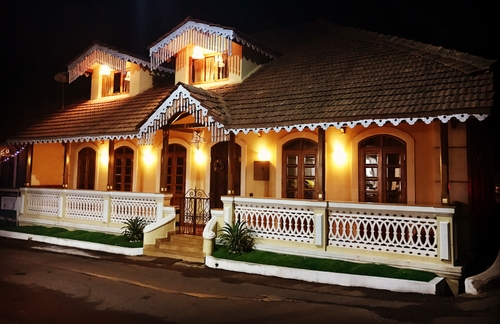 A traditional Goan home front design draws significant inspiration from Portuguese architecture, characterized by intricate and artistic elements combined with functionality and comfort. These homes exude a captivating drama, often featuring arches, pillars, and patterned floors as prominent themes.
As evident in the image above, the traditional clay-tiled sloping roofs boast an ornate white gable trim, adding a touch of sophistication to the design. The windows feature arches and stucco moulding, with the intricate design patterns extending to the elegant white railing. The central iron gate serves as a classic focal point. Emphasizing the importance of greenery, this house incorporates a grass patch in the front, enhancing the overall charm of the traditional Goan home front design.
Glass Home Front Design Simple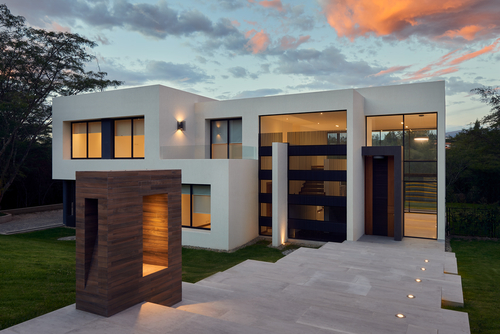 While the glass home front design may not offer complete privacy, its stunning appearance is undeniable. As depicted in the image above, the use of glass imparts a striking look, showcasing how fragility can be transformed into an elegant feature.
Ideal for homes with a private driveway leading to the main door, this glass house front design exudes an exceptional sense of style. Embracing a minimalist approach, the glass walls and windows are elegantly framed in black, while Italian stone steps lead down to the main entrance. The incorporation of yellow lights on both the outside and inside of the house adds a radiant glow, enhancing the overall allure of the home.
Colonial Home Front Design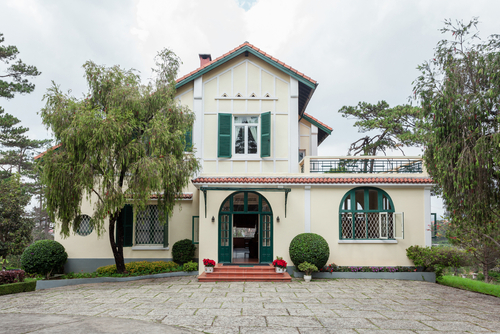 With roots in Victorian architecture, colonial home front designs boast their own impressive features. These homes are renowned for their gabled roofs, well-proportioned windows, unadorned exterior walls, and a harmonious palette of neutral colors.
For those who appreciate colonial home front design, the image above serves as a source of inspiration. A front yard adorned with stone pavers leads to the main door, featuring a wooden framed arch with chequered glass doors. Arches are a recurring theme, also seen in the windows. The first floor presents a spacious balcony with an iron railing, offering residents a panoramic view of the entrance area. The overall design is visually pleasing and reminiscent of the classic colonial style.
A Circular Home Front Design Simple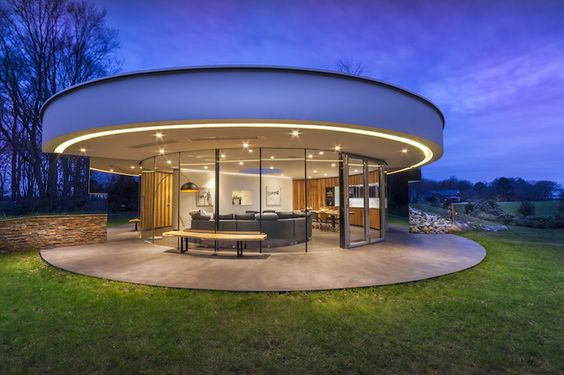 Who says home front design should adhere to strict rules? Embrace a world of creative possibilities with numerous modern ideas at your disposal. Take inspiration from the image above, where a curved or circular house front design takes center stage. The house features an open circular porch that surrounds the round structure, while the floor-to-ceiling glass walls contribute to the overall glamour and ambiance. While this design may not offer complete privacy, it exudes a chic and contemporary charm, making it an ideal choice for building a room on your farmlands. Embrace uniqueness and let your creativity shine in your home front design!
Mid-Century Modern Home Front Design Simple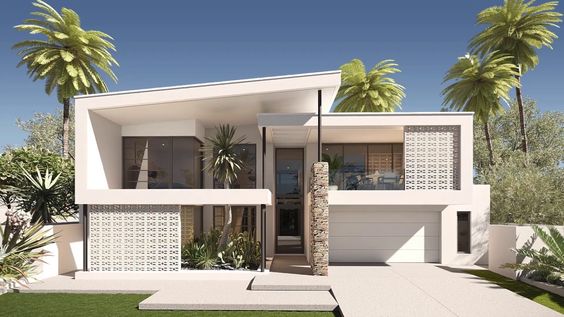 The term "mid-century modern" often evokes thoughts of the post-World War II era, but its contemporary interpretation encompasses a broader scope. From its origins after the second world war to its current adaptations, this architectural style has drawn inspiration from various influences over the years.
The image above showcases a modern mid-century residence with a captivating house front design. It features a sleek, sloping roof, clean lines, and an innovative combination of materials, including a stone pillar, half-glass half-lattice walls, and strategically incorporated open spaces for trees. This harmonious blend of elements creates an impressive and contemporary ambiance, reflecting the timeless charm of mid-century modern architecture.
Home Front Design Simple Tips
– Use of multiple textures like wood, metal, glass and more spruce up the exteriors of a home in comparison to the plain walls.
– While symmetry is key for design aesthetics, do not be afraid to think out of the box and opt for something that resonates with you.
– The outer facade of the house needs to be sturdy and well used to wear and tear, so when choosing colours for your house front design, either choose something that will last or go for stone or tile options.
– Lighting has a crucial role to play in house front design; not only does it create an ambience, but it also takes care of the safety aspect. So, don't skip on outside lighting if it does not fit with your design, but opt for accent lights instead.
– When it comes to windows in house front design, pay attention to both aesthetics and practicality.
Also Read: simple and stylish low budget single floor house design