Plaster of Paris, commonly referred to as POP, is a versatile and rapid-setting plaster that, when mixed with water, can be molded into various designs as needed and allowed to dry. It is a popular choice in the realm of home decor, especially for creating exquisite false ceilings in bedrooms. However, its applications extend beyond ceilings, making it suitable for a wide range of design options, including wall design pieces, accent walls, and intricate panels.
While the creative possibilities with POP are vast, it's essential to consider engaging the expertise of design and decor professionals if you plan to incorporate POP extensively into your home. Their guidance and skills can help you achieve the best results and bring your vision to life. For beautiful and customized POP designs for bedrooms, consulting with design and decor experts is highly recommended.
Latest POP Designs for Bedroom
Before delving into the plethora of captivating POP designs for bedrooms that can infuse character and elegance into your space, let's take a moment to explore the process of creating these stunning designs. POP designs for bedrooms involve the skillful application of Plaster of Paris to craft intricate and aesthetic elements that enhance the room's ambiance. These designs encompass a wide range of possibilities, from ornate ceilings to wall accents, adding a touch of sophistication and style to your bedroom. Whether you're aiming for a modern, classic, or bespoke look, POP designs for bedrooms offer a versatile canvas for elevating your bedroom's aesthetics.
What Is The Process of Making POP Design For Bedroom?
POP, often known as plaster of paris, is used to create the POP design. Gypsum that has been partially dehydrated makes up POP. POP is a fantastic material option for a POP design because it is heat resistant and lightweight.
How Long Does POP Design Last?
An exterior damage-free lifespan of 15 to 20 years is possible for POP designs. If the material utilized is good, you do not need to be concerned about the POP design's durability. The renovation of the POP design is not necessary. You could, however, adhere to some maintenance advice.
Make sure that the POP design does not come in contact with water

Clean the dust accumulation with a broom or a duster

If oil-based paint is used on a POP design, then use a dampened cloth.
1. Zig Zag POP Designs For Bedroom
One of the highly favored POP designs for bedrooms is the captivating Zig Zag POP ceiling design. For those who wish to break away from conventional POP ceiling designs and embrace a more experimental approach, the Zig Zag POP design is an excellent choice. This innovative and visually striking POP design for bedrooms not only enhances the room's aesthetics but also sets a unique style statement within your interiors. If you're seeking a POP design that adds an element of surprise and distinction to your bedroom, the Zig Zag POP design is a fantastic choice in the realm of POP designs for bedrooms.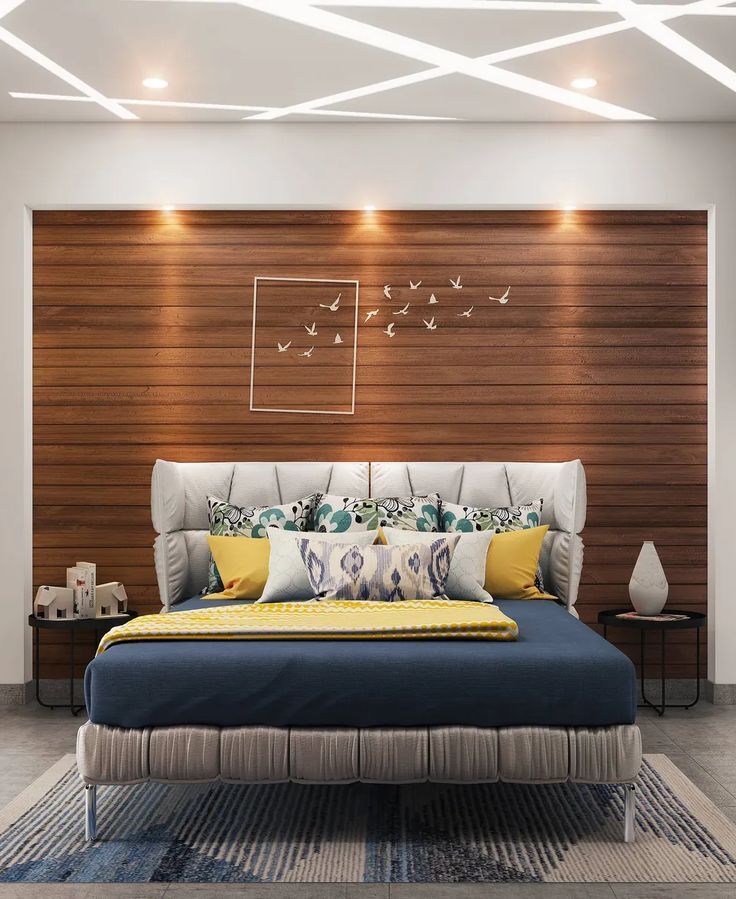 2. Square POP Designs For Bedroom Ceiling
The square POP design for bedroom is undeniably one of the most common yet highly favored styles of false ceilings. Its enduring popularity stems from the fact that this simple POP design for bedrooms imparts a sense of spaciousness and elegance to the space. To elevate the appeal of your bedroom's false ceiling design, consider incorporating cove lights around the edges of the POP ceiling design. These subtle lighting elements can provide a soft and inviting glow, further enhancing the charm of the square POP design for bedrooms. When it comes to POP designs for bedrooms, the timeless square design is a choice that combines practicality with aesthetic appeal.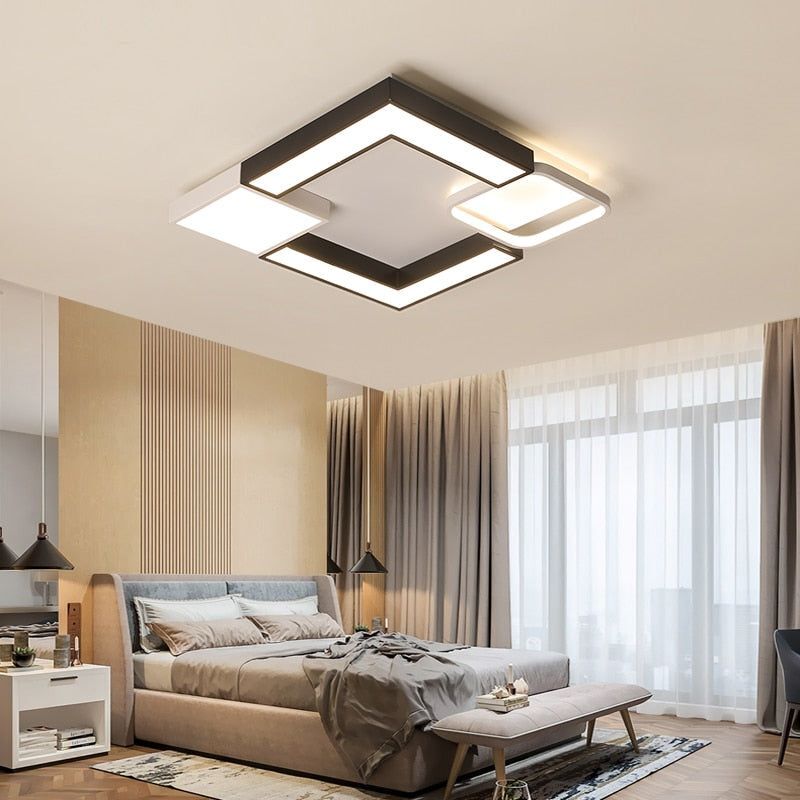 3. Customised POP Designs for Bedroom Ceiling
One of the most fundamental and versatile applications of POP is the creation of a false ceiling for the bedroom. This ingenious design not only conceals the necessary structural elements but also lends a remarkable aesthetic appeal to the room. To enhance the visual impact of the false ceiling, you can incorporate LED lights or experiment with various color textures. It's a design approach that you'll commonly encounter in Indian homes, and when it comes to POP designs for bedrooms, the false ceiling remains a timeless and transformative choice for elevating your bedroom's ambiance and style.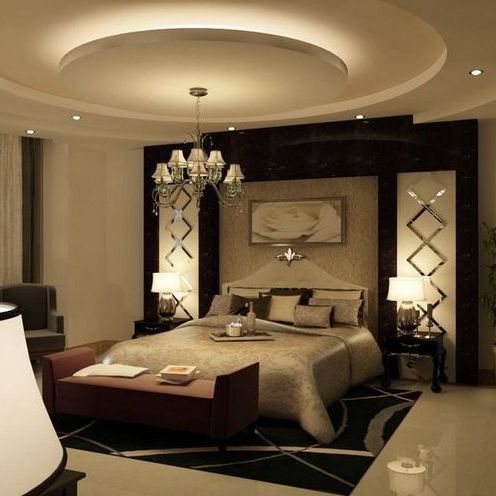 4. Central POP Designs For Bedroom
If you're not inclined to view the entire ceiling as your canvas, you can opt for creating a captivating centerpiece, akin to a POP chandelier. This centerpiece can be as intricate and expansive as your imagination allows. In the center, you have the flexibility to install a light fixture or even a fan, depending on your preferences and convenience. This approach to POP designs for bedrooms offers a unique and focal point that can transform the room's aesthetics while adding a touch of artistic flair to your bedroom's decor.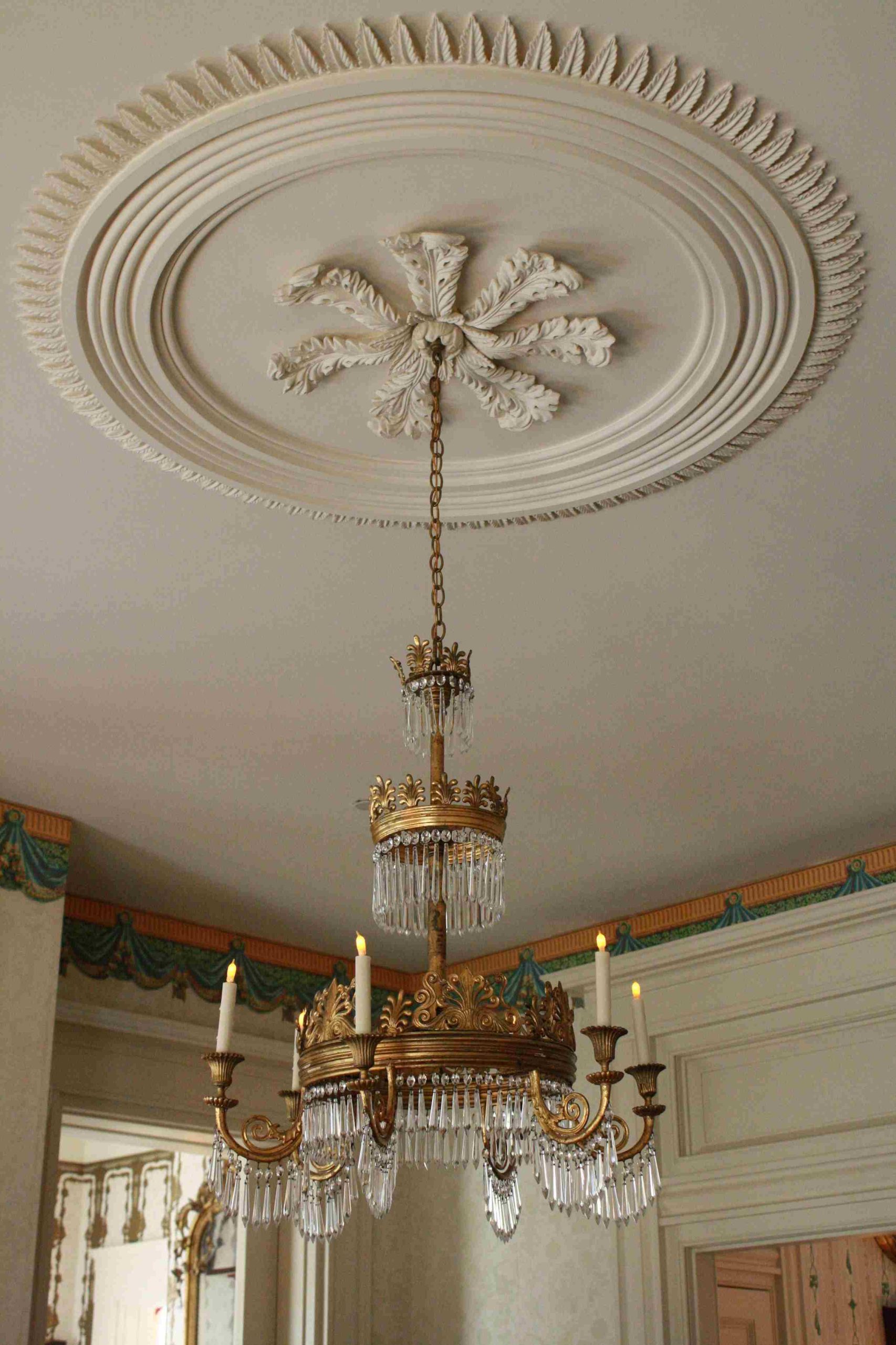 5. Beautiful POP Designs for Bedroom Accent Wall
If you believe that POP is limited to simple designs, it's time to reconsider. POP can be employed to bring various design concepts to life. Take, for instance, the creation of an accent wall using POP. This innovative approach can completely transform a room's aesthetic. For instance, a POP accent wall against a backdrop of cool gray can provide a striking contrast, while the use of white can uplift and brighten the entire space. When exploring POP designs for bedrooms, remember that the possibilities are virtually endless, and with creativity, you can achieve a wide range of design effects that enhance the ambiance and style of your bedroom.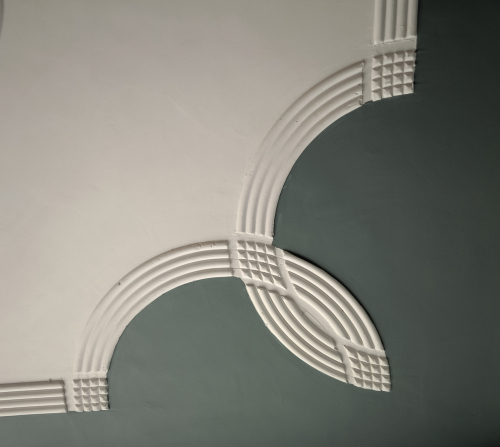 6. POP Designs for Bedroom – False Ceiling with Lighting
For a quick and effortless bedroom makeover, one of the best ideas is to invest in a false ceiling design that incorporates ample space for lighting. Not only does this approach impart a modern and stylish appearance to the bedroom, but it also serves a highly functional purpose. When it comes to POP designs for bedrooms, a well-designed false ceiling not only enhances the overall aesthetic but also provides practical utility by accommodating lighting fixtures, making it a smart and versatile choice for upgrading your bedroom's ambiance and functionality.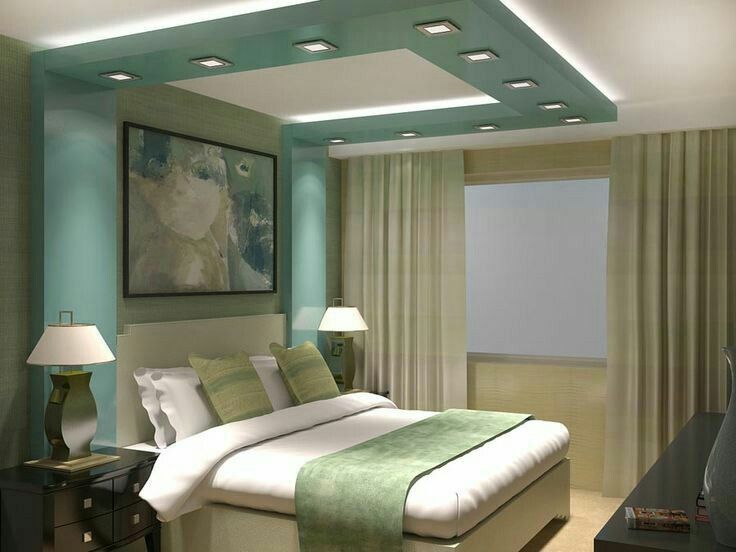 7. Coloured POP False Ceiling Design For Bedroom
Absolutely, the use of POP doesn't necessitate sticking to white. You can explore a diverse palette of colors to create captivating and unique effects. For instance, consider the use of a soothing green plaster with a circle or swirl effect on the wall. This approach adds a refreshing and distinctive touch to your bedroom's decor. Feel free to experiment with pastel or neutral shades and various textures to achieve the desired ambiance and visual impact. When delving into POP designs for bedrooms, remember that your creativity knows no bounds, allowing you to infuse your personal style and preferences into your living space.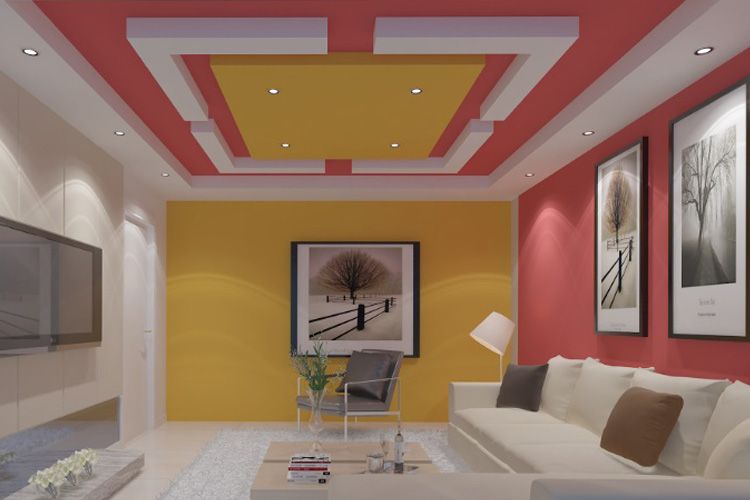 8. Subtle Grey POP Designs for Bedroom
Amidst a wealth of design possibilities and a multitude of design professionals, it's important to remember that certain design fundamentals have stood the test of time, regardless of trends. Elements like wall colors, furniture styles, and curtains often fall into this category. Therefore, investing in an elegant plaster wall is a timeless choice when seeking a design that is both understated and modern. When it comes to POP designs for bedrooms, a well-crafted plaster wall can add a touch of sophistication to your space, striking a perfect balance between classic elegance and contemporary aesthetics.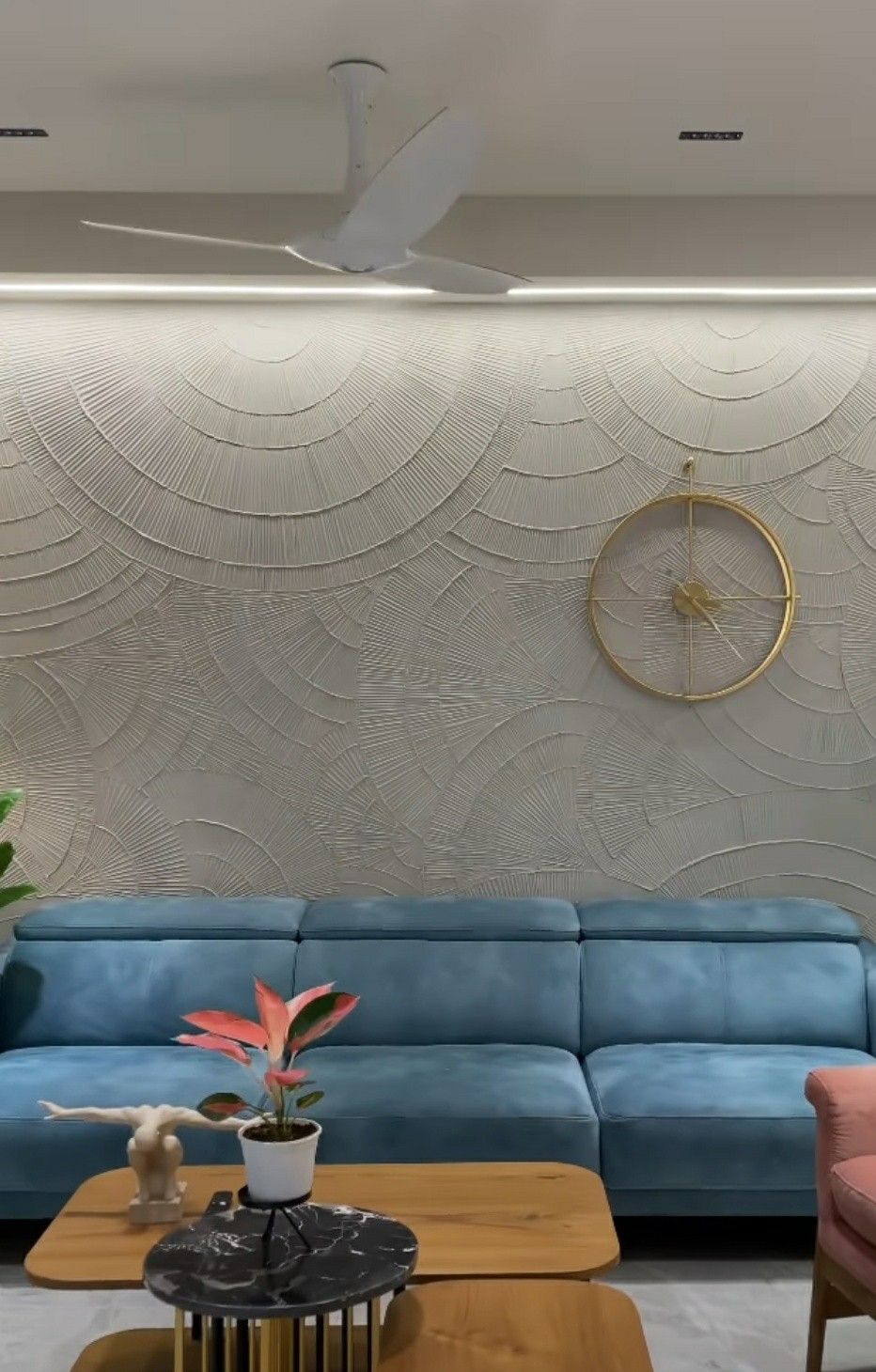 9. Textured POP Designs For Bedroom
Basic white POP designs offer a myriad of design possibilities, ranging from simplicity to creativity and even a touch of funkiness. These versatile designs are particularly well-suited for modern POP designs in bedrooms with fans. You can incorporate this white POP design as an accent wall to create a focal point, as a stylish headrest for your bed, or even as an eye-catching ceiling design. The adaptability and chic simplicity of white POP designs make them an excellent choice for those seeking to infuse modernity and flair into their bedroom decor. When exploring POP designs for bedrooms, don't underestimate the impact of a well-executed white design scheme.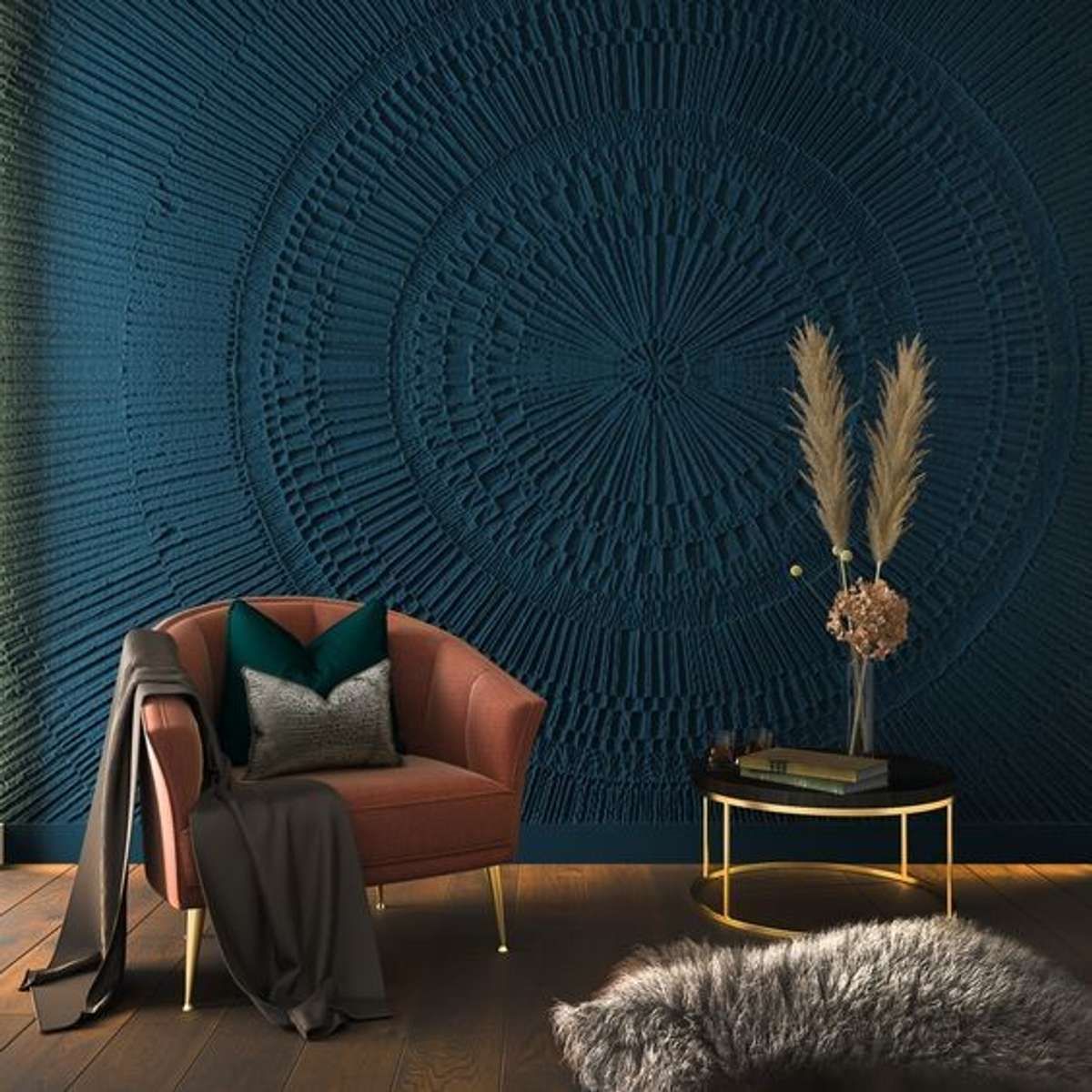 10. Abstract POP Designs for Bedroom
One of the primary advantages of using POP as a design element is its incredible versatility, allowing you to infuse your personal taste and style into any part of your home. Take inspiration from this abstract POP design, which showcases the immense creative potential of POP. Such designs not only create a Victorian-era ambiance within a space but also prove highly compatible when you're seeking a pop design for a bedroom with a fan. With POP designs for bedrooms, you have the freedom to craft a truly unique and personalized atmosphere that aligns with your design preferences and vision for your bedroom.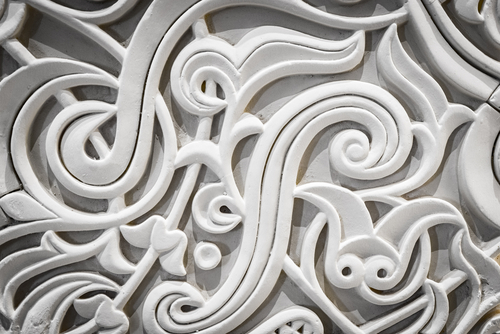 How To Pick The Right Colour For POP Designs For Bedroom
Here are a few basic guidelines that will help you choose the right false ceiling paint colour for your home:
The right colour for the POP design for bedroom can enhance the room and add it to its beauty. However, make sure you do not go overboard and instead keep it elegant.
When choosing the colour of the POP design for bedroom ensure it doesn't look overwhelming. A white roof colour can shift the focus to the bedroom walls and furnishing. Thus, if you are planning to opt for dark wall paint, then make sure you opt for the white colour on the ceiling.
If you wish to make your room appear bigger and brighter, then opt for a white colour for the POP design for bedroom, along with pale wall colours.
If you wish for a contrasting effect in your bedroom, then you should go for a dark paint colour for the POP design for bedroom and use a glossy version of the same paint colour on it. The glaze will soften the dramatic effect, and the glossy effect will reflect the light.
Benefits of POP Designs in False Ceilings
ere are some key benefits of POP designs for false ceilings:
POP is a highly durable material for ceilings.

You will not see wear and tear signs over a POP ceiling for years.

POP ceilings are weather-resistant.

POP is more affordable as compared to other materials like gypsum boards.

POP ceilings require a low cost for maintenance.

POP in false ceilings ensures a lot of flexibility.

POP false ceilings also act as insulators of heat and cold.

POP false ceilings are also detachable if you wish to move to another house and decide to shift base.
Cons of POP Design
While there are many advantages of POP design, take a look below at some cons:
POP designs over ceilings or walls might not be ideal in humid environments.

You cannot mix POP and cement.

You may have to face issues in the maintenance of POP design.

POP ceiling designs can be damaged with heavy lights or decor hung onto them.

POP is quite expensive than cement or cement lime plaster.
POP Design For Bedroom: Here's How To Pick The Right POP Ceiling For Bedroom
Let your bedroom just be your cosy space. Do not go overboard with the POP false ceiling designs. Pick a minimalistic POP design for bedroom that gives comfort to the eyes.

When planning a false ceiling design for a bedroom, you must consider the room's height, the bedroom's furniture, and, most importantly, the placement of the bed.
If you like lights in the false ceiling design, then the arrangement of the lights in the POP design for bedroom should be planned well. You should first consider the shape, the colour, and the placement of the lights in the false ceiling design. The next step is to decide whether you want to go for small LED lights, some hanging lights, or a chandelier in the POP false ceiling design.
Another vital factor to keep in mind is if you are designing the POP ceiling design for bedroom as per Vastu, then you should avoid dark colours as they are said to bring bad luck and obstacles.
Summing Up – POP Designs for Bedrooms
The best decision you have made for your dream home is the utilization of POP for the interior decor. One of the more affordable design options, it has a simple, elegant, and yet distinctive appearance. Bedrooms with fans can be custom-made to fit your preferences and needs, whether you favor conventional or contemporary pop designs. So don't be afraid to play around with plaster to come up with a stunning design for any of your living areas.
FAQs
Q. What is a POP design ?
POP or Plaster of Paris is a plaster made of white powder, basically heated gypsum without its water content. It is used for roofing applications and designer trims for home decor.
Q. Is the POP design suitable for the ceiling?
Yes. The POP design for bedroom is highly durable and can stay for years without any damage.
Q. What is the cost of POP design for the ceiling?
Currently, the estimated cost of POP for the ceiling is Rs. 70 to Rs. 78 per square feet.
Q. What is the advantage of POP designs for bedroom?
POP designs for bedroom are the best to add a beautiful feel to the interiors.
Q. What is a plus-minus POP design?
A plus-minus POP design is a new trend with tucked bits or added protrusions in a normal false ceiling.
Q. Is POP design good for bedroom?
POP is a highly durable material; thus, it is ideal for creating a well-designed ceiling or accent wall in bedrooms and living rooms.
Q. How long a pop design lasts on the ceiling?
POP ceiling designs can last for about 15-20 years without external damage.
Q. What is the best colour for pop designs for bedroom ?
The contrast between bright and dull is ideal for POP ceiling designs. A mix of yellow and grey is highly preferred.
Q. What are the disadvantages of pop designs for bedrooms?
A pop design for bedroom ceilings is more expensive than ceilings made of cement and cement lime plaster. Those living a humid environment should avoid pop designs for their homes.
Q. What is better, a pop ceiling or a false ceiling?
POP is more durable than false ceilings and can last for years without any damage. You can also mould POP in various designs, unlike gypsum boards. A POP design is easy to apply on the corners. POP costs 25 to 40 per cent lesser than gypsum boards.
Q. What is the best colour for a pop ceiling de
sign?
White is the most preferred colour for a luxurious ceiling since it is a neutral shade that matches well with all colour themes.
Also Read: Single floor home front design