Gone are the days when landlords and tenants in big cities had to visit notaries to draw up leases. Now, with the many platforms that allow utilities to create online rent agreements, landlords and tenants can get the job done with the safety of their homes.
In addition to providing ready-to-use templates for online leasing formats, these platforms also help to design the document on demand. Platforms like Housing Edge, for example, not only help both parties draft a lease online with their own needs in mind, but they also help them integrate terms and conditions to guard and protect the interests of each person involved.
It is important to note that online rental agreements signed on electronic stamp paper and signed by both parties are legally valid documents and serve as proof of address for the tenant and proof of rent for the landlord.
How to create an online rent agreement?
To draft rental agreements online, the tenant or owner must fill in the details on the platform of their choice to proceed, make the payment, and digitally sign the agreement. The service provider will immediately email a sealed rental agreement to your email id.
Note here that since the entire process is completely online, you don't need a hard copy. However, you can get a copy of the registered rental agreement online and printed it from your email ID after downloading it in PDF format.
Process for an online rent agreement creation.
Step 1: The landlord/tenant fills in the personal details, together with the delivery contact details or email details, and customizes the rental contract form available on the platform, according to their specific needs.
Step 2: The landlord/tenant enters the denomination of the required stamp sheet and makes the payment.
Step 3: The online rental agreement provider obtains the document printed on the required category stamp sheet, completes the documentation, and delivers it to your email ID.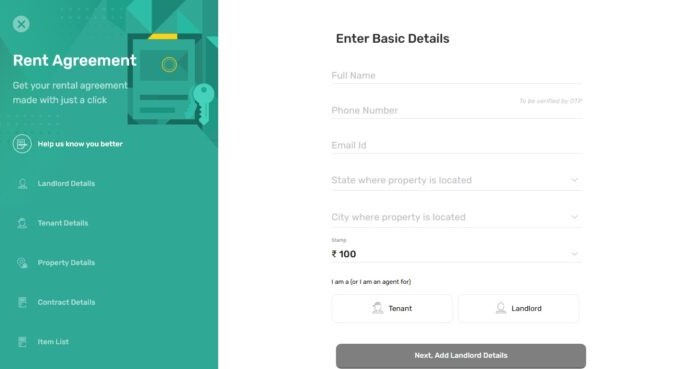 Details for creating a rent agreement online
The details that one should be ready, before mentioning to
complete the rental agreement form online, include:
1.The name and address of the landlord and the tenant.
2.Payment terms.
3.Notice period.
4. The lock-in period.
5.The date of implementation of the agreement.
6.Purpose of the lease: either for residential or commercial purposes.
7.Annual increase conditions
Is an online rent agreement available all over India?
So far, online brokerage platforms have only launched for major cities, where the rental housing market is very strong. The cities included Delhi, Mumbai, Bangalore, Gurugram, Noida, Hyderabad, Chennai, Kolkata, etc.
What amount of stamp duty is payable on online rent agreements?
The online rental agreement has been drawn upon electronic stamp paper with a denomination of Rs 100, on the Housing Edge platform.
Also Read: Kolte Patil developers with planet smart city to build 15000 homes in Pune Bengaluru Mumbai