The desire to own a beautiful home is a universal aspiration, as our homes silently reflect our sense of style and personality. The house elevation designs play a pivotal role in making your home visually appealing and inviting. Attractive and gratifying living spaces not only enhance the aesthetics but also contribute to increased self-esteem and well-being, fostering a more productive and motivated population.
While many may believe that a substantial budget, luxurious materials, or a vast area are necessary to create an attractive home, we are here to debunk that myth. You can indeed construct a perfect and beautiful house at an affordable price by exploring various house elevation designs and finding innovative ways to make the most of your space. Without further ado, let's delve into the world of house elevation designs, including front elevation designs for small houses, to discover how to create a stunning and cost-effective home that you can be proud of.
What Is A Normal House Elevation Design?
A house elevation design, in essence, comprises architectural drawings that provide a detailed visual representation of how a house will appear from a specific angle or perspective. Within the context of Indian-style houses, the primary purpose of a front elevation design is to offer a clear and comprehensive picture of the ongoing construction project. These designs serve the crucial role of enhancing the overall aesthetic appeal of the house, which, in turn, positively impacts its commercial value.
Designing the front elevation of an Indian house requires meticulous planning, considering factors such as location and climate. These normal house front elevation designs are strategically developed to ensure that the house receives ample sunlight while effectively controlling the building's temperature and energy consumption. Within this framework, various types of elevation designs are available to choose from, each catering to different preferences and requirements for creating a visually appealing and functional home.
Normal House Front Elevation Designs
When planning and constructing a house, it's essential to consider all four sides of the building to maximize its overall value. In the context of house elevation design, thorough planning is particularly crucial for the Indian style. To embark on this journey successfully, the first and most significant consideration is your preferred architectural style. Are you inclined towards cultural and vernacular designs that celebrate tradition, or do you lean more towards modern architecture, aiming for a contemporary and sleek look?
No matter your architectural style preference, these house front design Indian styles can serve as a rich source of inspiration. They provide a diverse range of ideas and elements to help you choose the appropriate components for your front elevation designs, ensuring that your home not only aligns with your personal style but also exudes a unique and captivating charm that enhances its overall appeal.
1. Ultra-Modern Glass Normal House Front Elevation Design
Opting for a glass normal house elevation design is an excellent choice if you're seeking a stylish and elegant appearance for your home. This design not only imparts a sense of richness but also introduces an ultra-modern and sophisticated touch to the house's facade. The use of glass in house front elevation designs successfully combines style with the beauty of natural elements, creating a stunning visual impact that elevates the overall appeal of the property.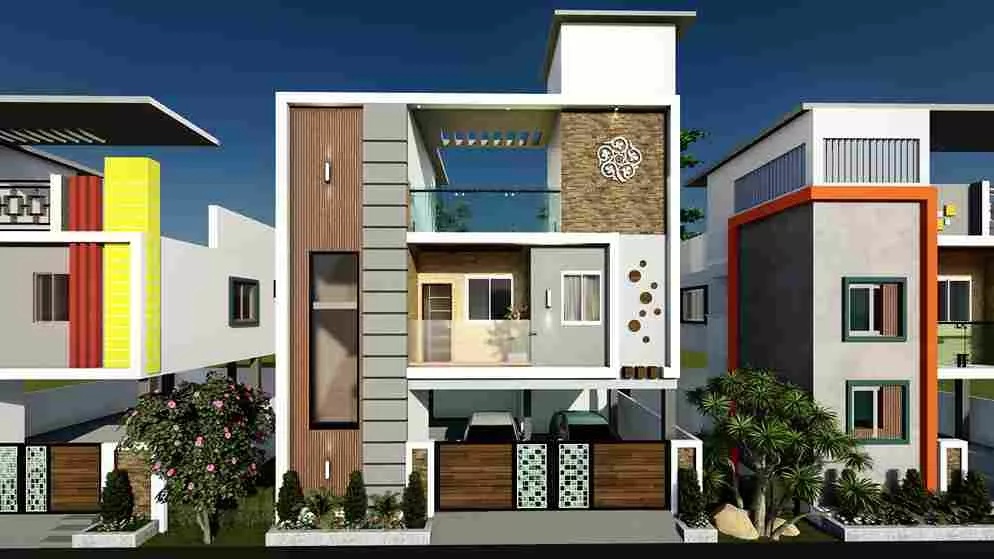 2. House Front Elevation Designs For A Double Floor House
In the context of a double-floor building, a house front elevation design bears a resemblance to a simple house facade, with the notable addition of a second floor. Here, we have an illustrative example of a front elevation design that highlights the distinctive features of a double-floor house. The design incorporates a compact parking space in the front and a charming balcony on the first floor, adorned with a slanting roof and exquisite ceiling lights. This design concept showcases how thoughtful planning and attention to detail in house elevation can significantly enhance the overall aesthetic appeal and functionality of a double-floor home.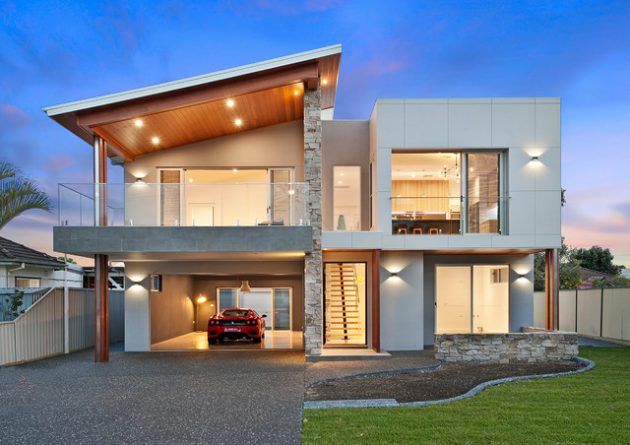 3. Front House Compound Wall Elevation Design
A front house compound wall design is a vital addition to any home, offering dual benefits – it serves as a protective barrier for the house and simultaneously enhances its aesthetic appeal. This design encircles the entire area around the house, giving it an attractive and pleasing appearance. Within a normal house elevation design, you have the flexibility to determine the height of the compound wall based on your specific needs and preferences.
In this particular front house compound wall elevation design, the front view of the terrace and the entrance are thoughtfully incorporated, providing a clear and inviting visual perspective. This showcases how careful consideration of the compound wall's design can contribute to the overall charm and functionality of a home's elevation.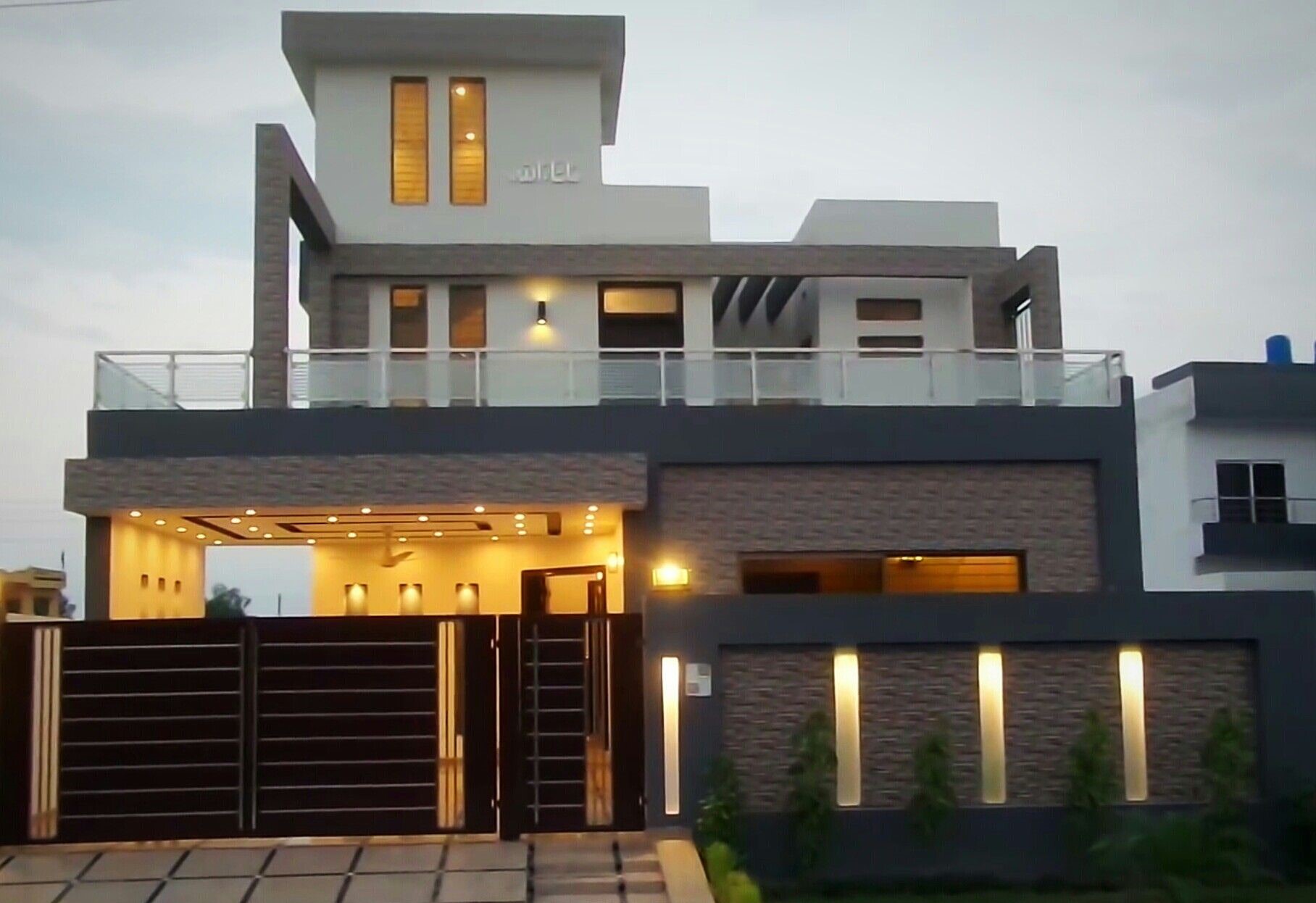 4. Small House Normal House Front Elevation Design
If you've ever thought that house elevation designs were exclusive to large homes, it's time to debunk that notion. We have a modern approach to front elevation design tailored specifically for small houses. With its stylish architectural finish, this design can be the perfect addition to enhance the aesthetic appeal of your compact home. This goes to show that creativity and thoughtful design can transform even small spaces into visually appealing and inviting places to call home.
5. Simple Style Normal House Front Elevation Designs
Owning a home is a cherished dream for many, regardless of its size. With modern techniques and stylish designs, you can meticulously plan and create a small home that's both practical and visually captivating. The beautiful house front design Indian style serves as a prime example of how architectural elements and an elegant finish can be seamlessly combined to create a stunning and welcoming facade. This illustrates that, irrespective of the size, your home's front elevation design can reflect your style and elevate its overall charm.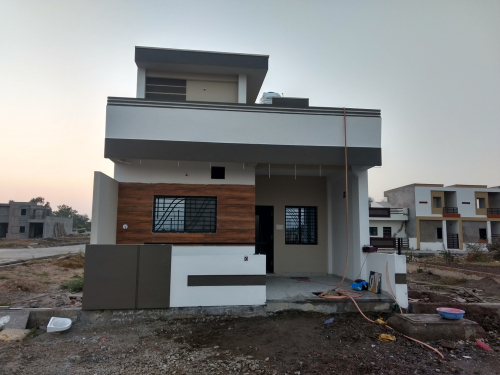 6. Single-Floor Normal House Elevation Designs
Single-floor normal house elevation designs are typically well-suited for nuclear families, offering an excellent option for those who prefer the convenience of single-level living. This house front design Indian style not only provides a fantastic view from the entry level but also pays careful attention to the main gate, entrance, windows, and other fine details that enhance its overall beauty.
What's even more appealing is the opportunity for personalization. You can tailor the designs and window styles to add a distinctive and personal touch, ensuring that your home's front elevation reflects your unique taste and preferences. This underscores the versatility and adaptability of front elevation designs to cater to individual needs and desires.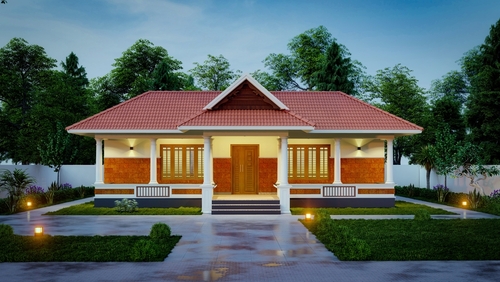 7. Two-Floor Normal House Elevation Designs
A double-story structure shares many similarities with a single-story one, with the primary distinction being the addition of an extra storey. In the case of a two-floor house, there's ample opportunity to incorporate unique and beautiful features into the front elevation. A thoughtful addition might include a modest parking area situated in front of the house, offering convenience and functionality. Additionally, a balcony adorned with fashionable wall designs can significantly enhance the overall appeal of the house, creating a visually pleasing and inviting facade. These design choices illustrate how careful consideration of front elevation can transform a two-story house into a distinctive and charming home.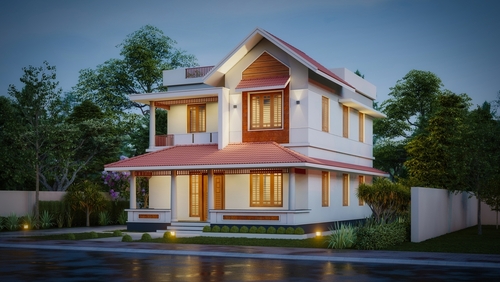 8. Three-Floor Normal House Elevation Designs
For large families, three-story structures are often the preferred choice. The house front design Indian style for a three-story home, as depicted here, is both simple and striking. It caters to individuals who desire the benefits of independent living while still incorporating certain aspects commonly associated with apartment living, such as this elegant elevation.
One notable feature of this design is the flexibility it offers to add as many balconies as desired on the first and second floors. This not only ensures ample sunlight but also promotes the circulation of fresh air throughout the home, creating a comfortable and inviting living space. It showcases how thoughtful planning in house elevation can make a significant difference in the livability and visual appeal of a multi-story residence.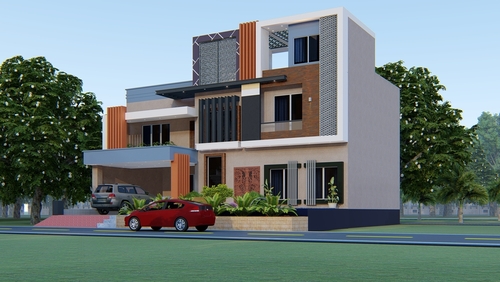 9. Bungalow Style Normal House Elevation Designs
Independent residences, particularly bungalow-style houses, are gaining popularity for their unique charm and individuality. The elevation of these bungalow-style homes can be designed in a variety of ways, catering to different preferences and needs. You have the flexibility to opt for a single-floor design or explore the option of a partial second story, depending on your requirements.
Additionally, there are several creative elements that can be incorporated into the bungalow elevation, such as the inclusion of multiple balconies or a spacious veranda, a well-manicured garden area, and the use of the latest tile work to create a visually stimulating effect. To infuse a touch of rustic charm, a sloped roof can also be integrated into the design, lending the bungalow elevation a quaint and inviting appearance. This showcases how versatile and customizable bungalow-style house elevations can be, allowing homeowners to craft a home that truly reflects their style and personality.
10. Villa Style Normal House Elevation Designs
Owning a villa is a dream that many people aspire to, although it typically involves a substantial financial commitment. An integral part of the decision-making process is a well-thought-out elevation plan, which provides you with a comprehensive understanding of the property before finalizing your investment.
A well-designed villa elevation plan may incorporate features such as a long seating balcony, offering residents the opportunity to relish a splendid view encompassing the parking area, patio, and garden space. This thoughtful design element not only enhances the aesthetics of the villa but also adds an element of practicality and luxury to the living experience. It underscores the importance of careful planning and attention to detail in villa elevation designs, ensuring that your dream home meets both your aesthetic and functional requirements.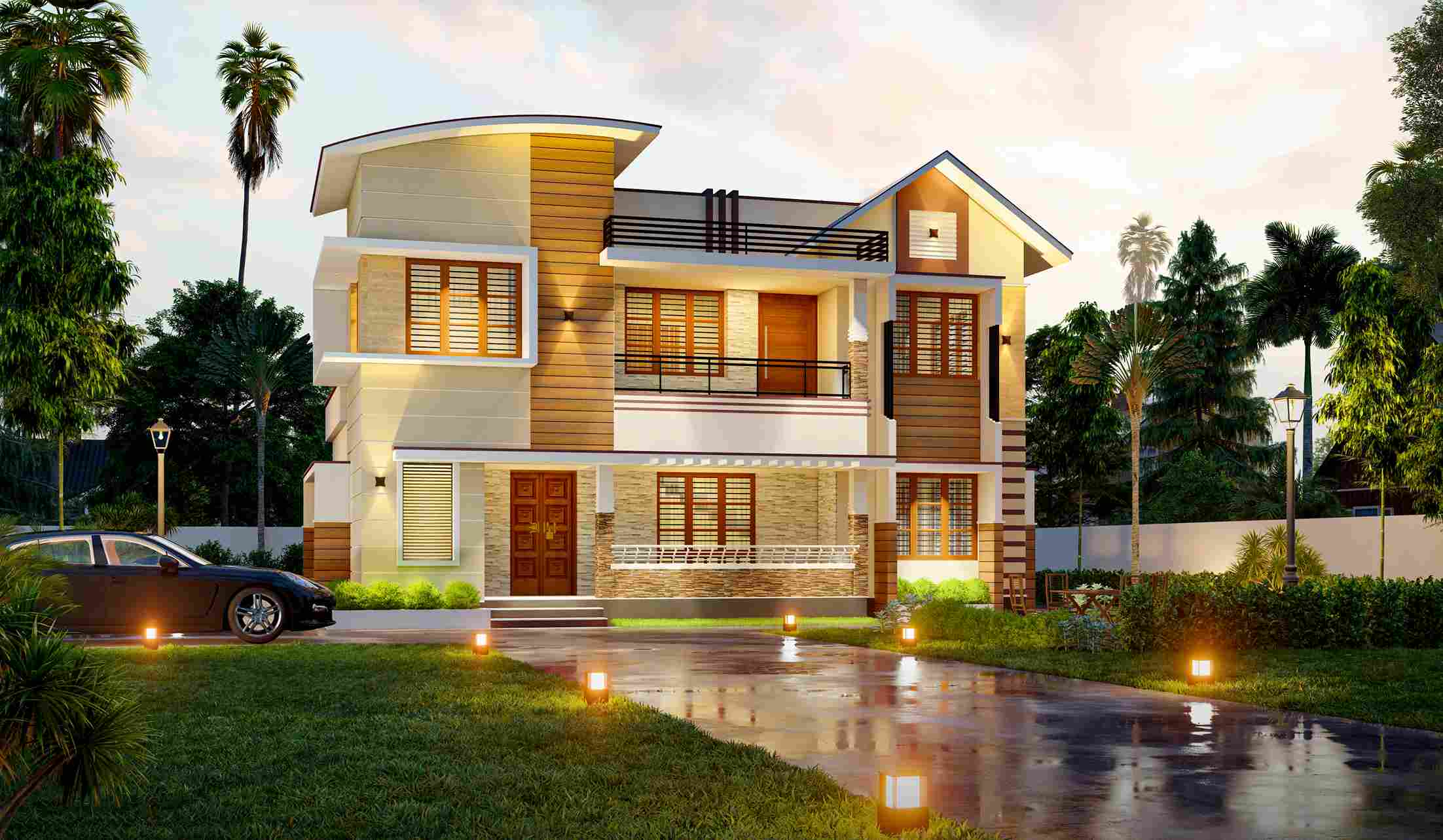 How Do You Make Normal House Elevation Designs Stand Out?
The deliberate selection, not the price tag, is what makes distinctive creations beautiful. Only small additions will help your house front design in Indian style elevation stand out. We've included a few design tips that will enable you to transform the elevation of your house into a work of art. You can draw inspiration from these concepts and alter the design to suit your preferences.
Add a Pop of Colour to House Elevation Design
Colors have a significant impact and can instantly elicit a range of emotions in us. The front design of your home may benefit greatly from the use of bold colors. It could stand out more than a color that is neutral. For a contemporary appearance, you can also mix bright and neutral tones.
If you don't want to vary with standard house front elevation designs, a balanced contrasting palette might be a fantastic choice.
On a tight budget, you can also design enticing regular house front elevations. In this situation, a painting's color scheme might be the most economical choice.
Incorporate Ornate Fenestrations into House Elevation Design
Your door and window styles impact the house front design Indian style elevation. Use proper fashion and adequate repetition of these fenestrations to make the design attractive.
A simple window design will suffice if you have a tight budget for an elaborate window design. You can use casement, bay, French, or a judicious blend of window types.
Include Additive Elements in House Elevation Design
Regardless of how you define your house, simple, budget restrictive, or otherwise, you can still make it look beautiful.
Further, including Corinthian columns in your simple house front design might be the X-factor. But, having a proper arrangement and balance of the chosen elements is crucial to saving money.
Front Elevation Designs For Small Houses
Regardless of size, everyone aspires to own a good-looking home. Due to modern construction techniques, it is simple to build a tiny house. The front elevation gives a small independent home its identity and makes it stand out.
The elevation of a small house often features open porches, large openings, attic windows, and sloping roofs. Moreover, a small house can have luxuriant greenery to enhance the front elevation.
Normal House Elevation Design: Village Home
In rural or village areas, homes are one-story structures with sloping roofs. The entrances to the village homes have a modest verandah or an outside deck, which is very hospitable and welcoming. The basic house front elevation designs in the village have a few key characteristics. A modest plinth, organic, rustic materials, and sloping roofs are a few of them.
Whites, browns, and other earth tones are used in traditional village home elevation designs. Whites and grays are frequently used in modern house elevation designs, with small accents of black.
Summing Up – Normal House Elevation Designs
Everybody has a right to harbor fantasies of having a gorgeous house with a distinctive design. You can make equally lovely memories in a gorgeous home. You only deserve the nicest home, whether you reside in a city or a town. To create typical house front elevation designs, combine decorative fenestrations and color schemes. It's not always necessary to spend a lot of money to get a large height.
Discovering your personal style is also crucial. As a result, before meeting with the architect, do your research and decide what you want.
FAQs
Q. What is the best material for normal house front elevation design ?
Normal house front elevation design should be made with the best material such as metal, concrete, wood, and brick.
Q. Which material is best for house front elevation design?
For the front elevation, metals such as treated steel, aluminium, zinc, copper, brass, and corten steel are highly recommended
Q. Which tiles are best for house front elevation design ?
Plain vitrified tiles, marble vitrified, onyx vitrified, statuario marble vitrified and stone vitrified tiles are considered the best for elevation of a house.
Q. How can I make the front elevation design of my house look good?
Several ways to make the front elevation design of the house look good include adding some greenery and flowers, making your door pop, adding some front door decor, cleaning the gutters and taking care of your lawn.
Q. What are the elevation types other than the front elevation design?
There are four types of elevations, including front elevation, side elevation, rear elevation and split elevation.
Q. What is front elevation of the house?
In construction, the front elevation is the side of the building or house that faces the street. The front elevation typically includes the entrance door, windows, and front porch.
Q. What are the different normal house front elevation design ideas?
There are tons of normal house front elevation designs to choose from. Some of the popular ones are – 3D elevation design, single floor normals house front elevation design, bungalow style normal house front elevation , compound wall elevation design, and double floor house front elevation design.
Also Read: 15 stylish tv unit design ideas to level up your living room