Several residents of BPTP Park Serene in Sector 37D gathered at the project site on Sunday and held a protest. More than 100 residents, including the elderly and women holding signs, have raised anti-construction slogans at the Terra site due to the pending works.
They claimed that the developer obtained a Certificate of Occupancy (OC) for the project in 2017, but was unable to complete pending work even after 4 years despite repeated complaints.
Residents demanded that the operation of the Terra OC project be suspended by the relevant authorities until the builder has completed all work on the project. More than 600 families currently live in the city.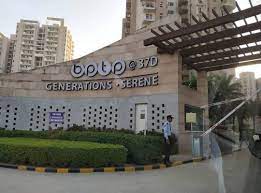 Satyavir Sangwan, a resident, said, "A conditional OC was granted by the concerned department on the terms that in absence of essential services such as electricity, water, and sewer lines, builders will provide these services to residents at its cost. However, the builder failed to complete any pending work after getting partial OC, and we continue to suffer."
Residents complained that during each monsoon season, the community flooded. The basement usually fills with water and the patches are torn off. Another resident said the entire structure is in danger as the columns suffered significant damage.
PK Naithani, RWA president of Park Serene, said, "The department has not carried out any audit and even if the authority passes any orders, the builder unabashedly violates it."
Rajeev Gupta, CMD of BPMS, said, that the master stormwater drain in the area has not been laid by the GMDA yet. "We have put other measures to pump out stormwater in adjoining areas to avoid flooding on the site. Electrical infrastructure, including our 33kv substation, is ready, but it can only be energized once DHBVN feeding the 33kv substation at Sector 99 is commissioned," Gupta said.
Credit- Et realty
Also, read- All about Tiger Shroff new Eight Bedroom House in Mumbai