The Department of Town and Country Planning (DTCP) wrote to the Revenue Department and Power discom DHBVN, asking them to explain how the 280 illegal apartments were searched in two unlicensed city neighborhoods without a "Certificate of No Objection" (NOC) from the enforcement wing and on what basis electricity was delivered to the apartments.
Aquireacres recently reported searching illegal apartments and power supplies for these unauthorized colonies, one near Ansal Esencia in Sector 67 and the other at Sai Lane Colony in Sector 8, pointing to a possible link between builders and officials from the departments involved.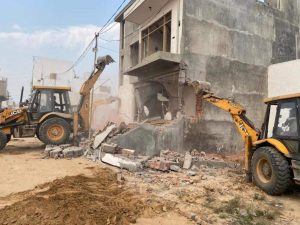 In a letter, district town planner RS Batth requested an explanation from the Gurgaon and Badshapur tehsildars about the registration of these illegal flats without a mandatory DTCP NOC and the removal of the supervising DHBVN engineers involved in supplying power to two authorized colonies.
Batth wrote to Tehsildar Badshapur: "The owners of the apartments (about 150 of them in sector 67) obtained records and provided copies of their sale deeds. It was shown that the sale deeds were initially executed between companies and individuals by mentioning said land as part of the licensed neighborhood Ansal Esencia ".
On delivering electricity to the Sector 67 community, Batth said the initial investigation revealed that local residents have obtained records and electrical connections and are also paying required electricity bills. "I have requested a report from Circle II supervising engineer, DHBVN," she said.
Similarly, in the case of 130 illegal flats in the Sai Lane neighborhood in Sector 8, DTCP officials found that the sales deeds were initially executed between Dev Samaj Trust and the Indo UK E-services Company, and subsequently, the individual sales bonds for the unauthorized colony were foreclosed.
Also read- DTCP issues notices to EX MLA's kin 20 Others for Constructing illegal Colony in Gurugram