Indian culture is intricately intertwined with religious beliefs. Amidst the diverse spectrum of religions and convictions in the country, there's a shared understanding—an unwavering commitment to connecting with higher powers through sacred rituals. Consequently, nearly every Indian household boasts a designated pooja space, a testament to this profound cultural thread. If you're embarking on the journey of constructing a new home, here are 10 inspiring middle class Indian style pooja room designs that will ignite your creativity and imagination.
Pooja rooms can be crafted within varying budgets. Whether you adorn a simple deity sculpture on a shelf with a flickering lamp or establish an expansive, meticulously designed, ornate puja room, the blessings remain constant. It all hinges on the ambiance you create and the convictions you hold. Recognizing the possibility of budget constraints, we've curated designs catering to low-budget middle class Indian style pooja rooms as well. The key lies in crafting a space that resonates with your emotions and beliefs, irrespective of financial considerations.
1. Pooja Room Designs In Marble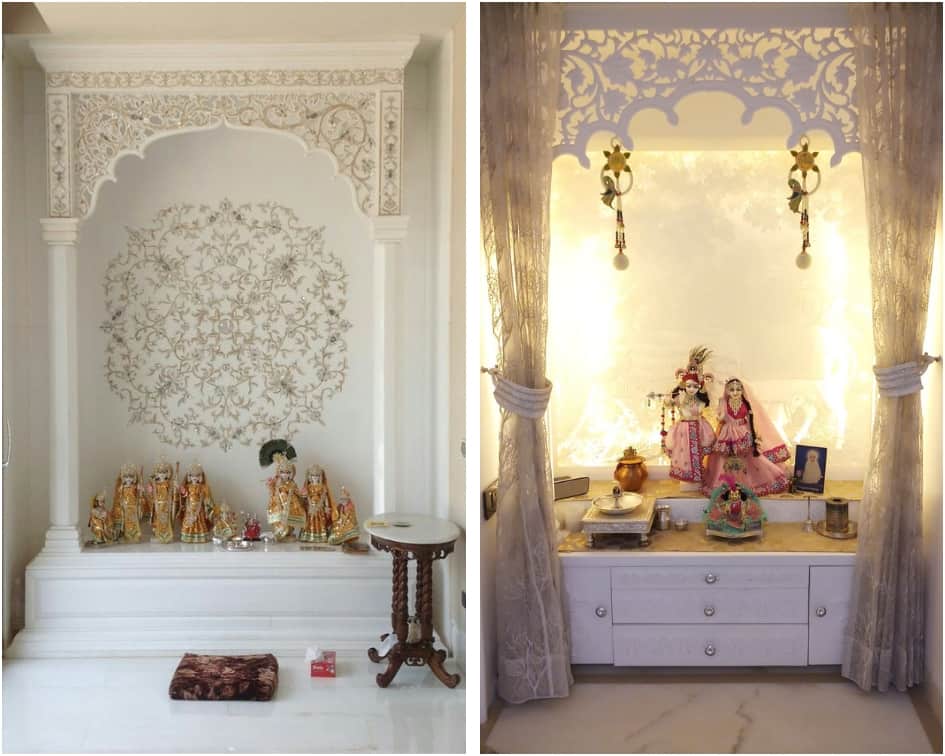 For those fortunate enough to possess a spacious abode and the means to allocate a room for spiritual pursuits, choosing to craft and design a marble-based pooja room is an unparalleled choice. Despite the potential challenges of higher upkeep and costs, a marble-crafted pooja room exudes durability and serves as a deterrent against termite intrusion.
Integrating a marble pooja room design, when harmoniously paired with an array of decor and flooring options, becomes an enchanting addition to your home. What's more, the marble finish imparts a lavish and sophisticated aura, elevating the overall aesthetic. This choice not only resonates with middle class Indian style pooja room designs but also offers a touch of opulence that can stand as an alluring testament to your dedication.
2. Pooja Room Designs For South Indian Homes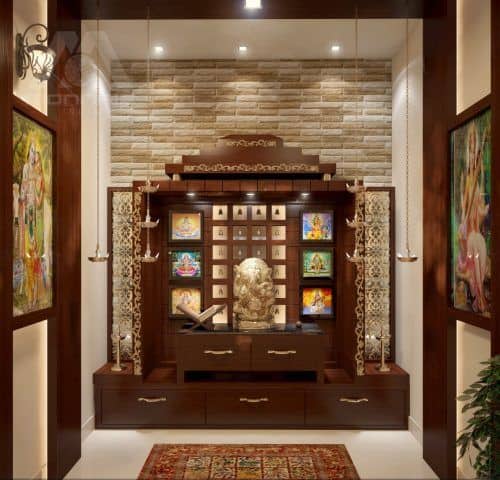 In South Indian homes, the design of pooja rooms typically embraces wood, while revered brass idols find their place for worship. A wooden mandir often stands against the wall, offering a serene setting. Brass idols also find their home on a dedicated shelf within the mandir, leaving ample space upfront for offerings like diyas and flowers. It's customary for the doors of pooja rooms in South Indian homes to remain closed during afternoons, and they are opened during evenings and early mornings for the revered arti rituals.
Wooden pooja room designs harmonize seamlessly with diverse interior finishes and themes prevalent in South Indian homes. They infuse an air of magnificence into every space, radiating versatility and warmth. Especially in smaller houses, wooden designs elevate the pooja room, adding a touch of grandeur that can be easily adapted.
However, it's important to acknowledge that wooden pooja rooms demand meticulous care and upkeep. Lighting candles within the space requires caution. To enhance the ambiance further, consider incorporating an 'Om' symbol, either printed or embossed as a backdrop, coupled with a brass bell. This ensemble perfectly embodies the essence of middle class Indian style pooja room designs, enhancing the spiritual sanctity of the space.
3. Pooja Room Designs in Wood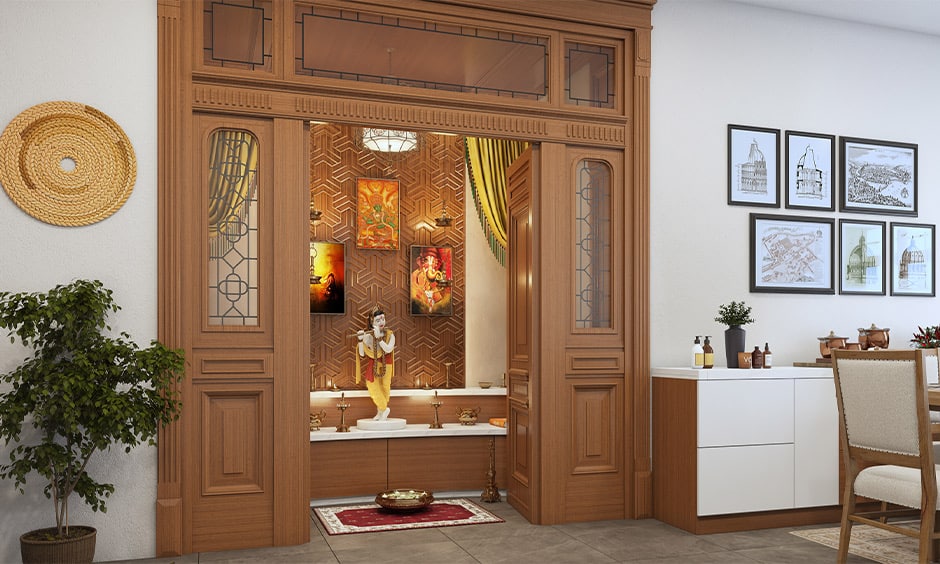 The elegance of wooden pooja room designs seamlessly complements a wide array of decor themes. Yet, the beauty of wooden pooja rooms comes with a responsibility for regular upkeep and maintenance. Despite this demand, they contribute an undeniable warmth and adaptability to the sacred space. An alternative approach is to consider refurbishing aged wood, allowing you to acquire affordable second-hand wooden mandirs. By refinishing them according to your preferences, you can craft a middle class Indian style pooja room design that harmoniously integrates tradition and practicality.
4. Contemporary Pooja Room Designs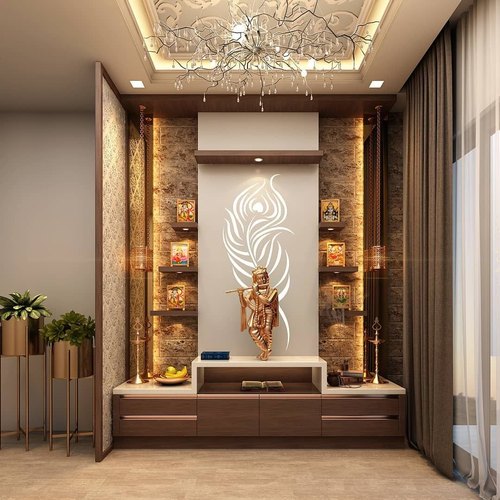 Modern interpretations of pooja rooms often involve transforming a section of the wall or even the entire wall into a sacred space. This innovative approach necessitates creating niches within the wall, each with a depth of approximately 6 to 8 inches. Each individual niche is designated for a singular idol. To enhance the spiritual ambiance, incorporating a spotlight within each niche is imperative. This not only highlights the idol but also allows for the proper illumination of the sacred space. In front of each idol nestled within its designated niche, there's ample room to place flowers and offerings, harmonizing tradition with contemporary design. This design concept encapsulates the essence of middle class Indian style pooja room designs, where innovation and devotion converge seamlessly.
5. Small Pooja Room Designs For Indian Homes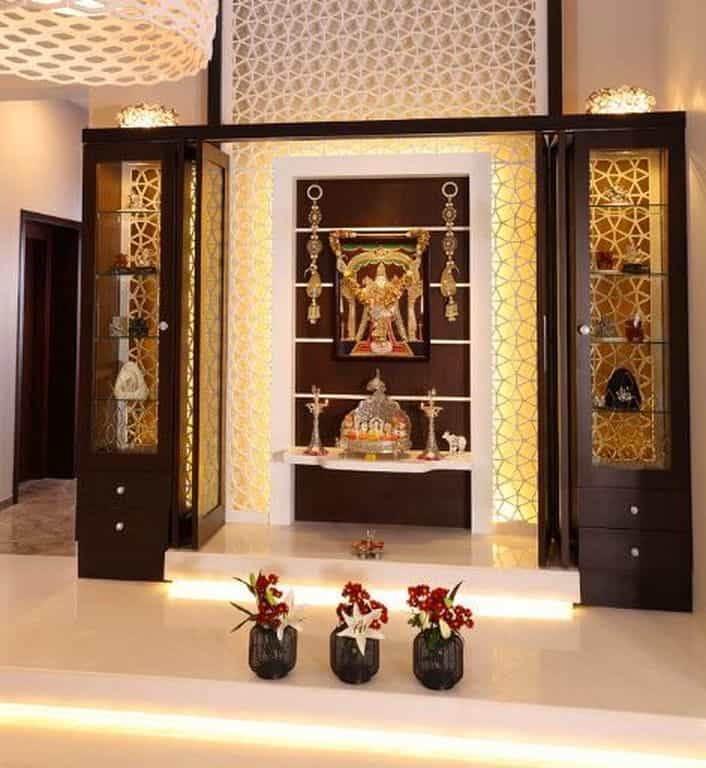 If within your budget, there's great merit in elevating a pooja unit into a fully marble-adorned sanctuary. These designs hold undeniable charm, boasting ease of maintenance and an inherent elegance. This endeavor encapsulates the spirit of middle class Indian style pooja room designs, showcasing how even modest investments can yield exquisite and refined spaces dedicated to devotion.
13. Pooja Unit Inside a Cubicle – Small Pooja Room Designs in Apartments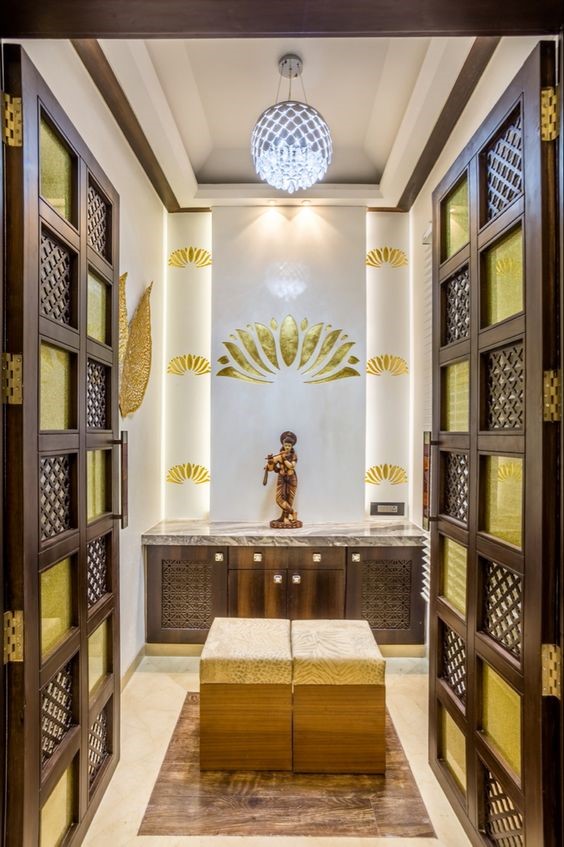 For optimizing space, there's a compelling and aesthetically pleasing choice: installing a petite pooja unit within a cubicle. This design approach holds particular allure for compact apartments, offering a harmonious blend of functionality and style. In accordance with Vastu Shastra principles, you have the flexibility to position it within your dining or living area. Here, thoughtful touches such as strategic lighting, floral accents, and a well-chosen palette of paint can further enhance the ambiance. This ingenious strategy encapsulates the essence of middle class Indian style pooja room designs, artfully merging spiritual sanctity with innovative spatial solutions.
14. Pooja Unit Adorned – Small Pooja Room Designs For Home
For those blessed with ample space, consider crafting a pooja room adorned with CNC patterns, intricate cutting designs, or jali designs. These exquisite details infuse a sense of opulence, elevating the entire worshipping environment. The backdrop serves as a visually appealing focal point, while an elevated worshipping space imparts an air of reverence. This concept elegantly encapsulates the essence of middle class Indian style pooja room designs, effortlessly blending spiritual devotion with an aura of luxury and sophistication.
15. Pooja Unit With False Ceilings – Small Pooja Room Designs In Apartments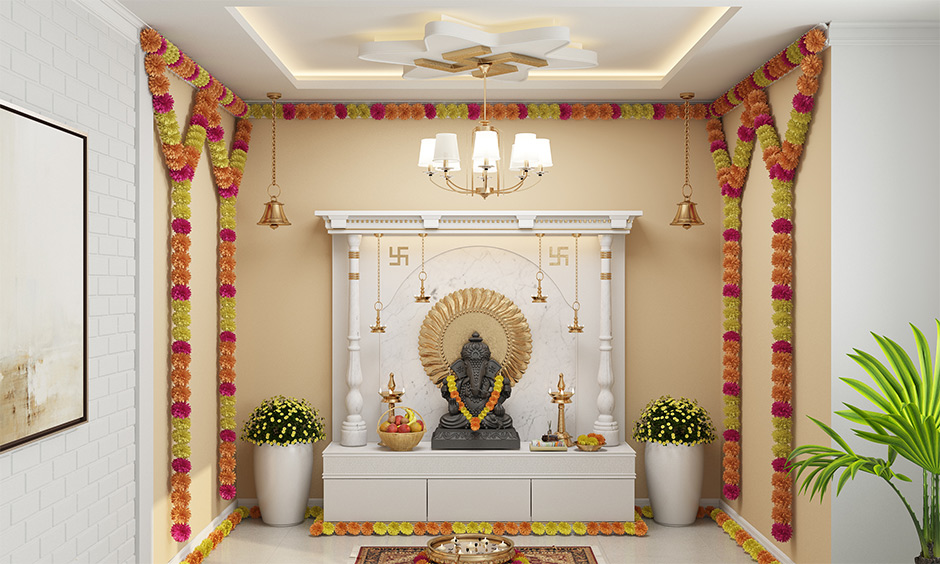 Opting for a false ceiling is a supremely innovative approach to embellishing a pooja room. This design choice invites customization through intricately carved patterns or the incorporation of diverse textures. These elements collectively cultivate the ideal ambiance, fostering a sacred and serene space for devotion. This concept brilliantly embodies the essence of middle class Indian style pooja room designs, showcasing how creative enhancements can transform a simple area into a haven of spirituality and aesthetic allure.
What to Keep in Mind When Choosing The Best Indian Style Pooja Room Designs For Your Home?
Here is what you must keep in mind while choosing the pooja room designs for an Indian home:
The availability of the space – Do you have a separate pooja room? Or, you'll need to devote a corner? Considering the space available, place your interior design mandir in a secluded place for more privacy.
Your budget – It is understandable that while thinking of the interior pooja room designs, you might tend to get a little overboard. But know that it's ok to have a little space dedicated or as your budget allows.
The size of your apartment – Choose a beautiful Pooja mandir that fits your house perfectly.
The color scheme – While choosing the pooja room designs, consider the color theme of your house and pick one that would match the aesthetics.
How to Place Idols in The Pooja Room?
Always place the idols in the east and west direction and not the north or south
Avoid hanging the picture of the deities on the north or south wall
If your modern Pooja unit is smaller in size, avoid idols that exceed more than three inches
Do not keep the idols facing each other
Do not place chipped or broken idols
Try and purchase idols that have a wooden platform
Avoid placing the unit on the floor
The Bottom Line: Choosing The Best Pooja Room Designs For Indian Homes
Pooja rooms hold a central and cherished position in countless Indian households, serving as dedicated sanctuaries for prayer and moments of tranquility. These spaces are carefully curated to resonate with the household's ambiance, providing solace and serenity. It's imperative to select a pooja room design that harmoniously aligns with the overall atmosphere, becoming a captivating focal point. We trust that the insights shared in the article above have assisted you in pinpointing the finest middle class Indian style pooja room designs that will beautifully complement your home.