Give your home an enchanting look with these beautiful modern exterior wall paintings for Indian homes. The Indians consider their homes their most valuable possession. The exterior not only indicates the value and status of the owner but also adds a new charm to the area. Everyone loves welcoming visitors into their homes with appreciation. All Indians take pride in their homes for this.
With modern homes and contemporary decor available now, it can be confusing to choose the perfect and unique color scheme for your outdoor home. Temperature and climate restrictions should also be considered when choosing exterior materials and paints. Below we share a selection of colors and palettes that will help beautify the exterior of your Indian home and make it always look good.
Indian paints for exterior walls
1) Gray and White for Exterior Wall Paint

This may be your safe play on color combinations with regards to your home's exterior decorations. Modern Indian houses are generally designed in blocky styles. Therefore, choosing gray and white painted exterior blocks with rich wood window frames is a classic. The paint blends in well with the greenery and looks subtle with minimal details.
2) Hint of Algae in the Exteriors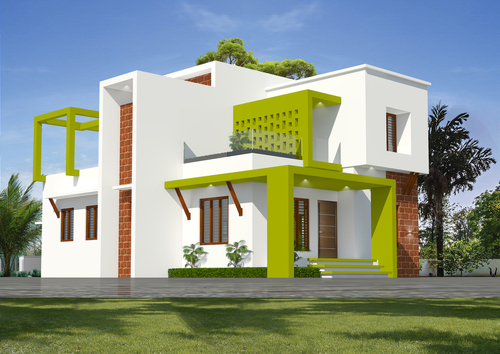 The appearance of bright color on the exterior of your home can add unique character to a building. Bright green algae have excellent color. Due to the intensity of the color, the paint should only be applied in certain sections of elevation and definition. You can enhance the aesthetic appearance by including burnt red brick jalis on the exterior facade. The color beautifully complements green and white.
3) Greige Grunge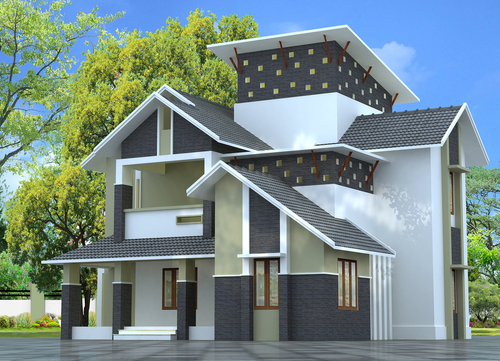 What is greige? Greige is a combination of gray and beige tones. You can easily adapt the popular greige theme by carefully setting the exterior blocks with white, gray and, beige paints. To break the monotony, you can always add textures or prints of similar shades from the palette. This may look very similar to the gray and white theme, but the refreshing hint of beige on the casing evokes a feeling of warmth in the building.
4) Temple Tone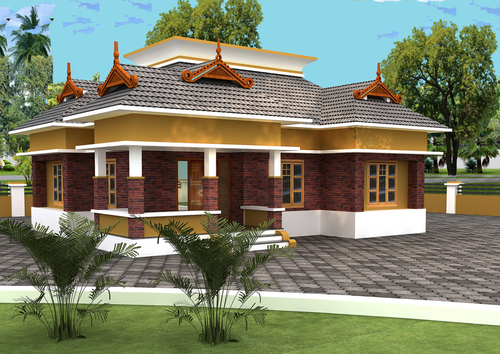 A typical Indian house on the Indian coastal plains often has tiles. A rich brown roof can be paired with exteriors in turmeric yellow, pristine white, and forest brown. The relaxing formula is inspired by the temples of ancient India. The colors combine well with each other and give a feeling of comfort. The style is based on vernacular Indian architecture with a modern twist.
5) Modern Black & White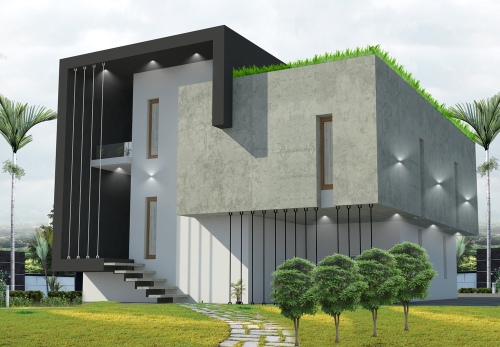 India infuses some contemporary square home designs. Corporate matte black, dirty grunge gray, and ultra-sharp white are some of the great combinations for the modern home. Not many chose this triptych in India. Therefore, it is the perfect time to plan unique modern home. The colors are not depressing and do justice to current housing trends.
Also,Inter Read – Top 10 smart cities to invest in plots – Aquireacres
6) All Beige Love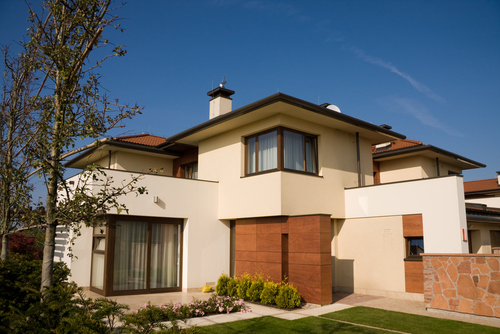 This is a simple, elegant, and relaxing color that any home can embrace. The light shade transforms the solid concrete structure and makes your home a home. Update the house with black framed windows and ceiling panels. The black color adds crisp definition to every element of the exterior.
7) Navy Blue & Brick Red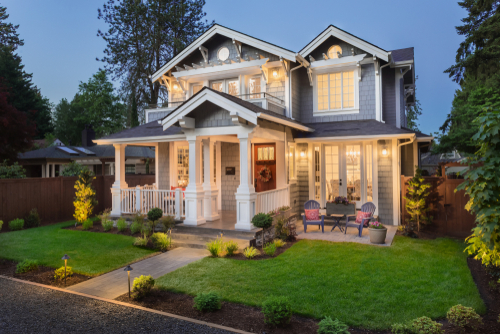 Finding colors that contrast and complement at the same time are crucial when choosing exterior color paints for your home. A strong combination of rusty and navy blue terra cotta brick wall does the job very well. The dark blue color gives it a modern and rich look, while the bricks offset each other by providing the desired texture. Also, the blending works well visually as none of the colors outperforms the overall exterior color situation.
8) Tan Brown Exterior Walls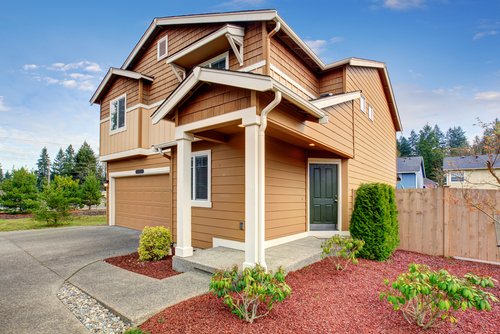 An elegant touch of brown tone gives the walls a charming and warm look. The color is guaranteed to stay perfectly fresh and new even after withstanding years of rolling dust. Most of us worry about our second layer timer and embrace obsessive-compulsive hygiene. If you are one of those, you can be worry-free with a bronzing polish. The color magically shows no dust and still looks cool and warm.
9) Rusty Orange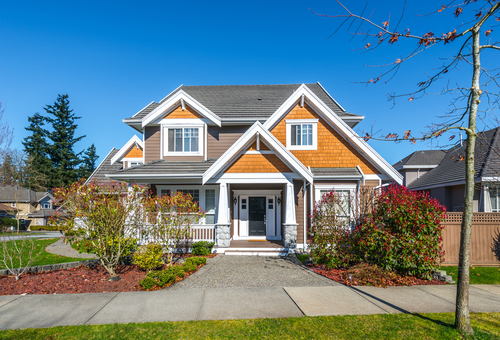 Experimenting with vibrant colors and poppies is not new in India. But what most of us don't understand is that it's not okay to paint your entire house a bright color. It is very important to balance the shades in a minimum and the correct application. A good coat of bright orange can be balanced well with a clean gray exterior. Contrasting shades of intensity and panel numbers create a beautiful, modern look for the home.
10) Pale Yellow Stains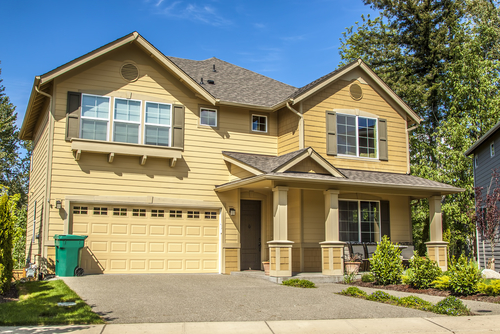 Many people choose different shades of yellow to paint their houses. But when it comes to drab exteriors, the subdued shade of yellow is ideal. The light color looks great during the day. The ceilings can be updated by painting the tiles in gray. Both gray and yellow have a mild flavor, so a lot of texture is recommended. It can be a stone-clad wall, a galleon wall, a painted wall, or a brick wall. You can add more intricate details such as crawler trackers on one of the side walls.
11) White House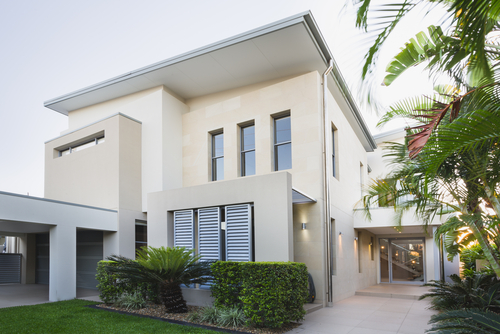 Nothing beats a completely white house with silver window frames and shutters. The color is so pure and elegant in appearance, it gives the illusion of a great room. Also, recolor modern block compositions. You can create a slight contrast by having black windows. The spacious white house surrounded by a lush green garden looks stunning at night with warm lighting. Also, the uniqueness of the paint avoids the big dilemma of choosing colors for the exterior walls of your home.
12) Electric Blue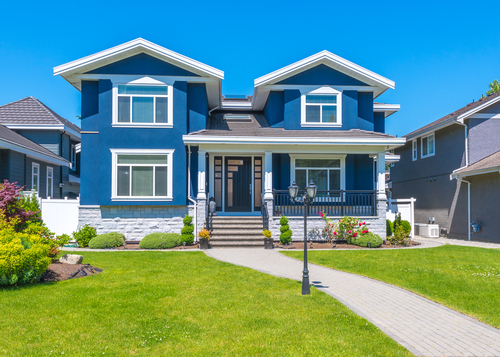 If your house has a lot of windows, which is evident in the Indian setting, then painting your house a deep blue with a solid white outline would be a great option. The thick white panels give a nice look to the whole house in a deep blue. This combination also gives it a unique place among all the neighboring houses.
13) Old School Green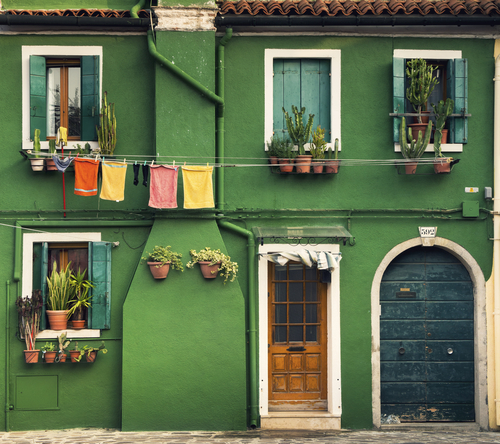 Doesn't that give you old-school vibes? A lush shade with subtle hues of moss acts as a very funky color to paint throughout the home. Brick window frames and tiles complement the impressive conservatory. Also, this is a very rare combination, especially in India. What are you waiting for? Make your home green and hang cute flower pots and vines to add a distinctive feature to your unique home.
14) Brick Red & Teal Exteriors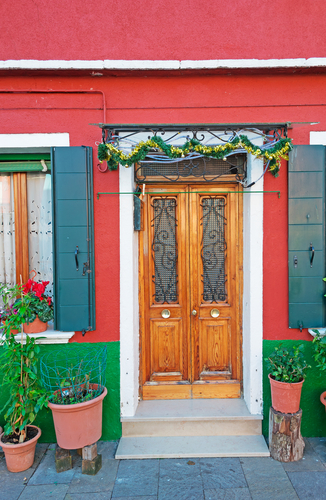 If you love experimenting with colors and are bored by similar hues in your area, try this rustic mix of red and teal. With ornamental plants hanging around it, the house definitely plays some European vibes. Also, this combination is not over the top, but it is still eye-catching.
15) Omnipresent Olive Green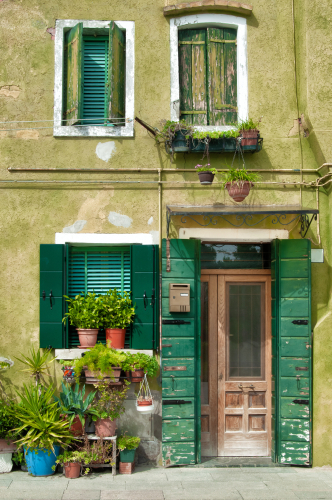 Why is it everywhere? Because most of the Indian homeowners choose this shade. The color casts a shadow on the powder and looks bright and fresh. A white roof and cormorants add an elegant touch to the structure.
The above are some beautiful ideas for painting the exterior walls of Indian houses. However, the list is endless and you can explore many of the most beautiful combinations for your home.
Also Read – Agro-Realty: A new investment trend in India – Aquireacres