Latest News: Bangalore Mysore Expressway
Autos and Two-Wheelers To Be Banned on Bengaluru-Mysuru Expressway from August 1
July 25, 2023: The Bengaluru-Mysuru Expressway would be off-limits to slow-moving vehicles including autos and two-wheelers, according to the National Highway Authority of India (NHAI). This will go into effect on August 1. Following numerous accidents and fatalities, the government has decided to take this action as a safety precaution. Since the expressway's March opening, there have been over 300 accidents, claiming the lives of over 100 people.
The following types of vehicles are prohibited: quadricycles, multi-axle hydraulic trailer vehicles, tractors with or without trailers, motorcycles, which include scooters and all two-wheelers, and three-wheelers, which include e-rickshaws and e-carts. On the service road next to the freeway, the government has pushed the usage of these cars.
In addition, there will be a speed limit of 80 km/h to 100 km/h for vehicles to travel on the expressway. Those who overspeed or violate traffic rules will be imposed with penalties.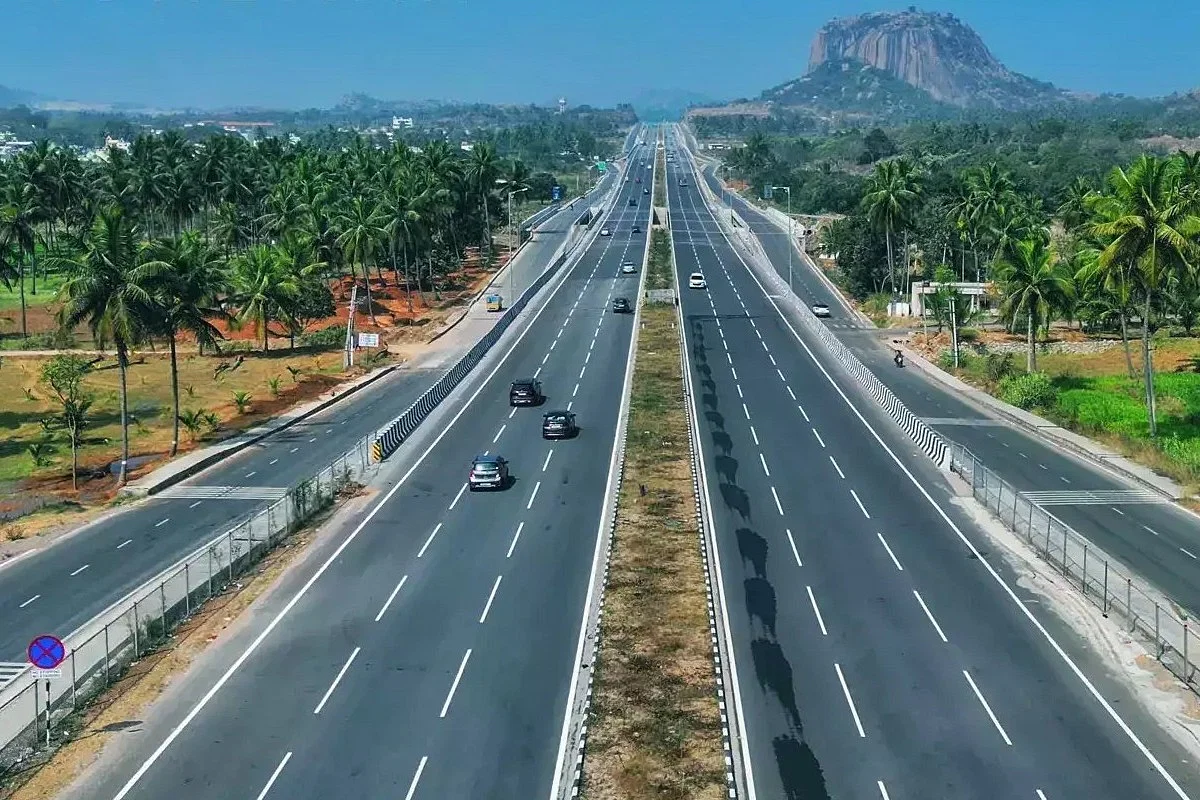 Police Authorities Install Speed Cameras on Bengaluru Mysore Expressway
July 06, 2023: On the Bangalore Mysore Expressway, speed cameras have been set by traffic police authorities to protect road and traffic safety and prevent accidents that can be caused by fast moving vehicles. Additionally, speed radar guns have been deployed to identify fast-moving vehicles traveling faster than the expressway's posted speed limit.
The Ramanagara Police have reportedly already begun utilizing these cameras. In the upcoming days, Mysore and Mandya Police are anticipated to begin utilizing them. A punishment of Rs. 1,000 will be assessed against any vehicles exceeding the 100 kmph maximum speed restriction by the authorities.
About Bangalore Mysore Expressway
In the Indian state of Karnataka, the 117 km long, access-controlled Bangalore Mysore Expressway will be constructed. The Bangalore Mysore Expressway would make it simple to travel from Bangalore to Mysore once it was finished. Bangalore to Mysore travel time is little over 3 hours, but can occasionally take longer owing to traffic. The National Highway 275 10-lane motorway between Bengaluru and Mysore will reduce the distance in half.
Bangalore Mysore Expressway: An Overview
Two of the most important cities in the state are Bangalore and Mysore, which are beneficial for both business and tourism. One of the important highways in the state is the 4-lane NH 275, which is currently in service. However, the road is crowded and passes through the inhabited areas of Mandya, Maddur, and Srirangapatna.
Bangalore and Mysore would be connected by the projected expressway, which is a section of the NH 275 road, allowing for back-and-forth transit between the two cities. It will also connect Kerala, Kodagu, and Mangaluru to Bangalore.
The project was put out as an alternative to the now-cancelled NICE (Nandi Infrastructure Corridor Enterprises) Road and consists primarily of brownfield renovations (60%) and greenfield construction (4%).
The cost of constructing the highway in two phases is around Rs. 8,066 crore. A 51 km long, fenced-in bypass road will be used to avoid the towns along the current route. This BMP (Bharatmala Pariyojana)-funded project is anticipated to be finished in October 2022.
Bangalore to Mysore Distance
The Bangalore Mysore expressway will reduce travel time between the major cities of Karnataka to less than 90 minutes from the current 3 hours.
By road: There are two roads that can be used to get from Bangalore to Mysore. The two cities are separated by about 144 km (90 miles) by the NH275 and by about 160 km (99 miles) by the NH948. The fastest and most effective route from Bangalore to Mysore will take you there in around 4 hours if you take NH 275.
By train: From Bangalore to Mysore, there are around 29 weekly trains and 17 daily trains. The fastest train (12007) is MGR CHENNAI CENTRAL-MYSURU SHATABDI EXPRESS. Bangalore to Mysore travel time might range from 2 to 5 hours, depending on the train you select.
By flight: There are several flights between Bangalore and Mysore. The airport serving Bangalore is Kempegowda International Airport ( BLR). The Mysore Mandakalli Airport serves Mysore (MYQ). One can book a ticket from Bangalore to Mysore for the best discounts on any airline's website or via one of the many online travel agencies.
The two significant towns along the Bangalore to Mysore route are Maddur and Bidadi. Bangalore is located approximately 34 km from Bidadi and 84.1 km from Maddur via NH27.
Bangalore Mysore Expressway Key Details
The highway, which will be a component of NH 275, will connect the two cities and speed up traffic. The Center will provide all funding for the Rs 8,066 crore project, which is scheduled to begin operations in October 2022. The BMP (Bharatmala Pariyojana) is responsible for developing the Bangalore-Mysore expressway.
The estimated cost of the project is Rs. 8,066 crore
Date of completion: October 2022
Roadway length: 119 km
Total Lanes: 6 to 10
Status: Under Construction
Owner: NHAI (Indian National Highway Authority)
Model for the Project: HAM (Hybrid Annuity Model)
Bangalore Mysore Expressway Progress
2014 saw the proposal of the Bangalore-Mysore highway project. Two phases of work on this project began in May 2019 and December 2019. However, little could be done because of COVID restrictions. Instead of the previously anticipated June 2022 completion date, the project will now be completed by October 2022 and be operational in March 2023.
Bangalore Mysore Expressway Route Map
A free and uninterrupted ride will be possible thanks to the 69 bus bays, 49 underpasses, 13 overpasses, and fencing on either side of the access-controlled, 6-lane road.
A greenfield bypass would be a part of the Bangalore-Mysore expressway route. The combined bypass for Ramanagaram and Channapatana will be 22 km; the bypasses for Mandya, Srirangapatana, and Maddur will be 8 km, 10 km, and 4 km, respectively. In addition, Bidadi will have a 7 km bypass, allowing commuters between the two cities to avoid all of these significant towns.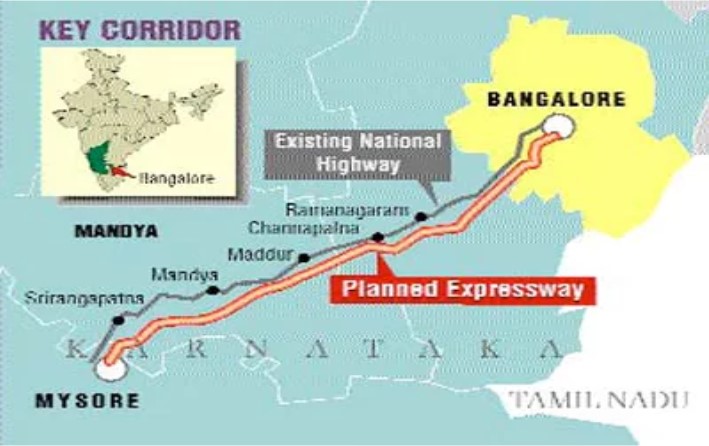 Bangalore Mysore Expressway Phases
The project is simultaneously developed in two packages. The expressway will contain 44 small bridges, 19 large bridges, and 44 micro bridges in addition to 4 ROBs (railway overbridges). Additionally, it will feature 50 underpasses for both automobiles and pedestrians.
Phase 1: The first stage is in Bangalore and links Nidaghatta to Panchamukhi Ganapathi Temple on NICE Road. A total of Rs 3,900 crore would be spent on the first phase, of which Rs 1,600 crore will be used for land acquisition. This phase's roadways are around 56.2 kilometers long.
Phase 2: The second phase extends from Mysore to Nidaghatta. The second package contains a land acquisition expense of Rs 1,200 crore with a road length of 61.1 km and an estimated cost of roughly Rs 3,600 crore.
Bangalore Mysore Expressway Project Benefits
Covers Bangalore to Mysore distance within 90 minutes instead of 3 hours

The construction of 59 over and underpasses will lessen traffic congestion and provide road safety

Amplify the national economy, improve connectivity and reduce pollution

Will draw investors to the city

Accelerate the city's development and growth

It will add value and increase urbanisation

Beneficial for real estate
Bangalore Mysore Expressway: Real Estate Impact
The government and the citizens of the cities through which the highway travels regarded the construction of the Bangalore-Mysore highway as a utopian endeavor. The road was opened by Prime Minister Narendra Modi in March 2023, and since then, the cost of the homes has gone up. The cost of renting in several cities and villages has also gone up. The number of rental homes has increased in Channapatna and Ramanagaram. Bidadi, Ramanagara, Mandya, Channapatna, Maddur, and Srirangapatna are further locations where real estate prices are rising.
Also, more residential and commercial spaces are being constructed along these areas, which will attract more real estate investors.
Major Localities Along Bangalore Mysore Expressway
Find below a few major localities situated alongside Bangalore Mysore Expressway.
Bidadi
On the motorway connecting Bengaluru and Mysore, Bidadi is a premier residential and industrial region.Due to industrial expansions and the impending highway, the town's real estate demand is expanding significantly. Kengeri, Chikkalasandra, Anjanapura, Hosakerehalli, Jnanabharathi Layout, and Rajarajeshwari Nagar are the neighborhood's neighbors.
Significant roads like the Bidadi-Tavarekere-Nelamangala Road and Kattigenahalli Main Road are accessible from the neighborhood. Businesses including Britannia, Bosch, and Coca-Cola have numerous properties in the Bidadi area. Job centers and IT parks including Global Village Tech Park, Rajajinagar IT Park, Kalyani Magnum IT Park, and Bagmane Tech Park are all easily accessible from Bidadi.
Facilities in Bidadi
Categories

Names of Facilities

Educational Institutions

Blossom International School

Aura International School

Maharishi Centre for Excellence

Tattva Pearson School

Healthcare Centers

Manasa Multi-Speciality Hospital

Subash Hospital and Management Studies

Rajarajeshwari Hospital

Sushruta Clinic and Diagnostic Centre

Transportation

Mysore Road Metro Station

Bengaluru City Railway Station

Kempegowda International Airport

Royal Meenakshi Mall

Gopalan Promenade Mall
Mandya
Mandya is about 45 kilometers (28 miles) from Mysore and 100 kilometers (62 miles) from Bangalore. Sugarcane farms are the main source of economic output. It is also known as Sugar City since sugarcane is a big crop there. This area is where the future Bangalore Mysore expressway and NH 275 cross. The Mandy Belakawadi Road and Tirumakudalu Narasipura Sira Road are two additional roads that offer strong access to the neighborhood.
Facilities in Mandya
Categories

Names of Facilities

Educational Institutions

Santhome Public School

Concorde International School

Twinkle United Public School

ST John's School

PES College of Engineering

Healthcare Centers

K V Shankare Gowda Memorial Hospital

ESI Hospital

Vikram Hospital

Pragathi Hospital

Transportation

Mandya railway station

KSRTC bus stand

Shopping Centers

Reliance Trends
Ramanagara
From Bangalore, Ramanagara is 50 km, while from Mysore, it is 96 km. Many residential plots, standalone houses, and other assets in Ramanagaram are tucked away in greenery. Major roads that pass through Ramanagara include NH275, Kanakapura-Ramanagara Road, and Magadi-Ramanagara Road, making it simple to get about the city. Buses and trains are available for public transit, and they leave Bangalore in around 90 minutes.
Facilities in Ramanagara
Categories

Names of Facilities

Educational Institutions

Universal Public School

Bethel International Public School

Little Pretty English School

St Michel's English School

Vidyapeeta High School

Universal Public School

Healthcare Centers

Ramakrishna Hospital

District Government Hospital

BGS Hospital

Transportation

Ramanagaram Railway Station

Ramanagara Bus Stand

Kanakapura Cross Bus Stop
Srirangapatna
Srirangapatna, Mandya's neighboring district, is located approximately 15 kilometres (9.3 miles) from Mysore City. The settlement is surrounded by the Kaveri river, creating a river island. The town is easily accessible by train from Bangalore and Mysore and is situated just off the Bangalore-Mysore National Highway 275. It has excellent road connections as well. The residential sector is expanding in the region, which is home to various landmarks.
Facilities in Srirangapatna
Categories

Names of Facilities

Educational Institutions

Parivarthana School & College

New Oxford Public School

St. Francis School

Jyothi Nivas School

River Valley School

Healthcare Centers

Manipal Hospital Mysore

Cheluvamba Hospital

Cauvery Heart and Multispeciality Hospital

SLES Hospital N R Mohalla

Transportation

Shrirangapattana Railway Station

Pandavapura Railway Station

Srirangapattana Bus stand
Other News on Bangalore Mysore Expressway
New toll opening in Ganangur; travelling on Bangalore-Mysore Expressway likely to become expensive. 
June 30, 2023: In Ganangur, which is part of the Shrirangapattana Taluk in the Mandya District of Karnataka, the National Highway Authority of India (NHAI) intends to introduce a new toll. The Bangalore-Nidaghatta section of the Bangalore-Mysore Expressway already has a toll, so adding this fee is likely to make travel more expensive for users. Additionally, starting in the middle of July, no agricultural vehicles, two-wheelers, or three-wheelers will be permitted on the Bengaluru-Mysuru Expressway.
The Bangalore-Mysore Expressway's tolls had previously been raised by 22% by the National Highway Authority of India, and the new tolls took effect on June 1, 2023. The toll prices for vehicles, buses, and trucks were revised by the government. Prior to this, the NHAI attempted to raise the toll rates in April; but, in response to commuter backlash, the authorities were forced to reverse their decision.
Technical Committee To Study Bangalore Mysore Expressway
Jun 27, 2023: On the Bangalore Mysore Expressway, accidents have increased during the past few months. The Karnataka government therefore intends to establish a technical committee to investigate the shortcomings in the Bangalore Mysore expressway in order to ascertain the issues. The state government's cabinet minister served as the meeting's moderator as it covered topics such as expressway development, land acquisition, compensation payments, and toll collecting. Following Chief Minister Siddaramaiah's agreement, a technical committee has been established to address all of these problems.
The cabinet minister reported that 45 people had been killed in a total of 43 accidents. Given that it is a roadway, he continued, "The number of accidents should have been decreased. The number of casualties has increased, nevertheless. There are no trauma centers, cranes, or ambulances. There are numerous similar concerns, hence we have requested that tolls at Srirangapatna not be collected until all such issues are resolved.
Final Words On Bangalore Mysore Expressway
The Bangalore Mysore expressway, which is currently being built along NH 27, would eventually link the two cities. This expressway is a blessing for travelers because it travels from Bangalore to Mysore in about 90 minutes. Additionally, it will improve connectivity, lessen traffic in cities, draw in investment, and encourage infrastructure development, improving the state and the Indian economy. Additionally, this new expressway project is anticipated to stimulate demand for homes and other real estate in these cities, guaranteeing investors good returns.
Also Read: Dwarka Expressway route, construction details and status