It appears that the Supreme Court's intervention in taking over Amrapali to complete housing projects under its supervision has not instilled much confidence among existing and potential buyers to invest in the group's pending projects.
The court-appointed recipient informed the Supreme Court on Monday that only 20 buyers showed interest in buying the apartments when 52 unsold flats were recently put up for sale and existing home buyers have so far only paid ₹425 crore despite their total fees dues being over ₹ 3,500 crore.
Senior advocate R Venkataramani, who manages Amrapali Group affairs and is exploring all fundraising options, as a court-appointed attorney, told the U U Lalit and Ajay Rastogi panel of judges that there could be delays in completion of all the dwellings projects and the three-year term promised by the NBCC needed to be extended.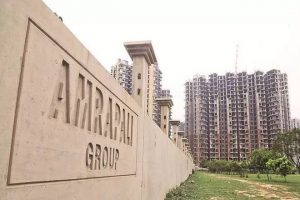 The group was acquired by the court in July 2019 and roped its grip on NBCC, which promised to complete the construction of several housing projects in three years and requested funding of ₹ 8.5 crore. Over 46,000 buyers have invested in various Amrapali projects.
Although construction work is underway on several projects, it is likely to be affected by the shortage of money, as home buyers are not paying their fees and buyers are not applying to buy through the auction of assets of Amrapali Group and its directors which are to be sold as per the SC order.
Advocate M L Lahouti, who represented the home buyers, told the court that the various orders issued by the court had not been followed. He informed the court that in September last year, SBI Capital had promised to infuse around ₹ 625 crore on the court's persuasion, but the amount had not yet been released.
"Despite repeated assurances given by various banks and the consequential orders passed by the court, most of the banks have not released the required funds to the buyers and consequently, the homebuyers, mostly from their sources, managed to deposit ₹ 450 crore out of the total ₹ 3,624.65 crore due from them," Lahoty said while pleading the court to direct various authorities, including banks, to comply with its order.
He said that the recovery of ₹ 912.72 crore from directors, CFOs, and family members of other promoters/managers have yet to take place and that NBCC should also take on the task of selling Amrapali Group's unsold inventory as it could be ₹ 2,337 crore.
However, the recipient said that he is taking all necessary measures to generate funds, but that the process was delayed due to the Corona virus pandemic and the assets were not auctioned because people do not show interest in buying the property at market price. The court agreed with the administrator's disagreement, said the process needed to be stimulated, and decided that he would hear the case every Monday to monitor developments and approve the appropriate orders to expedite the process.
Credit- The Times Of India
Also read- The future of Real Estate will be set in the 3R's – Relief, Restructuring and Resilience