10 Best Ceiling Designs For Bedroom
Our favorite rooms in the house are the bedrooms! These rooms serve us as private spaces, in addition to providing us with a comfortable night's sleep. It is highly recommended to invest in a decent decor, especially a beautiful ceiling design in the bedroom, whether it is a shared bedroom with your partner or an exclusive personal space!
You can retreat to your cozy den and enjoy some privacy, no matter how awful the day has been. With drop ceilings enhancing the aesthetics and creating the perfect mood and atmosphere, there's no doubt you'll want to spend all day in your bedroom! So what do we have to lose? Let's take a look at these beautiful bedroom ceiling ideas and see which one you like the most!
Latest False Ceiling Bedroom Ideas for Your Dream Home:
1. Simple Bedroom Ceiling Design:
Take a look at this simple yet stylish bedroom ceiling it is one of the best ceiling designs for bedroom, Bright LED lights in the corners complement the recessed designer roof. The sophisticated decorative piece on the side catches the eye and gives the area a very fresh look. You can create a dynamic environment by leaving the rest of the interior color scheme white.
2. Master Bedroom False Ceiling Designs:
This bedroom tray ceiling exudes beauty and sophistication. It's simple but fashionable. The ceiling serves many functions and makes your space look great and thus is one of the best ceiling designs for bedroom. It's a way to hide all those unsightly cables, exposing only a clean and tidy space! Another benefit is noise cancellation, which will help you get a good night's sleep!
3. Small Bedroom False Ceiling Design:
Room size should never be a barrier to effective design. Even the smallest of spaces can be transformed into wonders with careful planning. This is an example of one of the ceiling designs for bedroom, that provides full coverage without feeling claustrophobic. Using lights in the gaps creates the illusion of a light and airy area, which is a great trick.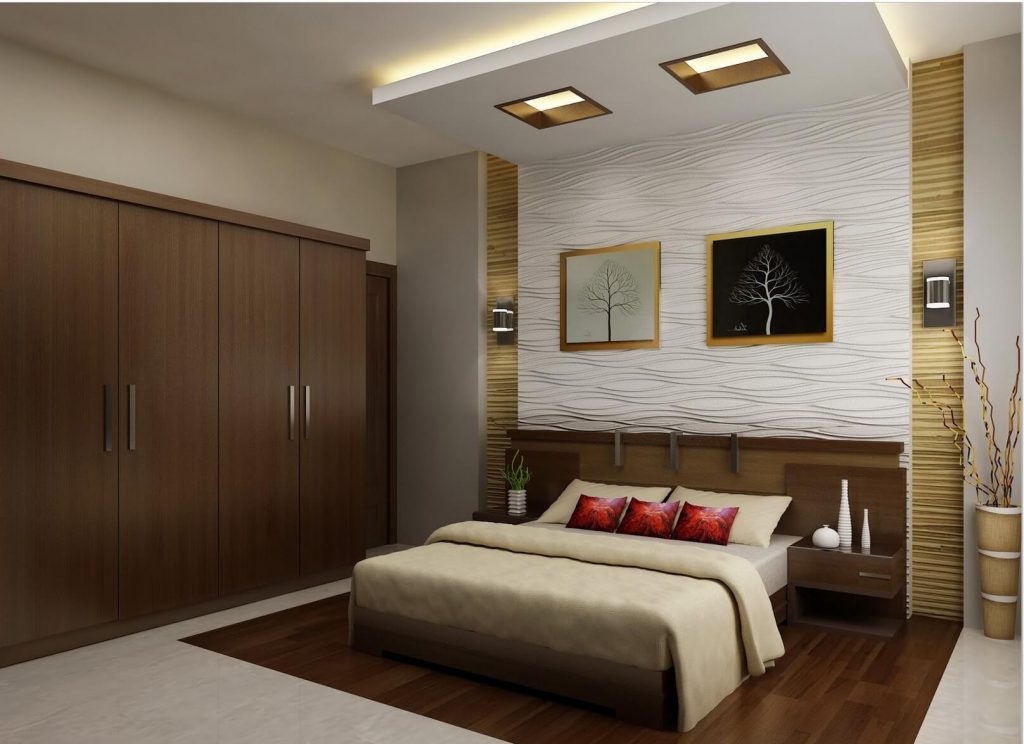 4. Bedroom False Ceiling Design with Fan:
Here is an example of a bedroom that will make you want to jump straight into bed! A faux ceiling panel and sleek fan in the center elegantly define the awkwardly shaped space. The amount of light in the room can be controlled by placing a series of lights in the space. A few neon lights can be attached to the sides for reading and other purposes.
5. Latest Girls Bedroom Ceiling Designs:
Pretty women usually want something as beautiful as they are! This is a stunning all-pink bedroom with varying tones of this delicate color. A two-tone plasterboard sculpture is placed on the ceiling just above the single beds. It acts as a wall extension and is embellished with small lights thus making it one of the best examples for ceiling designs for bedroom,
6. False Ceiling in the Kids' Room:
Take a look at the beautiful baby and child's room. To make your stay pleasant and comfortable, the entire room is decorated with unique details. The ceiling is the focal point of the overall design. A small cloud-like object hangs above the plain blue man-made ceiling. Lights have been added to bring these fluffy balls to life!
7. Pop Ceiling Designs for Indian Bedroom:
This is a beautiful ceiling design for a modern Indian bedroom. Against a brown background, the exquisite white ceiling incorporates various curved panels. The roof grooves allow lighting and maintenance of the roof. It can hide all the wiring, giving you a stylish room you'll be proud of!
8. Gypsum Ceiling Design for Bedroom:
If you like bright colors, you will definitely like the ceiling! The elegant false ceiling is made up of pieces of contrasting colors that have been assembled. The primary false ceiling has a recess filled with a wood and plaster element. Square LED lights are installed all around to create this perfect space.
9. Bedroom PVC False Ceiling Design:
This beautiful blue bedroom is ideal for a restful and restful sleep. The walls and furniture are painted in softer shades of blue. The ceiling pendant is also finished in a blue PVC laminate to match the color scheme, completely changing the look of your space! Almost any pastel color will suit this theme.
10. Bedroom Wooden False Ceiling Designs:
Nothing beats the beauty of wood to give an aristocratic look! If you are not convinced by a completely covered wooden ceiling, try this option! To add a rustic touch, stained logs are used to highlight the corners of the roof. The rest of the decoration in the room contrasts sharply with this. Simple but precise!
Also Read – 7-Birthday Decoration Ideas for Your Home