We look at some latest bathroom wash basin ideas and designs and the different types of wash basins, to make your bathroom look more elegant.
One of the most tranquil areas of the home for many homeowners is the bathroom. So, just like any other area of the house, they give it equal attention in terms of décor and concept. The bathroom wash basin is an important item, though, that is sometimes disregarded or does not receive enough attention. It is a crucial component because it enhances the space's aesthetic appeal while also being sturdy and utilitarian. It might be difficult to select the ideal wash basin design for your bathroom without doing a lot of browsing, research, and shortlisting. Here are some fundamentals about choosing bathroom wash basin designs that might be useful to you.
Here are some magnificent and modern wash basin designs for bathroom: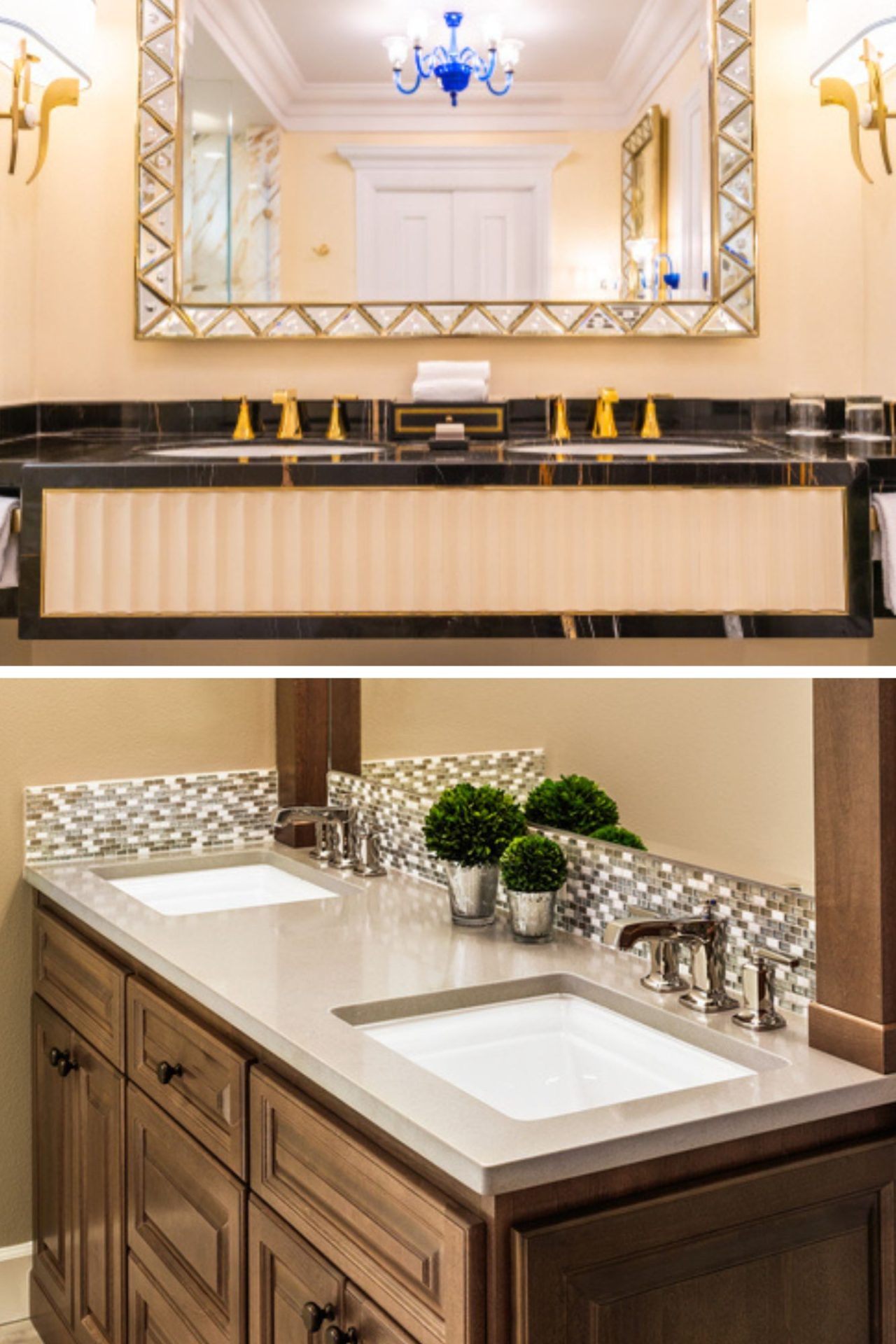 Since most homes in India have compact bathroom areas, installing corner basins are an excellent option for small bathrooms. You can use a wooden slab to complete the design and place planters for enhancing the overall décor.
Wash basin designs in dining room and hall
In many Indian homes, there is a wash basin in the foyer or dining area. A chic washbasin with a hidden water connection makes the area practical while enhancing the home's overall appearance. You can choose materials like marble for wash basin designs in a hall since they work well with any décor, especially if the bathroom already has marble tiles.
If you have a small dining room, wash basin designs in the dining hall can be placed in a corner. Some options of wash basin for dining hall are a counter top wash basin design made of stone that is easy to install and maintain. You can pick pedestal basins which come as a single unit or ones with pedestal that can be detached. This type of wash basin for dining rooms is ideal for compact homes and look elegant.
Check these dining room wash basin photos that show the latest design trends: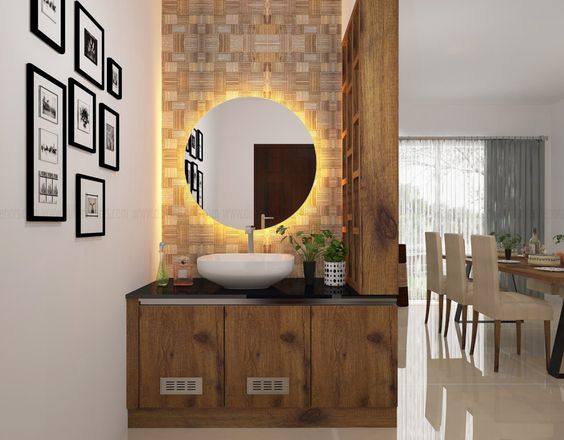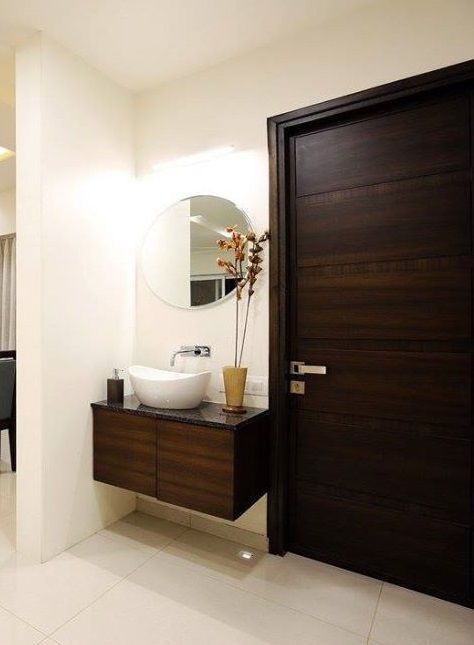 Counter top wash basin design or wash basin table top design
In India, counter top or table top wash bowl designs are also known as self-rimming or drop-in basins. These are attractive and long-lasting. These are a popular option for all types of bathrooms because they are simple to install. The majority of hotels, spas, and resorts have washbasin designs that fit on a counter. When designing a wash basin counter for your home, you can choose natural materials that will add a refined appeal, like quartz or marble.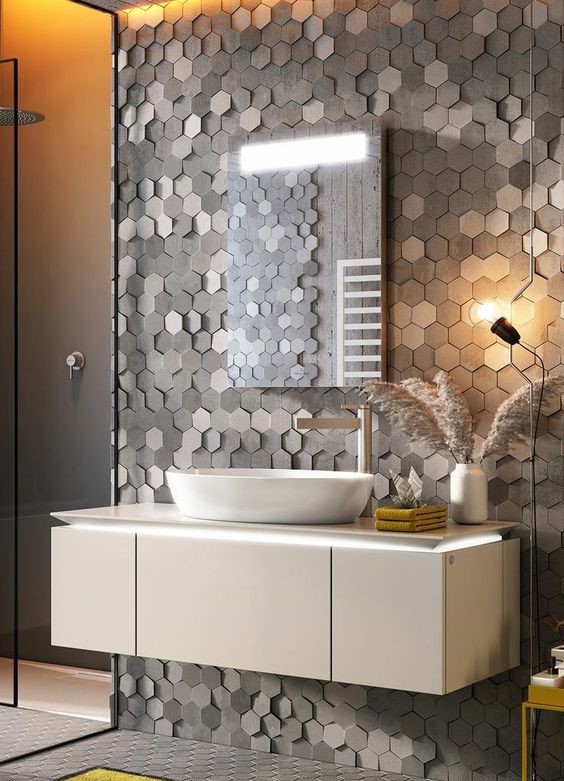 Wash basin with pedestal
Such wash basins are installed on a stand. The basin design for bathroom comes as a single unit or as a detachable pedestal and basin. These provide a designer look and are perfect for modern bathrooms. Pedestal wash basins are often found in guest bathrooms where space is less. Since these are sleek washroom basin designs, they create an illusion of space. We have seen such wash basin design in most Indian homes. You can go for such freestanding wash basin designs in a hall with simple and minimalist décor.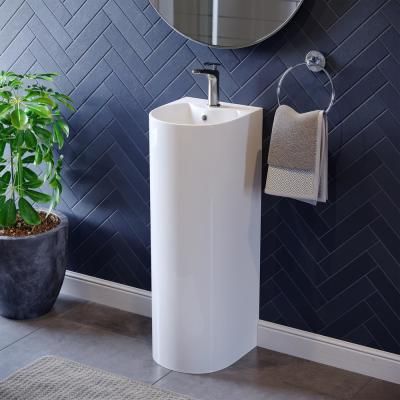 Wall mount wash basin
These basins are screw-mounted on walls, as their name would imply. Be careful not to purchase too hefty wall mount wash basins since they will likely be fastened with screws and may not be very lasting. These bathroom sink designs are more popular in Indian houses since they are less expensive than pedestal washbasins.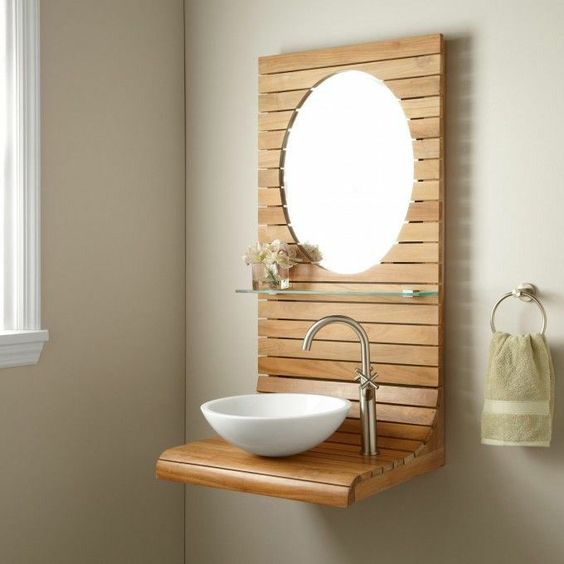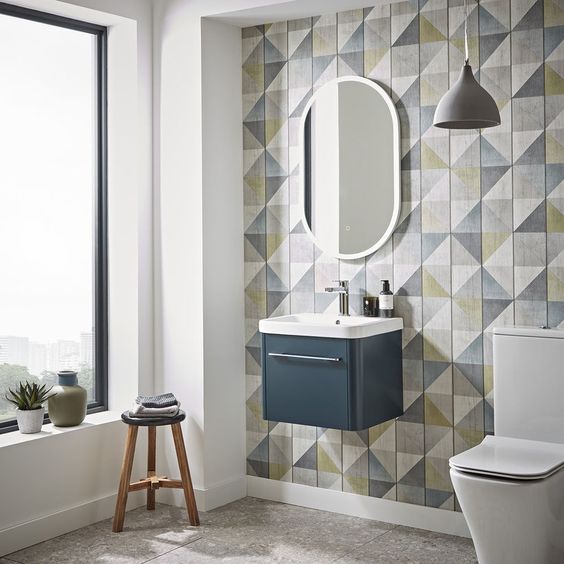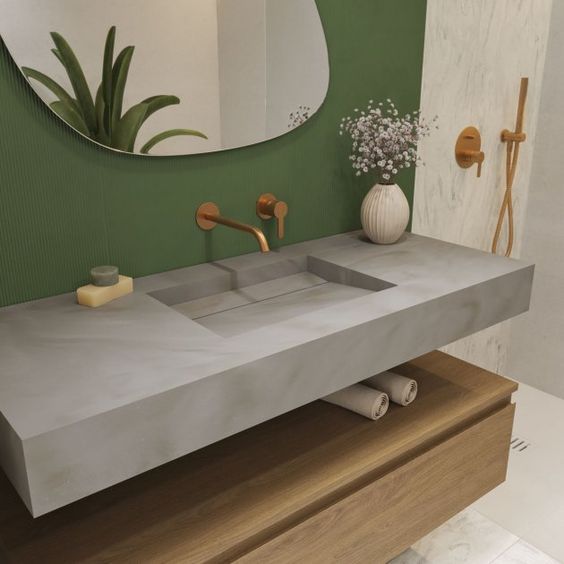 Tips for choosing wash basin
Depending on your bathroom interior, choose your wash basin shape accordingly. Some of the common shapes for modern wash basin designs available in the market include oval, rectangular, round, square, octagonal, conical, semi-circular and triangular.
You can add classic wash basins in any modern bathroom and contemporary wash basin models for newly designed or more classic bathrooms.
The choice of modern wash basin designs for bathroom should be based on the available size in the bathroom and one's personal taste.
Consider the configuration of the plumbing in the bathroom, before you choose the type of wash basin, as this will determine the placement of the basin.
When  planning the wash basin area design, it is important to measure the dimensions of the space where you will install the wash basin.
Check the height or vertical length of your home wash basin, allowing ample space for the water to properly flow in the sink and to reduce excess water from splashing and escaping the wash basin.
Also Read: Luxury Bedroom Ideas to upscale your space