We'll show you how to develop your salon's interior design on a tight budget while still maintaining visual interest, and go over some low budget beauty salon interior design ideas to help inspire you.
How to Design a Low Budget Beauty Salon?
Enhancing Your Beauty Salon on a Budget: Creating a Welcoming Interior Layout and Choosing the Right Colors and Furniture
When it comes to a low budget beauty salon interior design, the layout plays a vital role in attracting and retaining clients. A warm and inviting waiting room can make a significant difference in how customers perceive your salon.
Selecting the right color scheme and furniture is equally essential as they have a direct impact on the mood of the space and how well it aligns with your brand and clientele. Fortunately, achieving an appealing and cost-effective design for your salon business is entirely feasible and enjoyable. With creative planning and smart choices, you can create a welcoming atmosphere without breaking the bank.
Layout
Creating an Efficient Low Budget Beauty Salon Interior Design: Optimizing Layout and Architectural Elements
In the realm of low budget beauty salon interior design, the layout holds utmost significance as it profoundly influences all other aspects of the space.
Begin the process by carefully assessing existing architectural elements, including windows, confined spaces, and tall ceilings. It is essential to take into account the specific needs and requirements of your salon personnel while considering these elements. As each salon structure is unique, what works seamlessly in one area might present challenges in another. By meticulously optimizing the layout, you can achieve an efficient and aesthetically pleasing salon interior, even with budget constraints.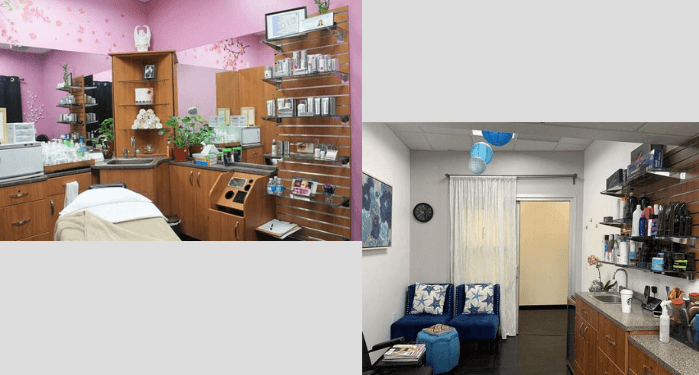 Simple Low Budget Beauty Salon Interior Design
Some popular layouts for a salon business include:
An open salon layout- This layout employs double-sided workstations and mirrors on the walls to generate more space, making it ideal for small salons with limited space. It's fantastic whether you want a simple or a glitzier style.
A narrow layout- you can use either framed mirrors or wall-mounted floor-to-ceiling mirrors to diffuse lighting and open up a small area or a narrow salon. This style of layout focuses activity down the center of the salon for a modern style.
A multi-room layout- if your hair salon has the space, you can dedicate different rooms to different functions. If you're hoping to do this in an existing space, you can save money by building half-walls or even setting plants throughout the room as elegant dividers for privacy.
A small salon layout- if you have limited space, try to choose one "statement piece" decor item as the focal point, such as a wall mural or piece of furniture. Add multifunctional salon equipment and storage trolleys with a small footprint and choose a lighter color theme to make the most of your lighting in a small salon design.
A suite layout- If you rent out space in your salon to other experts, you can give them a "blank canvas" with fresh, vibrant colors and the opportunity to personalize their new salon space. Choose mobile storage carts and additional illumination that you can move or alter simply if you are working in a suite.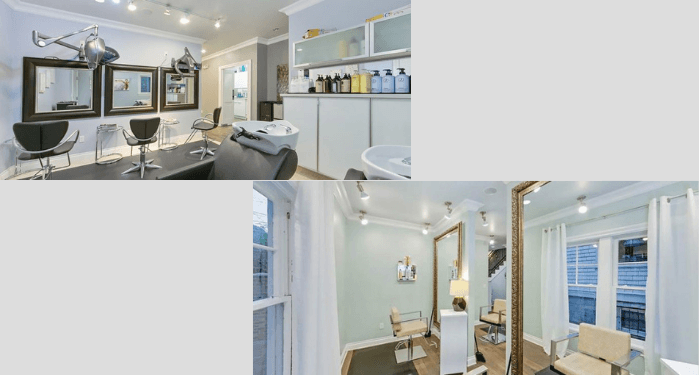 Glamorous Luxury Beauty Salon Interior Design
Lighting
Look around and select the ideal lighting components to match the atmosphere of your salon. Make sure there is enough light for both your clients' comfort and your staff's ability to work comfortably. Be mindful of the following:
Natural light- make sure that your salon layout allows light to flow through without any obstructions in the way- not only is natural light from windows free, but it's one of the most flattering kinds (and will give customers an idea of how their new look will appear once they leave).
Mirrors- these not only multiply the light available in a space, they also make an interior seem bigger and are an all-around great investment for a business. Placing mirrors on the wall will make any space seem bright.
Types of fixtures- You must decide between fixed and adjustable lights when looking for lighting choices. A great way to spend your money is on some adjustable lighting, especially in a small salon where one space serves multiple functions.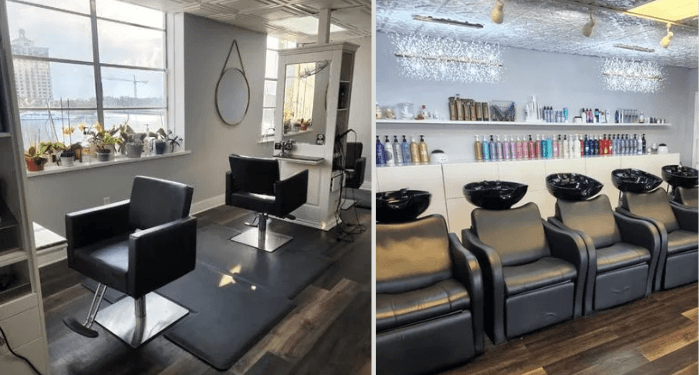 Color Palette
Creating a Low Budget Beauty Salon Interior Design: The Power of Color Choice and Highlighting Existing Features
When designing a low budget beauty salon interior, the selection of colors becomes crucial in setting the atmosphere. For a comfortable and private feel, consider using darker or warm-colored walls, while brighter colors can create an illusion of spaciousness, making them ideal for smaller spaces.
Aligning your color choices with your salon's brand is essential; incorporating colors present in your logo can enhance your salon's identity. In the case of smaller salons with darker branding, opting for white walls or lighter shades can create a sense of openness.
Highlighting existing features like wood floors or large windows can influence your color choices as well, creating a harmonious and aesthetically pleasing interior.
In high-traffic areas such as waiting areas or seats, darker hues can be advantageous as they help conceal stains and reduce the need for expensive cleaning tasks.
Also Read: The best home gym interior design ideas