Kitchen Designs: The heart of the home – the kitchen – has abuzz with activity since the lockdown began. Kitchen experts have studied how the usage of the kitchen has changed and believe that this space will become more functional and organized in the coming months. They have put together some trends in the future kitchen design which hints towards more openness and a more conducive environment for prep work, cooking, and storage. Below are a few ideas that will help you.
#1: Open kitchens with a dining island
img source: pinterest
Make space for people to gather around and enjoy a meal
The corona-virus pandemic has forced us to stay home and activities around the kitchen have increased. Keeping this in mind, and with compact living room sizes in cities, open plan kitchens are definitely here to stay. This concept integrates both cooking and socializing along with extended space for dining and storage. Overall, the trend is moving towards having less visual clutter in the kitchen to make it look like a more inviting place.
#2: Kitchen larder for more storage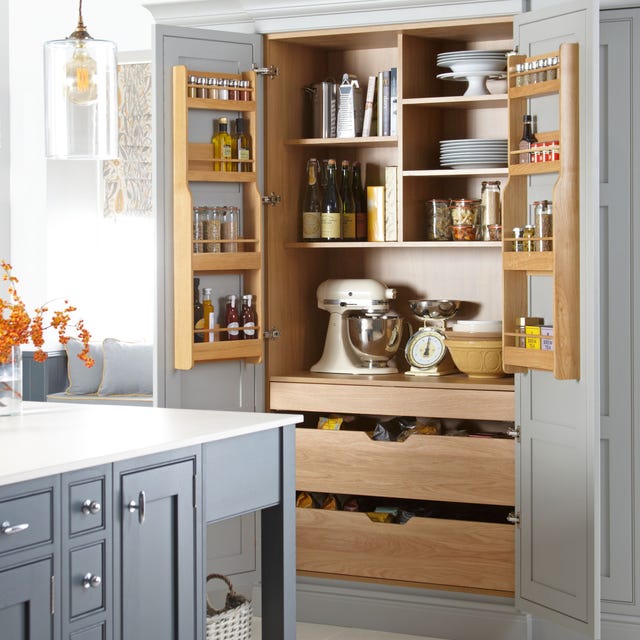 Img source: house beautiful
Opt for a pantry unit to stock up on groceries 
With the current situation, a lot of focus will be put on practical design with maximum storage. Larder units or pantry units can be openable, pull-out, or even sliding with a lot of shelves to house storage jars and dry goods. This also helps in keeping things organized while taking up a minimal amount of valuable space.
#3: Easy to clean surfaces:
Img source: pinterest
Invest in good, antimicrobial materials
Given the global situation, it is obvious that the trend is moving towards safer choices. Maintenance-free laminate covered cabinets to using composite materials around the home is the solution. There are antimicrobial/antibacterial ceramics that are offered by many manufacturers in India for floors and walls.
#4: Appliances that keep food fresh
img source: universal appliance
Access your requirement and get the right appliances
Another major addition to the future kitchen design is definitely going to a second fridge, to make space for extra food. With most people cooking at home and cooking a wide variety of dishes, keeping them fresh will become primary. The Master chef in you will also want to invest in a built-in microwave unit to bake those perfect cakes. After all, we all need a little sugar in our lives!
Also Read: Sanjay Dutt's house: Peek in Dutt's Mumbai home
#5: Better internal storage within cabinets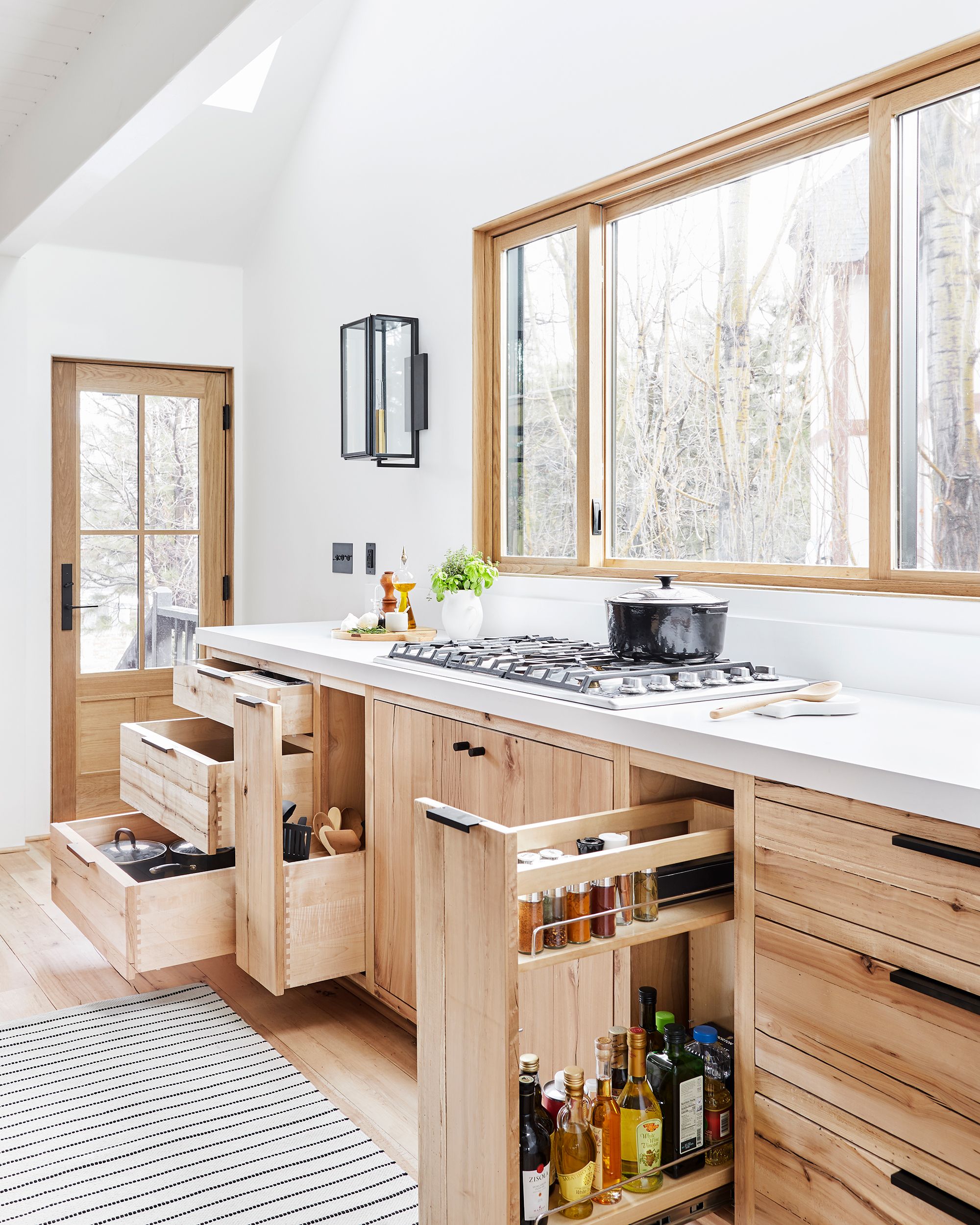 Use kitchen accessories to make life easy
All of us are bulk buying at this time and we have all faced the trouble of overflowing cabinets and drawers. Internal accessories can solve this problem. Cabinet storage is going to become more streamlined and organized with the right kind of accessories, like D-trays, LeMans corner, pull-outs, blind units, and so on. You can also look out for trays and other organizers for your drawers.
#6: Well-ventilated wicker baskets for fruits and vegetables
img source: pinterest
A must-have in Indian Kitchens
While most of us might not understand the importance of wicker baskets, we must tell you that these are godsends. To keep your veggies fresh and handy, well-ventilated wicker baskets are a must. They can easily slide in and out do not take up a lot of space. Your future kitchen design will be better organized with this addition.
#7: Wine racks and wine fridges
img source: Cole reports
Get the house party started!
Okay, let's face it. All your favorite party spots are shut and your parties have moved indoors. Therefore, the home bar is going to gain popularity over the next few months. Invest in a good wine rack and mini-fridge to keep the party going. You can place these in your kitchen or just outside on your crockery unit.
Article source: Livspace
Read Also: Vastu for Bedroom: Tips to increase positive energy in home