The Department of Urban and Rural Planning (DTCP) has issued a notice to a private developer to build 60 apartments and 40 stores in Sector 5 without obtaining permission from the authorities and without approving the plan.
Many of these apartments and stores have sold out, in Dayanand Colony, and seven families have already moved into their homes. When the DTCP team visited the site on Wednesday, construction on a section of the project was underway. DTCP has now sent a notification to the developer, requesting a response within seven days. The urban planner (execution) R.S. Batth said they received a complaint alleging that an unauthorized colony was built after the land was divided into small parcels.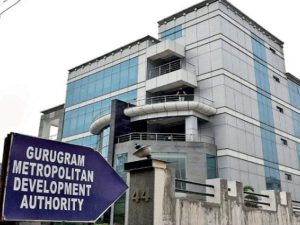 "The site was inspected on Wednesday and the allegations turned out to be true. The land on which the project is being developed is on the Gurgaon Village property," said Batth. Taun Dua, the complainant, insisted that the buildings should be razed immediately.
"The project has violated all the norms and has caused a huge loss to the government in terms of revenue," he added. This is the third building violation of its kind to stand out in recent months. Two relatives of the former Gurgaon MLA, Umesh Aggarwal, and the husband of the current MCG consultant, Sheetal Bagri, were among the 22 people who were issued DTCP offer notices for allegedly building 130 apartments on Sai Lane in violation of the Haryana Development and Regulation of Urban Areas Act.
Prior to this, 150 apartments had been built without any approval in the Ansal Esencia Extension in Sector 67. Former councilor Gaje Singh Kablana, husband of Senior Deputy Mayor Pramila Kablana, and 20 other people were booked for violation.
Also read- Famous and Expensive House in India 2021