Amrapali Group news: Court bench said it was the court that took on the task of completing projects that excluded any possibility of misuse of funds. The  Supreme Court order is expected to bring relief to 46,000 home buyers.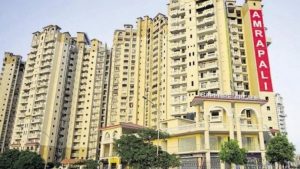 New Delhi: As NBCC faces a cash crisis in completing construction of unfinished housing projects in Amrapali Group, the Supreme Court on Wednesday asked SBI Capital, which manages the real estate stress fund at the centre, to ease the rules and free up money for the project.
The bench said it was the court that took on the task of completing projects that excluded any possibility of misuse of funds. He said that the guidelines could be mitigated in the Amrapali case because the construction work was "sponsored and supervised by the court".
The court's instructions will provide relief to 46,000 home buyers who have invested in various Amrapali projects more than a decade ago. Most of them were not given the possession of the apartments as the projects were not completed due to the alleged transfer of funds by the real estate company and its managers.
Additional Attorney General Vikramajit Banerjee, who represented the centre, told court judges Arun Mishra and U U Lalit that Finance Ministry officials discussed the issue with SBI Capital and that the bank should make a decision on releasing the funds in accordance with the guidelines. However, the bank stressed that the guidelines do not need to strictly adhere to the Amrapali Group case as there was no private builder involved and the construction should be carried out by the state-owned NBCC (India) Limited. At the last date of the hearing, the court requested the Center to consider releasing Rs. 500 crore for the projects.
Banerjee said that banks can free up money because of homebuyers, as they were given the flexibility to restructure mortgage loans. Referring to the banks that declare mortgage loans as NPA, the Assistant Secretary-General said that the banks have the freedom to dispose of the funds because the NPA is not obligated.
The prominent lawyer, Harish Salve, who represented SBI Capital, assured the court that he would "do everything possible to convince" the bank to release the amount and asked the court not to agree to any order. Salve said he would take the instructions and notify the court of the next hearing on June 3.  "Money can be released in instalments," the bench said. The estimated cost of building all Amrapali Group's housing projects is Rs 8500 crore.
Article source: economictimes.indiatimes
image source: Business Today
Also Read: New Residential Project in Delhi | The Amaryllis Price, Photos, Floor Plans