5 Top Posh Area in Greater Noida to live in 2022
Greater Noida is a prime location in Uttar Pradesh with luxury hotels, venues, offices and much more. It is a planned city under the Gautam Buddh Nagar district of Uttar Pradesh. Under the UP Industrial Zone Development Act of 1976, Greater Noida was established as an extension of Noida in 1991. Greater Noida is located at the crossroads of designated western and eastern shipping lanes and is administered by the Greater Noida Industrial Development Authority.
Greater Noida is one of the largest industrial cities in Asia and is considered a model of urbanism. The city is developed taking into account both industrial investment and large residential spaces, with a great distance between the two. This has resulted in the growth of Greater Noida as a highly sought after residential area with many luxury communities offering premium living to residents.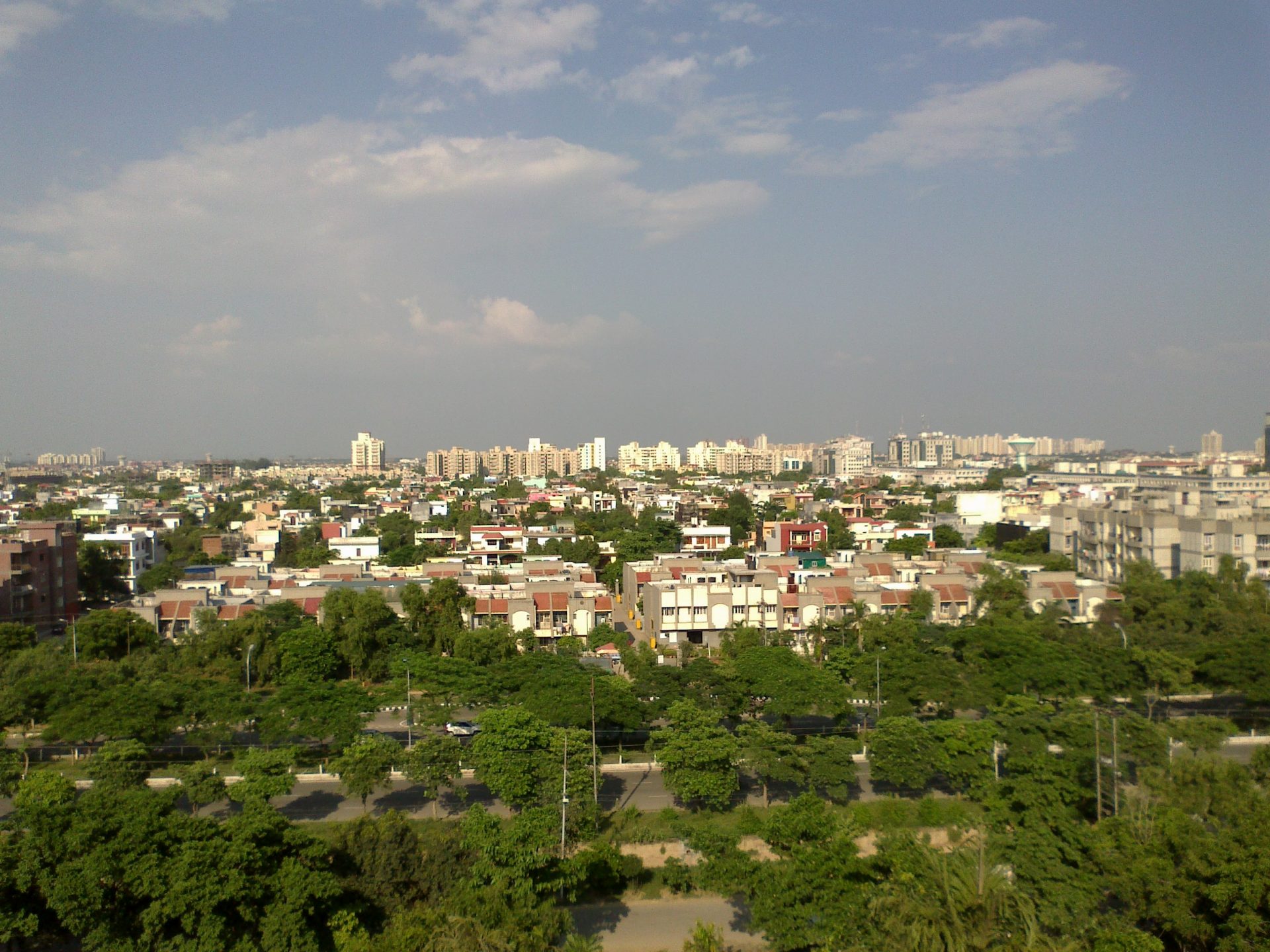 Upcoming Developments in Greater Noida
The Jewar International Airport will appear soon in Noida, which will be the fifth international airport in India.
An prominent metro network surrounds the area and covers a length of 29.7 km through 21 stations.
The region also boasts 18 stadiums in the radius, the highest in all of India.
India's first and the world's fourth-ever, The Night Safari is under development in Noida. It is a 250-acre nocturnal zoological park to attract tourists and offer recreation to its residents.
Home to the Buda International Racing Circuit, it is the only one of its kind in India and hosted the first Noida Formula 1 Grand Prix.
The upcoming Jewar Airport is the largest new airport project in India and is located 20 minutes drive from Greater Noida via Yamuna Expressway. It is expected to be completed in 2024.
Some facts about Greater Noida
In 1991, the total number of villages reported was 101.
After the additions in 1994 and 2006, 293 villages were notified with GNIDA.
The official population of the city is 0.7 million in 2021. However, according to estimates, 1.2 million people reside in Greater Noida.
5 Top Posh Area in Greater Noida
Greater Noida is emerging as a desirable destination for stability and investment among most people. Let's take a look at five luxury communities you can consider in Greater Noida.
Rise Resorts Residence – A Posh Area in Greater Noida
Rise Resorts Residence at Techzone 4, Sector 1 Noida Extension, Greater Noida, is one of the most luxurious area in the satellite city. Spread across more than 100 acres, the city boasts ultra-luxury villas that offer a premium living experience. It offers all types of housing, starting with 3-bhk apartments. It also has townhouses and independent villas with 3 to 7 bedrooms. You can find the exact location here. Possession for this uber posh township is expected by July 2022.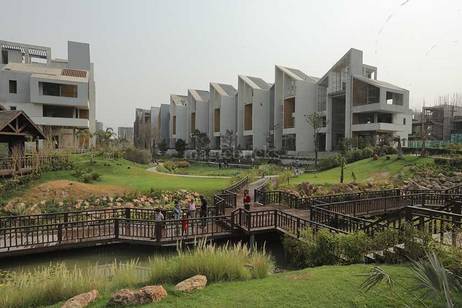 Amenities of Society
Rise Resorts Residences has a personal underground parking system under the villas to ensure a pollution-free environment for residents despite vehicular movement in the community. Residents can reserve many of the services offered within the city, such as chef and butler, gardener, golf cart, spa, sports facilities and many more. The covered area is 72% green and 28% built, and most of the plots are open on 3 sides.
Nearby/Connectivity
Rise Resorts Residences is an hour's drive from Delhi Airport. Services like hospitals, schools, malls and shopping malls are all close to the city. The community is also well-connected by metro via the Sector 76 metro station, which is just a five-minute drive away. The residential place is well connected with NH9, FNG Corridor, Noida Sector 79, DND Bridge and Noida Expressway.
Pricing at Residence Rise Resorts
The city offers various properties such as classic villas, interlocking wooden villas, sports villas, golf villas, leisure golf villas, meditation course villas and Palace Golf. Villa prices start around Rs 1.5 crore and go up to Rs 3.62 crore (3-4 bedrooms for residential villas).
Read More – Top 7 Posh Areas In Delhi – With the Most Expensive Houses
Jaypee Greens – The first Posh Area in Greater Noida
Jaypee Greens in Pari Chowk is another high-rise residential location and part of the Jaypee Greens town in the Noida metropolitan area. It was built in 2001, making it one of the first distinct communities in the city. The city is special in more ways than one as it is located near the Noida-Greater Noida Expressway and offers a superior living experience. Contains 1-5 bedroom apartments and townhomes.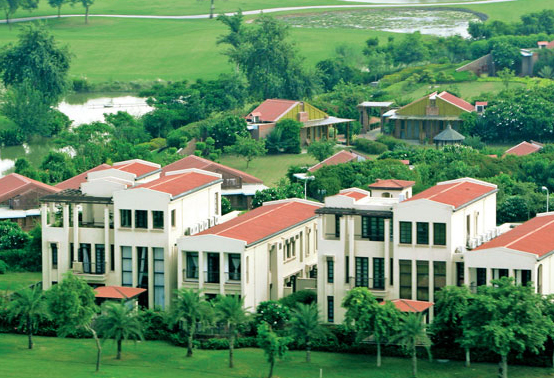 Amenities of Society
From clubs to world-class swimming pools, Jaypee Greens, Pari Chowk, offers all the world-class urban experiences in one place. There are parks, top-notch security, a fitness center, a walking and jogging track, a jogging and biking track, and power backup, among others.
Pricing at Jaypee Greens
There are many towers within the city, such as Star Court, Crescent Court, Sun Court Towers, Earth Court, Sea Court, The Castille, Villas, Jade Apartments, and others. Jaypee Greens, Barry Chowk, Greater Noida, is spread over an area of ​​452 acres. The city offers 1, 2, 3, 4 and 5-bedroom apartments, penthouses and villas, starting at Rs 5,000 per square foot.
Connectivity
In terms of location, there are many international colleges, universities, schools and hospitals near Jaypee Greens, Pari Chowk and Greater Noida. For entertainment, the place is close to shopping centers, such as Crystal Mall, Omaxe Connaught Place, The Grand Venice Mall and more, bars and more. The Jaypee Greens Pari Chowk Metro Station is located near the community's front door. The project is about 5 minutes from the Greater Noida Expressway and 15 minutes from Delhi.
ATS Greens Paradiso: Posh Area in Greater Noida
Another posh area in Greater Noida is ATS Greens Paradiso, developed by ATS Infrastructure Ltd. Located in Sector 4 of CHI, the city has much to offer those seeking an exclusive lifestyle in Greater Noida, with immediate proximity to both Yamuna Expressway as well as Eastern Oceanic Expressway.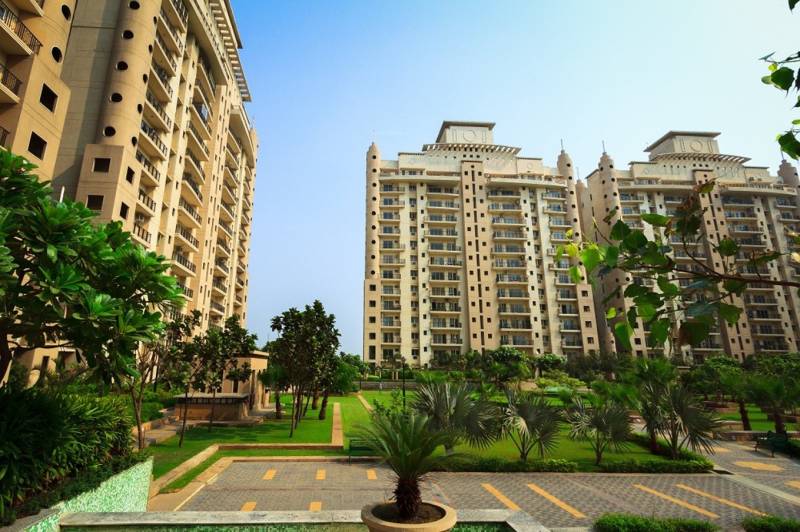 Amenities of Society
ATS Greens Paradiso offers facilities such as a club, gym, swimming pool, intercom facility, water storage, etc. Greater Noida's best schools, universities, hospitals and shopping centers are located close to the city. The project offers 3, 4 and 6 bedroom apartment spaces with high quality bathrooms and furnishings.
ATS Greens Paradiso Prices
The project, which was built in 2008, spans more than 32 acres and features just 1,031 luxury apartments, a sign of a low-density residential community. ATS Greens Paradiso apartments consist of 3 bedroom, 4 bedroom, penthouses in the following sizes: 1700 sq ft, 1850 sq ft, 2150 sqft, 2340 sq ft, 3000 sq ft. The per Sq Ft price in the society starts at about Rs 4,700. 
Connectivity
ATS Greens Paradiso, Chi Sector 4, is located near the Yamuna Expressway and the Formula 1 race track. The nearby metro station, Knowledge Park II, is a 10-minute drive from the area. It also enjoys a connection to the Sector 34 bus station.
Omaxe Palm Greens, a Posh Area of Greater Noida
Omaxe Palm Greens, in the Mu sector, offers one of the most exclusive Posh Area in Noida. The society is well known for its planning and infrastructure complemented by world class standard interiors. The project contains 23 towers, each tower has 14 floors. Available apartments include 2 to 4 bedrooms and more. You can find the exact location here.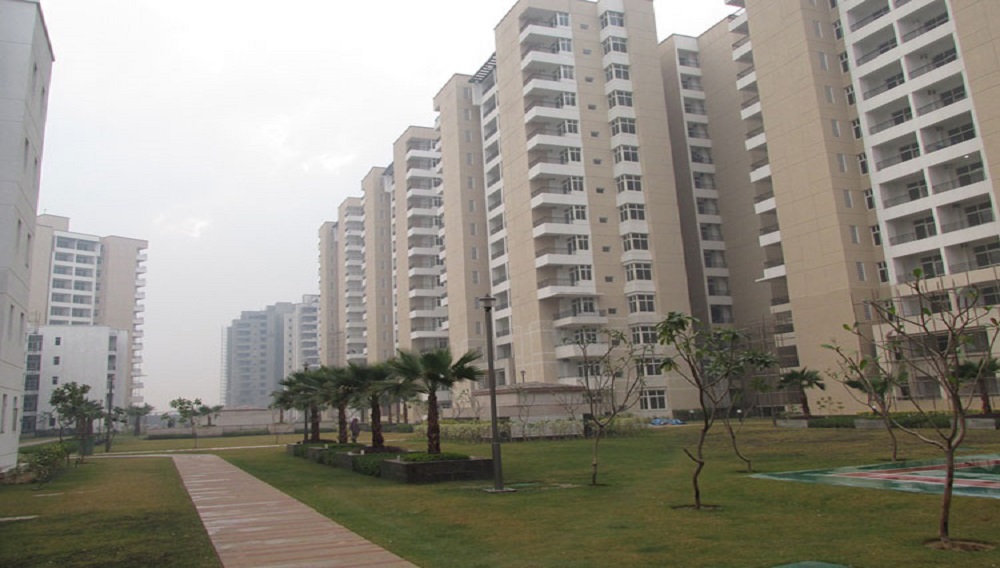 Amenities in society
Omaxe Palm Greens offers amenities such as cleanliness, greenery, gym, indoor games, 24/7 security, proper ventilation, landscaped gardens, larger rooms, spacious design towers, etc.
Pricing at Omaxe Palm Greens
Built in 2014, the town offers apartments and penthouses with 1, 3 and 4 bedrooms. In total, there are 934 apartments built on a 23-acre campus, ensuring there is plenty of room for other amenities. When it comes to prices, apartments start at around Rs 4,350 per square foot.
Connectivity
Omaxe Palm Greens, Mu sector, Greater Noida is well connected with Alpha Commercial Belt, Bari Chowk, Yamuna Expressway. There is also a nearby bus stop ensuring a last mile connection to the community. It also enjoys extensive connectivity with Delhi and Noida via expressway. Depot station is a subway station 5 minutes walk away.
Paramount Golf Forest: A Posh Area in Greater Noida
Paramount Golf Foreste is one of the luxury communities on the Zeta strip of Greater Noida, offering a tranquil environment. Spread over 90 acres, Paramount Golfforest offers villas and apartments with modern architecture. The landscape was designed by world-renowned Surbana International of Singapore. You can find the exact location here.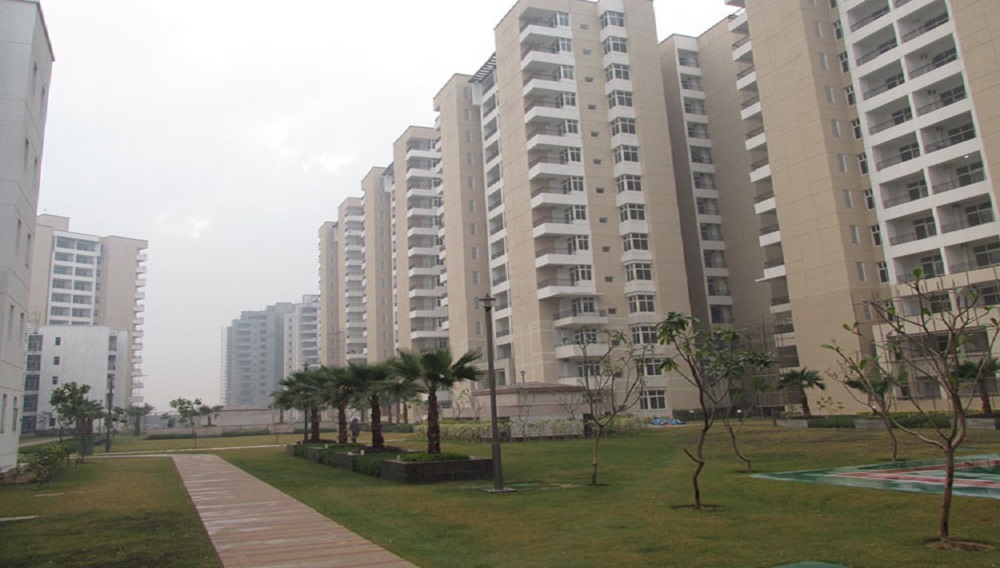 Amenities of Society
Facilities like a wave pool, amusement ride, lake within the community, jogging trail with gazebo, surrounding greenery, and a huge water softening and treatment plant make Paramount Golf Foreste one of the most social places luxury of the satellite city. It has 1-2 bedrooms and independent villas.
Pricing at Paramount Golf Forest
There are 1, 2, 3, 4 bedroom penthouses and villas within the complex. The price per square foot of Paramount Gulfforest, Zeta Sector, Greater Noida starts at around Rs 8,200, which is among the most expensive in the city. Apartments in the area start from 1 crore.
Connectivity
There are many schools, universities, hospitals, shopping malls and cinemas in the vicinity, including INOX Cinema, Sonic world mall, etc. The Aqua Metro Line Depot Station is a five-minute drive from the area, while Delhi Airport is an hour's drive away.
Final words on Posh Areas in Greater Noida
Everyone wants to live in a luxurious area, and Greater Noida offers many at attractive prices. Away from the hustle and bustle of metropolitan cities, you can enjoy top-notch facilities in the best luxury areas of Greater Noida. Most of the communities are located in easily accessible places and schools, hospitals and colleges are in their vicinity. So, if you are planning to buy a luxury villa or apartment in Greater Noida, then it is time to start your search, starting with our list of the top 5 luxury communities in Greater Noida.
Also Read – Top 10 Areas To Live In Delhi For Every Budget – Aquireacres