---
15 Modern Indian Style Pooja Room Designs
From the wall colours to the idol's direction, pooja rooms should have an interior that helps us peacefully engage with the Almighty. Dive into these divine pooja room designs to sparkle up the most sacred space of your abode.
A pooja room is the heart of a home that sets the aura right for positivity, peace, and prosperity. This place is the cynosure of harmony where we love to simply sit back, meditate and indulge in the spiritual feeling. Therefore, it is essential to create a heavenly milieu within this space that welcomes solitude, divinity, and elegance.
While we go through an array of luxury interior pictures on Instagram or decor magazines to style up each corner of our homes, the pooja room should not be overlooked. Several factors play a major role in designing this holy spot such as the size of the room, Vastu direction, location of the temple, and more.
Modern Indian style pooja room designs are the most searched on google these days since most of the population in India resides in apartments. Many of those living in urban cities struggle to design a pooja area due to the lack of space and cannot afford to have a separate space for this place. However, this doesn't mean you cannot have this crucial place in your home. You can always find a corner to design your pooja room - be it on the top of cabinets or installing a multi-tiered pooja unit.
If you are planning to style this pristine space of your house, we have got you covered. Read further to learn about some of the best pooja room designs to add to the beauty of your home.
Pooja Room Design 1 - The Wood Haven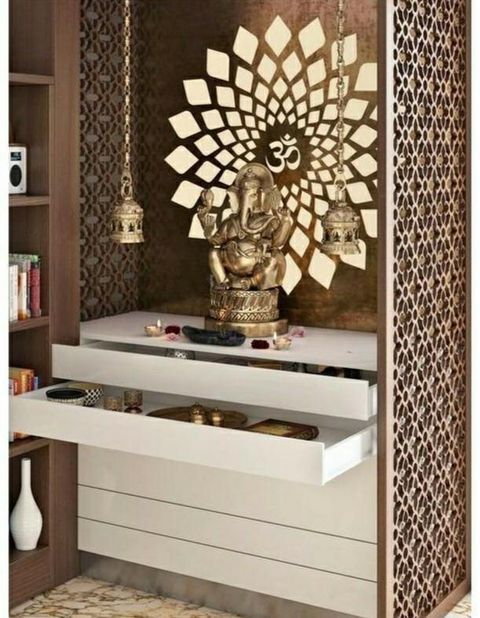 (Source: Pinterest)
Wood lends an instant dose of elegance and peace to home decor. This decorative carved wood wall backdrop looks impeccably stylish and modern. Ideal for living room or drawing room spaces, this wooden mandir area with wood screening creates an impression of a separate room in this living space. The white drawers complement this wooden temple design.
Pooja Room Design 2 - The Stone Game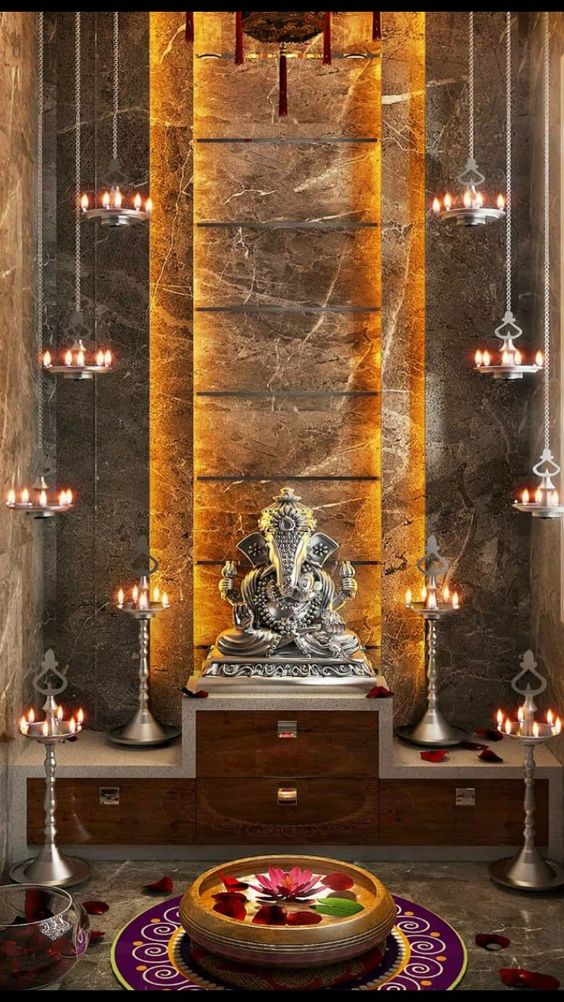 (Source: Pinterest)
Stoned walls are meant to inject calm and soothing vibes into home decor. This Pooja room design with an excellent stone-cladded backdrop and wooden drawers looks ultra-luxurious. The classic lights and hanging tea light holders infuse a hint of glam into this sober temple design.
Pooja Room Design 3 - The White Delight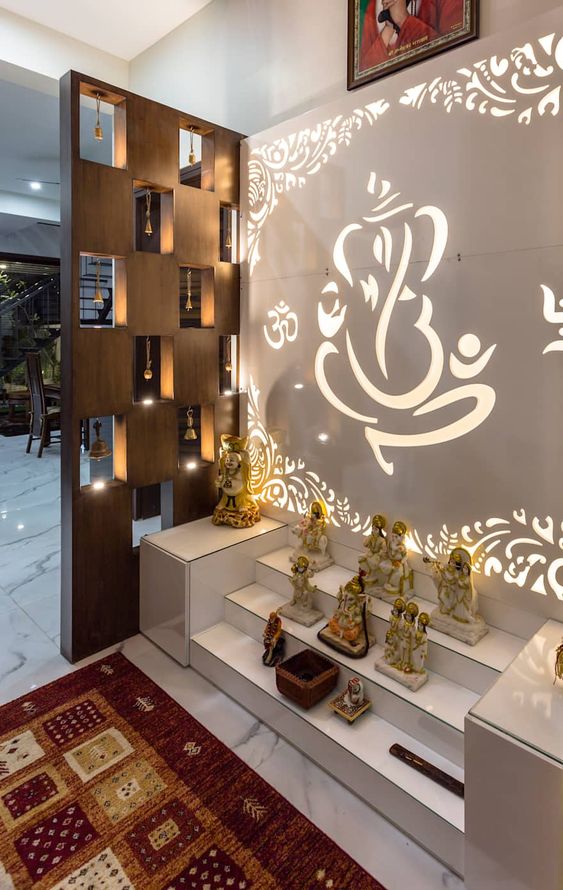 (Source: Pinterest)
You can never go wrong with the hue "white" while decorating your temple. Choose to design a white backdrop in a glossy finish and intricate design while setting the temple in your living room. Design a brown wooden partition wall to give your pooja area a feel of a separate room and throw some colour in this subtle setting.
Pooja Room Design 4 - Display a Neutral Palette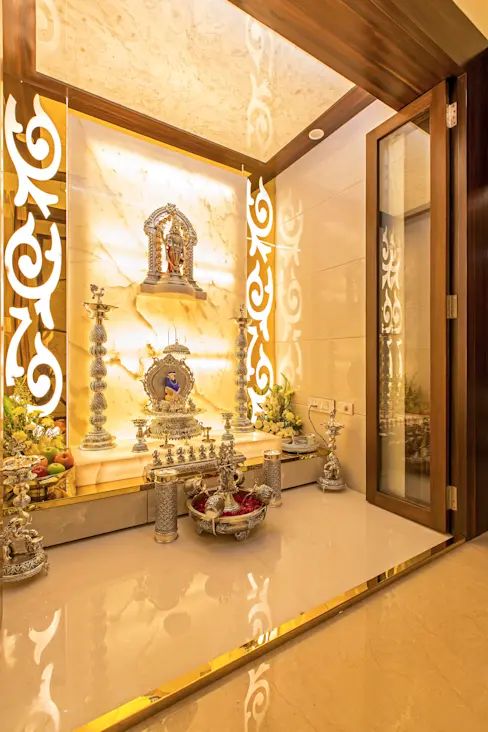 (Source: Pinterest)
A pooja room looks elegant and soothing with neutral shades. Think exquisite with wood and whites. This temple setting with a cream backdrop invites calm and soothing vibes and looks ultra-luxurious. The intricate borders and silver idols add to the divinity of this place.
Pooja Room Design 5 - A Flair of Subtle Shades
(Source: Pinterest)
Go unique with your temple design with this Zen and botanical setting. Soft hues undeniably bring in cheerful and peaceful vibes in Indian style pooja room designs. Combine whites with the installation of a glass backdrop and doors and hang a classy chandelier to create a divine aura.
Read More - Mandir for home: 7 best Temple designs for your living room
Pooja Room Design 6 - Work with Playful Prints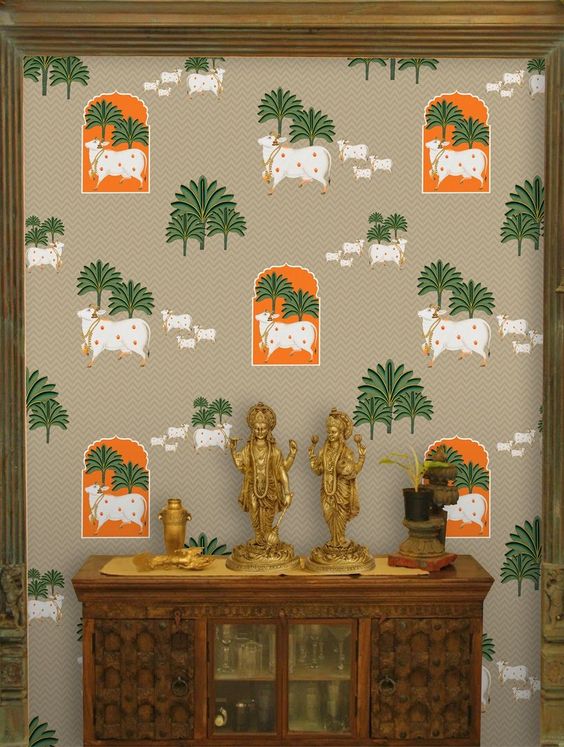 (Source: Pinterest)
You can always infuse a traditional twist into modern home decor. This contemporary wooden temple corner can look all the more inviting and cheerful with a colourful, printed wallpaper in the background. Work with a spiritual print to display on the wall for an added sense of divinity.
Pooja Room Design 7 - Bring Your Cabinetry Into Use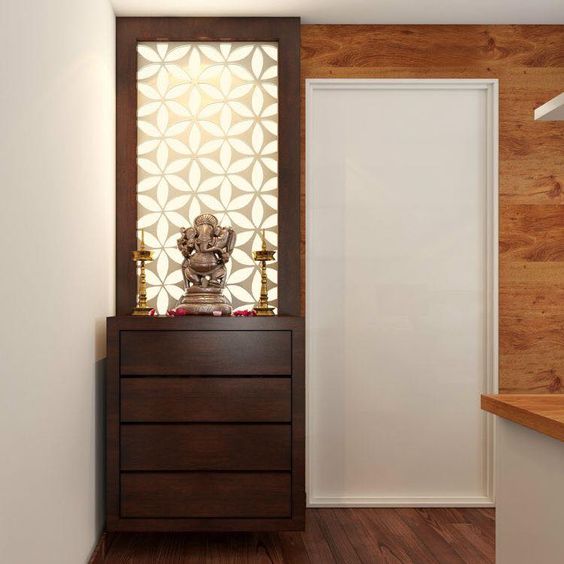 (Source: Pinterest)
It is not necessary to go extraordinary for Indian style pooja room designs. You can work with simple wooden cabinets in rustic finish to style up your temple area. Place some idols over the top and design a clear glass backdrop to complete the look. The wooden flooring lends an elegant twist to this design.
Pooja Room Design 8 - Infuse Some Monochrome Magic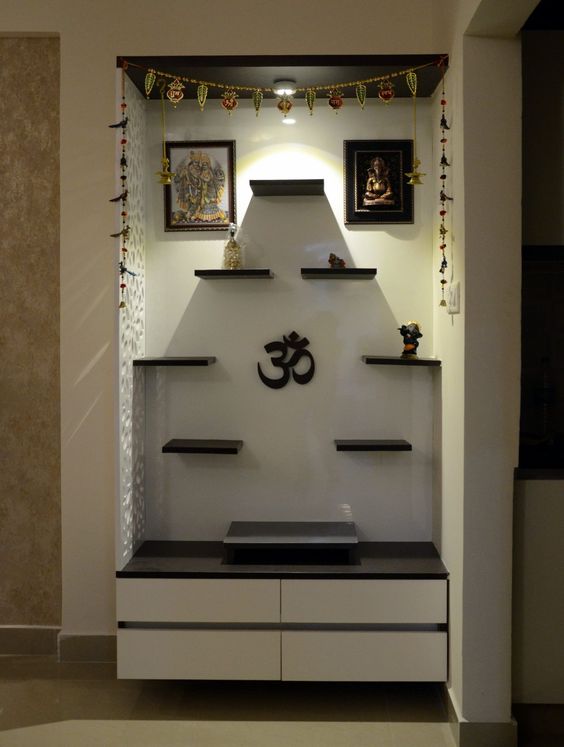 (Source: Pinterest)
The monochrome theme is quite popular in modern home decor and majorly in Indian style pooja room designs. This temple corner with a white base colour is certain to fill the aura with positive vibes. The black top and shelves add a stylish twist to this sober decor whereas the divine wall hanging idols imbue classic vibes within the space.
Pooja Room Design 9 - Brighten Up the Space with a Vibrant Backdrop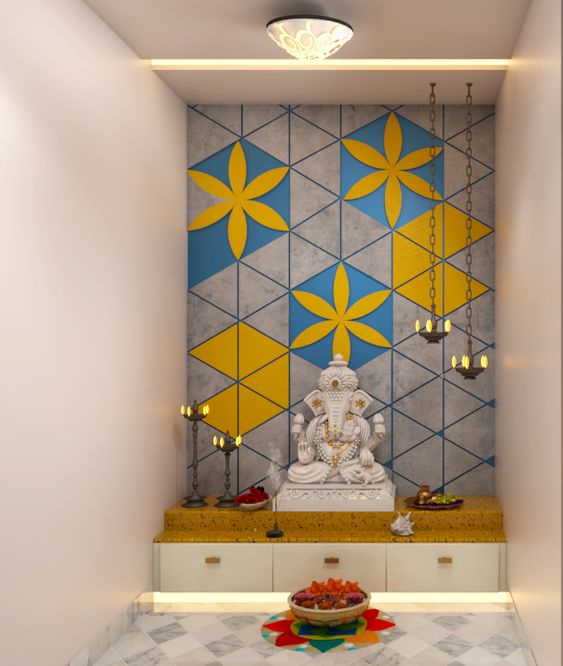 (Source: Pinterest)
Create an ideal blend of modern and traditional in your prayer room with the inclusion of bright colours. The stoned wall backdrop with colourful art redefines the space with a cheerful aura. The antique hanging tea light holders not just lighten up the pooja room designs but also imbue a rich spiritual vibe.
Pooja Room Design 10 - Get Creative with Intricate Borders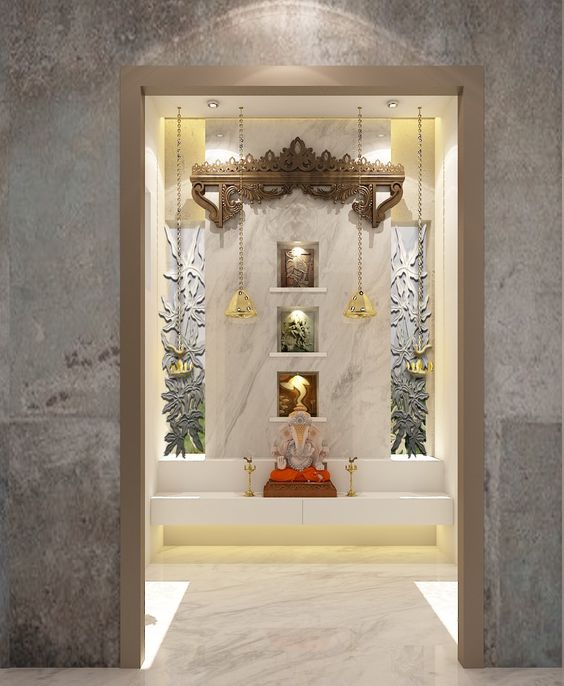 (Source: Pinterest)
Stoned walls and intricate borders have found a way into Indian style pooja room designs. This temple area with white finishes and brown intricate borders invites a right amalgamation of luxury and glitz. The subtle idols and the gold-finished hanging bells make an immaculate setting to welcome good fortune.
Pooja Room Design 11 - Where Hangings Do the Talking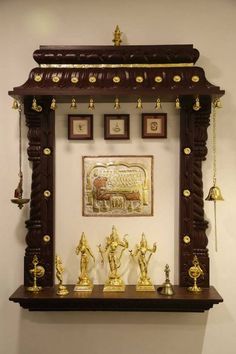 (Source: Pinterest)
The lack of space should not stop you from designing a beautiful temple in your abode. This wooden pooja mandap design with intricate borders lends a traditional twist to your modern decor. The mandap is styled with ample hanging bells, stunning golden idols, and classic wall art.
Pooja Room Design 12 - Welcome Sunshine with Yellow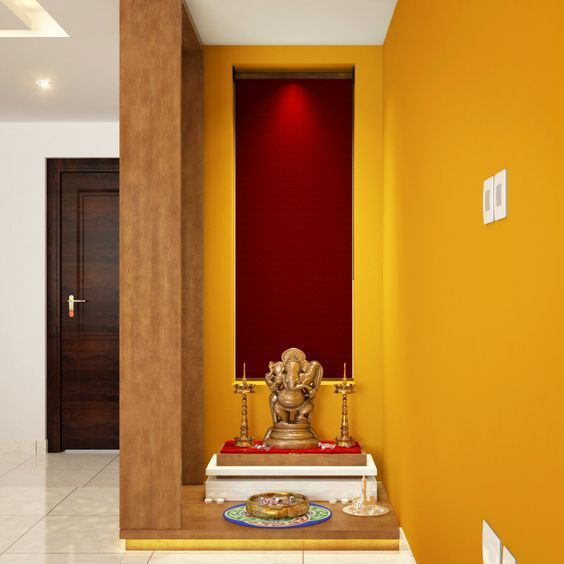 (Source: Pinterest)
Neutrals might be the most preferred choice for pooja room designs, however, bright colours add a tinge of cheerfulness to this spiritual corner. The vivid yellow walls with a maroon backdrop in this prayer room is the essence of this entire place. The classic wooden divider wall creates a sense of a separate prayer room in this design.
Pooja Room Design 13 - Invest in a Durable Marble Temple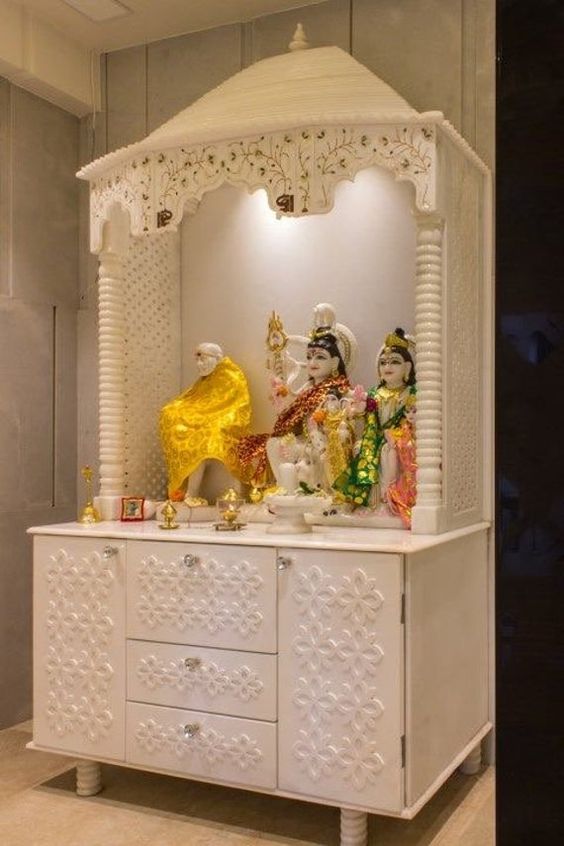 (Source: Pinterest)
Marble temple pooja room designs make an ideal choice for modern and traditional home decors both. Get your hands on one with high polishing and carving work to beautify your prayer corner. These temples come with cabinets and drawers in marble construction only and can also be customised as per your preference.
Pooja Room Design 14 - Create a Simple Yet Sophisticated Spiritual Corner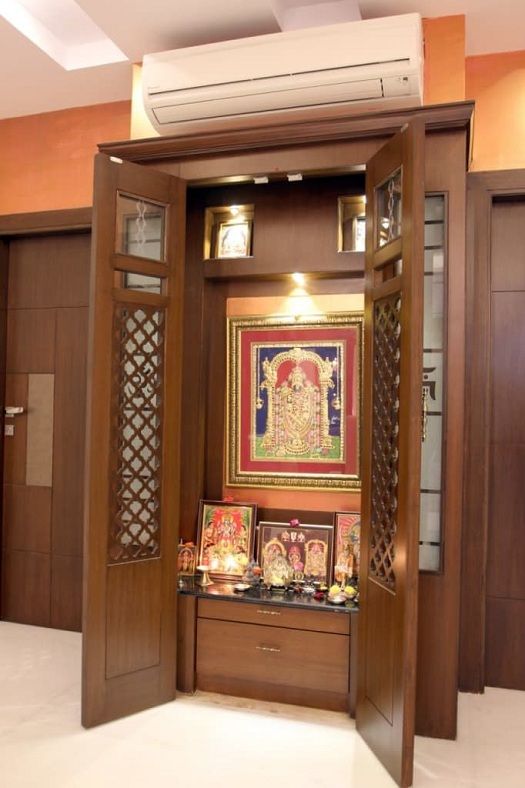 (Source: Pinterest)
If you do not have a designated space for your pooja room, think of designing one in the space between two rooms. The wooden temple design with doors adds a modern twist to the decor while inviting elegance and cosiness. The cabinetry has enough drawers to store all your pooja stuff. In addition, a wooden door is one of the ideal modern pooja room door designs.
Pooja Room Design 15 - Glam It Up with Cut-Out Designs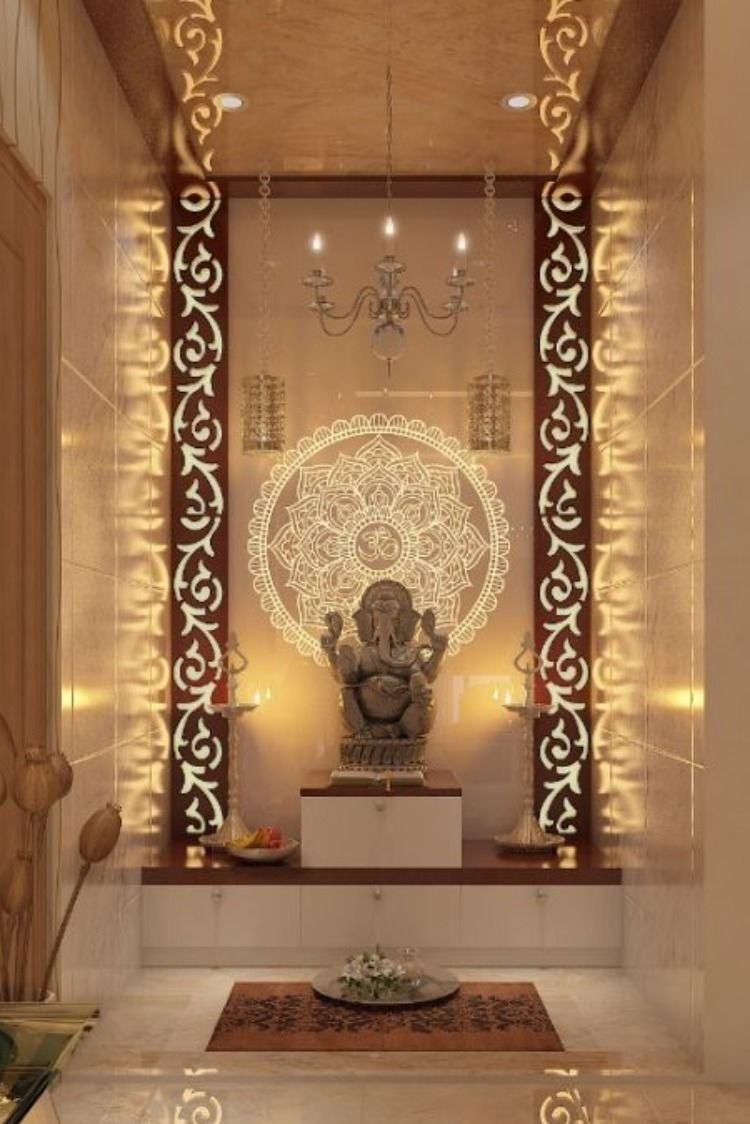 (Source: Pinterest)
Subtlety and Sobriety might be the essence of pooja room designs, however, adding a tinge of glam never harms. Layer the backdrop of your pooja room with wooden cut-out design borders and hang a classic chandelier for that glitzy flair. Titivate the space with ambient lighting for perfect illumination.
The beauty of a pooja room lies in the colours, elements, and patterns incorporated into the decor. These were some of the great modern pooja room designs that are not just elegant but are also warm, welcoming, and serene. Learn below more about how to bring positive energy into your pooja room.
Vastu Tips for Pooja Room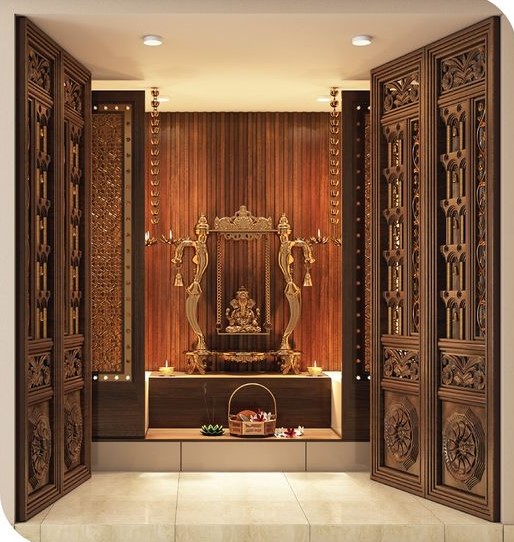 Source: Pinterest
The ideal direction for the placement of a pooja room is northeast.

It should not be placed against a bathroom wall or under a staircase.

While worshipping, your face should be facing the north or the east.

The pooja room should be designed on the ground floor. The basement and upper floors must be avoided.

The idols should not be facing each other or the door.

Copper vessels are considered auspicious for pooja rooms.
Best Materials for Pooja Room Flooring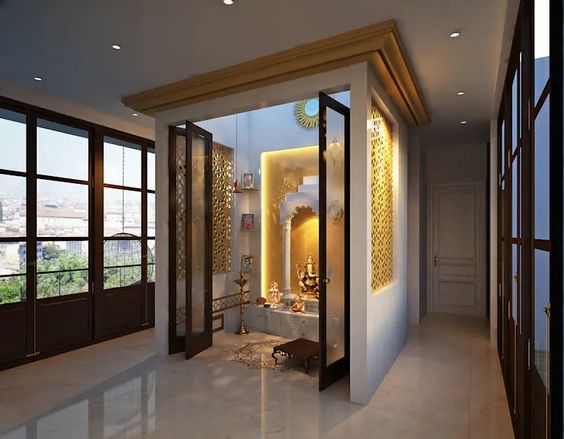 (Source: Pinterest)
1. Wood - Wooden flooring brings in warm and cosy vibes and looks ultra-stylish.
2. Marble - A marble floor looks pure and pristine and is high on durability.
3. Granite - Granite is highly stain-resistant and comes in various designs.
4. Cement Tiles - The coloured cement tiles are ideal for incorporating traditional colours and patterns into pooja rooms.
5. Porcelain and Ceramic Tiles - Porcelain and cement tiles are a stylish and affordable way to add colour to a pooja room design.
6. Vitrified Tiles - Vitrified Tiles make a space appear spacious and are easy to maintain.
Conclusion to Pooja Room Designs
Be it incorporating colours and elements in the pooja room or designing it from scratch, you can reach out to the experts at Magic Bricks that will treat you with perfect ideas for wonderful pooja room designs and help you achieve an excellent pooja room decor as per your preference that reflects luxury, positivity, and tranquillity.
Also Read - 8 Smart Cities in India that are Best for Living