Shahrukh Khan, renowned as the King Khan of Bollywood, holds a special place in the hearts of Hindi film enthusiasts. Each day, a multitude of individuals flock to the gates of Mannat house, his residence in Bandra, establishing the Shahrukh Khan house as an iconic landmark within the vibrant city of Mumbai. From across the globe, ardent followers of Bollywood converge near his home, whether to glimpse the megastar himself or to capture a moment outside his dwelling, encapsulating the essence of this revered luminary.
Shah Ruk Khan, who is frequently described to as the Baadshah of Bollywood, is a renowned actor and producer. He began his acting career in 1989 with the lead part in the well-known TV series Fauji, and the rest, as they say, is history! Shahrukh Khan has won hearts time and time again, from his notable performances early in his career in movies like Darr, Karan Arjun, and Baazigar to the blockbuster smashes that crossed 100 crores like Chennai Express, Jab Tak Hai Jaan, Happy New Year, and more. He is a crucial component of Bollywood and has dominated the big screen for more than three decades.
However, it's not solely Shahrukh Khan's acting prowess that has captured hearts on a global scale. His effortless charm and his role as a devoted husband to Gauri Khan and a nurturing father to Aryan, Suhana, and Abram contribute significantly to his innate charisma. In moments away from film sets and advertising endeavors, Shahrukh Khan finds solace in spending quality time with his family at their exquisite residence, Mannat house, nestled in the heart of Bandra, Mumbai.
Latest News on Shahrukh Khan
Suhana Khan Buys Property in Alibaug Adjacent to Shahrukh Khan's
June 23, 2023: Suhana Khan, the daughter of Shahrukh Khan, has recently acquired a property in the picturesque Alibaug vicinity near Mumbai, a transaction valued at Rs. 12.91 Crore, according to a report by TOI dated June 23, 2023. This expansive property spans across 1.5 acres of land and encompasses three distinct residences. The houses are strategically positioned across varying carpet areas: 1,750 sq ft, 420 sq ft, and 48 sq ft, respectively. As per information from IndexTap, the property's official registration took place on June 1, accompanied by a stamp duty payment of Rs. 77.46 Lakh.
Interestingly, this newly acquired property stands adjacent to a property owned by Shahrukh Khan himself. The transaction occurred with three sisters – Anjali Khote, Rekha Khote, and Priya Khote – selling the property. Situated in the serene Thal village of Alibaug, the sale agreement officially designates the location. Notably, the property now bears the name Déjà Vu Farm Pvt Ltd as registered.
In terms of her professional journey, Suhana Khan is on the cusp of her cinematic debut in the film "The Archies," directed by Zoya Akhtar. Set to portray a beloved comic character, Suhana shares the screen with talents like Khushi Kapoor, Yuvraj Menda, Agastya Nanda, Vedang Raina, Dot, and Mihir Ahuja. The silver screen awaits her in this promising venture.
Shah Rukh Khan Mannat House: Key Facts
Following are the key facts about Shah Rukh Khan house:-
| | |
| --- | --- |
| Shah Rukh Khan house name | Mannat |
| Location of the house | Mannat, Land's End, Bandstand, Bandra (West), Mumbai, Maharashtra – 400050 |
| Area (in sq ft) | 27,000 sq ft |
| Shah Rukh Khan house price | Rs 200 Crores Approx (Source: HT) |
| Total no. of floors | six |
| Architect | Architect Rajiv Parekh renovated in 2016 |
| Interior Designer | Gauri Khan, along with architect-and-designer, Kaif Faqui |
| Shah Rukh Khan net worth | His net worth is approx 750 million dollars |
| Shah Rukh Khan house in other cities | He owns a property in Delhi, Dubai and a farmhouse in Alibaug |
Shahrukh Khan Mannat House Details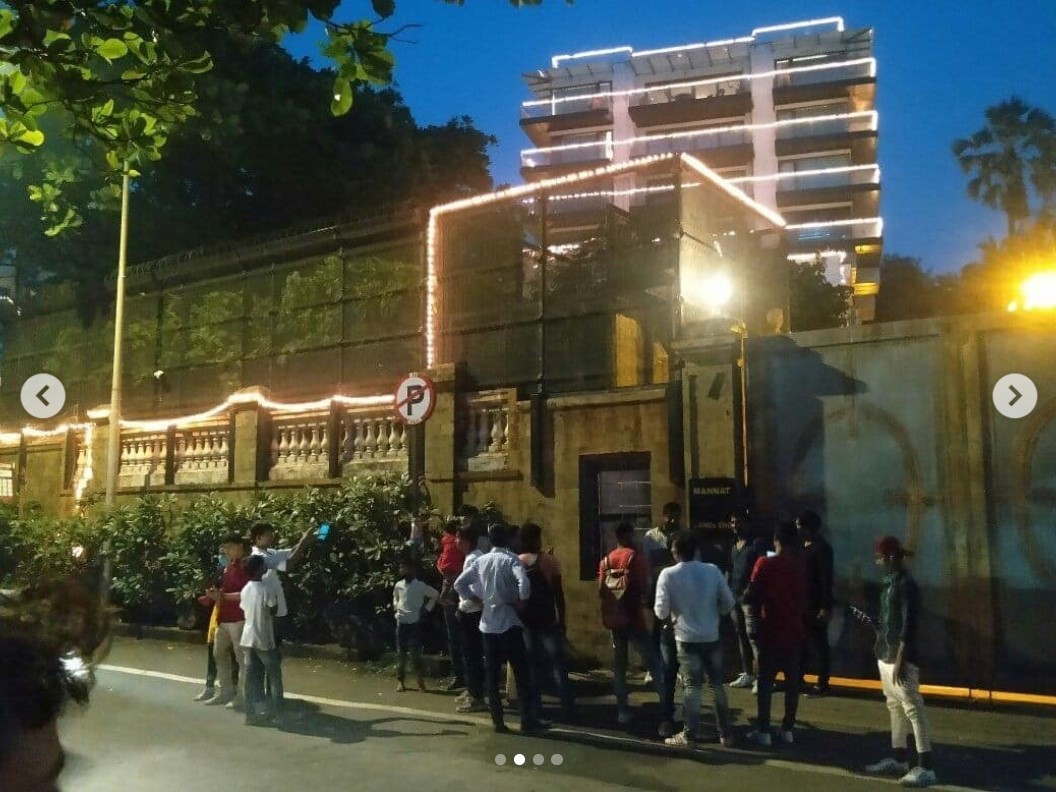 Nestled along the coastline and spanning six opulent stories, the Mannat house owned by Shahrukh Khan harmoniously marries vintage and contemporary elements into an awe-inspiring masterpiece. This luxurious villa boasts an exquisite fusion of architectural styles, designed to captivate the senses. Positioned elegantly by the sea, the Mannat house commands attention with its prime location on Bandstand.
From its meticulously planned architectural layout to its lavish and thoughtfully curated interiors, every facet of this dwelling resonates with regal magnificence. It's a sanctuary that seamlessly blends past and present, offering an experience that befits royalty. The Mannat house stands as a testament to opulence, characterized by its breathtaking interiors adorned with statement art and design elements that exude unparalleled grandeur.
Shahrukh Khan Mannat House Price
Shahrukh Khan Mannat house price is estimated to be around 200 crores.
Shahrukh Khan House Address

The address of the Shahrukh Khan house is as follows:
Mannat, Land's End, Bandstand, Bandra (West), Mumbai, Maharashtra – 400050.
Shahrukh Khan Mannat House Nameplate
Every facet of the Mannat house, including even the nameplate, is infused with an aura of glamour and opulence. Designed by none other than Gauri Khan, the chief interior designer of Mannat, this nameplate radiates beauty and a touch of bling. The estimated cost of this exquisite nameplate is an impressive Rs 25 lakh. What elevates the price tag is the inclusion of a diamond that graces its surface, transforming it into a truly luxurious embellishment. As the emblem of the Shahrukh Khan house, this nameplate stands as a symbol of prestige and extravagance.
A glimpse at the image reveals the Mannat nameplate in all its simplicity and elegance. Its minimalistic design embodies sophistication, much like the interiors of the residence. With a palette of neutral tones, this nameplate mirrors the understated yet lavish essence that defines the Mannat house as a whole.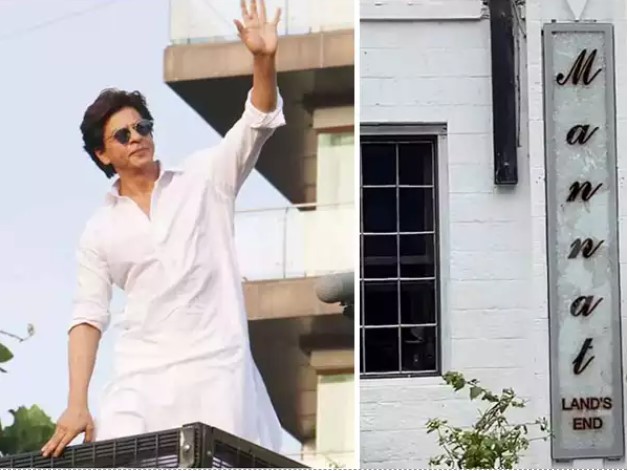 Shahrukh Khan Mannat House – Inside Tour
 Encompassing an expansive expanse exceeding 27,000 square feet, the opulent Mannat house graces the landscape with its presence, stretching across six floors. Within these meticulously planned levels unfold a realm of luxury,
housing
an array of amenities that define indulgence. The mansion comprises five bedrooms, a cutting-edge gymnasium, an alluring swimming pool, a lavish library, Shahrukh's personal workspace, an awe-inspiring terrace, and a private cinema, bringing a world of entertainment to his doorstep.
Every corner of this residence bears the imprint of thoughtful design and a personalized touch, masterfully curated by Gauri Khan. While the interiors remain tantalizingly concealed, providing a glimpse of the interior is an entrancing journey in itself. However, prior to venturing inside, a moment must be dedicated to the entrance of the Mannat house. This entryway sets the tone for the grandeur within, beckoning all to experience the allure and elegance that define the essence of this remarkable abode.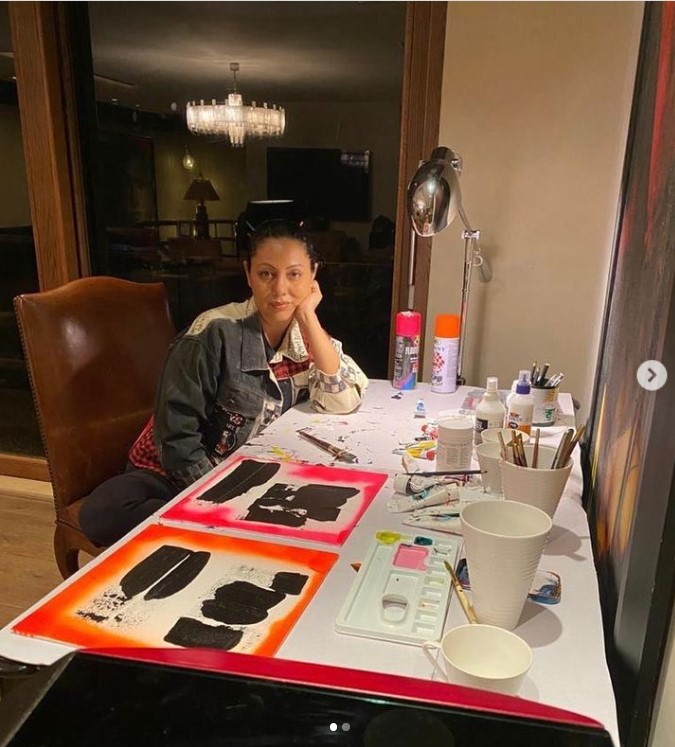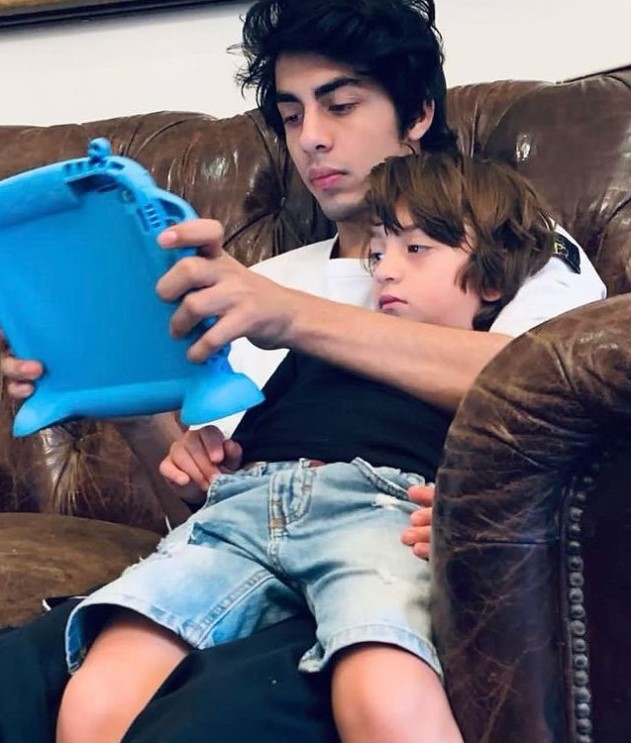 Living Room in Shahrukh Khan Mannat House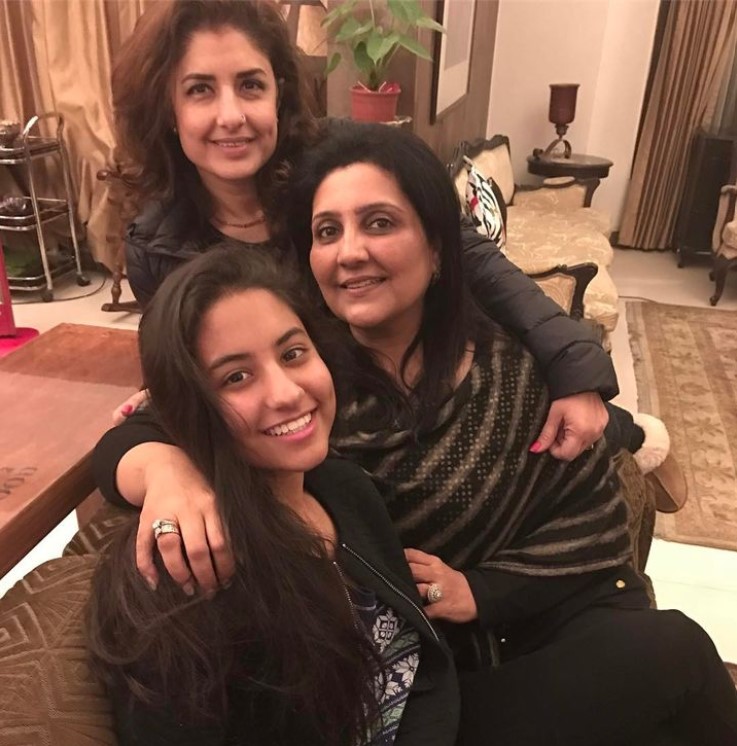 Within the Mannat house, the living room exudes opulence with plush carpets and designer furniture meticulously placed to create a harmonious ensemble. Adorning the walls are striking paintings and art pieces sourced from various corners of the globe, each contributing to the allure of the space. This living area stands as a testament to luxury and sophistication, reflecting the distinctive taste of Shahrukh Khan's family.
A grand wooden staircase, serving as a visual centerpiece, elegantly ascends to the upper floors housing the bedrooms. This carefully crafted architectural element is a testament to the intricate detailing that has gone into every facet of the Mannat house. The painstaking effort invested in designing and completing this residence over a span of nearly a decade truly showcases the dedication and commitment to realizing King Khan's family's unique vision.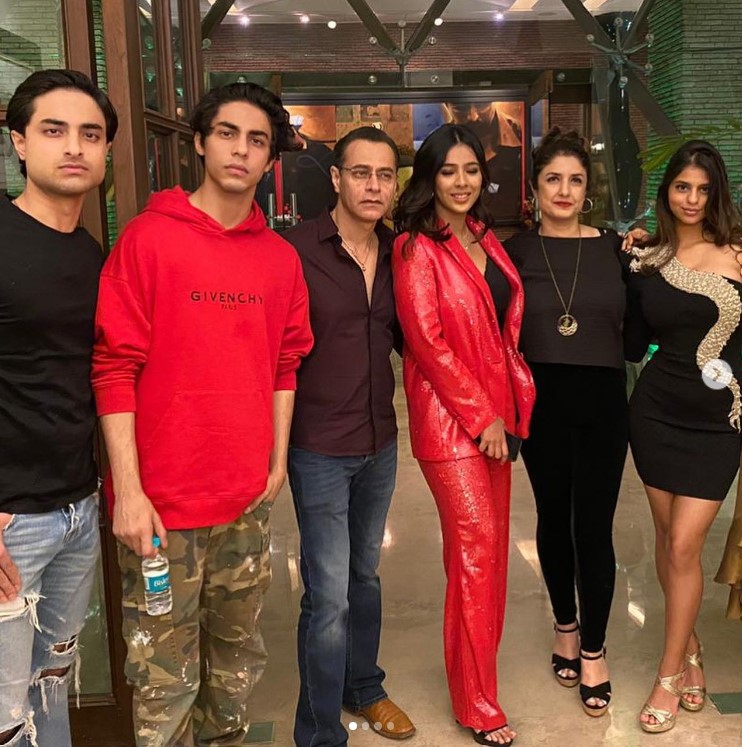 The place is classy, stunning, and imposing with accent walls and stunning artwork of King Khan himself.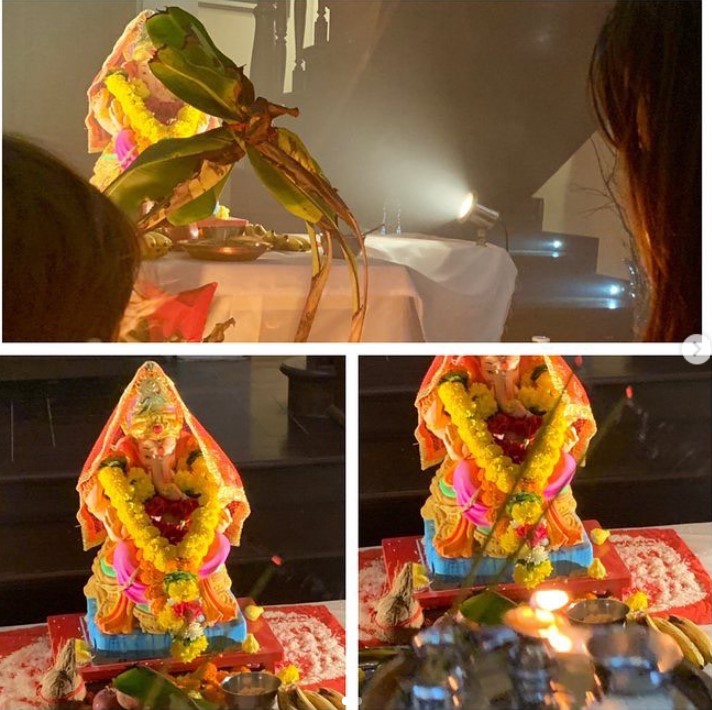 Elevated Elegance: Exploring the Upper Floors of Shahrukh Khan's Mannat House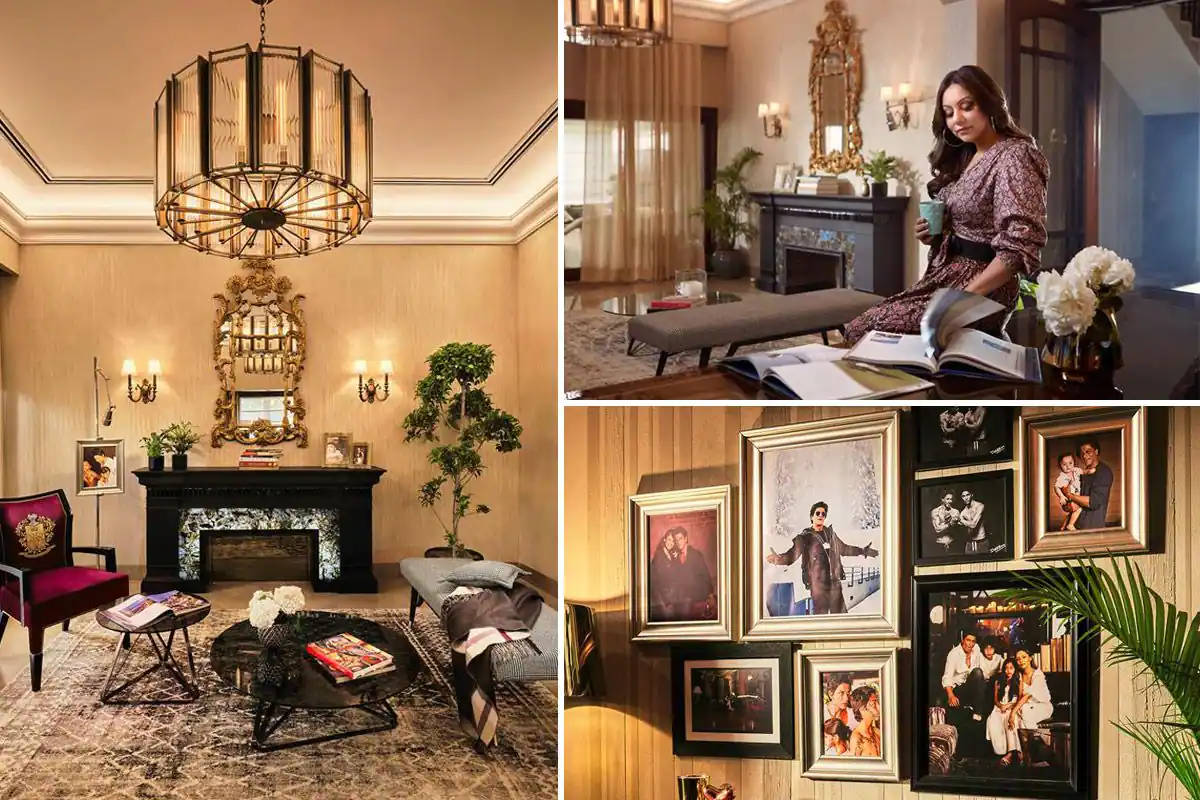 Illuminating the ceiling, LED lights impart a cozy glow, infusing the space with warmth. The grandeur is further accentuated by a generous mirror wall adorning the backdrop of the fireplace, creating an illusion of expansiveness while enhancing the overall aura. This carefully curated corner is a reflection of the overarching commitment to excellence that characterizes every inch of the Mannat house.
Shahrukh Khan's Mannat House Bedrooms
The bedroom redefines luxury, just like the rest of the property, as shown in the image above. The room is exquisite, with marble floors, an expensive chandelier, thick rugs, blinds, and a big bed. The regal fur blanket should not be overlooked!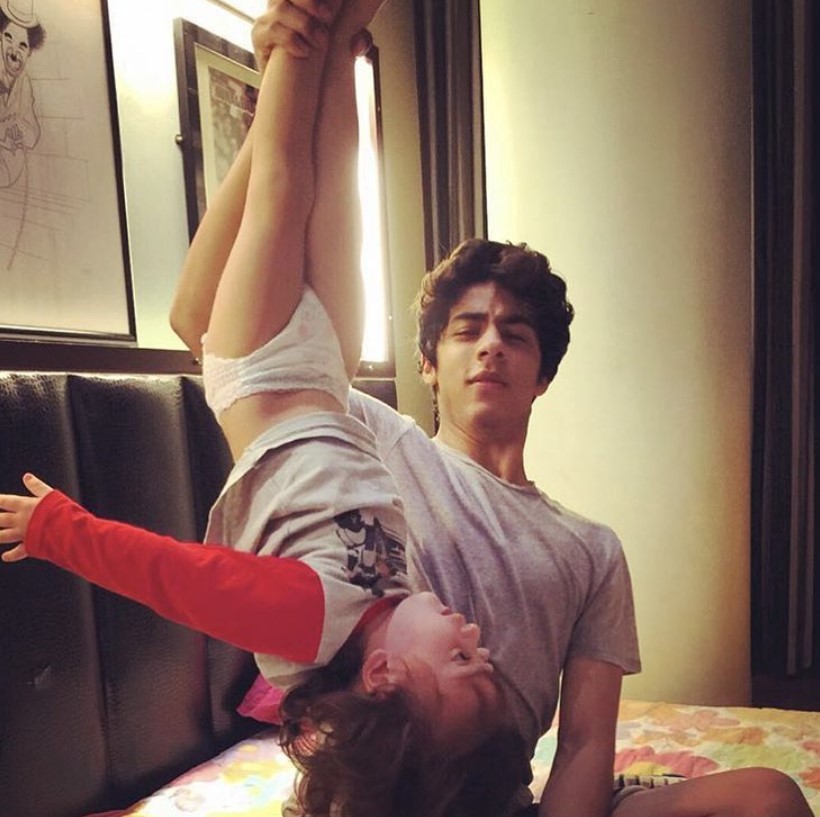 The kids' bedroom is nicely designed as well. A big poster bed with a black headboard sits in the room, which also features contemporary paintings on the walls.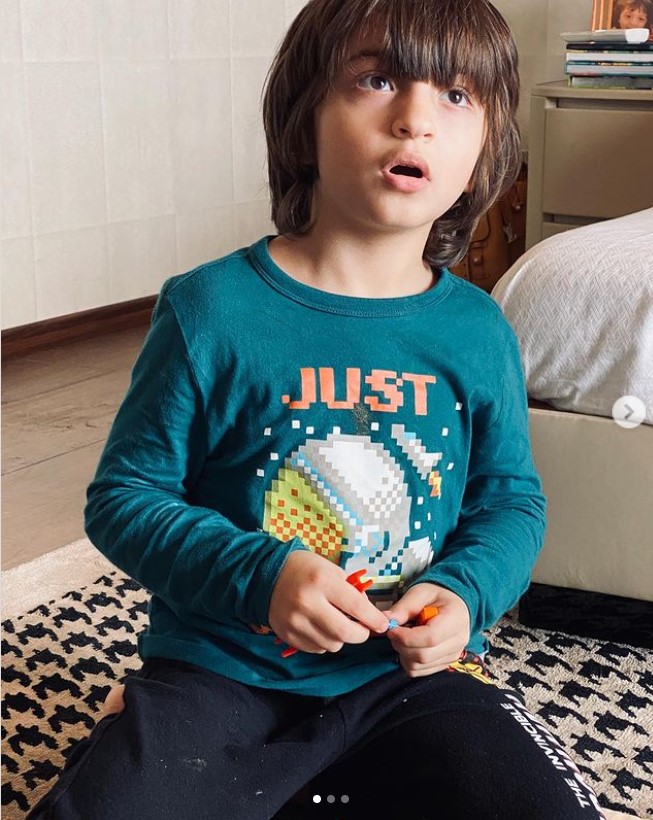 Walk-in-Closet inside Shahrukh Khan House
Elevating the benchmark of style for numerous admirers, Shahrukh and Gauri exhibit their discerning tastes through their personal walk-in closets within the Mannat house. The captivating allure of Gauri's space is beautifully captured in the image above. Glass enclosures elegantly house an impressive collection of designer shoes, mirroring her penchant for fashion.
However, the true showstopper is an exquisite vintage-style dressing table, meticulously adorned with an artistic mirror that commands attention. This corner of opulence epitomizes Gauri's distinctive aesthetic sensibilities, merging vintage charm with modern elegance. Within the confines of the Mannat house, these personalized spaces transcend mere utility to become artistic reflections of the couple's distinct personalities and their unending commitment to refined living.
Office and Study Areas in Shahrukh Khan House
Shahrukh Khan and Gauri Khan are reputed business owners and have offices in Mannat.
Harmonizing seamlessly with the thematic elegance of SRK's office, Gauri's personal workspace boasts wood-paneled walls that exude warmth and sophistication. The visual narrative, as depicted in the image above, paints a picture of functional aesthetics and meticulous organization. The walls come alive with an array of degrees, certificates, and tasteful design elements, weaving a narrative of Gauri's multifaceted accomplishments.
Taking residence on the shelves to the right are an abundance of books, encapsulating her love for knowledge and creativity. This curated space echoes her dedication to her craft, rendering the room not only a workspace but an artistic canvas reflective of her journey and pursuits. Within the realm of the Mannat house, Gauri's office epitomizes the essence of purposeful design, where aesthetics blend seamlessly with functionality, fostering an environment that is both inspiring and productive.
Terrace at Shahrukh Khan Mannat House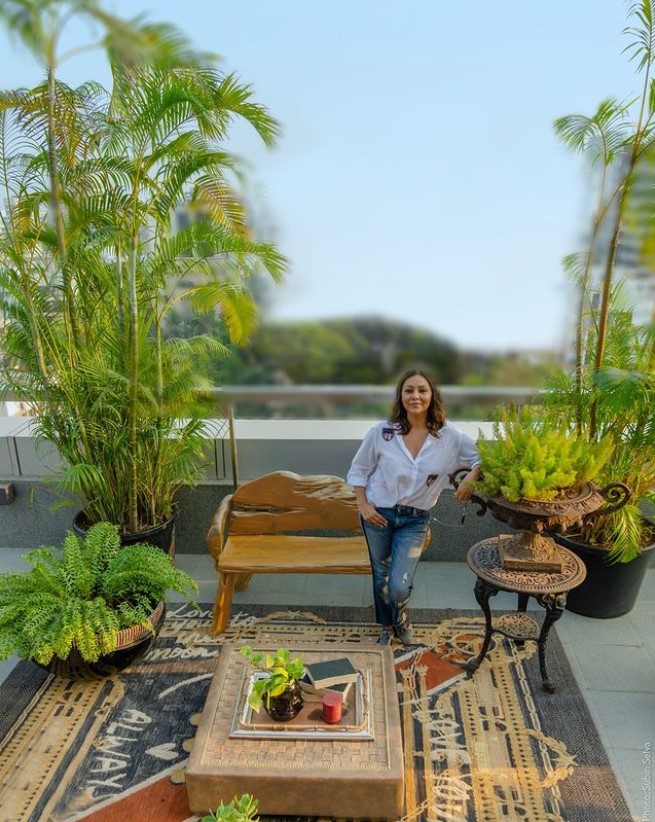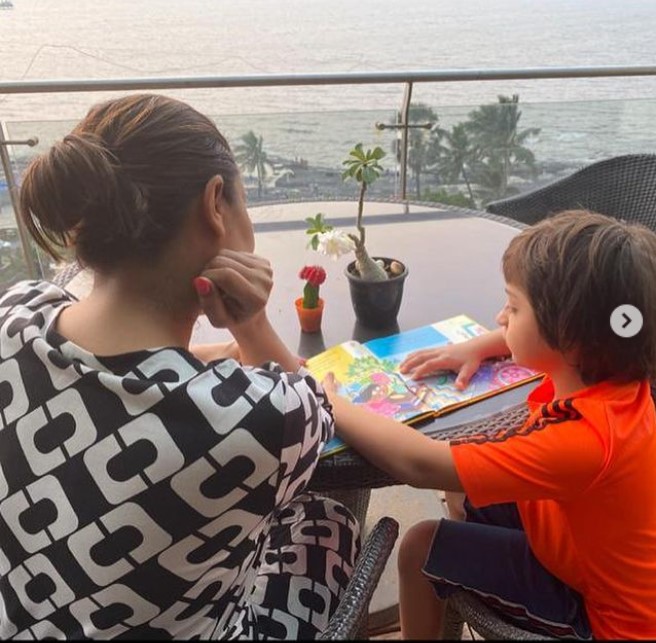 During one of her interviews, Gauri Khan revealed that the terrace holds a special place in her heart as her favorite spot within the Mannat house. This exquisite outdoor space captures her admiration for its breathtaking view of the majestic sea and its meticulously crafted design infused with elegant sophistication.
The terrace is a testament to Gauri's discerning taste, reflecting her unique sense of style. It's not just a place to enjoy the stunning sea breeze and soak in the sunlight, but also an area that encapsulates her artistic vision. With its chic aesthetics and panoramic vistas, the terrace stands as a harmonious blend of nature's beauty and Gauri's impeccable design sensibilities.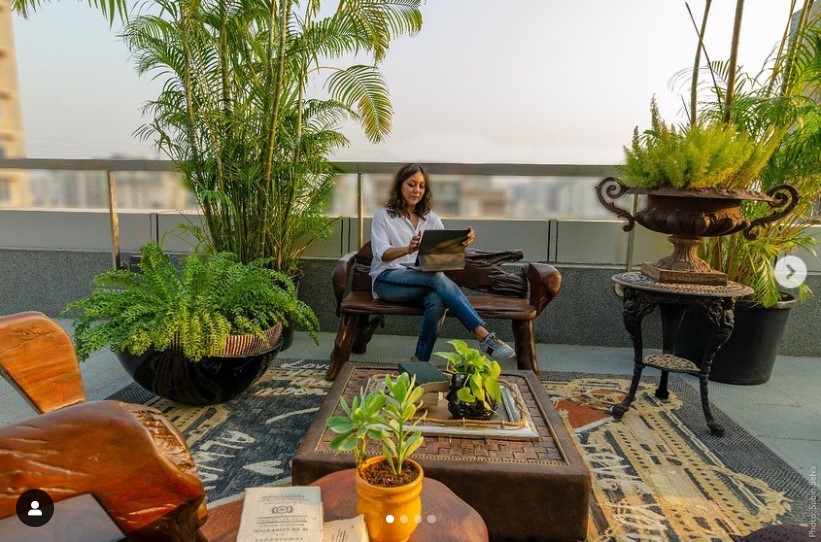 Within the confines of the Mannat house, statement furniture pieces contribute a touch of elegance and sophistication to the surroundings. Among these remarkable elements, the star of the show is undoubtedly the magnificent rug, boasting an intricate and captivating design that captures attention.
Imagine spending an evening in this space, gazing out over the vast expanse of the sea. The ambiance is further enhanced by the presence of towering areca palms and a variety of house plants that envelop the area, creating a sense of tranquility and serenity. This experience is nothing short of pure bliss, a harmonious convergence of nature's beauty and the refined allure of the Mannat house.
Photo Tour of Inside Mannat – the SRK Home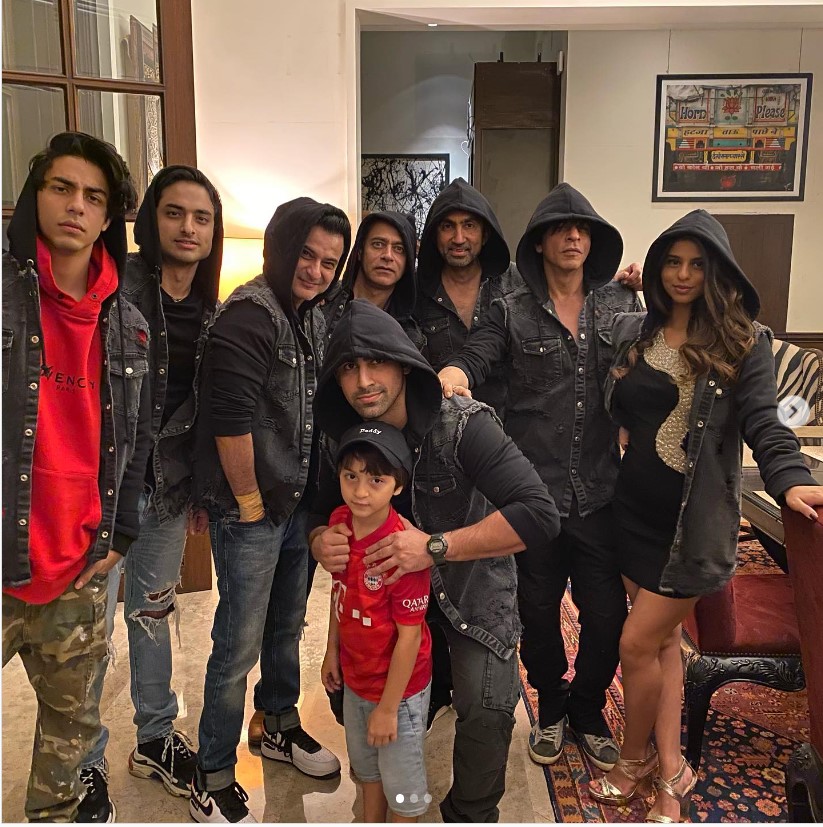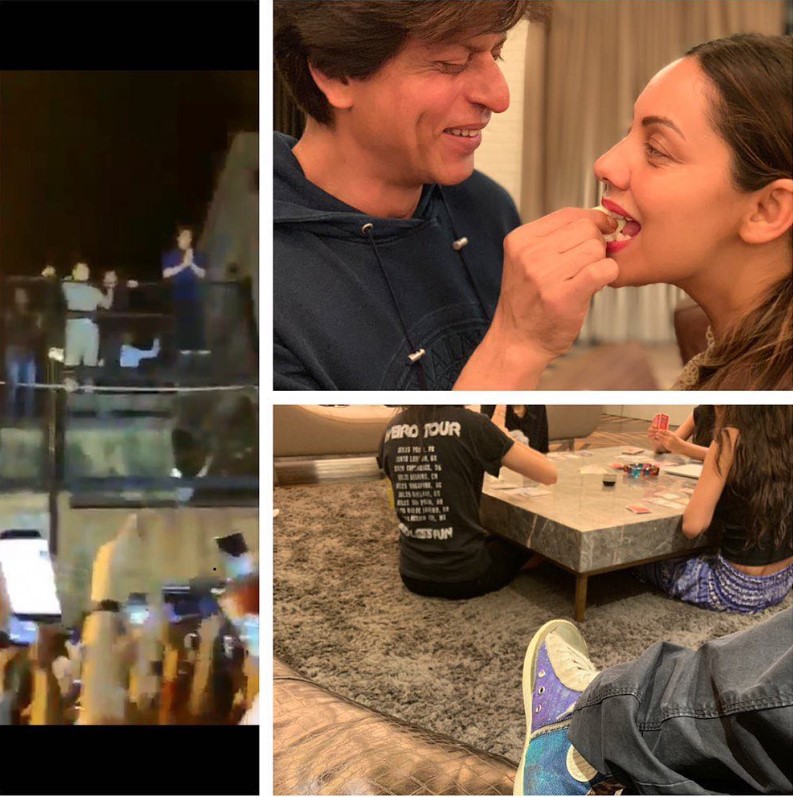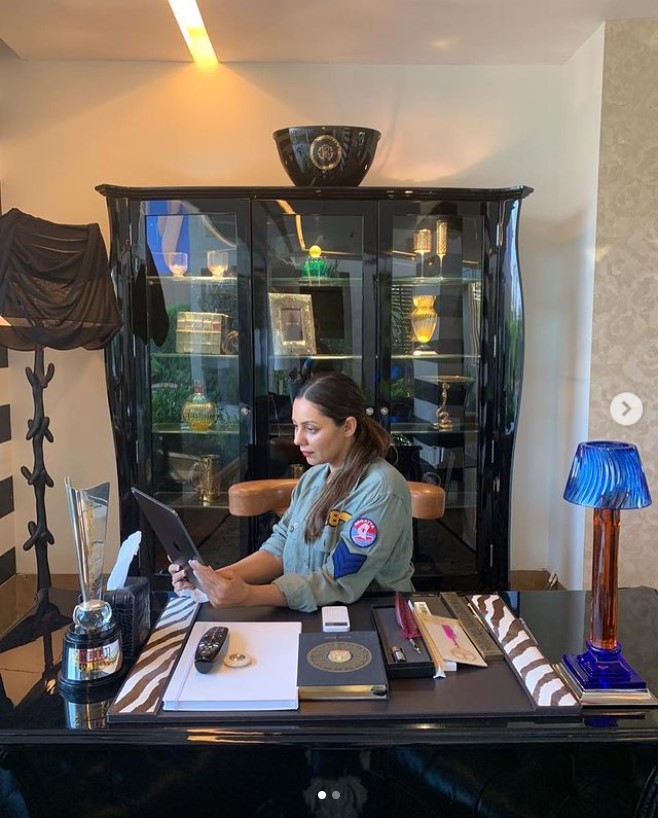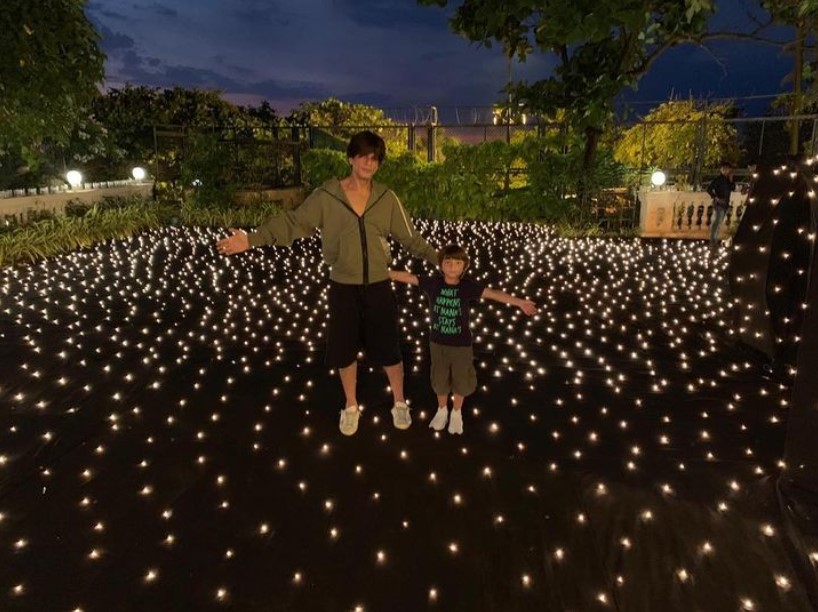 Farmhouse of Shahrukh Khan and Gauri Khan
The King Khan family has more real estate than only the magnificent mansion on Bandstand. Shahrukh Khan also owns a summer farmhouse in Alibaug that is 20,000 square meters, and he frequently goes there with friends and family.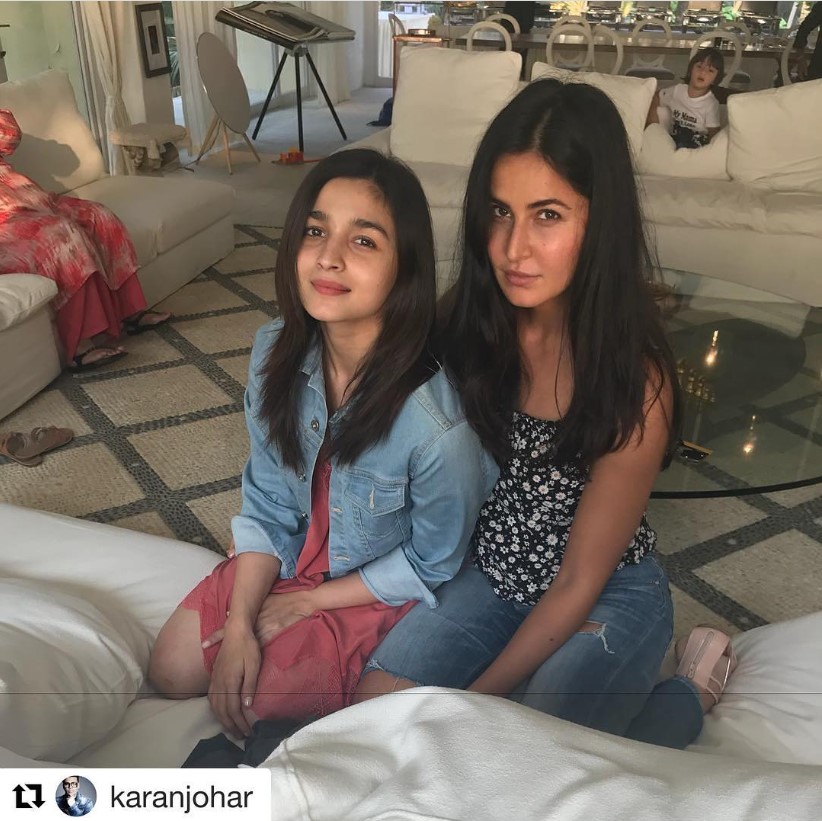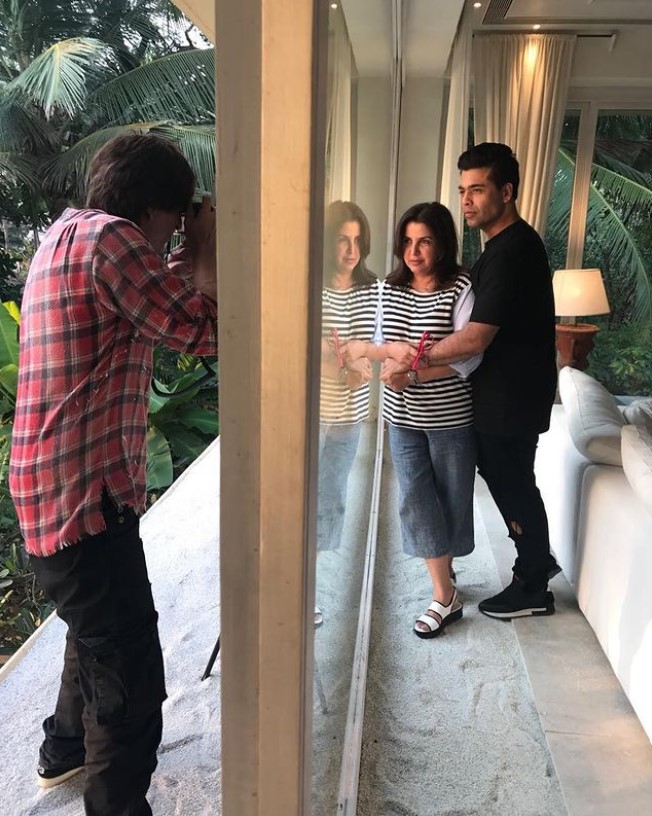 House Tour of Shahrukh Khan's Delhi House
Delhi holds a particular place in the hearts of Shahrukh and Gauri because they both spent their formative years there. They have created their own home on the Airbnb website and possess a lavish yet stylish estate in affluent South Delhi. The location is filled with photos and family heirlooms, including Aryan's first badminton racket, Suhana's first makeup kit, and a ton of old family snapshots. Watch the lovely video below to get a sense of the home.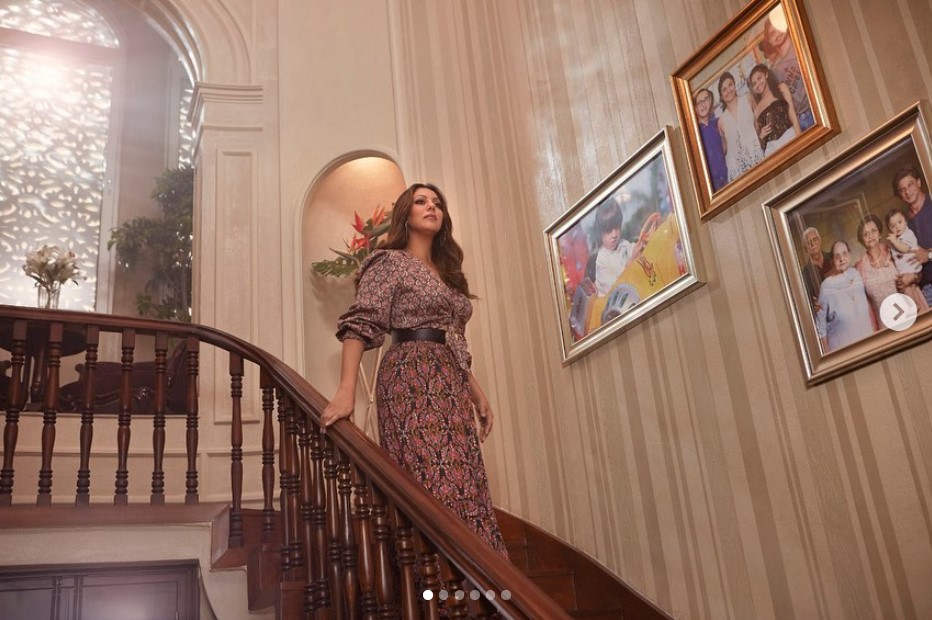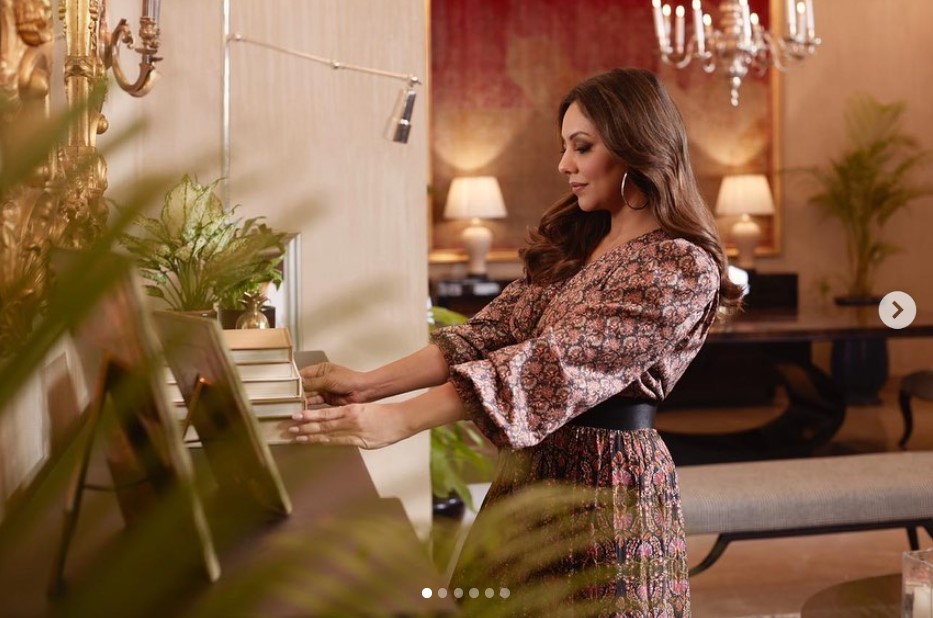 Other Houses Owned by Shahrukh Khan
 The list of residences owned by King Khan now includes the opulent estate on the Palm Jumeirah in Dubai. The Khans appropriately named this property Jannat because the home is absolutely breathtaking and divine. The largest artificial archipelago in the world, Palm Jumeirah, features a residence that is over 8500 square feet in size. The home boasts a private pool and access to deep-sea fishing, among other water sports. The price is known to be around 18 crores.
Shahrukh Khan also owns a condo in New York City and a vacation property in Beverly Hills abroad.
Gauri Khan shared a picture of a new space at their house – Mannat:
In a recent Instagram post, Gauri Khan unveiled a new space she designed within the walls of their home, giving us a glimpse of her creative prowess. This newly curated area resonates with the same glamour and sophistication that defines Gauri herself. The image captures her seated gracefully on a chair, set against a striking black and white backdrop. Her attire, a stylish denim dress paired with high heels, seamlessly complements the chic ambiance of the space.
Gauri's design sensibilities are unmistakably reflected in this area, where every detail has been thoughtfully curated to create an atmosphere of timeless elegance. Just as Gauri's persona exudes charm and charisma, this newly designed space within the Mannat house radiates a similar sense of allure and refinement, embodying her artistic vision and impeccable taste.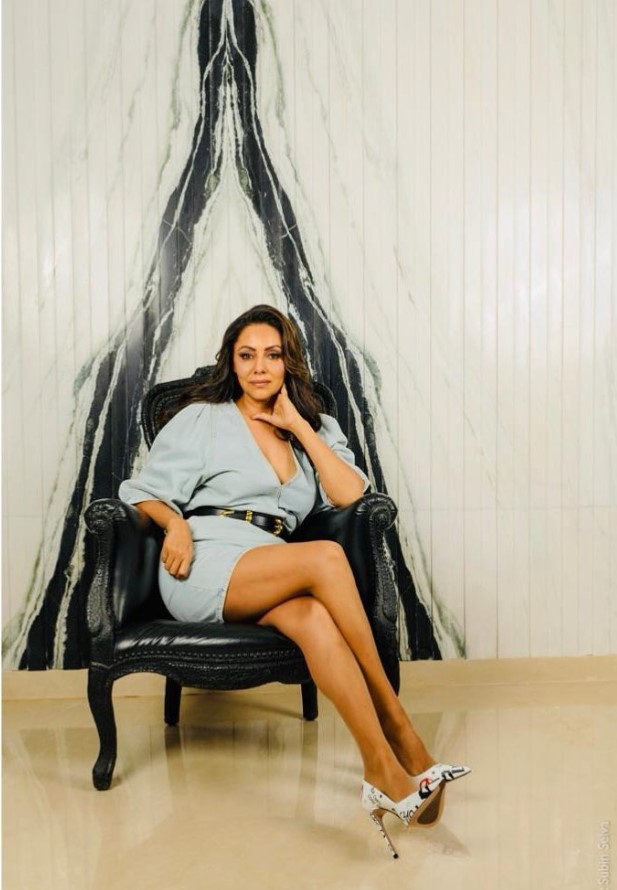 10 Interesting, Rarely-Known Facts About Shahrukh Khan
Here are ten interesting, rarely-known facts about Shahrukh Khan you must be aware of:
Shahrukh Khan's original name was Abdul Rahman, given by his naani. He was named Shahrukh Khan by his father.

King Khan used to stay with his naani till the age of 5 or 6.

He used to run a restaurant in Darya Ganj in Delhi during his struggling days.

Shahrukh met his love, Gauri, at the age of 14.

He has a habit of going to sleep wearing ironed pyjamas.

He is a chain smoker.

Shahrukh Khan is popularly known as "King Khan".

He is the grandson of Shah Nawaz Khan – a freedom fighter Gen.

Shahrukh Khan's father was also a freedom fighter who migrated to Delhi from Pakistan during the partition time.

He was named after Ascocenda Shah Rukh Khan, a rare species of orchid.
Summing Up: Shahrukh Khan House
Earlier this month, on the joyous occasion of Eid, Shahrukh Khan extended warm greetings to his devoted fans from the balcony of his iconic Mannat house. This heartwarming tradition has been a consistent feature, maintained by the Khan for numerous years, marking not only Eid celebrations but also his birthday. However, the past two years saw an unfortunate interruption due to the global Covid pandemic, preventing Shahrukh from making his customary appearances.
Consequently, this year's Eid became a truly exceptional and joy-filled moment for his fans, as they were finally able to catch a glimpse of their beloved star after a hiatus of two years. The sight of Shahrukh Khan standing on the balcony of Mannat, acknowledging and connecting with his fans, held a special significance that touched the hearts of many.
Adding to the enchantment of the moment was the presence of the iconic Mannat house nameplate, which stood as a distinctive symbol of the location. This nameplate, recognizable to fans worldwide, added an extra layer of sentimentality and delight to the occasion, offering a visual treat that resonated with the love and admiration the fans hold for their favorite star and the Mannat house itself.
Also Read: Expensive homes of south Indian stars in Hyderabad Chennai