10 Pop Ceiling Designs for Living Room Trending in 2022
Like a robust roof completes a building, a beautiful POP ceiling design completes the room. You'd hardly find a room with a plain and boring ceiling over your head in today's time. Almost every room in the house has a false ceiling design, and one of the advantages of having a POP false ceiling design in the hall is the relief from unnecessary cable, light fittings, and wires.
The house ceiling has definitely garnered great importance in the last few years. They have become the new way of reflecting your refined taste, personality, and much more. By adding the right lights with the right POP ceiling design for home, you can make the house look different!
With a plethora of false ceiling designs to choose from, you can go for different POP ceiling designs for different rooms. A hall ceiling design can be more welcoming, whereas the POP ceiling design for your bedroom can be more royal or chic or as per your preference.
For those planning to get a POP ceiling design for home, we are here to help you. We will take you through some interesting false ceiling design ideas that will look good in any room and add the right amount of drama to the entire space.
POP Ceiling Designs for Living Room Hall
Here are 10 eye-catching POP ceiling design ideas for the hall to get you started:
1. Curved POP Ceiling Design For Living Room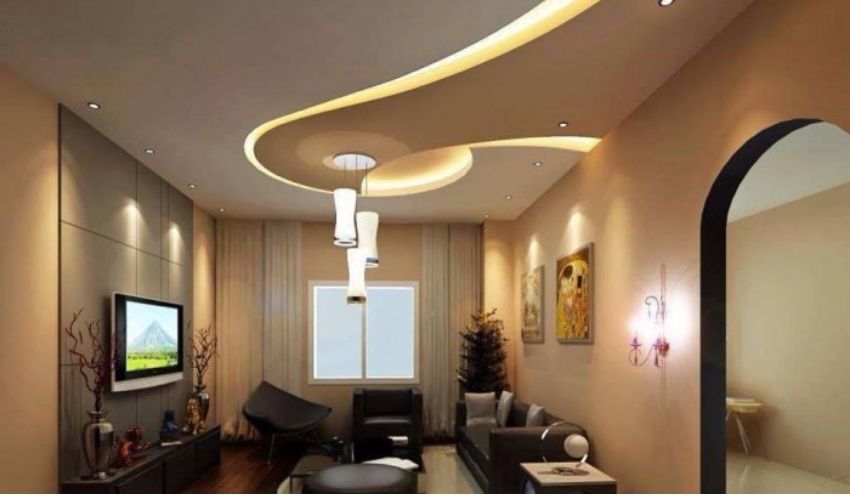 Gone are the days when there were only rectangle and square POP ceiling designs for hall; however, now, you don't have to limit yourself to such designs. Now, you can pick from circles, curves, and arcs, to give your home a gorgeous and fresh style. Breaking the symmetry and opting for such unique POP false ceiling designs is an excellent idea to provide your home with a modern feel.
2. Carved POP Ceiling Design For Hall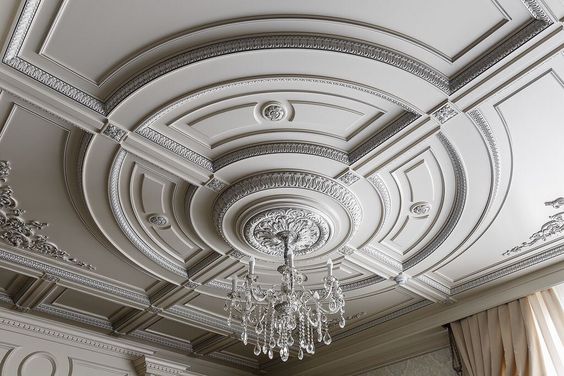 POP is similar to clay when you use it. It is super easy to carve a design on it. You can opt for an intricately carved POP ceiling design that adds a character to your home and gives it an old-world charm. The best part about these false ceiling designs is that the depth and the appeal of these carved POP ceiling designs can be enhanced by choosing the right lighting and the right ceiling colour. A carved POP false ceiling design gives an opulent look to the living area.
3. Double-Layered POP Ceiling Design For Living Room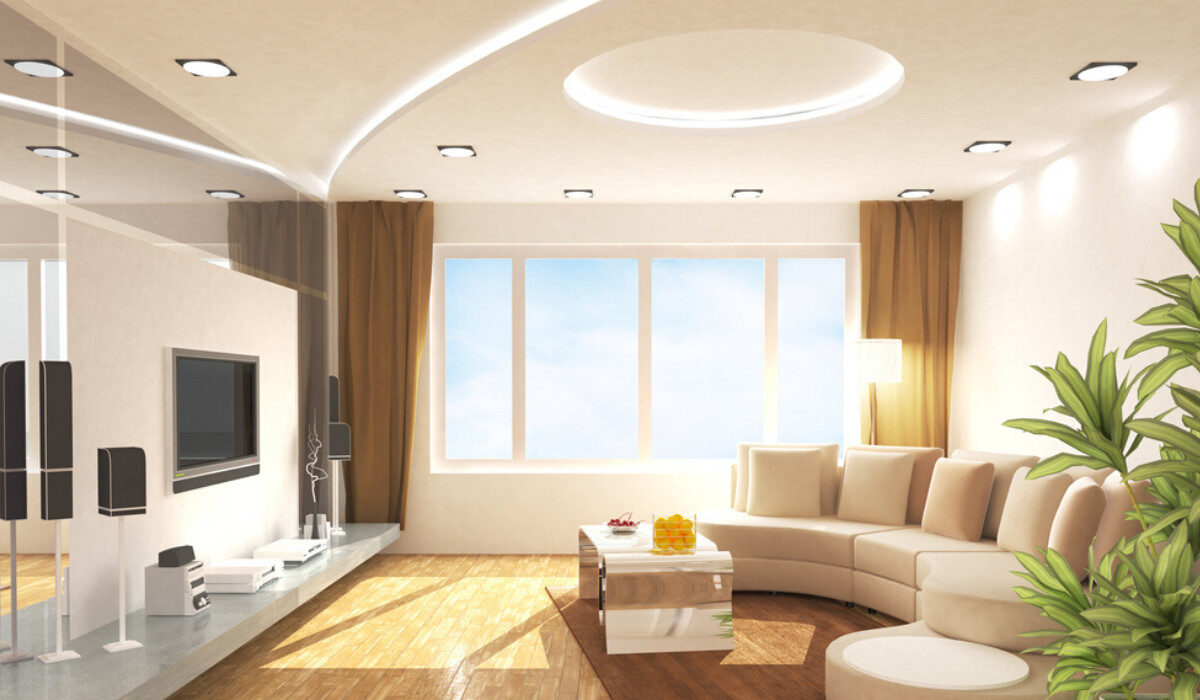 Do you know that POP ceiling designs with lighting and layers are a rage in 2022? Yes, it's time to jazz up your big living area with layers and gorgeous lighting. Many people opt for a double-layered POP false ceiling design due to its stunning looks and the aesthetic appeal it adds to the entire space. However, there's a catch. If you have a smaller hall or living area, you must opt for a single layer POP ceiling design.
A double layer POP ceiling design for hall allows you to experiment with different patterns, textures, colours, and lights and also makes the room look airy and spacious. This POP ceiling design for home will not only elevate the overall look of your home but will also give it a minimalistic look.
Also Read – 7 Best Cream Colour Wall Paint Combinations for Your Home
4. Multi-Layered POP False Ceiling Design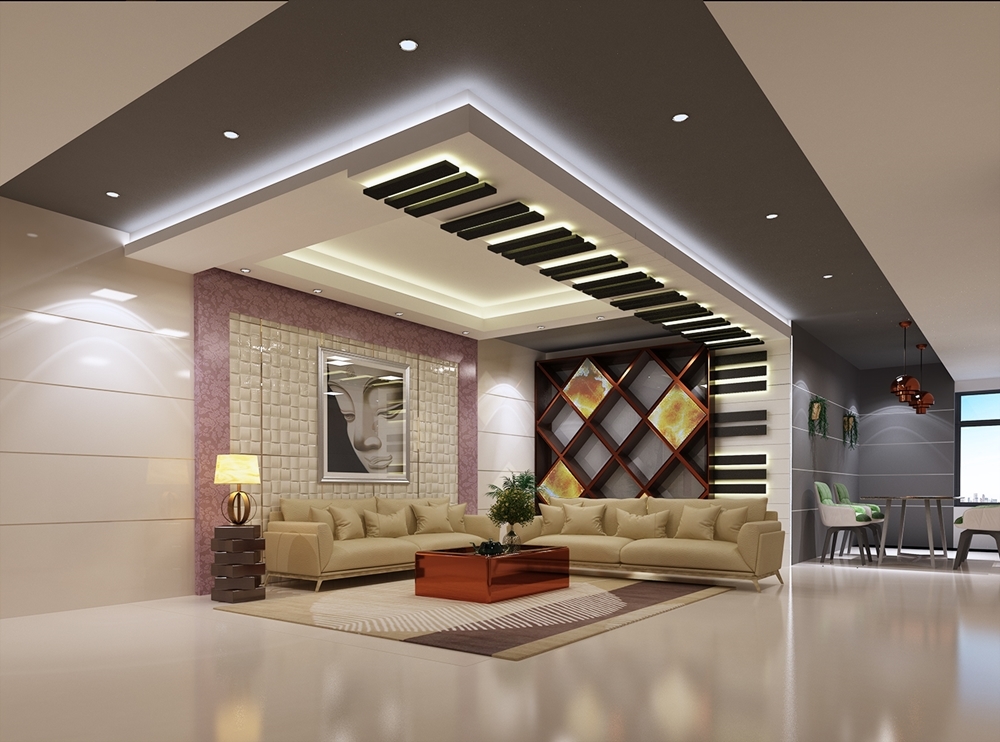 When it comes to creative designs, POP ceiling designs give limitless options. Whether you're revamping your existing house or constructing a new one, adding layers to a POP ceiling design is a classic idea and is one of the simplest ways to enhance your home decor.
It is an excellent idea if you want your space to look aesthetically pleasing and free from unwanted electrical wires. From unique designs to minimalistic patterns, the variety of POP ceiling designs that are available today is enough to beautify the interiors of your house. By layering the POP ceiling design in hall of varied heights, it will give the room a striking impact, and you can also opt for different colours and lighting to accentuate the look of your large hall.
5. Traditional POP False Ceiling Design For Hall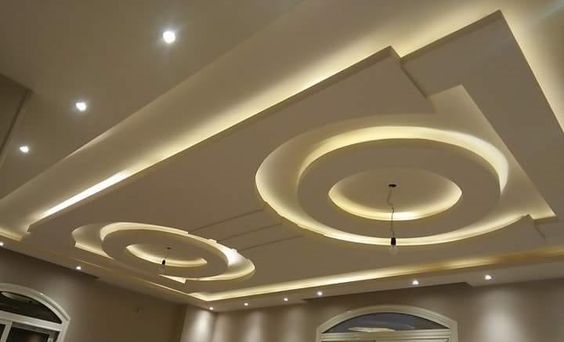 A traditional pop false ceiling design for living room is one of the most popular options today. If your home has a rustic and classic appeal to it, then opting for this traditional POP ceiling design for hall would be a great idea to make it look more royal.
A living room ceiling design can have various design themes inspired by ancient architecture or beautiful Indian motifs designs. If you don't want to go overboard with the design, then just opt for a traditional living room ceiling design and keep the rest of the home interiors minimalistic. Your ceiling will do the talking and can also be a conversation starter with your guests.
6. Lighting False Ceiling Designs For Hall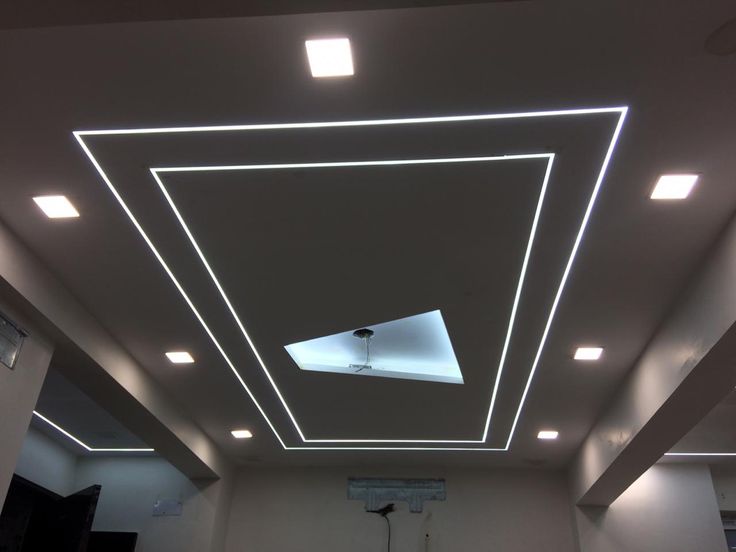 One of the biggest benefits of having a POP ceiling design for home is that the POP reflects light beautifully. So, opting for a beautiful lighting fixture will definitely brighten the POP false ceiling and your home. Going for a POP false ceiling design for hall is one of the simplest ways to beautify your living area.
If you wish to make your room look brighter and welcoming for your guests, then adding LED lights in the POP false ceiling design is a good option. And the good part about the suspended ceiling is you can always experiment with it and try different shapes and colours that contrasts with your home decor.
Also Read – 10 Best Royal Texture Paint Designs For Hall – Royal Play Designs
7. POP Ceiling Design With Hanging Fixtures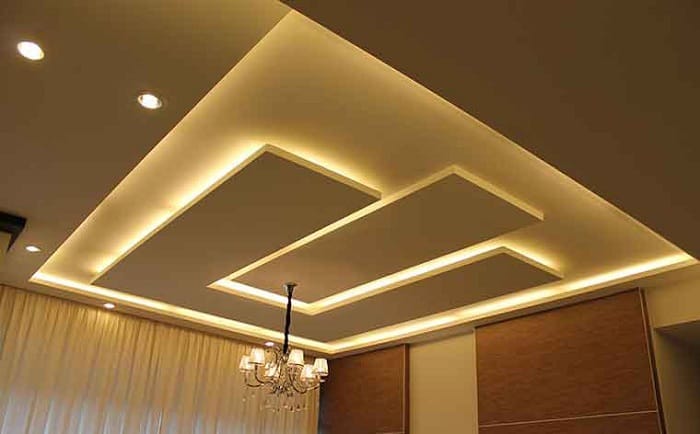 Thinking for an out-of-the-box POP false ceiling design? If yes, then we have got the best living room ceiling design for your home. A PIP ceiling design with hanging lights is quite literally ruling the charts in 2022. The most appealing thing about this false ceiling design is it offers an elegant look to the room.
A POP ceiling design for home with hanging fixtures is a perfect example of finesse over pompousness. You can choose any hanging light such as pendant lights, chandelier, cove lights or even inverted pendant lights in the centre of the tray ceiling to instantly uplift the aesthetics of your hall.
8. Floral POP False Ceiling Design For Hall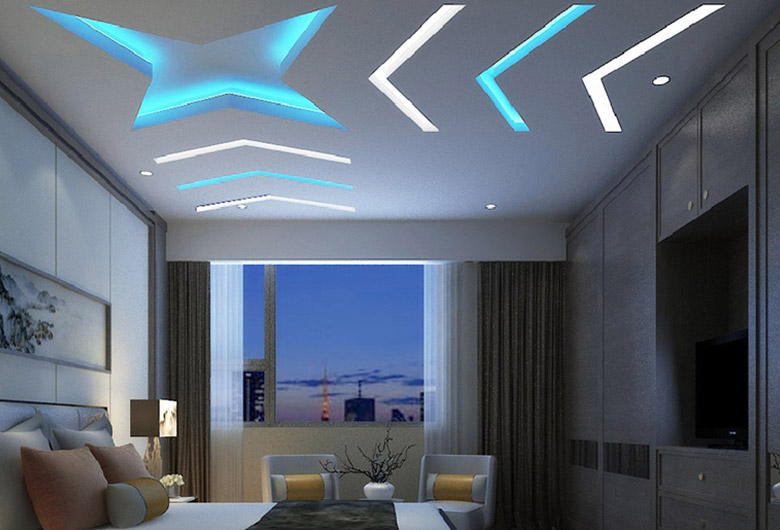 We all love floral patterns and dainty flower designs, don't we? So, why not try this pattern in your living room ceiling design? Sounds interesting? A floral POP false ceiling design for hall is one of the chicest POP ceiling designs in 2022. These beautiful floral petal design will add a beautiful charm to your  living area.
To highlight each petal of the POP ceiling design for home you can use a halogen spotlight. Although the floral pattern is the centrepiece of your POP ceiling design, ensure that you don't add too much floral design; it will only make the ceiling look cluttered.
9. Symmetric POP Ceiling Design For Living Room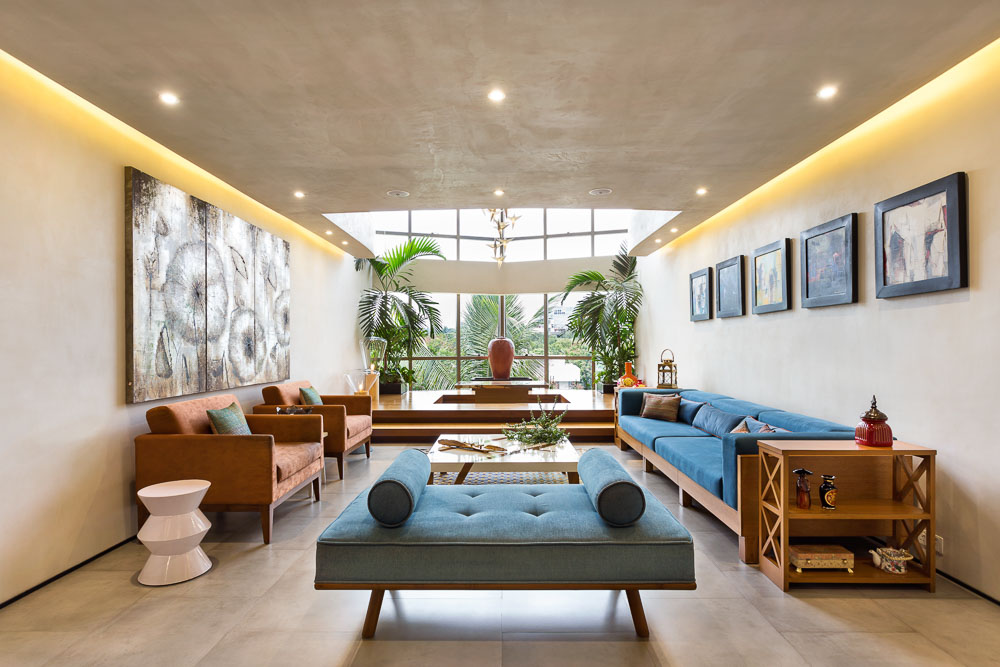 Nothing can beat the top-notch style and minimalism of symmetry in the living area. Just basic black and white stripes in vertical or horizontal style are enough to raise the bars and accentuate the look of your living room. And to make the POP false ceiling design for hall a masterpiece, you can add LED lighting and each POP panel. However, you should avoid using any bright colours as it will only break the actual concept. Thus, stick to basic colours.
If you're not a fan of black and white, the you can replace it with a greige colour which is a combination of greay and beige, or you can opt for white and dark brown colour.
10. Colourful POP Ceiling Designs For Home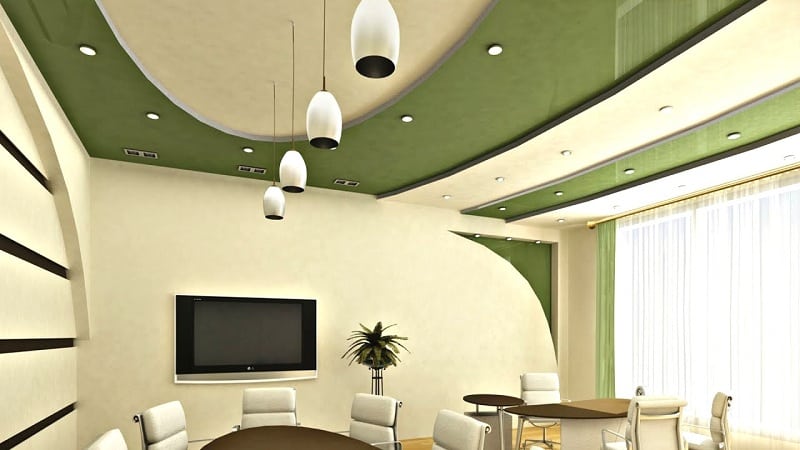 When you think of a living room ceiling design the first thing that comes top our mind is the white false ceiling design. But why opt for white when you can add a pop of colours to your POP ceiling designs? A POP false ceiling design takes on the colour very easily. It is also the simplest way to add a visual element to your living space.
The false ceiling design colours can be chosen based on the colour theme or the overall decor of your house. Or you can go for an elegant beige and royal yellow for that classic vibe, and for a modern vibe you can add textures like metallic or rustic finishes and can also try wood to give your false ceiling design a traditional touch.
How To Choose POP Ceiling Designs For Small Hall/Living Room?
Do you have a small apartment yet want to try a POP false ceiling design? Well, fret not! In apartments that are small and have a living-cum-dining area, you can try different POP ceiling designs.
When making a down ceiling design for hall, you can choose from interesting patterns, shapes, and colour schemes to make the living room look bigger. And when it comes to choosing the right pattern for POP ceiling design for home, you can choose from a plethora of geometrical patterns and different shapes, such as circles, curves, and squares which are apt for a small living room.
Tips for Choosing The Colour Combination of The POP Ceiling
With tons of gorgeous paint colour options available in the market, why to go for a boring white colour POP ceiling design? It's time to spruce up the interior decor game and add some life to the POP false ceiling design in hall. Here are some interesting colour combinations for POP ceiling design for hall to make the pop false designs stand out.
To add a quirky twist to your POP ceiling design, go for a POP false ceiling design in colours such as  orange, yellow, red, or purple.

For warm and welcoming vibes try shades of yellow, and white.

Do you have white walls and light colour home interiors? If yes, then a cherry red or a turquoise is the colour for you.

Opt for a gorgeous ivory and grey colours to add a panache in the hall.
What Precautions To Take During The POP False Ceiling installation?
Once you've decided the POP false ceiling design, it's time for the installation. However, you've to be careful while the installation process and must keep the following tips in mind:
Do not compromise on the quality of the POP and opt for a POP from a well-known and reliable brand because a low-quality POP may cost you less but will surely trouble you more with cracks during the installation procedure.

Inspect the application ceiling area for any leakages before you begin the installation process.

Make sure the POP is dry before you take it up for installation.

We all know a false ceiling design is the best way to hide all the electrical wires and fittings, however, you must be really careful and should put the wires inside a pipe to reduce the risk of any fires.
How To Clean And Maintain The POP Ceiling Design?
If you want to keep your POP ceiling design looking fresh and not covered with cobwebs then make it a point to clean the POP ceiling of your home at regular intervals. Make sure you use a tender touch while cleaning the POP ceiling design. The easiest way to clean your false ceiling design is to wipe it clean using a duster or a vacuum cleaner.
Do's & Don'ts For Living Room Ceiling Design
Nowadays, almost every house has POP ceiling designs that accentuates the overall home decor. In case you are also planning to join the club then here are certain do's and don'ts that you must consider while planning to get POP false ceiling design for home.
Check the height of the room: Before you plan to get a drop ceiling in your living room, you must ensure that the height difference between the floor and ceiling level is high enough and can accommodate a false ceiling, without making it look stuffed and cramped.
Pre-Planning: If you are revamping your home interiors and planning to get a false ceiling design in your hall, make sure you plan the lighting layout in advance, this will not only help you decide the false ceiling design but will also save you from creating a mess later.
For small living room: If your living room is small, then go for a clean and straight line POP ceiling design and avoid any mouldings in small rooms.
For large living room: Got a big living area? Go for a double layered POP false ceiling design for hall. You can also try some unique shapes, experiment with textures to add a tinge of drama in your large living area.
Run a border: If you wish to get a false ceiling in your house but the room doesn't have much height, then try and get a false ceiling that runs along the edges of the wall. This will give you the chance to add some mood lighting and will not eat up the height space.
Maximize the room space: POP false ceiling designs for hall is the best idea to hide all the messy electrical wires, AC ducts, and copper piping, and other electrical wires by simply concealing them within the false ceiling design and maximize the space.
Fan Installation: In case you are opting for a gypsum or any other light weight false ceiling, make sure you get the fan installed on the ceiling before the construction of the false ceiling.
Summing Up – POP False Ceiling Design For Hall
This was our round up of POP False ceiling designs for hall. As most of the  POP ceiling designs for living room are handmade, thus, they can be customized as per your choice. You can always experiment with these POP false ceiling designs for home and add cove lighting or can even highlight a certain part of the false ceiling. No, whether you have a spacious living room or a small living space, there are various POP ceiling designs for hall to fit all sizes. So, do not shy away from giving this gorgeous false ceiling design idea a try as this can beautifully define the rest of your home decor.
Now, what are you waiting for? Pick the design that works the best for you and be rest assured none of the POP ceilings designs for hall mentioned above will disappoint you.
Also Read – 10 Trending Kitchen Furniture Design Ideas for 2022