When we get our homes designed, we add wow factors in all rooms, but today we have pooja room ideas for you that will make you want to rush for a tiny reno project. We have shown you everything from wooden pooja rooms to jaali designs for this space and even some unique door designs.
#1: Elaborate pooja room with complete jaali entrance frame
Picture: Pinterest
Go big or go home kind of mandir
We are in awe of this extensive pooja room in one of the designed home. Look at the entrance. This is nothing short of a masterpiece. This space sits in one corner of a room and jaali panels at the entrance are what's making all the difference here.
#2: Get a trendy color for the storage cabinet
Picture: stylesatlife
Add a wall ledge for extra space
If you don't want to settle for a boring color for your pooja room cabinetry then this one of pooja room ideas might interest you. Our homeowners opted to get a fancy purple shutter for the storage cabinet and we topped it off with a yellow counter. Colour lovers, this one is for you.
#3: Install a jaali partition to create a niche
Picture: Indiamart
Place a rug to make space for seating
People with open layouts and pooja unit places in a corner, you can try a. Our all-time favorite accessory for pooja rooms- the jaali. You can add this versatile piece of accessory to almost any space and it instantly adds a glamorous touch to that area. Take this pooja corner for example. If not for jaali partition, this would have been a regular unit placed on the floor in a corner.
#4:  Add a laser-cut back panel in a bright color
Picture: Pinterest
You can experiment with the carving of the panel
Is your pooja room lacking that energy? Then why don't you add some color to it in the form of a backdrop? Laser-cut panels are in vogue these days and everyone is getting them for their homes. Just like these homeowners, you can also add a bright-colored panel on the wall behind your pooja unit and when you switch on the light, this corner is going to shimmer like a star.
#5: Put up wallpapers and add tiny bells on the door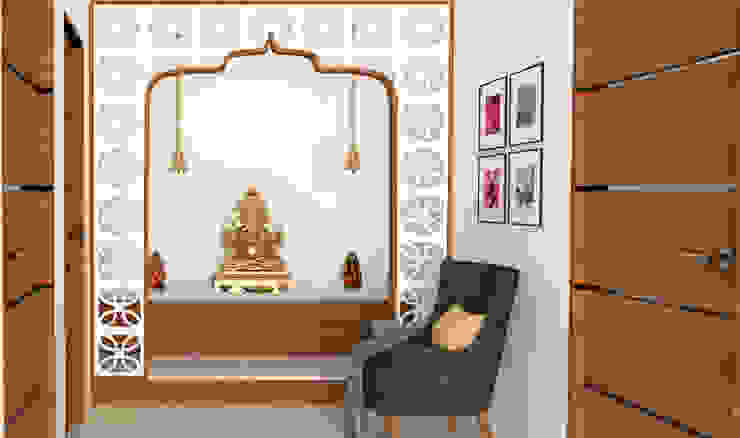 Picture: Homify
Select rosewood to the right side of Vastu
If you are not thinking of big installment, then just get some abstract wallpaper and add them on either wall of your pooja unit, just as we did in the picture above. You can also add it as a backdrop if you like. Here we have added a cream-colored pattern wallpaper that goes perfectly with the wooden unit. Another idea is just to change the doors of your pooja unit. Get something with bells to add that traditional touch.
#6: Go functional with a cute seat
Picture: Zingyhomes
Choose the height of the seat according to the height of the unit
If you have a low pooja unit and spend some time in here every morning, we know that you need the most. You need to add a seat where you can comfortably sit and pray.
#7: Space-saving marble unit with drawers and intricate carvings
Picture: Pinterest
You can also opt for artistic instead of handles
We all love compact furniture, especially if we are even a little bit low on square footage. Also, marble mandirs are Vastu-friendly and look pristine and peaceful. This wall-mounted unit is complete with drawers and cute blind that one can pull down when it's shut-eye time for the deity. The backlit panel gives out enough light that can be used for prayer time.
Article source: Livspace
Also read: Hall dining Partition ideas that will amaze you.