---
14 Main Door Design Ideas for you Home with Images
The main door design of your house or the front entrance, is the center point of the exterior of your home. It is this part that guests first see when they enter your premise and the last thing too while saying their goodbyes. Today, main door designs for homes come in a variety of styles. Right from single paneled, simple designs to double door main entrance ideas - there is something for every home. When choosing a design for your main entrance, you might want to consider some other aspects too - like the exterior facade composition, what is the basic theme of the area, whether the place is vastu compliant, and so on and so forth. To make your choice simpler, we have listed down 14 of the best main door designs for home.
14 Main Door Designs for your New Home
Here is our list of the main door design ideas for your home - that are both traditional and contemporary. Read on to know more:
Solid Wood Main Door Design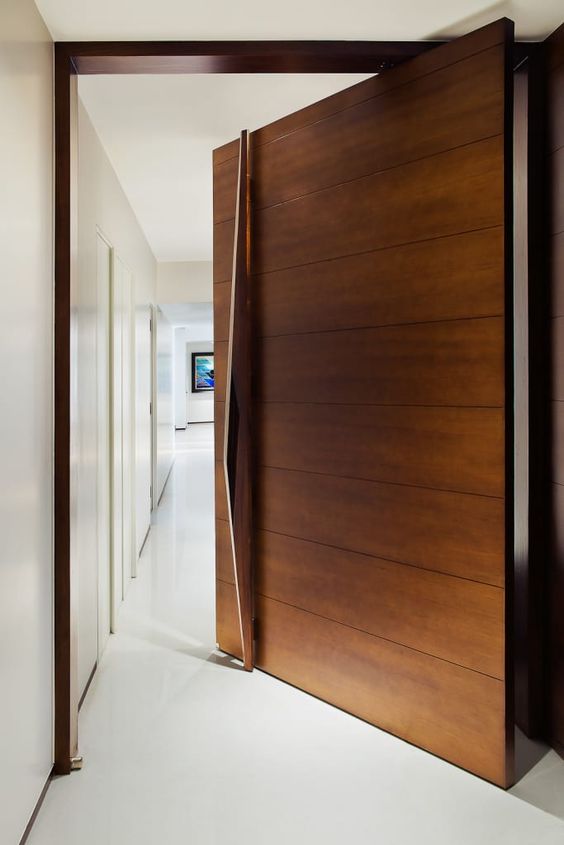 Perfect for all kinds of home, be it an apartment or an independent house, or even a bungalow design - a solid wood main door always delivers and how! Solid wood works great for main door design as it is sturdy and strong. It is known to withstand the test of weather - think storms and heavy rain and can obviously sustain heavy banging. In olden days, solid wood was also considered as a great option for the main entrance of the house as it could put up a tough fight against burglars too. Red oak, mahogany, white pine, cedar, and cherry wood are some of the best types of woods you can use for main door designs for home. As you can see in the image above, these styles are minimal and chic and the best part is these woods have a tendency to last at least 20 to 60 years with minimum and inexpensive repair.
Brass Main Door Design for Home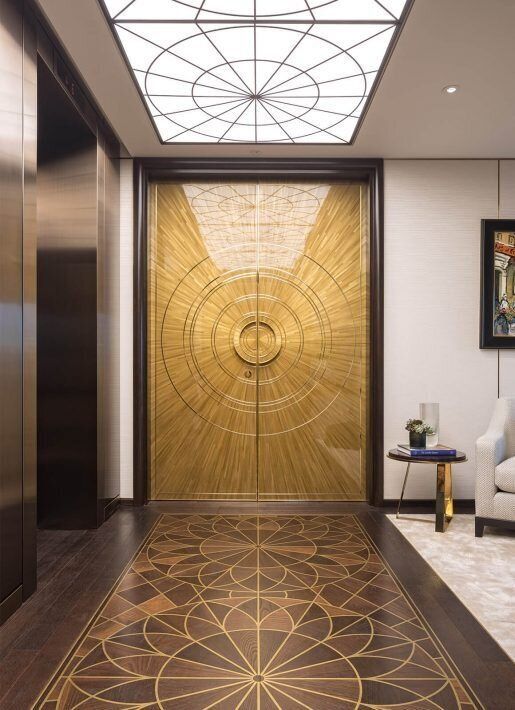 Best suited for villas and bungalow house types, a brass main door design screams luxury and panache. What else do you expect from a heavy metal assembly in the entrance of your house!? Brass is considered to be a good and durable metal for main door design for home as it is fireproof and resistant to rust - requiring minimum maintenance. As you can see from the image above, brass doors can come in stunning designs and can match to creative and elegant interiors and exteriors. With their unique appeal and distinct design (or the lack of it), these doors stand out and are also used to portray wealth and strength in a symbolic way.
Black Main Door Design for Home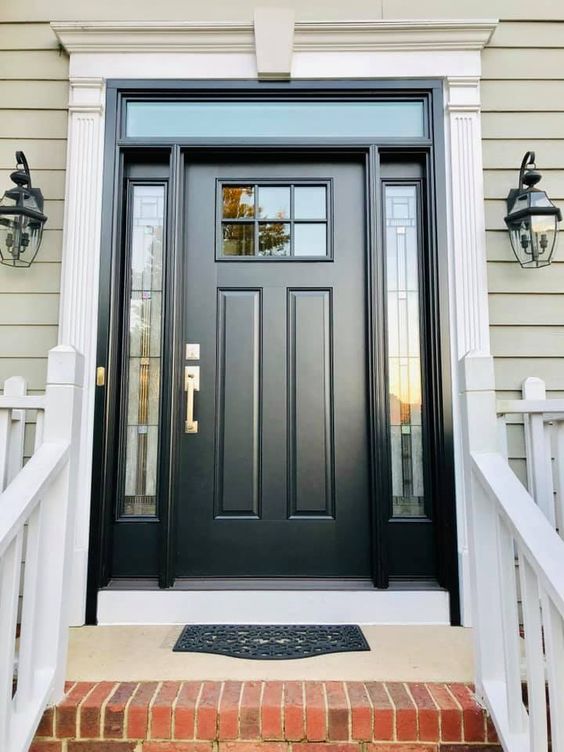 Black is the color of power and it is the color of strength. Having a black main door is a symbol of sophistication and authority. You can choose black as the color of your main door design and take inspiration from the image above. A three paneled door with glass as part of the design - this is a subtle, yet classy composition. As per feng shui, it is great to have a black main door design for home, as black is known to absorb positive energy and bring it inside your house. This is especially valid for doors facing the north direction. For those looking for power and authority in life, should make black as their choice of color.
Dutch Main Door Design for Home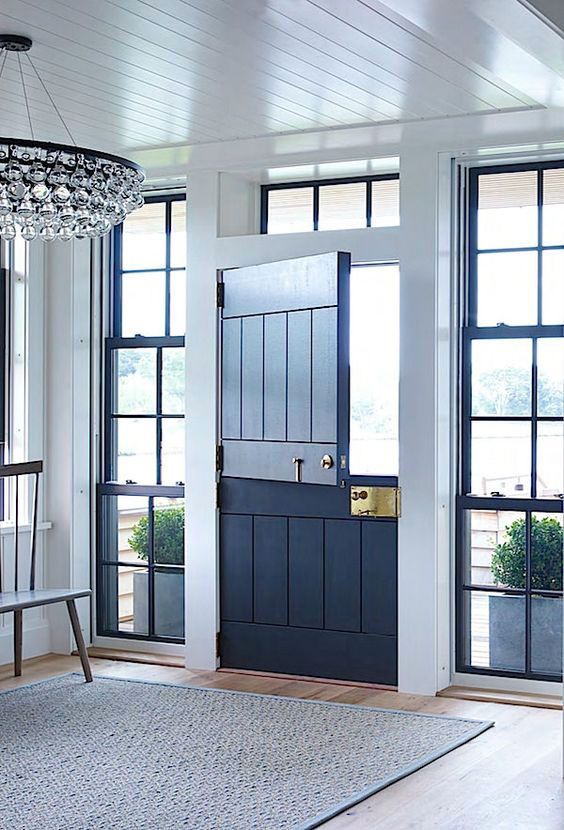 If you are looking for a practical and stylish main door design for home, look no where else, the functional and super-stylish dutch door is for you. As you can see from the image above, the ducth door is divided into two parts - both with locks of their own. These doors came into being in England and were a perfect solution for residents that wanted breeze and light into their homes. Not only did they help with ventilation but also kept snakes, insects and other pests from entering inside. They get their name the Dutch Door because they were common in Ducth Colonial homes in the countryside.
Glass Paneled Main Door Design with Glass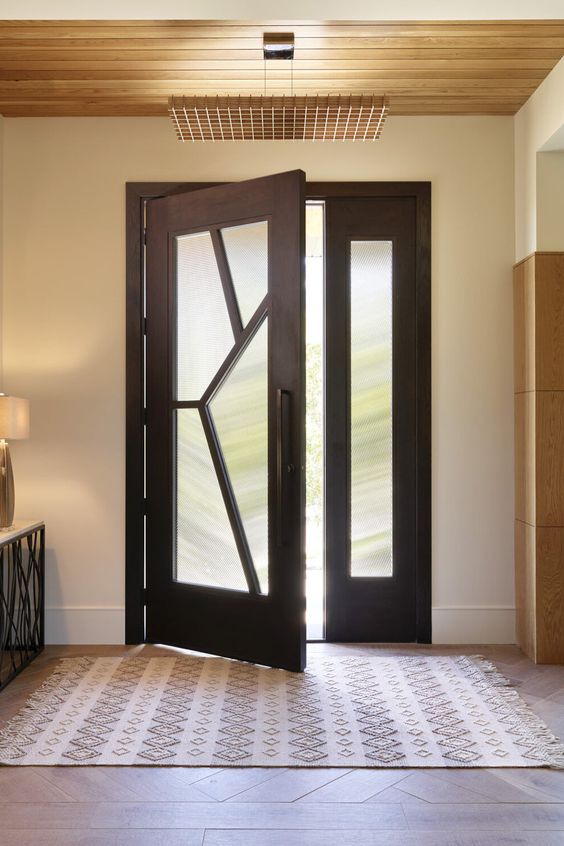 Are you looking for a main door design that can make your home look more stylish than it already is? Think of using glass and the number of ways you can use it. Best suited for apartment homes or flats, the glass or glass paneled main door is super chic and expressive design, always inviting complements. The functional aspect of it It is best to opt for frosted or reed glass for the main door. They allow the light from the outside to make its way indoors, while maintaining privacy of course. And, you can choose from a variety of designs available like a sleek engineered wood main door design with a narrow panel. Or, take inspiration from the image showcased above and create a design with asymmetrical reed glass comfortably fitting in interlocking oak wood overlays - simply stunning!
Antique Rajasthani Main Door Design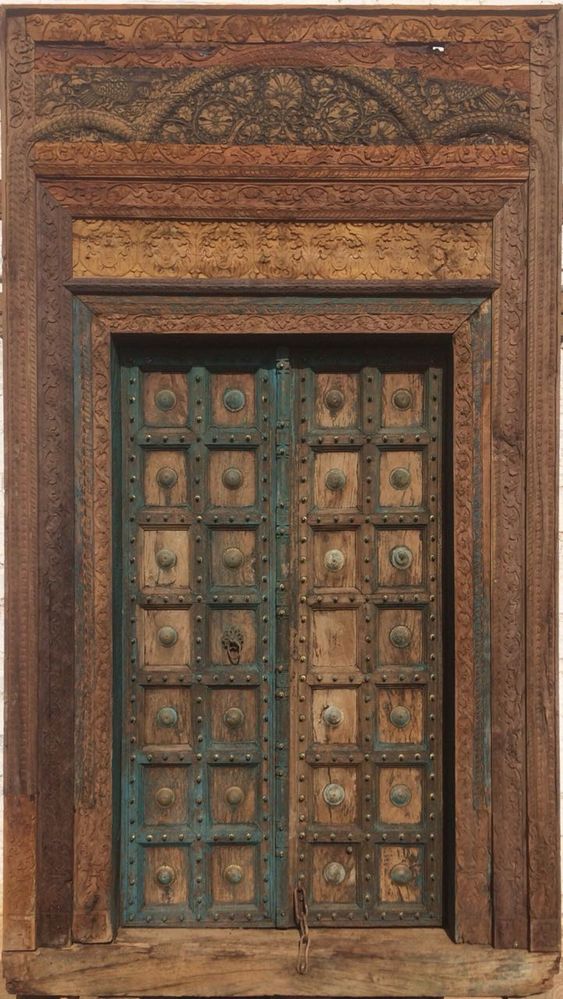 The antique Rajasthani main door design has a certain old world charm to it. It is unique and it is intricate with a lot of thought to it. Rajasthan is the land of princes and kings and in a bygone era when battles were a common theme in the region, these doors proved to be one among the most loyal defenses of their owners. As you can see from the image shared above, a strong wooden frame has metal spikes in panels from top to bottom. This came especially handy and was designed to scare off elephants on a rampage. Fascinating, is it not? Today, though we might not need these doors for their ultimate defense in battles, they still spell bind with their beauty and make for excellent main doors for homes with an antique touch.
Green Main Door Design for Home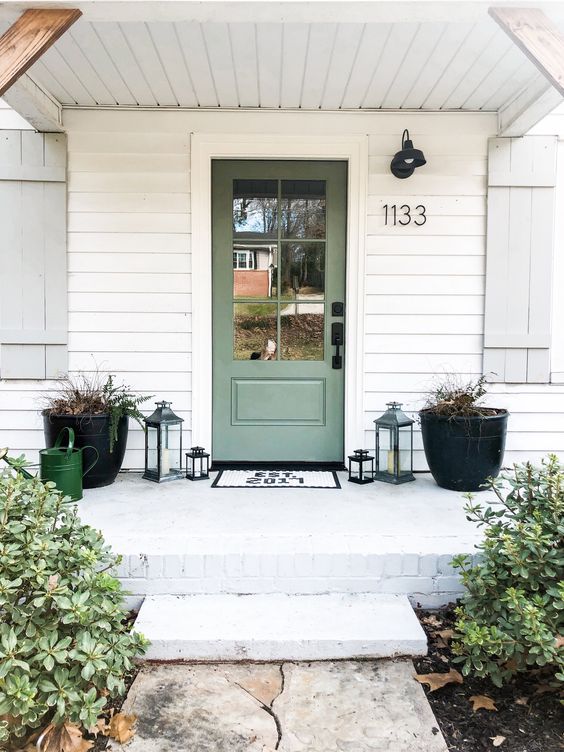 If you want to welcome wealth and abundance in your life, switch your current entrance to a green main door design. Feng shui experts tell us that when you paint the main door of your house green, you invite various money making opportunities into your life and also welcome love and stimulate abundance overall for all members of the house. Prosperity, fortune and abundance are all symbolic to the color green. It is a shade that signifies new growth. You can choose from a variety of shades of green. If your design sense is on the subtle side, choose a sage green shade like in the image above, and if you like to stand out, we'd suggest a darker shade like an emerald or a groovy green.
Main Door Design for Home with Ironwork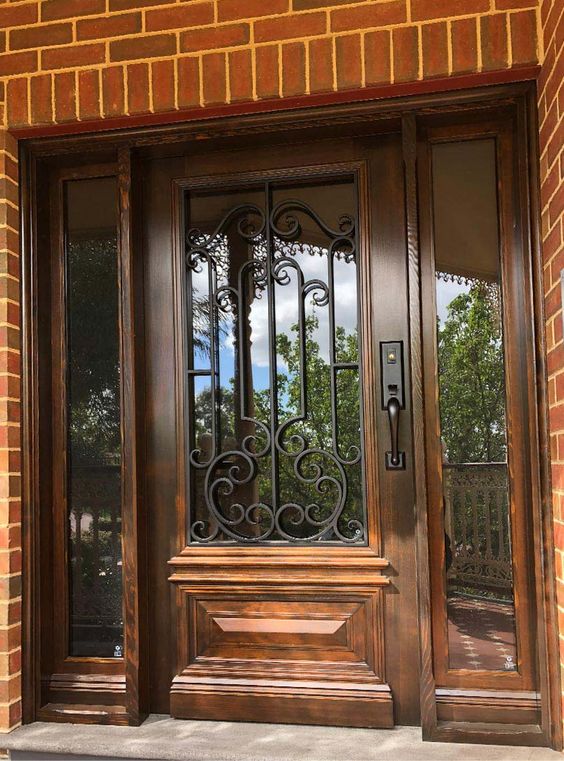 A beautiful mix of wood, iron and glass, this main door design is a common design in country homes. As you can see from the image above, a good quality wooden frame uses reflective glass and an iron welded design offering an elegant entrance to your space. This design can be achieved using a variety of wood like mahogany, teak, or cherry wood and you could opt for either reed or reflective glass. The wonderful pattern made with the wrought iron is inspired from the Almería region in Spain somewhere around 1600's and since then has been used in a variety of designs including balcony railing designs and more.
Hand Carved Main Door Design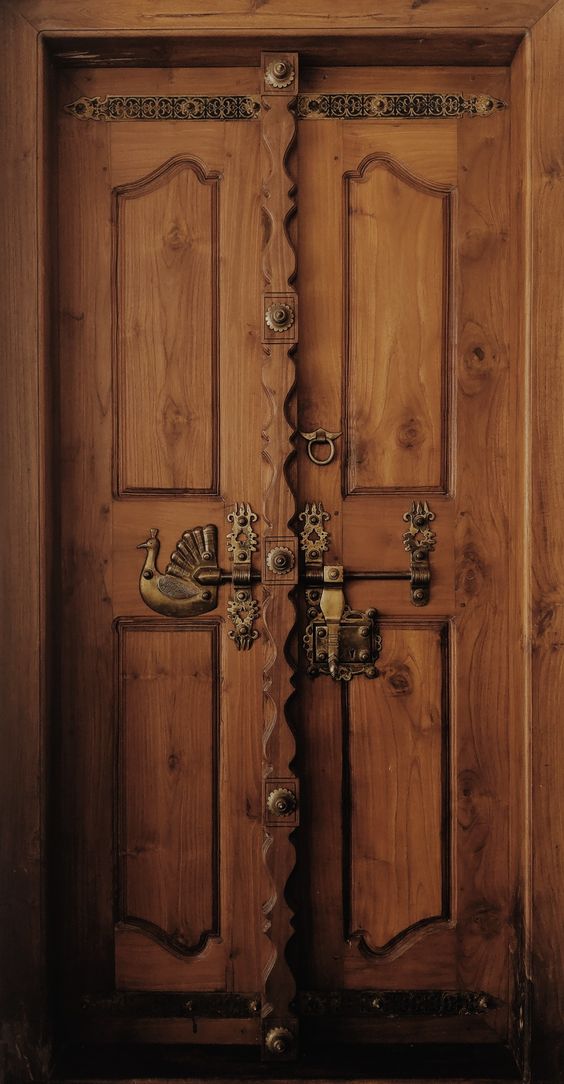 A solid wood main door design has a charm of its own; and it is even more spectacular with some hand carving. As you can see from the image above, the solid wood is carved to perfection with four panels and an impressive center. Complementing the design is the brass work inspired by traditional Rajasthani design of studs and a peacock.
The Red Main Door Design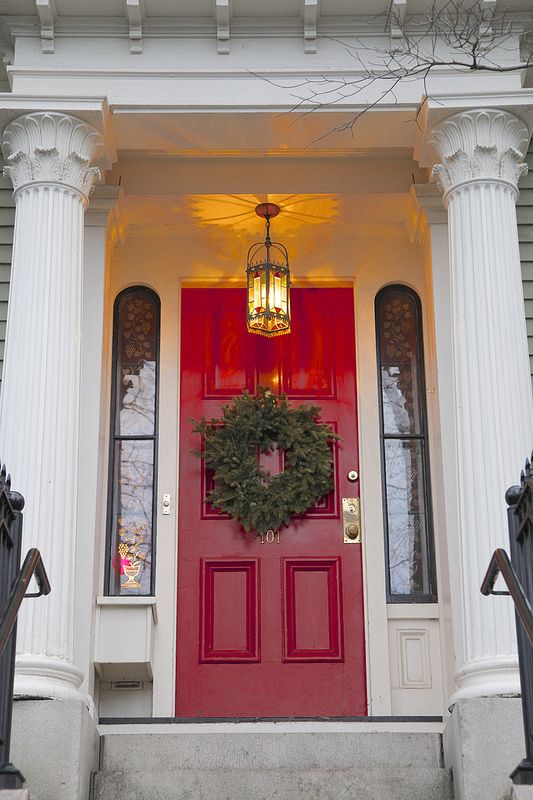 Red is a powerful choice of color for a main door design. Not only in its shades and hues, red is a color that demands attention. Feng shui experts tell us the key to attracting prosperity, good luck, and success in your home is having a red door (among other remedies). Having a red main door design will also protect you against negativity. A must have for south facing homes. You can choose to have a red door in various designs, take for example a single wooden door with six panels. To complete the look of the facade add painted glass and a statement light to illuminate the entryway. Also Read - 10 Trending Kitchen Furniture Design Ideas for 2022
Copper Main Door Design for Home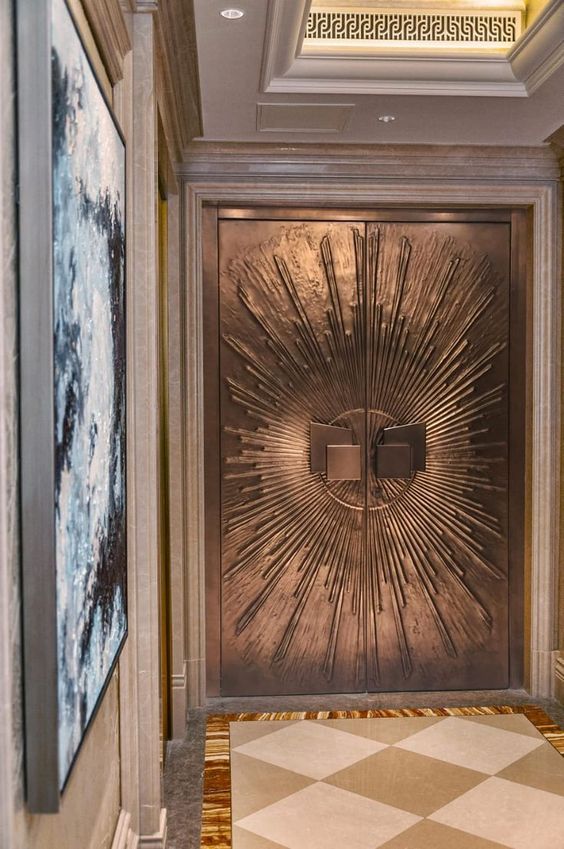 Much like the brass element, a copper main door design too is a symbol of wealth and abundance. Perfect for villas and luxury houses, these doors speak class. The door in the above image, is a perfect representation of a stunning copper main door design. It is hand embossed with a stardust design in the most intricate pattern. The statement handles only add to the flamboyance and how! Copper is a great metal for main door design for home because it is a reliable material that needs minimum repair work over the years. It does not crack and have deformities because of the weather like wood, making it a popular choice for those with deep pockets.
Victorian Glass Paneled Main Door Design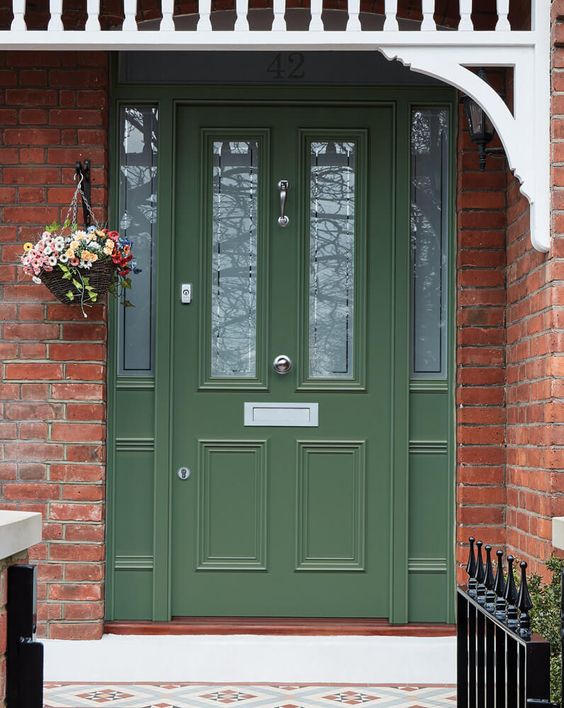 The fancy composition that became popular in the 19th century, the Victorian glass main door design with its detailed carvings and eye-catching architrave are hard to miss. As you can see in the image above, this modern version of Victorian glass main door design has 4 panels with matching sidelights. The use of frosted glass is another feature borrowed by the Victorian glass paneled design. It is said that intricate carving on the architrave and the extensive use of glass work, (sometimes even painted glass in bright colors) was the owner's way of bragging about their wealth.
Arched Main Door Design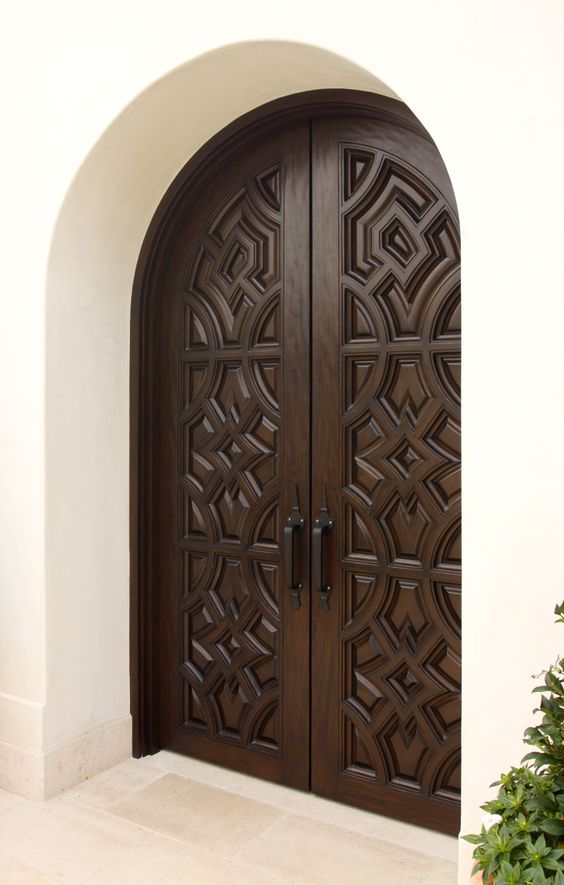 If you are looking to make a statement with your main door design, an arched composition will help you get that look and so much more. Take for instance, the design on the door in the image above, intricate wood carving in a six paneled arched door is dark solid wood - what a beauty it is. Choose a carving design that resonates with you and fits into the interior frame of your house and add some plants to the setting - you are sorted.
Blue Main Door Design for Home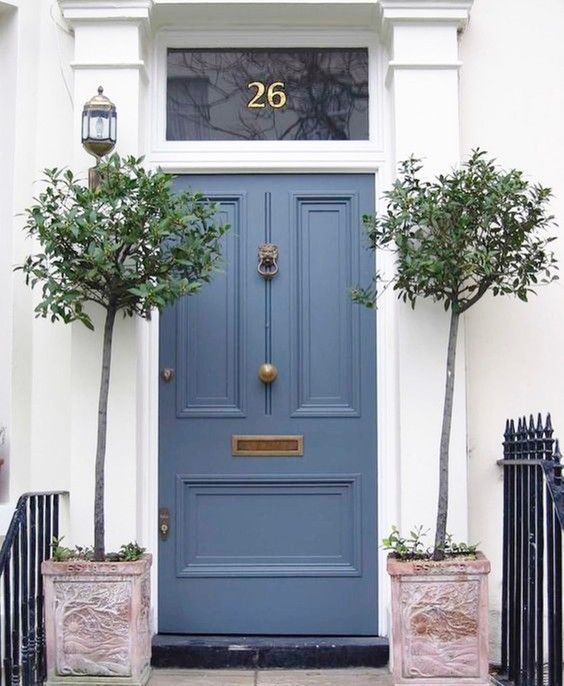 A good colour for main door design, a blue door is a trend that is here to stay. Opt for the shade of blue you love, we bet, you will be spoilt for choices. Right from a cobalt blue to a cobalt to admiral or berry blue - they are all stunning. Get inspired from the image above, place statement planters beside a blue-grey door and you have something the entire street admires. Feng shui tells us that blue is a great choice for main door design if you are facing north or west. Having a blue door in these directions will bring home wealth and fortune.
Vastu Tips for Main Door
While the design of your main door matters, it is also important to be sure that the house entrance is vastu compliant. Book a vastu consultation to know if the house entrance needs a remedy. Here are some east vastu shastra tips for main door to keep in mind: - if you are looking to attract wealth, let the main door design for home be facing north. - add a yellow light to the entrance - it is considered auspicious and plays the role of sunlight at night - never keep the dustbin, shoe rack, or even broken, unused furniture at the entrance door - it attracts bad luck. - bathrooms and septic tanks should not be near the main door design of your house - when taking a place in an apartment setting make sure that the main door of your house does not face the entrance of another house. - never place a mirror in front of the main door as it can reflect positive energies and cause them to bounce back.
Summing up Main Door Design
The main door of your house serves many purposes - it offers security, protects us from the weather, and also helps make a first impression of our house. Thus, it is a no brainer, that the main door design of your home should be beautiful and importantly clean. Above were some new and old main door designs for home, which of them did you like the best. Do tell us in the comments below. Also Read - Posh Localities in Greater Noida with best residential options